Do you want to make protein bars in 10 minutes with one of the easiest recipes on my blog yet? Well, you have come to the right page! I give you my peanut butter chickpea protein bites. You simply need to blitz the ingredients in a blender and freeze to set – it is that simple. I love making these the night before a working week as meal prep and just cutting up and portioning out the next morning (whilst scoffing one or two down of course). Oh, and did I mention, these are suitable for vegans too.

I have seen a few protein recipes using chickpeas now and really fancied giving one a go myself. I always worry they will be too 'chickpea-ish' for my liking, but this one is on-point in texture and taste. A little tip here: if you peel the chickpeas it will give the most incredible smoothness to the batter. This also takes away the taste a little too. Being honest, I don't do this every time. It does take a lot of effort and time but it is worth it. More so when making things like hummus.
I do have a similar vanilla protein bar recipe on the blog if you aren't keen on adding legumes to your bars. This one is comparable in effort and is held together/sweetened with dates instead. If you are a fan, why not give both a try and compare? Maybe you'll love both and use them interchangeably!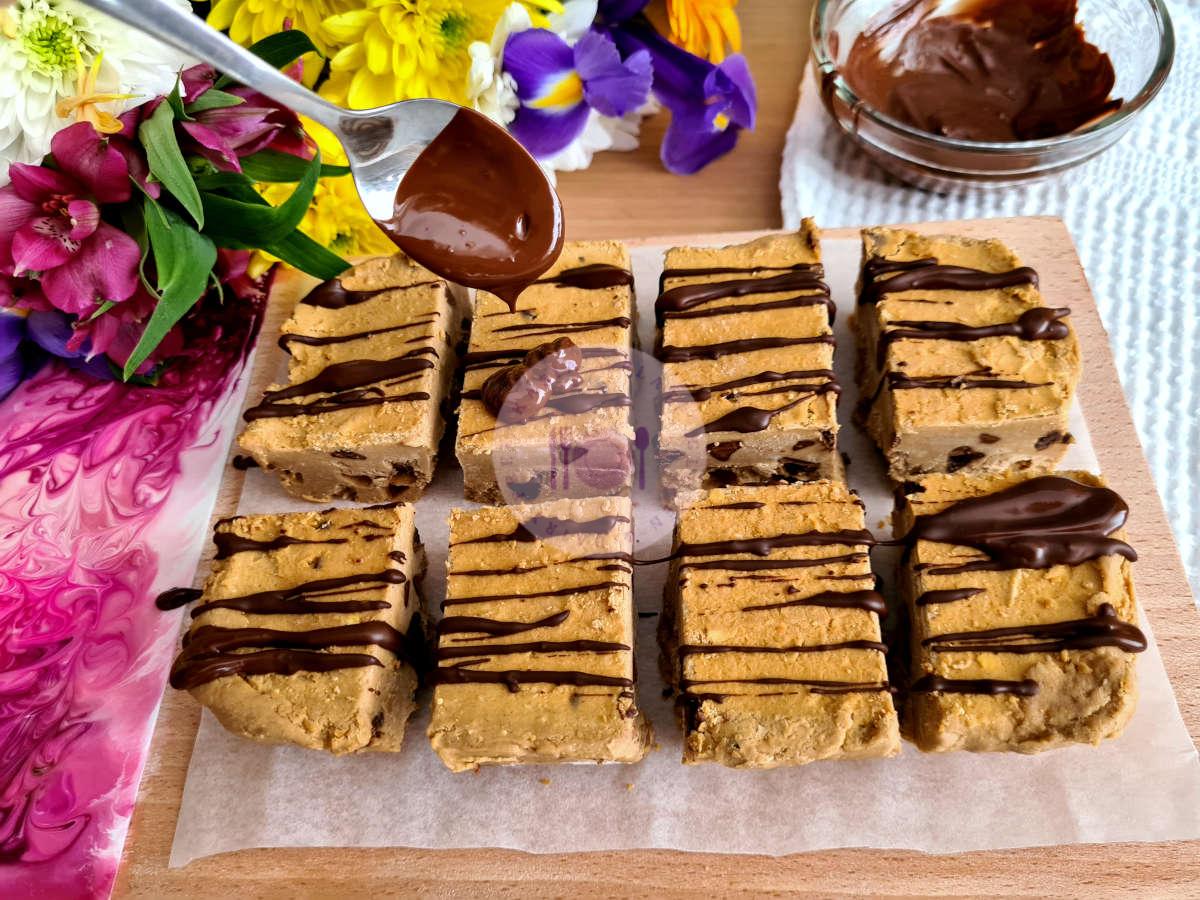 When creating this chickpea protein bites recipe, I couldn't resist adding nut butter in. If you follow my social media pages, you will know I adore nut butter – especially peanut or almond. I can literally spoon it into my mouth. I am known to eat a jar in one sitting too! A couple of my favourites are Pic's peanut butter and Livia's peanut and almond dunx dips. They are so runny and easy to work with. However, any would do for this recipe. I just love the drip and texture you get with ultra smooth butters. If you did want a thicker recommendation, then either Pip and Nut or Meridian too! These are both made with 100% nuts – something I try to go for.
Adding in the nut butter not only adds healthy fats, but also keeps you fuller for longer. These bites may look small, but I promise they are big in value for nutrition. Only 207 calories a piece (including all the chocolate) too. You could easily fit a couple into your day. For me, I love these not only as a pick me up, but also for a pre-workout snack. They keep me satisfied and have a good little energy boost. I even add chocolate chips into them for a little indulgence. This is completely optional of course – but highly recommended.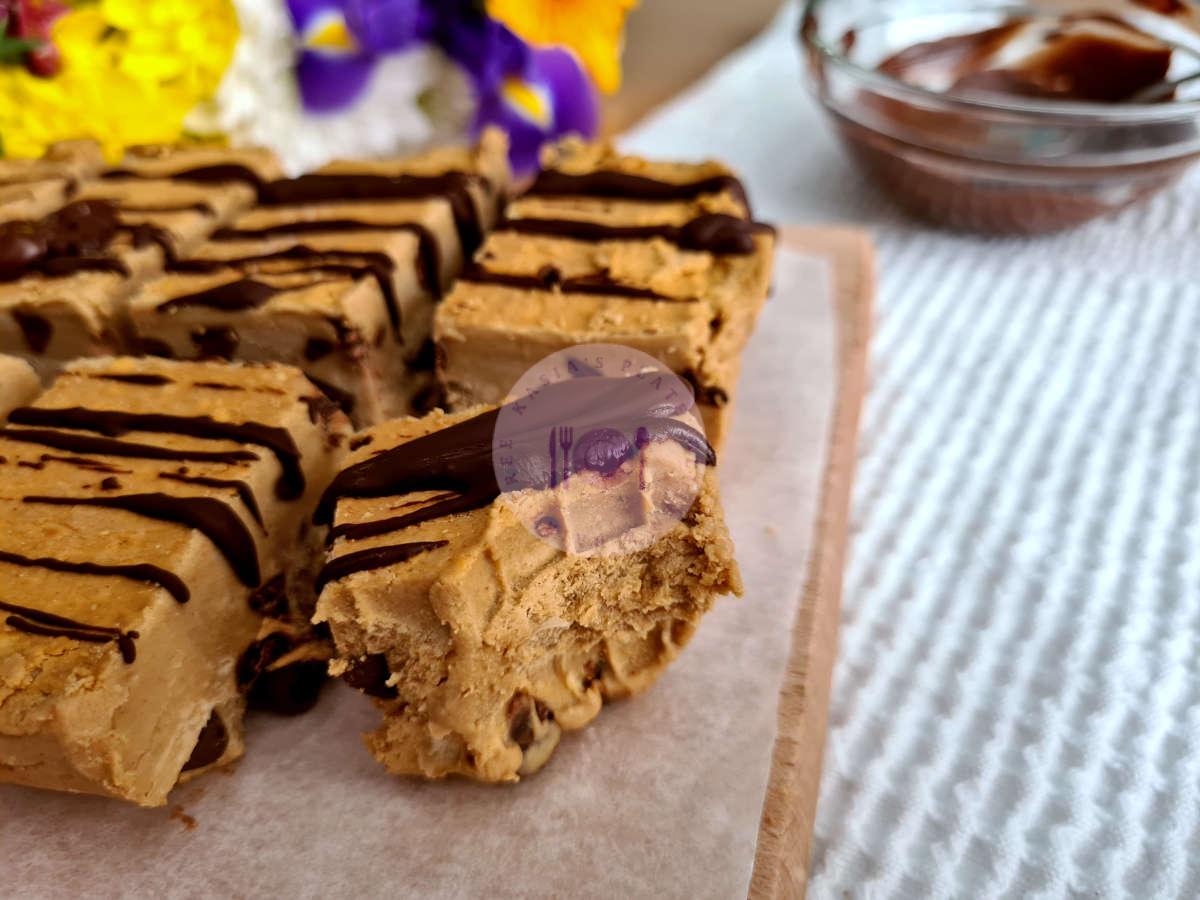 I am already craving another batch whilst tying out this recipe. I think that says a lot about it. There is just something so smooth and wonderful about them. They are unique and quaint. I may even chuck in some cacao powder in the next one to make a chocolate version.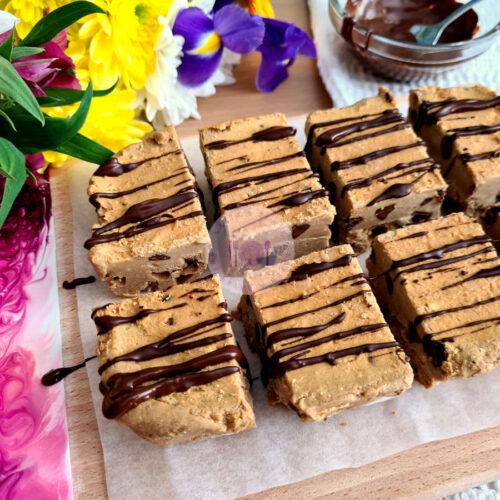 Chickpea Protein Bites
Gluten-free, Dairy-free, Vegetarian, Vegan
Equipment
Freezable dish (~18.5 cm x 4.3 cm)

Grease-proof paper

Blender

Spatula/spoon

Bowl

Knife (to portion)

Heatproof bowl
Ingredients
1

can

Chickpeas (400g can)

Drained and rinsed

40

grams

Powdered peanut butter

Substitute: almond flour

60

grams

Peanut butter

Substitute: almond butter

60

grams

Vegan vanilla protein powder

Substitute: extra peanut/almond flour

90

grams

Maple syrup

Substitute: honey

60

grams

Chocolate chips

Optional

1/2

tsp

Cinnamon

1/2

tsp

Vanilla extract

30

grams

Vegan milk/dark chocolate

To drizzle
Instructions
Optional: remove skins from the chickpeas for a smoother batter

Line a freezeable dish with greaseproof paper and set aside

Place all of the ingredients (except chocolate) into a blender and blitz until smooth

Spoon the batter into a bowl and fold in the chocolate chips

Move the contents of the bowl into the lined dish and freeze for ~1 hour (until mostly set)

If it freezes too much, slightly defrost before cutting into 8 equal portions with a sharp knife

Melt the chocolate in the microwave (using 30-second bursts and mixing intermittently)

Drizzle the chocolate over the top of the squares
Notes
Freezer friendly (up to 3 months)
Store in the fridge for 7-10 days (in an air-tight container)
Calories include chocolate chips and toppings