I have worked on this cookie pie recipe for a long while now. I really wanted this one to be just perfect. Cookie pie recipes are well in demand, so I wanted to make a gluten free and dairy free alternative. It is based off my NYC-style chocolate chip cookie recipe, which has always been a hit with you guys. You will find this cookie pie recipe very simple to make, but it does use large quantities of ingredients. Be prepared it isn't the cheapest bake.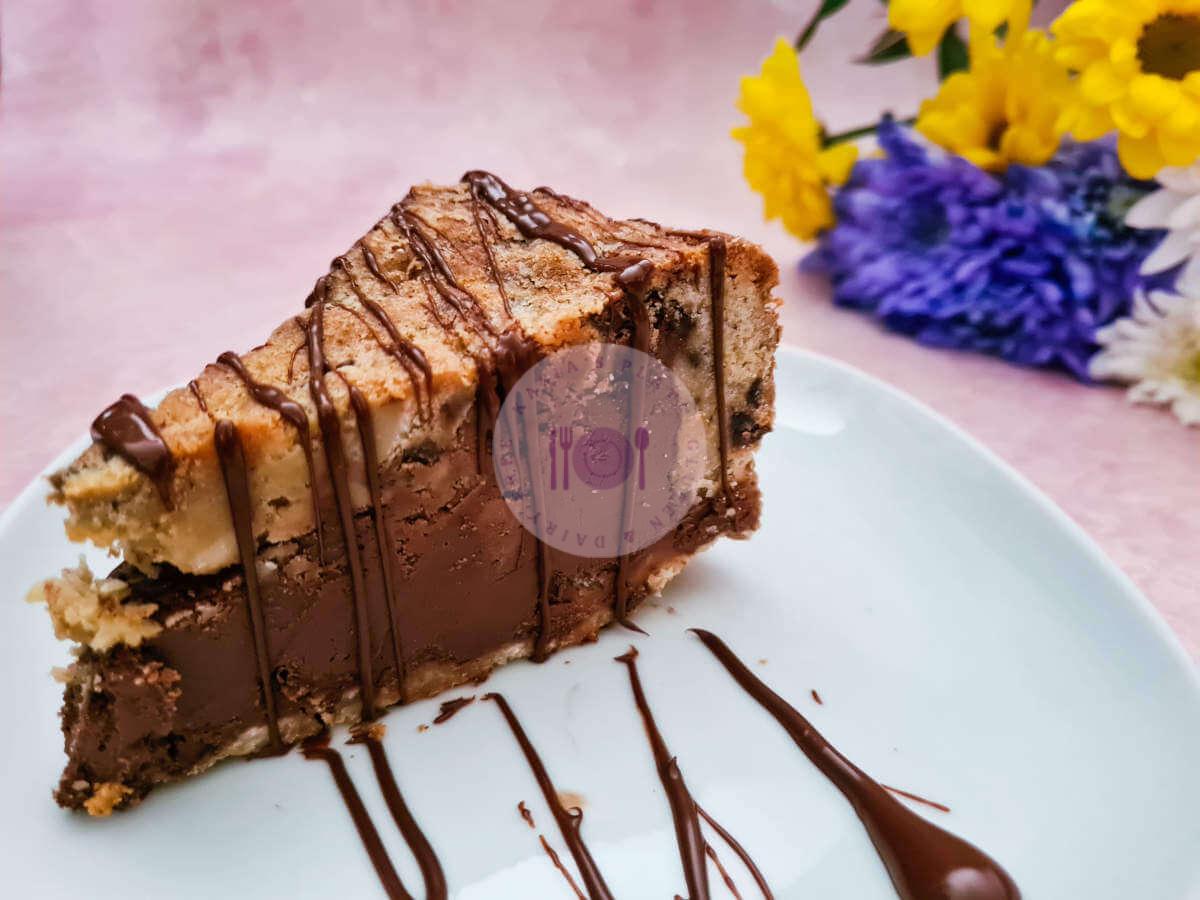 For the filling, I highly recommend the vegan chocolate hazelnut spread Nature's Store as I find it tastes most like Nutella, for instance, and holds very well once baked. You can get this in most supermarkets and it is quite reasonably priced per jar. I have trialed this with other spread fillings with various results. Overall, you are looking for some with a thicker consistency for the optimum output.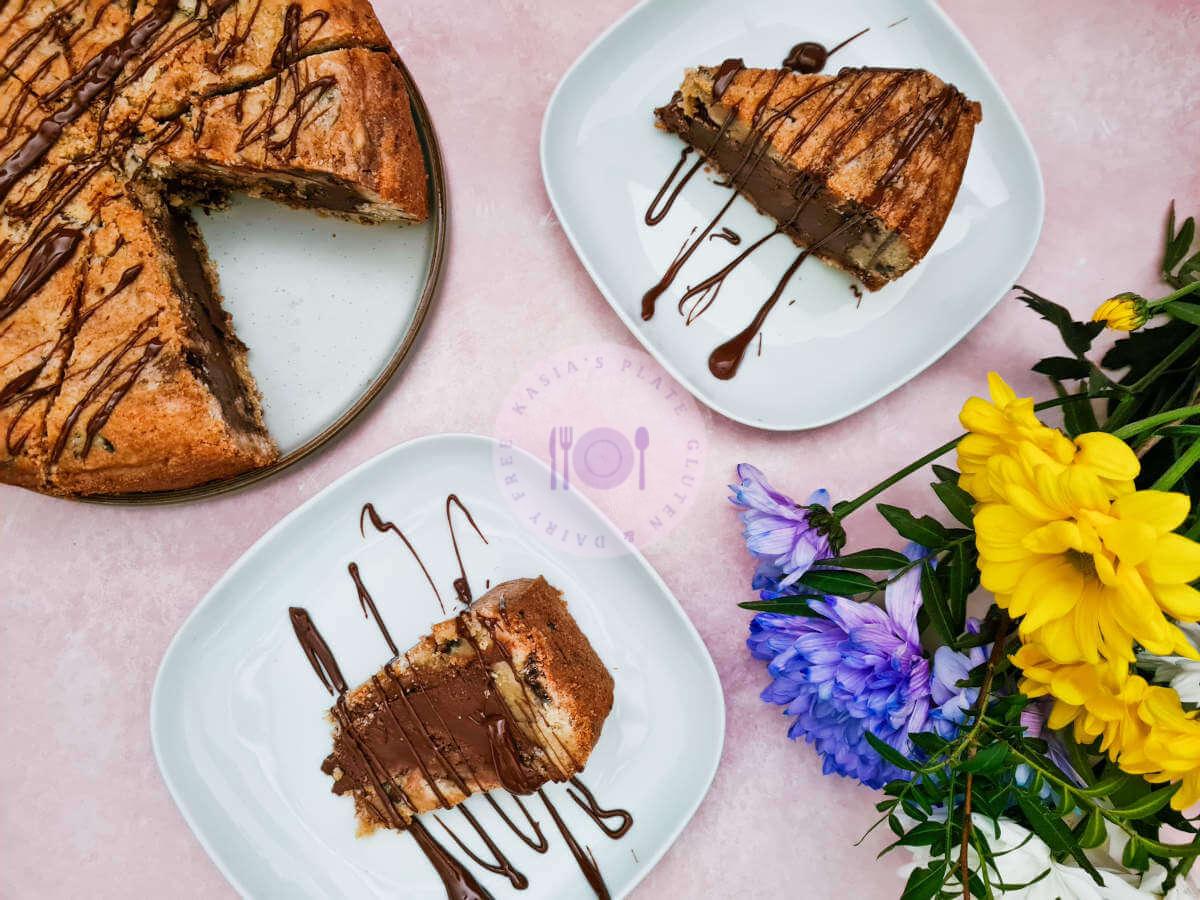 If there's one step that I feel you really need to pay attention to, it is splitting the dough into 3 equal parts. I found that doing this ensured I had enough for the base, sides, and top of the cookie pie. The cookie pie dough is about 1.3kg, making each section roughly 430g. Yes, there is a lot of cookie dough in this recipe! This is a tip I learnt from making recipes by a couple of other food bloggers – and it is a handy one to remember.
Talking of cookie dough, does anyone just love eating it raw? I might have to create a recipe for this soon. Just remember to heat treat your flour first to make it 'safe'. Although, I am certainly guilty for eating the remnants of the baking bowl with raw flour and eggs in. Oopsie!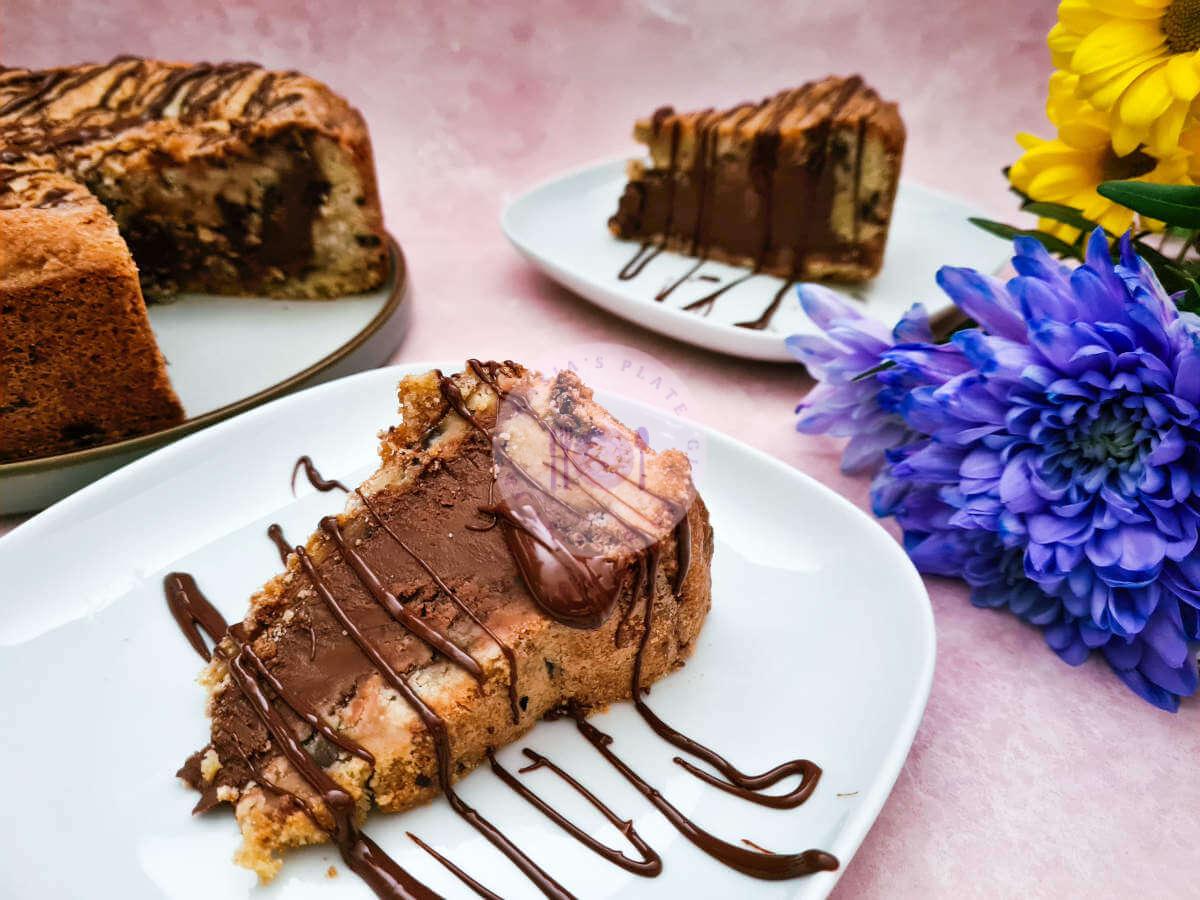 This cookie pie is not for the faint hearted, but it really goes down a treat. For instance, I love serving a slice slightly warmed with a scoop of vanilla ice cream. So what are you waiting for? Why not whip up a cookie pie this weekend?
Happy baking xx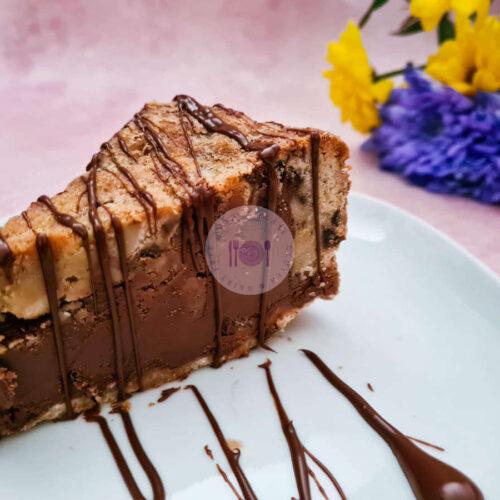 Cookie pie
Nut free (optional), Gluten free, Dairy free, Soya free, Coconut free
Equipment
Oven

2x Mixing Bowl

Mixing spoon

8" Loose bottom/Springform cake tin

Greaseproof Paper

Spatula

Spoon
Ingredients
For the cookie dough
200

grams

Butter

Vegan

120

grams

Brown sugar

80

grams

White sugar

400

grams

Plain flour

Gluten free

200

grams

White chocolate chips

Vegan

200

grams

Milk chocolate chips

Vegan

2

Large

Eggs

Beaten

1.5

tsp

Vanilla extract

1/2

tsp

Bicarbonate of soda

1

tsp

Baking powder

Pinch

Salt

Optional
For the filling
700

grams

Vegan chocolate spread
Instructions
In a bowl, mix the dry ingredients and then set aside

In a second bowl (or a stand mixer), beat together the butter and sugar until it becomes thick and creamed together

Add the eggs and vanilla extract to the creamed butter and sugar mix and continue combining

Little by little, add the dry ingredients to the wet ingredients and mix together until a dough forms

If not already done, make sure to add in the chocolate chips and combine

Weigh the dough (~1.3kg) and split into 3 even portions (~430g each)

If the cookie dough is too sticky/soft, add to the fridge for 30 minutes-1 hour to chill before use

Line an 8" cake tin with greaseproof paper

Add 1/3 of the cookie dough to the bottom of the cake tin and evenly press down until the base is covered

Add another portion of the cookie dough to the sides of the tin, forming the sides of the 'pie'

Fill the centre of the cookie pie with the vegan chocolate spread and even out using a spatula if needed

Freeze the cookie pie for an hour to make it easier to add the top layer

Pre-heat the oven to 200 °C (conventional) or 180 °C (fan)

Add the final portion of cookie dough to the top of the pie and ensure it seals at the sides

Bake the cookie pie for 30 minutes until golden

Leave in the tin to cool for 1 hour at room temperature

Move the cookie pie (in the tin) into the fridge for 2-4 hours (or overnight)

Once chilled, carefully remove the cookie pie from the tin
Notes
Store in an air-tight container for up to 5 days
Suitable for home freezing for up to 3 months
For a nut-free filling, I recommend using the Plamil vegan chocolate spread