One of my missions has been to visit all the 100% gluten-free venues I can find. Whilst this is much harder abroad, I thought I would at least try as many as I can in the UK. I actually compiled myself a list of them to tick off as I go – so why not share it with you all? I thought a guide to 100% GF eateries would be really helpful.
I have actually tried quite a few of these places myself already, some also on numerous occasions. When you find a place you can safely eat at – you tend to drift back there.
To make this easier to browse, I have listed the places in by country in the UK then by alphabetical order of county. There are also some notes against each one with the type of venue/menu it is.
This is compiled of places I know to be completely free of gluten. However, the places themselves may use ingredients which are 'may contain' and therefore out of my control. Things may also change so always make sure to check with the venue before and when you arrive. Some of my top tips for eating out gluten-free can be found here.
If I have missed any places in the UK which are 100% gluten-free then please let me know either via email ([email protected]) or by using my contact form. I'd love to add them in! The more the better. Also the same if you notice any changes to places in this guide (i.e. no longer GF) before I do.
Berkshire:
YayLo in Reading: A coffee shop with lots of cakes and other treats
Shoemaker's coffee shop in Newbury: Christian books & a coffee shop
Cambridgeshire:
Gloof in Soham: Coffee shop serving breakfast, lunch and desserts with a range of sweet and savoury snacks
Truly Scrumptious in Ely: A vegan take away of cakes and coffees who also make celebration cakes, tray bakes and cupcakes to order
Cornwall
Tasty Pasty Gluten Free in Colbiggan: A bakery selling cakes, pies and pastries which also sells online (England and Wales delivery)
Made Marion Gluten Free Bakery in Redruth area: A bakery selling bread, pastries and cakes as well as selling online (nationwide delivery)
Cumbria
No.38 Bistro & Bar in Carlisle: The first 100% Gluten-free bistro in Carlisle which serves breakfast, brunch, lunch and evening menus (vegan options)
Devon
Kub in Teignmouth: A 100% vegan cafe serving lunch and cakes (celebration cakes to order)
Tasty Pasty Gluten Free: As above in the Cornwall section – Tasty Pasty also operate in Devon
Bonne Sante in Plymouth: A restaurant which has plenty of brunch/lunch and dinner options including burgers, curries, pizzas and noodles
Jackson's Gluten Free in Torquay: A bakery where you can buy both sweet and savoury treats in person and online (delivery to mainland UK)
Kay's Gluten Free Bakery in Dawlish: Kay bakes completely gluten free cakes from her kitchen which you can buy from various stock lists throughout Devon (check her website for details)
Dorset
Miiko everyday nourishment in Poole: A completely plant-based, vegan menu serving breakfast, lunch, smoothie bowls and teas
Durham
Clean Bean in Seaham: Serving a wide range of foods for breakfast, lunch, dinner and Sunday lunch menu
Clair's Gluten Free Bakery in Bishop Auckland: An affordable cafe serving a range of sweet and savoury products, breakfast and lunches for both sit in and take away (dairy-free and vegan options)
Gloucestershire
Bangkok Canteen in Gloucester: A family-run Thai restaurant in the heart of the city centre
Yippee Gluten Free in Gloucester: An artisan home bake business which specialises in celebration cakes, cupcakes, sweet and savoury treats (nationwide postage)
Hampshire
Mum & Dad's Kitchen in Portsmouth: An award winning pie company which also serves savoury snack and cakes (available for online order too)
The Compass Inn in Winsor: Dog friendly, adult-only pub resturant in the new forest serving pub grub mains, pizzas and sharing platters
Hertfordshire
The Sheldan Inn in Welwyn Garden City: Offering light lunches and savory options as well as a Sunday roast menu and desserts
Kent
The Red Lion in Badlesmere: A dog-friendly pub which also hosts live music events – traditional weekday and Sunday menus
Eatnmess in Sevenoaks: A bakery of all things sweet (doughnuts, cookies, pop tarts, tray bakes, baking mixes and more) which are can also be posted nationwide
Oscar & Bentleys in Canterbury: Bistro serving a modern British menu with global influences – from treats to fully gourmet dishes – there is something for everyone here
Kerry's Bakehouse in Deal: A bakery and eatery offering bread, cakes, pastries, snacks, light lunches, cream tea, platters and more (also providing options for corn, potato, dairy, egg, rice, soya and yeast free customers)
Lincolnshire
Mark's Gluten Free Treats in Scunthorpe: Serving crepes, waffles, cakes, sandwiches, light bites, pizza and milkshakes
Orbis in Stamford: Around the world flavours used to create a brunch and 'taste' the world tapas-style menu alongside cocktail and wine lists
London
Central London:
Apres Food Co in Farringdon: Cafe & take away serving health-concious breakfasts, lunch, dessrts and produce
Indigo at One Aldwych: An entirely gluten and dairy-free menu using fine British ingredients
Niche Gluten-free Dining
in Islington: Main, pre-theatre and Sunday lunch menus (catering for
low FODMAP diets) with a range of menu choices including vegetarian and
vegan options
Pearl & Groove in Exmouth Market: Bakery selling a range of cake, cookies, squishies, ice cream, coffee and tarts – postal orders availabl
North London:
Cookies & Scream in Holloway Road: A fully vegan bakery serving cookies, brownies, pies and doughnuts as well as thick American-style shakes
Romeo's Bakery  near Islington: A refined-sugar free bakery and cafe that offers a range of cakes and bakes (includes vegan and keto options)
North West London:
Maize Blaze in Camden Lock: A restaurant serving Colombian street food and classic dishes (both meaty and vegan)
South East London:
Elvira's Secret Pantry
in Beckenham: An artisan micro bakery that is free from gluten, dairy
and yeast selling homemade treats inspired by Italian flavours and
cuisine

Paladar near Elephant and Castle: Restaurant offering Latin American cuisine and cocktails
Owl Kitchen
in Crystal Palace Food Market: Affordable home made cakes, pastries,
pies and savouries (including dairy and sugar free options)
South West London:
Ardiciocca in Fulham: An Italian trattoria resturant offering authentic cuisine
Leggero in South Kensington: Restaurant serving fine Italian cuisine
Lu-Ma Cafe in Wimbledon: An independent, healthy living cafe (no refined sugar, dairy or meat) with plenty of vegan options
M RAW in Victoria Street: The first 100% GF restaurant in London serving a healthy, clean-eating menu
Station 26 in Brixton village Market: Restaurant serving brunch, small plates, mains and burgers (range of vegetarian and vegan options)
The Free From Bakehouse
in Borough Market: A selection of cakes (slices, sharing bakes, loaves)
and savouries as well as a huge range of dairy-free, sugar-free and
vegan products (online shop too)
East London:
Cupcakes & Shhht in Hackney central: A vegan cafe serving a range of cakes and light brunches/lunches
Eat'n'Mess
in Broadway Market: A bakery serving similar sweet treats on a Saturday
market – similar to those you can buy in their Kent store
Maize Blaze near Stratford: A restaurant serving Colombian street food and classic dishes (both meaty and vegan)
Plant Hub Organic in Hackney: A natural, vegan, Italian-inspired restaurant and wine bar
Smashing Kitchen in Hackney: A dog friendly, vegan cafe serving colourful, healthy dishes and drinks as well as refined sugar free desserts
Vida Bakery in Brick Lane: A completely dairy, egg and gluten-free bakery serving all the sweet treats
West London:
Grom
in Piccadilly: An ice cream shop mostly selling Italian gelato and
sorbet, but also stocking other specialties such as biscuits and spreads
(vegan options)
Manchester
The Remedy Kitchen in Manchester: A restaurant and meal prep service which is also 100% refined sugar and dairy-free, serving healthy dishes made from scratch
Merseyside
The Nakery in Liverpool: 100% vegan cake shop that creates refined sugar free, raw treats and naked cakes
Newcastle-Upon-Tyne
The Lily Tree Bakery in Heaton: A 100% nut and soya free bakery with sweet treats, afternoon tea and plenty for vegans
Northamptonshire
The Little Bakery of Happiness – Wellingborough: Small bakery-patisserie serving sweet and savoury treats (walk in and wholesale)
Nottinghamshire
All Mine Cakes by the Lake in Southwell: A cafe serving breakfast, lunch, ice cream and take away (dairy-free options)
Dottie's Tea Room in Arnold: The first 100% GF tea room and bakery in the East Midlands – also serving wheat, dairy and egg free as well as low sugar options
Rutland
Orbis in Oakham: Around the world flavours used to create a brunch and 'taste' the world tapas-style menu alongside cocktail and wine lists
Somerset
Cafe Nouveau in Frome: Independent family cafe with breakfast and lunch menus (seasonal ingredients with dairy-free, paleo and vegetarian choices)
Sow & Arrow in Clevedon: For all your paleo, keto and low-carb needs – a shop selling some sweet treats and mixes
Gluten-Free Gourmet Bakery in Wells: A mix of sweet and savoury gourmet treats spanning market/street food, events and private functions
The Wheat Free Kitchen in Bath: A  bakery based in Bath that sell muffins, tarts, cakes, quiches and pastries (dairy-free options)
Surrey
Glutopia in Kingston: Artisan bakery with unique bespoke homemade cakes and bakes
Roost Kitchen & Pantry in Bagshot, Farnham, Staines and Godalming: Cafes serving clean eating waffles, juices, brunch, lunch, salads, wraps and more (lots of dairy-free options)
Sussex
Eat Naked in Brighton: Small deli and take away serving healthier meals and protein treats where the menu is always gluten, dairy and refined sugar free
Warwickshire
The Golden Cross in Coventry: Plenty of pub grub with a vegetarian and vegan menu
Yorkshire
Wildcraft Bakery in Leeds: Light brunch and lunch bites, waffles and plenty of bakery goods (also with an online shop delivering nationwide)
The Oxford Place in Leeds: A classy restaurant serving an A la carte and pudding menu with lots of  vegetarian and vegan options
Thingy Ma Jigs Coffee Shop in Guisborough: Light bites such as soup, paninis and cakes with lots of dairy-free and vegan options
Bored of Sandwiches in Harrogate: Fresh and healthy Hawaiian Poke bowls and smoothies with vegan options
The Gluten Free Kitchen in Leyburn: A free from (including dairy, egg and soya free)  bakery which has a multitude of stock lists as well as an online ordering system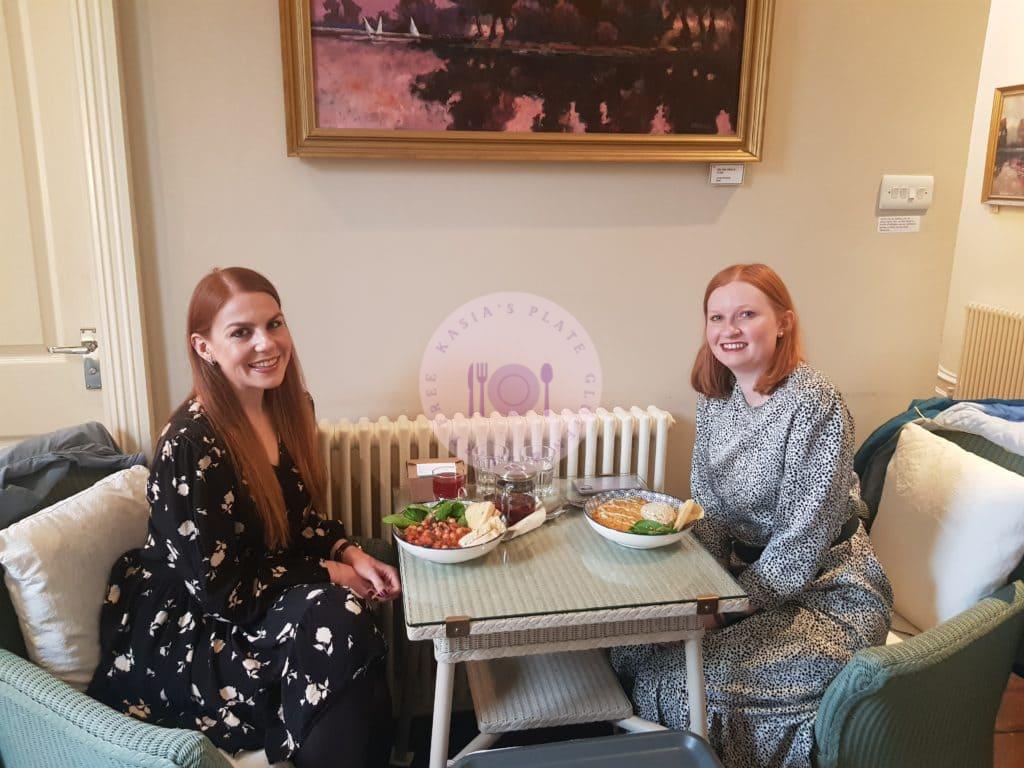 Edinburgh
Sugar daddies near Marchmont: What is says on the tin – all things sugar and cake
GF Edinburgh near Haymarket: Take away cafe serving breakfast, lunch and cakes
Wheat Free Bakery near East Mains Industrial Estate: All the bread, cakes, doughnuts and pastries you can think of – also catering for egg, soya and dairy-free (nationwide postage available)
Glasgow
Dakhin in the city centre (and other areas of Scotland): An Indian restaurant serving South Indian cuisine
Wild Flours Bakery near Hillpark: A bakery serving a range of sweet and savoury items with lots of vegan options
Scottish Boarders
Risotto2go in Peebles: A family business which serves GF risotto at festivals and outdoor events all over the UK (vegetarian and vegan options)
As far as I've found, there are unfortunately no 100% gluten free establishments in Northern Ireland. Hopefully one pops up soon! However, there are plenty of places dotted around with gluten free options on the menu.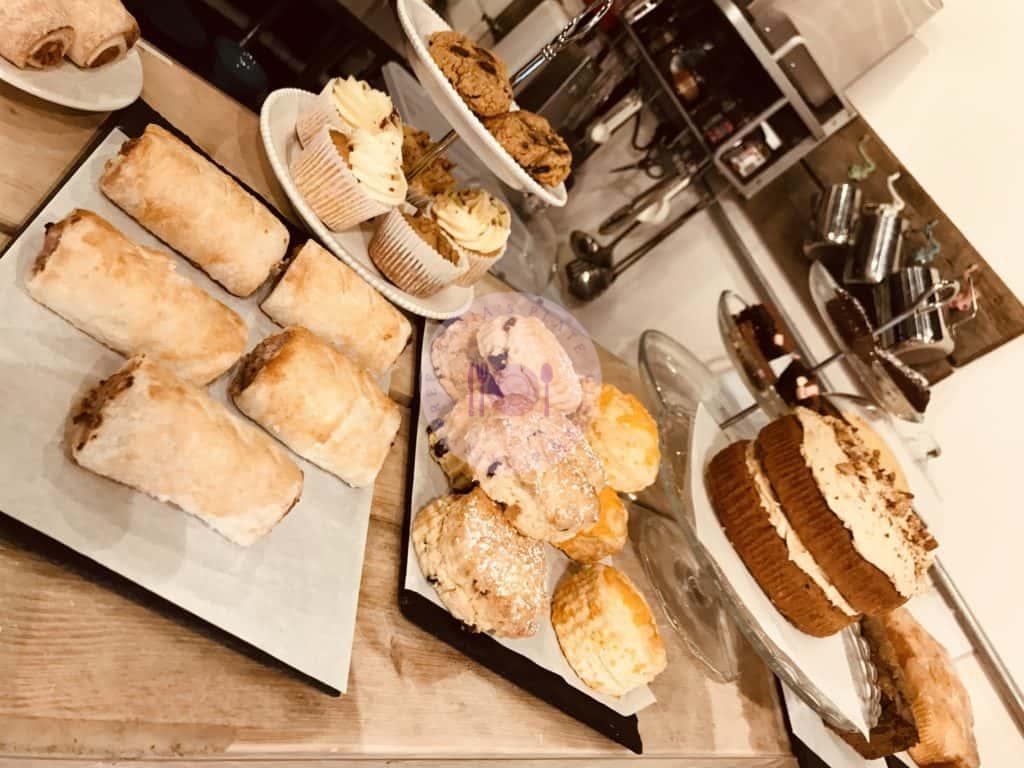 I hope this has given you lots of places to note down for your travels. Even better if some re on your doorstep. I'd absolutely love to hear what you think of them if you do go – so please feel free to send me a message on any of my social channels if you do. Happy eating xx