Seeming as I have spent the last 3 years of my life living on the outskirts of Cardiff, I thought it was about time I compiled a gluten-free guide for the area. Throwing back to a few years ago, I never would have thought I'd live here. It was actually by chance that my PhD project ended up at Cardiff University. I wouldn't change this for the world though – the area is filled with not only beautiful scenery, but some gorgeous eateries too. Cardiff even boasts a 100% gluten-free and vegan cafe called Mugs & Momos. This means you're definitely safe from chances of cross-contamination to gluten, with it being coeliac safe. It is actually one of my favourite places to go. Not only do they serve lovely food, but also at a great price – very unusual for us GF folk.
I have a whole 'bucket list' of places to try whilst I am here. There are so many – we are spoiled for choice really. Cardiff itself is known for its awesome food scene. It has multiple arcades in the city centre with lots of hidden gems – and lots of small, independent businesses too. We do have multiple chains like any other area if that is your thing too. You'll find the likes of Pizza Express and Zizzi for example. However, I'd highly recommend taking some notes from this guide and trying out the more locally-owned establishments.
I hope you find some places here which take your fancy. I'd love to hear if you visit any too. Feel free to let me know your thoughts either via my Instagram or email ([email protected]). Happy reading xx
Note: this guide only covers areas within Cardiff but I also review lots of other eateries dotted around Wales, particularly in the South on my social media pages.
Barker's Tea Rooms – Note: not coeliac-safe due to preparation but fine for those with gluten intolerance. They have options for breakfast/brunch in terms of avocado on toast, eggs and smoked salmon. The dishes are quite light. There isn't a GF-designated toaster but they do offer GF bread.
Crumbs Kitchen – This sweet little spot is tucked away in one of the Cardiff arcades. It is quite easy to miss – but I hope you don't! I frequent here quite often as the service and food is always spectacular. It is cheap, but the quality is top notch. They can accommodate gluten-free and vegans with some adjustments to breakfasts.
Stag Coffee – This cafe is a little out of the centre but a lovely spot. They are always happy to make adaptions on the menu to cater for intolerances and allergies. My breakfast/brunch dishes are usually completely unique. Don't go here if you're short on time though as I do often find service to be more relaxed than other places. Albeit very friendly.
The Brook Bistro – Heavenly for a traditional brunch. So many of the options are gluten-free and easily dairy-free adaptable too. If you're fancying something a little more boozy, they also offer a bottomless prosecco brunch package.
The Lounges – There are the Juno, Ocho and Fino lounges in the Cardiff area. These are part of a restaurant chain known to be great for gluten-free and vegan options. They have big breakfasts as well as smaller baps. Make sure to check the online menu carefully though, as some of the dishes are 'may contains'.
Wild Thing (Cathays) – This place has it all really – you will also see it in the lunch and cake sections too. Very clued up for gluten-free. They change their menus regularly, but often have GF buckwheat and almond pancakes as well as breakfast bowls and brunch plates.
Ansh – This place is burger heaven! 99% of the menu is GF (when swapping out the bun for a gluten-free one) – with the only exception being the vegan burger which contains panko breadcrumbs. Sara, the owner, has a wheat allergy herself so completely understands the importance of cross-contamination and a gluten-free diet. You'll feel more than safe here – and will also be full to the brim with all of the tasty options they have.
Asador44 – Your Spanish paradise! This is a more effortless up-market establishment which boasts its comprehensive wine collection. You'll be sure to have a treat here. Some of the best food I've had the pleasure of sampling. There are so many options we can have here – lots of which are also dairy-free. They have a full allergen matrix menu online.
Bar 44 – This place needs no introduction really, it speaks for itself! Very popular with locals and visitors alike. Bar 44 serves Spanish-inspired dishes using authentic ingredients. They have a whole gluten-free menu as well as vegan. We are quite spoiled for choice with their tapas and bar snacks.
Chapel 1887 – Right in the heart of Cardiff centre, you will find Chapel. This is more of a fine dining menu but with lots of GF options. Mains mostly cover steaks or meat and vegetables. They do offer a Sunday lunch too. However, there are some vegetarian dishes too – just more limited. They also have salads if you fancy something a little lighter.
Cosy Club – Another classic here! Cosy club is right in the centre of Cardiff, a short walk from Cardiff Central train station. There is also a restaurant in the Bay. They boast many gluten-free options but do make sure to check that items are fried and prepared separately.
Deli Feugo – This really has something for everyone. They have plenty of GF and DF options as well as many vegetarian dishes. You're looking at Middle Eastern cuisine which gives a gorgeous taste sensation. They have everything from antipasti to grills, pastas and desserts.
Pho – This just had to be on the list really. Whilst I love trying smaller, local businesses, you can't beat Pho. The majority of the menu is GF and they are incredible for understanding allergies. They are also accredited by coeliac UK. Safe to say I visit the Cardiff branch on a regular occasion!
Elango – An Italian restaurant which can adjust the menu to be GF. They don't offer the pizzas, but can change the pasta. They also have some secondi options to choose from.
Honest Burgers – A firm favourite amongst the GF community. They have vegan options too. Everything is coeliac-safe including the chips and even the onion rings. The latter are a must-try in my opinion.
Hubbox – Here is where to get your burger fix in the beautiful Cardiff Bay. They are incredible for gluten-free and vegan options. They even have GF burger buns! The loaded fries, onion rings and chicken strippers are also gluten-free which you'd never know.
I Giardini di Sorrento – Think of all things Italian. They have a range of GF pasta and secondi for mains and plenty of starters for us to choose from. You can often have their specials on request. When I visit, they mention the chef's daughter is coeliac so are great for understanding. Unfortunately there aren't any GF/DF combined desserts – but there are if you're looking for GF only.
Maria's Greek Taverna – This Greek restaurant is perfect for when you're fancying a more substantial meal. I have been for lunch, but would say the portions are quite large so popped it into dinner. They have a separate GF fryer for chips and plenty of options that we can have. Think the classic meat, rice and potatoes kind of dishes.
Mina – A Lebanese cuisine which I highly recommend. I went here for a work night out and they catered so well. They were really careful and answered all my questions. I felt I had plenty to choose from and the dishes were superb!
Mugs and Momos – I've popped this here as well as on the lunch section as they are also open for dinner. They have a range of dishes including burgers and chips if you fancy something more substantial. I also love that they are on 'too good to go' so you can often get a nice bargain for your dinner to take away too.
Tenkaichi – Hands down some of the best Japanese food I've ever had! You can find Tenkaichi on City Road, a short walk from Cardiff University. I frequent here and have never been disappointed. The service is second-to-none and they are brilliant with my intolerances (they even adjust dishes to suit needs). You can get anything from ramen to sushi here – make sure to try the latter by the way – it is phenomenal. They even have GF soy sauce!
The Brook Bistro – This hidden gem is on the outskirts of the city centre in Witchurch. Whilst they don't have a dedicated gluten-free/dairy-free menu, they are super understanding if you speak to the server. I've had many dishes modified to suit my needs and am easily able to have a full 3 course meal here. Everything is made fresh to order so it is very easy for them to adapt the menu. Not often can you get a GF/DF combined dessert which isn't a fruit salad. It is a beautiful setting which is ideal for with friends or for a date night. They even do some exquisite cocktails, I must say.
The Coconut Tree – Another chain which is incredible at catering for us. It is Sri Lankan cuisine which is naturally GF or easily adaptable. The dishes are small plates so ideal for trying a few with friends. Plenty of vegetarian and vegan dishes too.
The Lounges – There are the Juno, Ocho and Fino lounges in the Cardiff area. They have an array of mains and tapas which is ideal for a main meal.
Tuk Tuk – This is your location for classic Thai cuisine. They have plenty of gluten-free options which includes all their curries, some sides and most of their desserts. This gem is tucked away in the student heart of Cathays but it is worth the short trek from the city centre.
Vegetarian Food Studio – This is a 100% vegetarian Indian restaurant. They are open for lunch as well, but I have popped them into dinner as I always find Indian a heavy cuisine – better for night time. The menu is highly varied and has a vast range of options. I first went here as a work meal and they were able to accommodate my gluten intolerance without fuss. I've since been several times (now cutting dairy too) and they have plenty of vegan/GF dishes to suit. You are spoiled for choice and won't be stuck for what to get here.
Wahaca – Whilst you could go here for lunch, I've popped it in the dinner section as I find myself not only ordering the majority of the menu, but Mexican food is quite filling. Wahaca are incredible for understanding allergies and intolerances and take these very seriously. Most of the menu is suitable for a gluten-free diet but do try to avoid the fried foods if you're sensitive/coeliac. They are really clear on this though. It is also a brilliant place to try if you're vegetarian/vegan.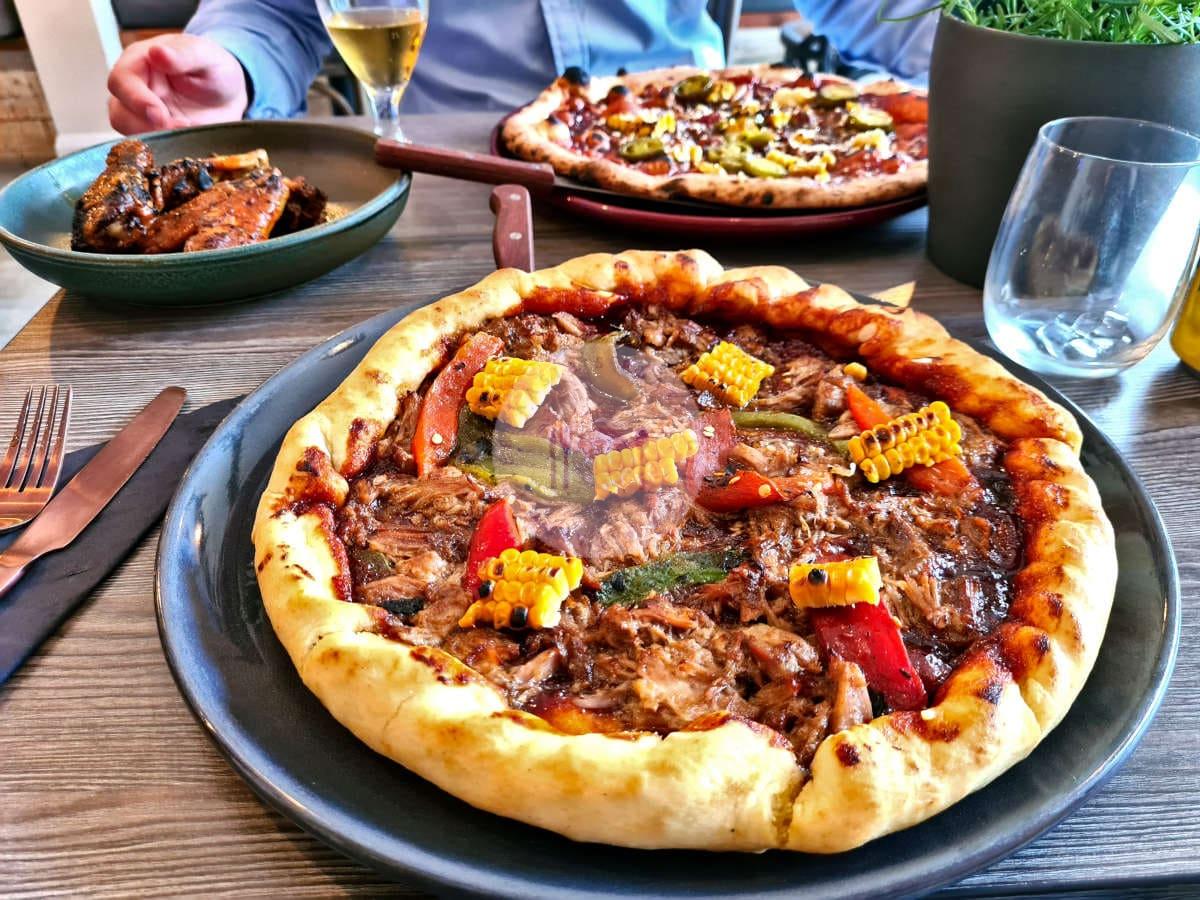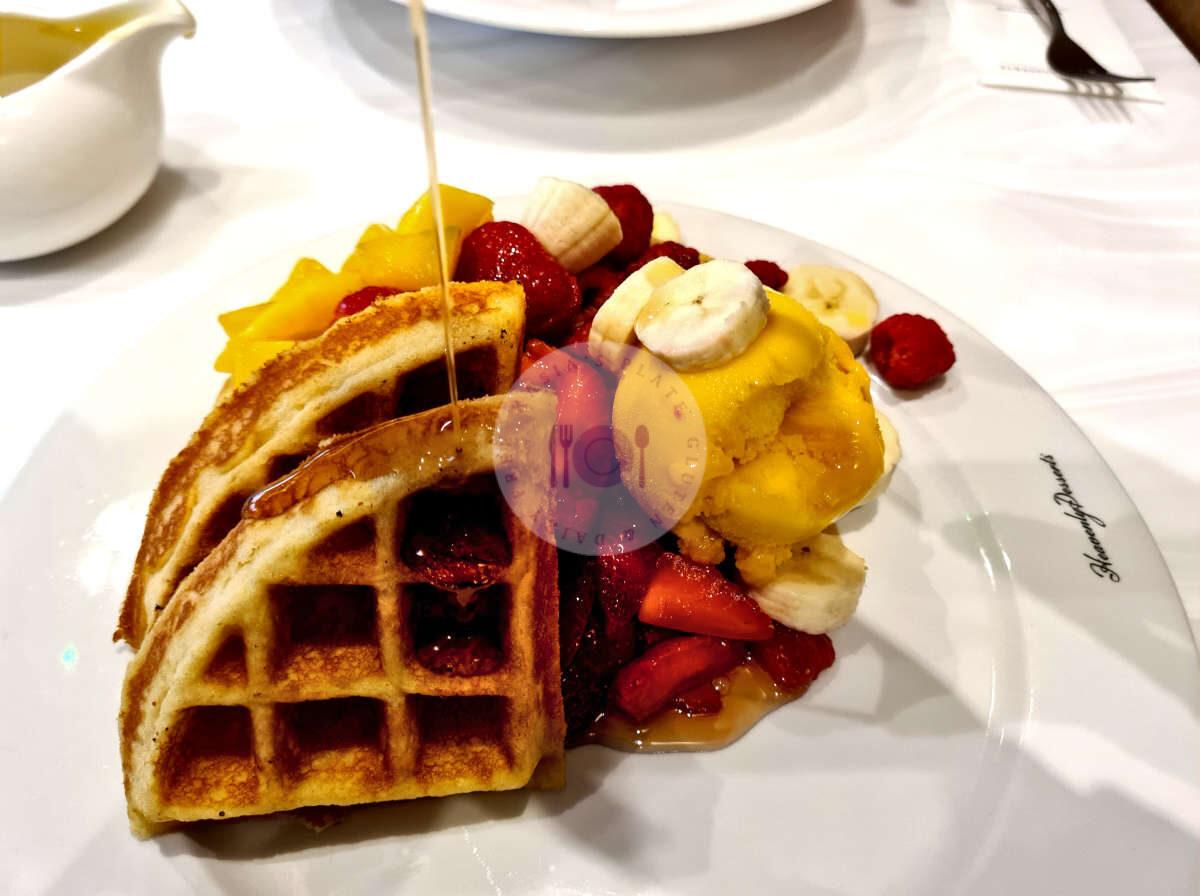 However, maybe you fancy making yourself something sweet at home after popping out for lunch/dinner. You can find a whole list of ideas here.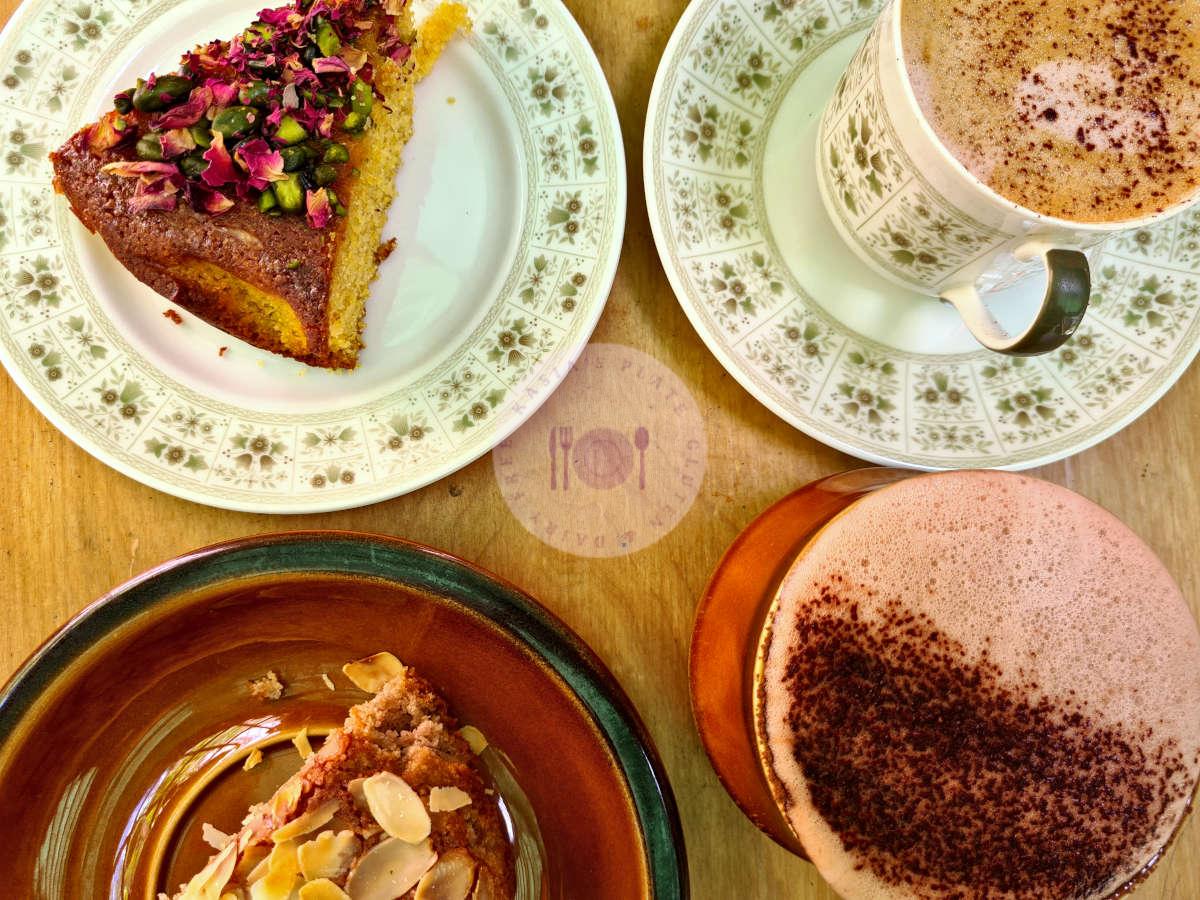 Ansh – Burgers are one of the best 'grab and go' take away options in my opinion. If you're in more of the Canton area, specifically near Victoria Park, then make sure to check out Ansh. Grab one of their fabulous burgers, in a GF bun, to take for a park picnic. I've also popped them in my dinner section above if you're fancying a sit down meal too – they're not just a take out option.
 Bakestones – You'll find these guys in the heart of Cardiff centre – tucked away in the market. At first glance you'd never know they would have anything safe for us, but rest assure they do! They sell packs of 5 GF Welshcakes on their stall (which are also vegan). These are made and packed in a separate factory away from the glutinous flour on their stall. Perfect for a take away sweet treat.
Barburrito – For your Mexican fix, head to Barburrito in St. David's shopping centre. You can get a naked burrito (no tortilla) and add all the toppings you'd like. Just make sure to tell your server about any intolerances when ordering. Just be aware that some items have a 'may contain' warning on them (all information is on their website).
Brodies – Get your cake and coffee to go from Brodies. It is a small business establishment which have a hut next to Cardiff University and Bricks and Mortar nearby. They often have GF and/or vegan options on the cake section. I've also been a couple of times and they've kept some extra GF shortbread in paper bags away from the 'gluten-containing' cakes. Note that Brodies do use glutenous oat milk in their coffees so do mention your needs to the staff.
Honest Burgers – If you're fancying something a little more substantial, I am sure you've heard of Honest by now. It is a gem in the GF world. The Honest Burgers in Cardiff is situated a short walk from Cardiff Castle too – perfect for a mini picnic.
Noglu (100% GF) – Not only do Noglu have an incredible selection of cakes and treats, they also often have hot meals to take away such as tapas. If they ever have the churros on – make sure to get these to go too! You won't regret it.
Posh Fish and Chip Company – There are a couple of these chippies dotted around the Cardiff area. They have been serving GF fish and chips for years on a Friday and Saturday (make sure to double-check before you visit). It is a great price for what you get. There are dedicated fryers and prep areas for the GF foods. I love the fish supper from here. I've included this place, as well as lots of others, in my South Wales gluten free fish and chip guide.
The Bagel Place – Situated both in Cardiff University Student's Union and St. David's shopping centre (only the latter having GF options). The name says it all – bagels galore! The Bagel Place has GF bagels and with of filling options including vegetarian and vegan. Whilst these have non-gluten containing options, they have confirmed that the kitchen is small and cannot confirm there is no cross-contamination. Therefore, this is more suitable for those with gluten intolerance.
The Greenery – This is a 100% vegan business in Cardiff Market. Swap up your normal 'meal deal' for a Greenery nourish bowl, drink and snack. They have suggested bowls as well as allowing you to mix and match your own. Lots of the items are gluten-free and they use different tongs for each of the items. Just be wary that it is a small kitchen and there may be a chance of cross-contamination.
The Queen Pepiada – You can't go wrong with 100% GF Venezuelan arepas – especially from Queen Pepiada. You'll find these guys popping up at local food events around Cardiff. If you're lucky enough to bump into them – make sure not to give it a miss. These are some of the nicest arepas I've had! The best thing is there is no chance of cross-contamination as everything is naturally gluten-free.
Tortilla – Like Barburrito, there is also Tortilla in Cardiff City centre. I often pop here for a quick naked burrito fix. I've not personally had problems eating here, but always make sure to explain to your server about your requirements. I've always found them understanding and happy to change gloves etc.