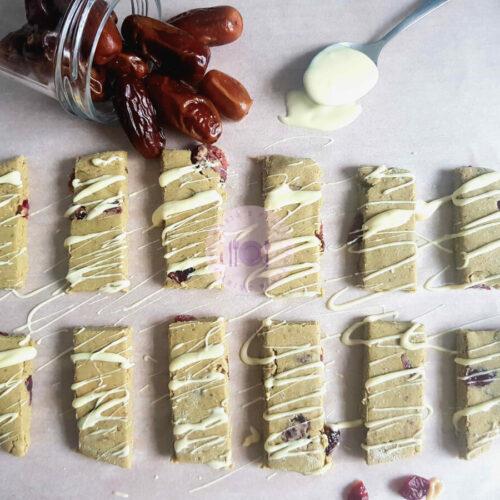 Cranberry and White Chocolate Protein Bars
What is not to love about gluten-free, vegan protein bars which taste quite like cookie dough? Even more so when they're no bake!
Equipment
Freezer

Baking tray

Blender

Mixing Bowl

Spatula

Spoon

Greaseproof Paper
Ingredients
20

Grams

Dried Cranberries

You could substitute this for another dried fruit or omit completely if desired

30

Grams

Medijool Dates

Pitted

6

Tbsp

Water

30

Grams

Vanilla Protein Powder

Any vegan protein type will work (or whey if you do not need dairy-free)

20

Grams

Vegan White Chocolate

For decoration/topping

50

Grams

Light Tahini

Can use regular tahini (I used light to reduce the calories per bar)
Instructions
Additional if required: if the dates are slightly dry, soak them in hot water for 10-minutes to soften. This will help with making the date paste in the next step.

Blend the dates and water together until a paste is formed.

In a mixing bowl, add all of the dry ingredients and mix together. This will coat the outside of the cranberries so they mix evenly throughout the bars.

Add the tahini and date paste into the bowl and mix thoroughly. The mixture should become stiff, but not crumbly. Add a splash of water (not too much) if dry.

Line a baking tray with greaseproof paper.

Put the mixture into the centre of the baking tray and gently form in to a rectangle. You can do this with your hands or equipment. You want the mixture to be 1-2cm thick.

Freeze the mixture for 30 minutes, allowing it to set.

Optional: Melt white chocolate and drizzle or coat the top of the protein bars. I have tried both ways and personally prefer to coat a layer as it gives both a second texture to the bar as well as holding the mixture together a little better. The drizzle is more for decoration or small amounts of chocolate (you will need less chocolate in this case - or eat the remainder like I did).
Notes
The bars are best stored in the refrigerator. They are fine to keep out at room temperature, but may go a little soft. I found that they keep their structure better when cold.