First and foremost, just because you are gluten-free and/or dairy-free does not mean you need to miss eating out! I know it can be a very intimidating and scary idea to dine out with allergies/intolerances but this guide aims to help with some tips on eating out with confidence. Whilst I have not been fully diagnosed coeliac myself (read more about that here), I am extremely sensitive to gluten so do follow similar lines as to how a coeliac would go about eating out. It took me a while to adapt to eating out gluten-free, with then dairy-free adding to the challenge. I did make mistakes as I am only human. However, I feel that I can now share my knowledge to help others. Remember that no question is silly and that you can't ever ask too much when visiting places – both old and new. Knowledge is power. Asking and questioning establishments will also help grow their knowledge on these issues and potentially help with allergen awareness as a whole.
Also never ever feel like a burden. There have been so many times where I awkwardly have to tell my friends and family that 'oh I can't eat there.. or there'. Luckily, those around you will understand and help find somewhere suitable. If they aren't accommodating – put them in the bin hehe! Jokes aside, there are plenty of amazing places that are GF friendly when eating out. Make sure to check out my 100% gluten-free venue guide for coeliac-safe establishments too.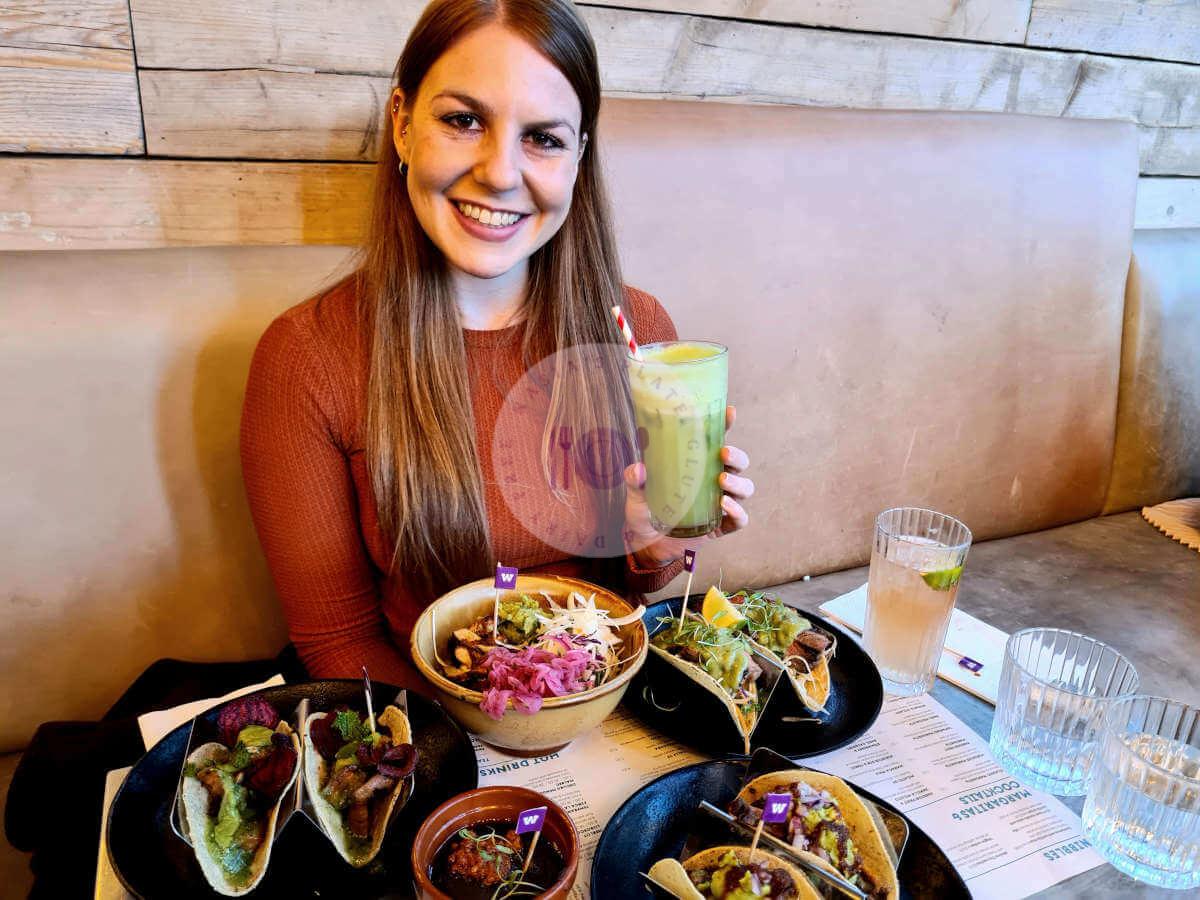 What cuisines would you recommend for eating out?
Italian: This is possibly the best choice for eating out gluten-free! Believe it or not – although Italian is heavily pizza and pasta – most Italian restaurants have GF options. Italy is one of the most 'coeliac-friendly' places you can travel to as well. When I went to Rome, I was spoiled for choice. I do often find GF pizzas to be a lot thinner and crispier than that of gluten-full ones, but they are still awesome. A couple of my favourites are Dough, The Dough Thrower and Brass Beetle. There are plenty of chain restaurant options too which I mention below.
The only thing to really make sure of is that the pizzas are prepared and cooked separately to the normal ones to avoid cross-contamination. I usually find most places very clued up though. Do make sure to check each one yourself. Whilst most places have GF pizzas available, there may be airborne flour in the air which could cause concern. A lot of GF pizza bases are pre-made, especially in chain restaurants, but independents may create theirs from scratch. Not only is Italian great for GF, I also find many pizzerias and Italian restaurants now also serve vegan cheese – so yay for us who are also dairy-free!
Indian: Indian is definitely a top choice for gluten-free in my opinion. The majority of curries are naturally GF (but you'll need to avoid the creamy ones for dairy-free). When served with rice, dishes will be fine. Just make sure to avoid any bread products like naan and chapati. Onion bhajis and fried food is also hit and miss here. As these are fried, you will need to check these are coeliac-safe by cooking in a separate fryer (more on this below). Similar to bhajis, poppadoms are usually GF themselves as they are made with gram (chickpea) flour. So as long as they are fried in a designated GF fryer, these will be safe for consumption. If you are only intolerant, then need for a separate fryer may not be as necessary – but make sure you judge this yourself. If you are coeliac you MUST NOT have cross-contamination.
Dairy-free Indian is a little more tricky. I have found a lot of the foods contain milk products due to marination. If you check with the restaurant individually, they may use coconut milk (more common) instead. My 'usual' order is bhuna or another mid-spicy tomato-based dish.
Mexican/Latin American: Mexican food is mostly made with rice and corn, such as tacos and nachos. I've also found some places which have soft corn tortillas too. Obviously check each establishment separately though. I love places such as Wahaca as most of the menu is GF. This is one of my trusty chains that I can always count on. They also have plenty of vegetarian and vegan options too. Whilst I've never been to Mexico myself, I've also heard this is a brilliant travel destination for eating GF abroad.
The things to avoid when eating out at a Mexican will be flour tortillas (think burritos and enchiladas), thickened sauces such as mole, and sometimes Mexican fried rice.
Tapas: Tapas can be quite good for gluten-free eating out. I would usually recommend the cured meats, chorizo, pardon peppers, salads and patatas bravas. When having tapas out, I also found quite a lot to be dairy-free (avoiding cheese-based dishes). I also find a good mix of meat-based and vegetarian dishes in most places.
Make sure you go for tapas and not pintxos. The main difference is that tapas is served on a plate but pintxos is served on bread.
Greek/Middle Eastern: These two cuisines are quite similar in offerings. Most restaurants focus on meat, fish and greek salads. There is quite a lot of choice here as the side is often rice-based. I have found that they do serve cous cous, pitta and chips – but make sure just to notify your server not to add these to your plate. For instance, I often ask for cucumber or carrot sticks with my hummus instead of pitta. They never usually mind if you explain (or you may even be lucky and they have GF pittas to hand). With the mains, most of the meats, fish and vegetarian options are suitable due to being grilled (just check how they are cooked/marinated). For the vegetarians/vegans, I find falafel is also a good shout here. It is made with chickpeas so often gluten-free (assuming there is no added flour). Typically the salads do not have croutons but make sure of this – and remove any cheese for dairy-free. I would often go for a Greek chicken salad which has lettuce, olives, cucumber and chicken (minus the feta) and an olive oil dressing.
Venezuelan arepas: Did you know that arepas are naturally GF? I remember my excitement when I found this out! I often find these at food festivals/markets, but have eaten them abroad in restaurants too. Arepas are made with cornmeal which is GF – and the fillings often are too. You'll usually see big "100% gluten-free" signs on the stalls. The fillings typically span black beans, plantain, various meats, avocado and cheese (just omit this for dairy-free).
Thai/Japanese: Both of these are great for a gluten-free diet! The majority of this cuisine is cooked using fish sauce in replacement for soy (which usually contains gluten). However, I have found multiple restaurants which offer a GF soy sauce. A Japanese restaurant I highly recommend is Tenkaichi in Cardiff. Whilst there are a lot of noodles to avoid, there are plenty of rice options or alternative rice noodles. I also love the starters and sides of rice paper rolls and sushi (minus any cream cheese for dairy-free or soy sauce for GF). The only major thing to avoid here is tempura and Katsu (bread crumbed).
Vietnamese: One of the best things to look out for here is Pho. It is both gluten-free and divine. I often visit the Pho chain restaurant and have a wide range of options. When ordering, make sure to ask for rice noodles or vermicelli. Like other Asian cuisine, they also have rice paper rolls here which are also great. Just make sure to check the soy sauce as before!
Any cuisines to avoid when eating out?
Chinese: Probably my biggest avoid on the list! Chinese cuisine is usually full of wheat in soy sauce as well as lots of fried, battered foods. Noodles including wheat and egg are also very common. Even foods that are 'gluten free' may risk cross-contamination by using the same wok and utensils. Saying this, I have seen some coeliac-safe Chinese resturants such as Sweet Mandarin in Manchester and Gigi Gao's in Swansea. Whilst I'd say 90% avoid Chinese, there are some nice safe gems!
Fast food: Personally I am not a huge fan of fast food in general – I really have to be in the mood. Quite lucky really as it is hard to find any suitable. The best I've found is the McDonald's veggie dippers and fries. These are both coeliac-safe! You can also get the Maccies hash browns for breakfast too if this takes your fancy. Others like Burger King, KFC etc. are simply not suitable at all unfortunately.
Fish and chips: I've put the chippy in the avoid section overall – but there are some positives too. It is hard to find a GF-friendly fish and chips without doing some research – but there are some pots of gold at the end of the rainbow too. They are dotted over the UK I've found (with some abroad too). Make sure to check in advance though as some only offer coeliac-safe food on certain days. This is where they have changed the oil on that day. Ones which have a GF menu all the time should have a designated fryer. If they don't – make sure to leave ASAP! As for dairy-free, the majority is fine – but make sure to double-check.
Americana: Wheat is all over the shop here! You'll find it in batter and as a thickener. Quite a lot of fried stuff is also beer battered (not usually GF). Most of the food offered will be fries and burgers. This often means gluten-full buns! No no! You may get the odd 'OK' establishment which is clued up – but more often than not it is a no go.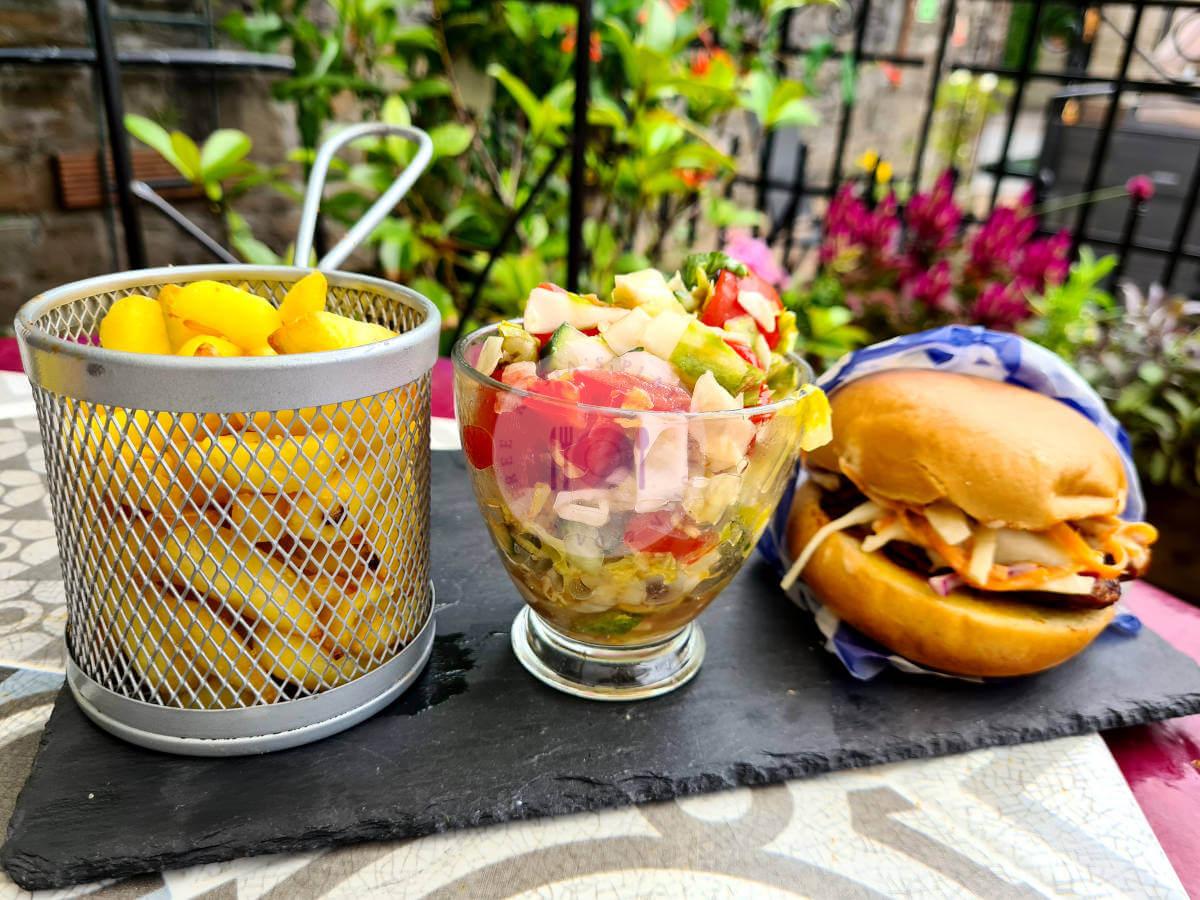 Finding where is suitable for eating out
So this part does take a lot of time and effort on your part. However, I do have some tips that will save you time in the long-run, especially if you plan to visit a place for an extended period or live in the area.
Check restaurant reviews: You name it – Trip Advisor, Google reviews, social media pages such as Instagram and Facebook and even blog posts. I often use more than one method to choose where to go. Trip Advisor is usually my best bet. I will try to look for the most recent reviews that are narrowed to 'gluten free' in the search. I will then have a look at a secondary source such as a blog post or Google reviews. However, I find a lot of people also post their experiences on social media these days. Following gluten-free accounts is always a great idea! A lot of people can be organised and have these popped into their highlights too. Just be very prepared to read – and lots of it.
Make sure to call/email ahead of eating out: I personally prefer using a phone than email – but the latter can also be your best friend too. Phoning up will give you quick answers and will help you know instantly whether the establishment is suitable. You'll want to ask questions such as 'do you have gluten-free options? If yes, what are they?', 'do you have a dedicated gluten-free fryer/toaster?', 'do you have a separate prep area for gluten-free food?'. This will give you an idea on their food allergy awareness/handling and also whether you'll have enough choice to eat. If the fryer isn't gluten free then don't panic – there's usually other non-fried options to choose. Just make sure not to order anything fried if you do choose this. On the other hand, you can email. this will take longer for a response but you'll have the confirmation in writing JUST IN CASE anything goes wrong. I pray it doesn't!
Keep a list of 'places to visit': I actually do this a lot! So I mentioned this briefly above. I plan like anything. I actually usually make a 'bucket list' of eateries I want to visit when I live/travel there. I always keep this handy in a notepad or on my phone for future use. You'll find when doing bullet 1 that you find multiple resturants to jot down for a later date. Future you will thank yourself for doing this.
Look out for the 'gluten free symbol' on menus online: This is wheat with a line through it. It clearly shows dishes that are 'gluten free'. Just make sure to double-check it is coeliac safe and not just a dish that 'does not contain gluten'.
Identify coeliac UK accredited restaurants: This is really helpful! Lots of chains have this accreditation. You can find a list on their guide of safe eateries.
Try using an online tool like gluten free dining: This has a list of all the GF-friendly eateries located over the UK. I find it really easy to use. It also codes the type of establishment ie a restaurant, cafe, pub or hotel.
Be prepared to end up eating out somewhere that may not be your usual choice: OK so this does mean it has to be a bit of compromise on your part – but you may have to settle for your 2nd or even 6th choice. My favourite cuisines are usually non-GF friendly, for example, so I have had to settle for something else. Unfortunately it is hard to be fussy when being GF as it can leave you with very limited menu options. On the flip side – I have tried so many things I wouldn't have if I could eat 'anything'. Being GF has pushed me to explore dishes I wouldn't usually choose.
Choose a restaurant which is 100% gluten-free: yes these exist and they are the dream! You'd never believe how many are actually dotted around the UK. If you're ever in London – that is even more of a bonus as there is over a handful. The best part is that you can have anything on the menu and your friends likely won't even notice they're eating GF food.
What to do when you arrive at a restaurant
As soon as you arrive, before you are even seated, make sure to state your allergens. Be clear if you have coeliac disease – they should take this very seriously. Explain how strict your diet is to emphasise. Do not panic if you've already done this when booking – it is better to be safe than sorry. I can't tell you the amount of times I've asked if the place caters for GF over the phone to be told 'yes' then get there and it is definitely not the case. Being confident is key here – if you don't feel comfortable – no matter the cuisine – then leave! If they are hesitant about serving GF food then this makes alarm bells ring. Do not feel ashamed for walking out instead of going along with it – your health is priority here.
If you're eating out abroad/where there is a language barrier – I can recommend equipping yourself with a translation card before embarking. These are easily downloadable from the web and worth printing off/screen-shotting. The only place I have ever had a problem with miscommunication, even with a card, is in China. However, it has been a huge use elsewhere.
Interacting with the serving staff
What on the menu is coeliac-safe? So the menu may show 'gluten free' but it doesn't necessarily mean it is coeliac safe. This can be anything from prep area to 'may contains' in the ingredients.
Do you have a separate preparation area for gluten-free food? This is crucial – especially if you are coeliac or highly sensitive! A crumb can do so much damage. Whilst they will often say there is still a risk of cross-contamination, as long as you are happy they are doing the best they can, then it should be fine. My view is: if they seem hesitant or you have any worries then just leave. I usually judge from place to place.
Do you use separate utensils for GF food? This one is similar to the above. This can be different for each person – but I don't mind pans that are used for gluten food as long as they are thoroughly cleaned before use for me. Make sure you check depending on yourself and how you feel with this though. However, if it is an oven/grill then it is another story! I make sure that things such as pizza are not on the same trays as mine, or burgers aren't grilled near gluten buns etc. A big one here is checking separate toasters as these crumbs get everywhere! If they don't have a GF toaster, you can ask for them to toast your bread under the grill instead.
Do you have a dedicated gluten-free fryer? This is a big one for things such as sides. The chips etc. may be 'gluten free', but I have found often they are in fryers with gluten-containing products. This means there are traces and no longer GF. Like chips, other things to look out for are onion bhajis and poppadoms. I've been caught out on these a lot in the beginning!
Explain your coeliac disease/intolerance: make sure to be clear and polite – they need to know how serious it is. I've been to so many places where they ask 'are you allergic or just GF because you want to be?'. It is frustrating and you have to bite your tongue sometimes, but with people often being GF for the 'trend' or other reasons means it is sometimes hard for us to be taken seriously. Just keep calm and gently explain to them rather than get angry. I've usually had great responses for this.
Check the condiments and sauces are gluten free: these can often have hidden barley or wheat so make sure to check everything.
Speak to the manager: If you feel you need more information or want to be as clear as possible – you can always ask for the manager. Some restaurants, such as Wagamama, only allow the manager to take allergy orders too. Everyone should be allergy trained but managers have a big responsibility for this too. They will be the biggest source of information.
Any key things to look out for on menus?
Look for the GF symbol: There is a unique symbol for restaurants which have accreditation by coeliac UK. This means that the dishes which state 'GF'

must

be gluten-free by law and they use strict measurements in preparation and cooking.
NGCI: This stands for 'non-gluten containing ingredients'. Whilst this is helpful to identify the dishes which do not contain gluten, it doesn't necessarily mean that they are 'gluten-free'. When I was first eating out GF, I was caught out here a lot! Places often put this to cover their backs for preparation or not having separate fryers etc. Make sure to always check with the staff if unsure.
GFO: This stands for 'gluten-free optional'. So this will usually be on dishes which contain bread/croutons. Overall the dish is gluten-free without these additions and is easily adaptable. Just make sure to be clear with the waiting staff here.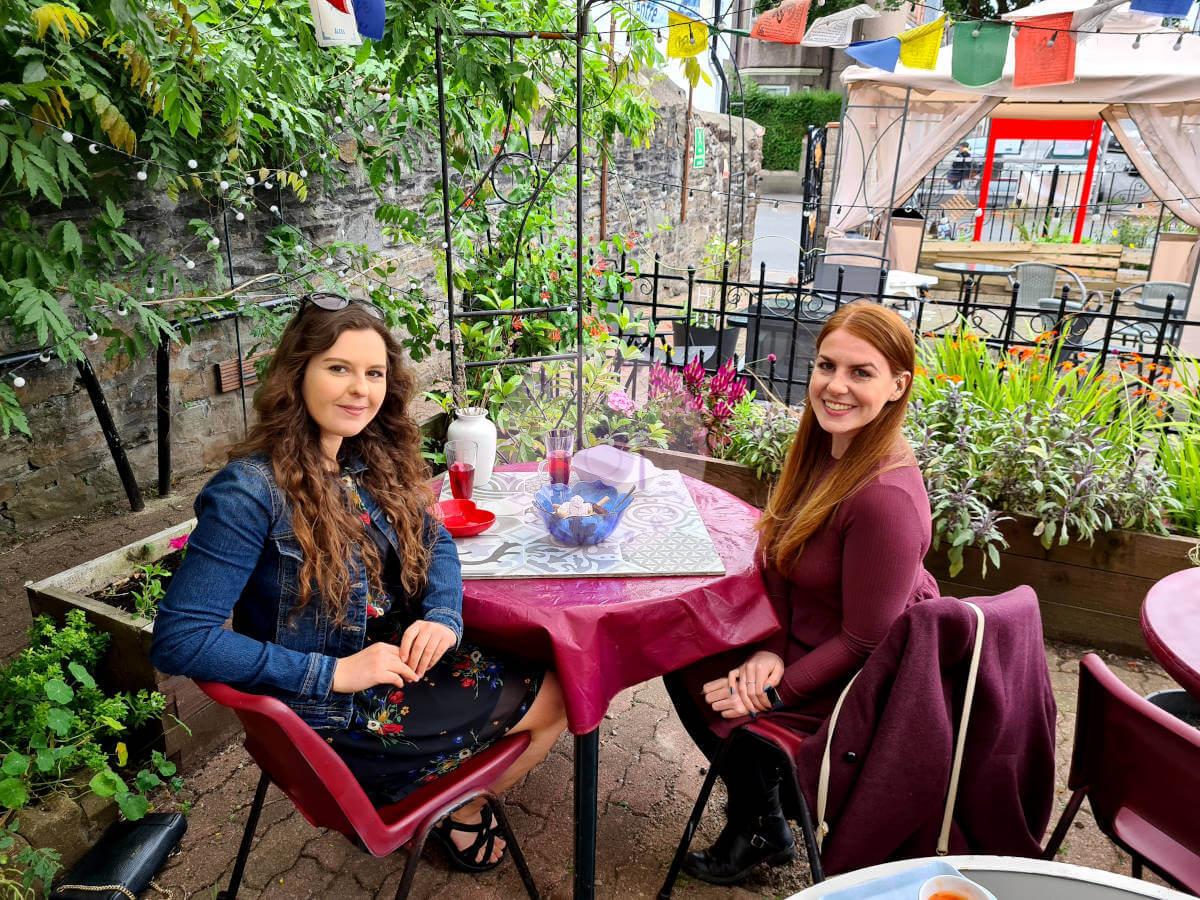 'Grab and Go' eating out options
This is my top pick for gluten-free 'fast food'. They have plenty of dairy-free, vegetarian and vegan options too. All of the allergens are clearly stated on the menu and the staff are always attentive on allergens. I often find this chain dotted around train stations too which is ideal for taking on your journey. They serve everything from lighter bites to heartier meals. Everything is fresh and they have plenty of healthier options.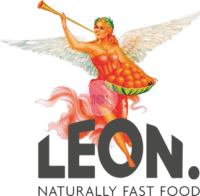 McDonalds: This one you may have heard of before – the infamous UK veggie dippers and fries. I'm not quite sure why, but they use a separate fryer for these items and they do not contain gluten themselves either. I am not a huge fast food fan myself, but so many people rave about this meal combo. Just make sure to check with each individual branch just in case. Don't fancy a lunch menu item? Their hash browns are GF too!
Marks and Spencer: There are quite a lot of 'made without wheat' sandwiches in the M&S chilled aisle. These aren't always in the meal deal (boo) but still ideal for when you need to grab something quickly. If you're needing dairy-free too, this is a little harder! I do find their sandwiches often have cheese or some sort of dairy. However, their 'nourish bowls' are often GF and plant-based. It just takes a little more looking at the ingredients list. Just make sure to be careful when picking sandwiches up. I have had it in the past where I have almost mistaken similar sandwiches, in similar packaging, to the GF ones. They often sit together but the suitable ones clearly state 'made without wheat' on the front.
Tesco: I haven't found many suitable sandwiches in the meal deal for GF (they are quite sporadic) but they do have GF sushi! Make sure to check the back of the pack as they are subject to change – but it is often fine. I've also noticed this pop up on Facebook groups where others have identified it as coeliac safe. Sometimes they can change the soy sauce so this can contain wheat. Just check every time before purchasing.

Pret: Note that this may not be suitable for coeliacs – but is fine for those with gluten intolerance. Pret have often pointed out they have a chance of cross-contamination with their products. Whilst I haven't had issues myself, make sure to check for yourself. Their open sandwiches are often NGCI/dairy-free as well as their soups and breakfast bowls. Great for a brunch/lunchtime pick me up with a coffee.
Tortilla: This one is a little more of a gamble from branch to branch. I often pop here on lunches for a 'naked burrito' and the staff have become accustomed to me. They are very clued up on changing gloves and finding me something suitable. The majority of filling ingredients are GF (make sure to check in case these change) and I find it is only the tortillas themselves you really need to watch out for. They do use paper underneath them when prepping though. I find Tortilla to be great for dairy-free also (minus the cheese, of course).
Barburrito: This is pretty much the same as Tortilla above. Another mexican eatery which have 'naked' options. I've been here plenty of times and the staff always seem very knowledgeable and helpful.
Subway: Personally I avoid subway as I am very nervous of cross-contamination. I went in once with a friend and saw how they prepared the sandwiches and toasted them on the same tray which put me off. Whilst I've heard from others they are great with changing gloves and having the bread wrapped, I can't help but think of all the crumbs dropping into the tubs. Maybe this one is for you if you have a mild intolerance otherwise I wouldn't recommend myself.
I know this was a lot of information to take in – but I do really hope it was helpful! Eating out gluten (and dairy) free can be daunting at first, but I promise it becomes more comfortable. If you ever have any questions, I am always open to questions via my contact page and social media. I also use Instagram a lot to highlight GF-friendly places which you can always view. Never feel afraid to ask any questions to myself or other gluten-free bloggers. Happy eating out x