Oh how I adore my protein recipes – especially these chocolate protein crepes! There is a reason I have a whole 'high protein' section on here. Lots of women worry that 'high protein' diets will make them 'bulk', but this really isn't the case. It is great for us with very active lifestyles – and also brilliant for those trying to lose weight. Protein keeps you fuller for longer and is really nutritious. It also helps you build and retain lean muscle mass. Anyway, enough of that talk.. onto the recipe!
Apart from protein, what else do I love? Chocolate – of course! I feel 80% of my recipes have chocolate sneaked in somehow. Either that or the whole thing is a 'chocolate overload'. So put protein, chocolate and one of my favourite breakfasts together and you get chocolate protein crepes. That's right – when I'm not eating oats, I'm scoffing down a plate of protein pancakes/crepes.
I always find the word crepe to be very fancy and a dish you get when you are out for a posh brunch date. However, COVID has definitely sparked my interest for bringing these memories and feelings into the home. What more could you want than a gorgeous luxury breakfast in the comfort of your own house? Even better when it is tailored exactly to your liking.
This recipe took me a little while to perfect. I had no end of failed attempts. Whether it was broken crepes when I tried to flip them, or those that simply stuck to my supposedly non-stick pan and became a somewhat type of sweet scrambled egg. Yes, you can imagine LOTS of those happened! But finally, we have it. I am so proud of this – and it is highly reproducible. The scientist in me really likes this term.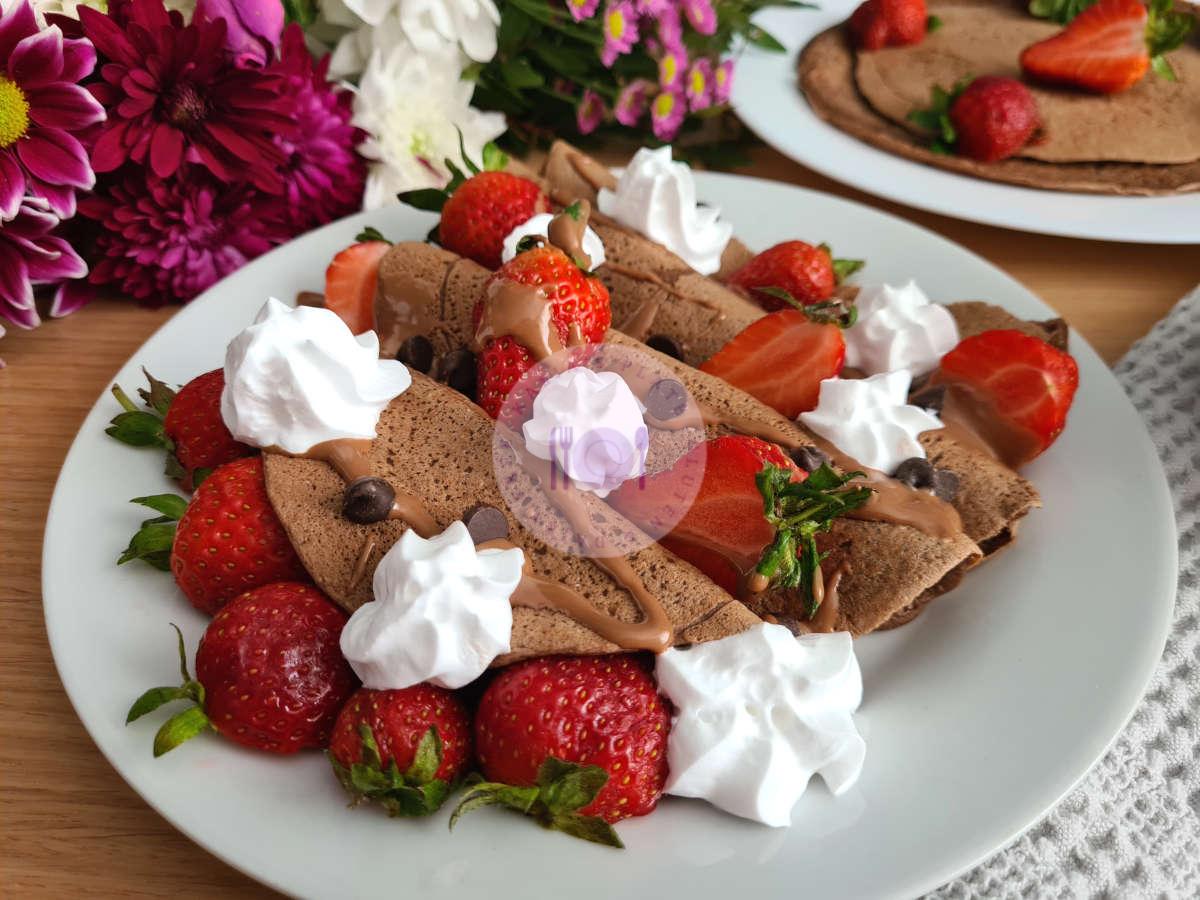 This breakfast is ideal for both a weekend treat as well as a weekday whip up. It doesn't take long at all – you'd be surprised. I've also made this the night before and re-heated the following morning (adding the toppings fresh). It keeps really well in the fridge overnight for a quick serve the next day.
To make these extra boujee, I serve mine with fresh fruit, chocolate and vegan squirty cream. I like to say they stay like the photos when served, but you bet I add about another 1/2 of the cream can to the plate. Don't tell me you wouldn't do this too. Anyway, I hope you love this recipe as much as I loved creating it. Have a great day!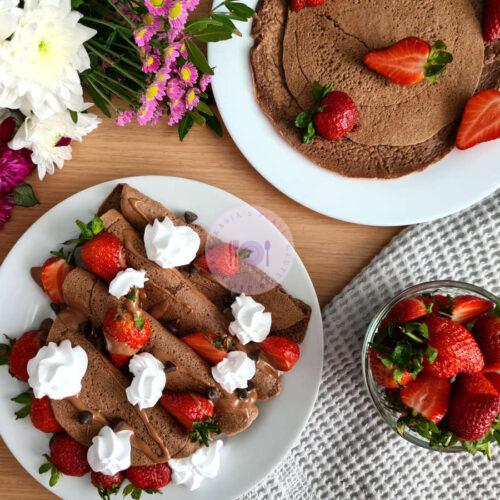 Chocolate Protein Crepes
Gluten-free, Dairy-free, Nut-free, Soy-free
Equipment
Frying pan

Spatula

Whisk

Bowl
Ingredients
1

tbsp

Olive oil

For frying

1

large

Egg

15

grams

Protein powder (vegan/dairy-free)

Chocolate flavour

50

grams

GF oats

Blended into flour

100

ml

Dairy-free milk

Recommended: oat, almond or coconut
Instructions
In a bowl, whisk the egg, protein powder, oat flour and milk until combined and few/no lumps

Heat oil in a frying pan on a medium-high heat

Pour the batter into the pan, evenly and thinly coating the surface

Cook for 2-3 minutes (until the crepe begins to form holes)

Gently flip the crepe over with a spatula and cook for another 2-3 minutes on the other side

Repeat until you have used all the batter

Serve with your favourite toppings
Notes
Calories do not account for oil
Calories do not include toppings
Recommended to eat on day of cooking but can be stored in the fridge for 1-3 days