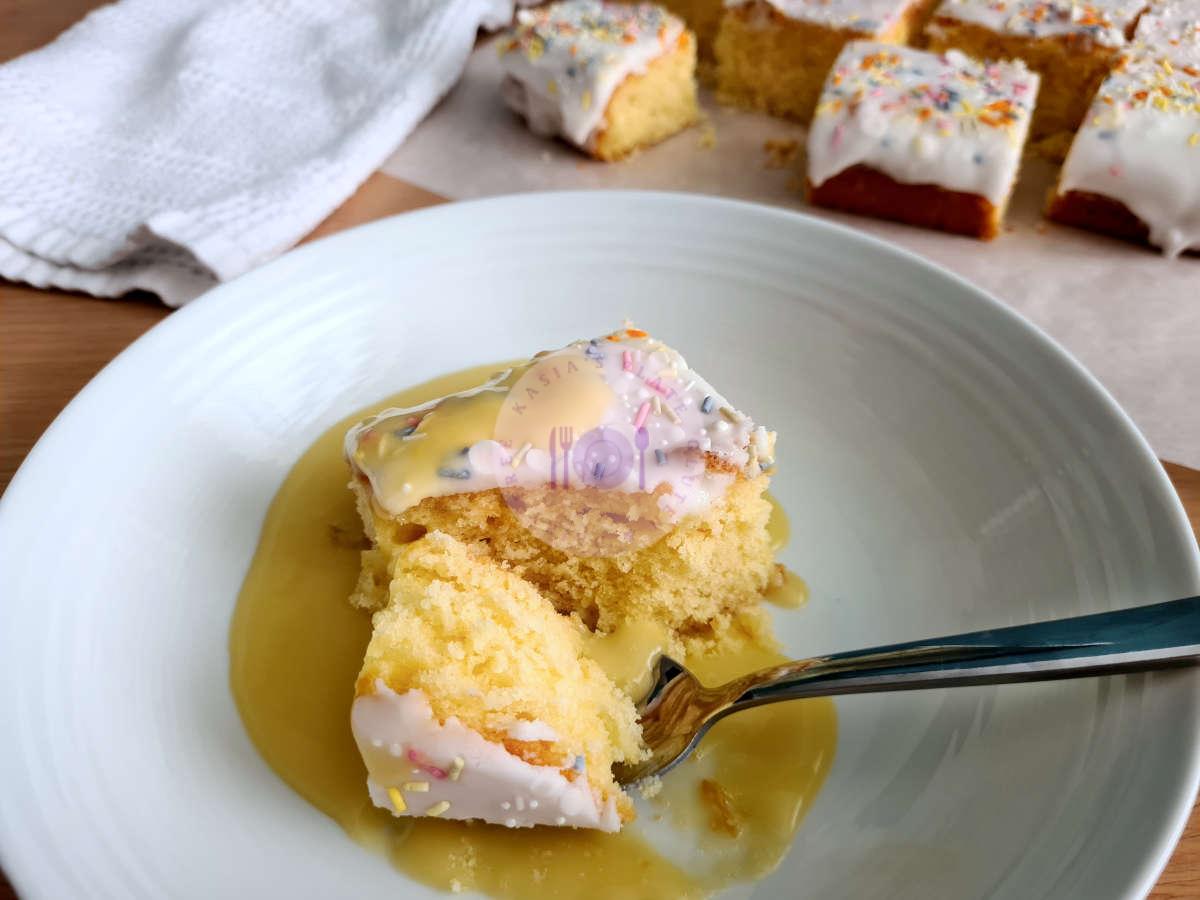 Well is this just simply a blast from the past? 10-year-old me would be so proud that I managed to re-create this retro school sprinkle cake recipe in a gluten and dairy-free version. Before my food intolerances were defined, I would always eye up this cake when in line at primary school lunch time. I'd never be that worried what was for mains, but my eyes always darted to the dessert. We always had a choice of two – and I knew which I was longing for. I'd always be so gutted if I missed the last slice! I had a massive sweet tooth from a young age you see.
I've spoken to many people and everyone remembers this cake – even those several generations above mine. My original birthday cake idea wasn't going to plan – due to some missing decorations – so I decided to whip this up last minute instead. I actually mentioned this to my nanna on the phone right before I started. We reminisced about the simplicity of this cake and the star of the show – as you could call it – being the custard. Well, it wasn't the star due to being perfect – not by any standard. We both remembered a slightly clumpy, neon pink sugary mess. However, there is nothing quite like it really! I'll have to try and make it next time I bake this.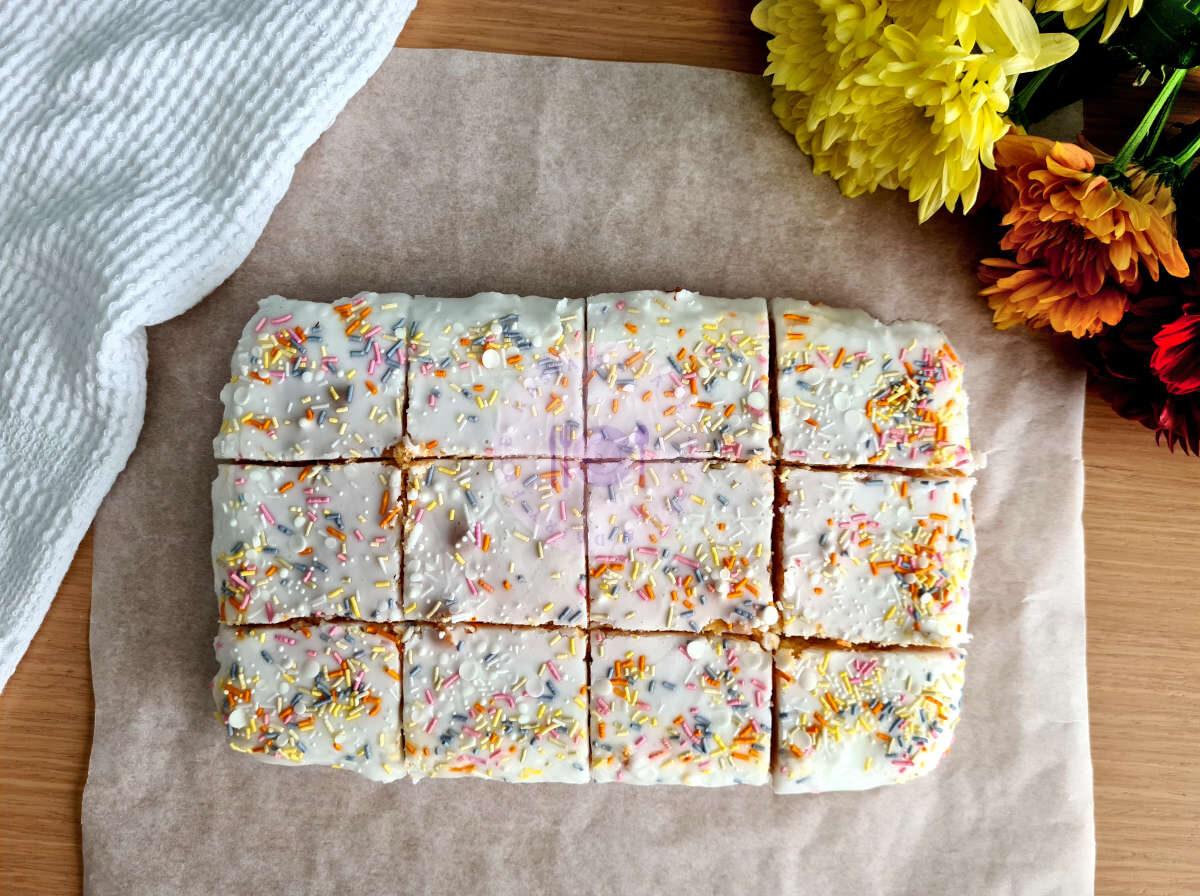 Retro school sprinkle cake wasn't the only dessert we had in primary, but it was my favourite of the tray bakes. I also remember a dry chocolate cake with the lumpy custard, but chocolate form this time, and a coconut jam sponge with yellow custard. Do you remember any of these? I feel the sprinkles cake was the most common of the lot.
The best part about this traybake though? They are such simple bakes that you can easily create them at home! Who doesn't want to re-live their childhood memories of cakes and all things sweet? If you have leftover sprinkles – you could even try my funfetti vanilla cupcakes too.
As this is such a quick and easy bake, you can whip it up on the fly to have as a treat to yourself or to share with friends and family. It is a classic that I know everyone will love. Plus – sprinkles make everything so fun.
Don't have sprinkles? You can top this with anything – or even keep it plain. I also remember it often having pink icing too, quite like a Tottenham cake. You could easily create this with a few added drops of food colouring. I try to keep my recipes simple so you can have a play and add your own flare. Why not have a go with this one?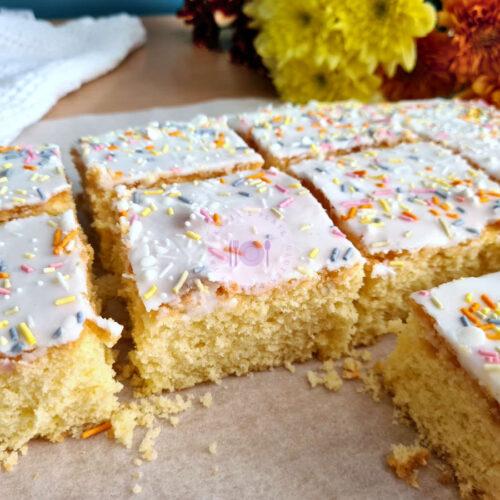 Retro School Sprinkle Cake
Gluten-free, Dairy-free, Vegetarian, Nut-free
Equipment
Oven

Mixing Bowl x2

Baking tray (10½ x 8 inches)

Greaseproof Paper

Mixing spoon

Sieve

Spatula

Wire rack
Ingredients
For the vanilla sponge
200

grams

Dairy-free butter

Recommendation: stork butter block

210

grams

Caster sugar

3

large

Eggs

200

grams

Self raising gluten-free flour

1/4

tsp

Xanthan gum

Omit if your flour blend already contains this

2

tbsp

Milk

Recommendation: coconut, soya, rice, oat or almond milk

2

tsp

Vanilla extract
For the topping/decoration
330

grams

Icing sugar

1/2

tsp

Vanilla extract

75

ml

Milk

Substitute: warm water

3-4

tbsp

Sprinkles
Instructions
To make the vanilla sponge
Pre-heat the oven to 180°C (conventional) or 160°C (fan)

Line the baking tray with greaseproof paper and set aside

In a mixing bowl, cream together the butter and sugar using a mixing spoon until a thick, smooth and soft mixture forms

Add the eggs into the bowl, one at a time, and mix with the creamed butter until combined

Add in the vanilla extract and milk and mix again

Using a sieve, add in the flour in portions and mix in until well combined (adding the flour in slowly gives a smoother texture)

Pour the batter into the lined baking tray and use a spatula to even out the top of the mix

Place in the oven and bake for 25-30 minutes (until a toothpick/knife comes out clean and the sponge turns slightly golden)

Leave the cake in the tin to cool for 15-20 minutes before moving to a wire rack to cool completely
To make the icing and decoration
Once the cake as cooled completely, mix together the icing sugar and milk in a bowl until combined

Add in the vanilla extract and mix in again

Pour the icing over the centre of the cake top before moving outward (do not panic if it drips slightly over the edge - starting in the centre will make sure the majority of the top is covered)

Whilst the icing is still wet, add the sprinkles to the top of the cake then leave to set

Cut the cake into 12 equal portions and enjoy!
Notes
Storage: in an air-tight container at room temperature for 3-5 days
Not suitable for home freezing
Calories include the sponge and icing but not the sprinkles
Best served with warm custard