If you've ever spoken to me, seen my social media or know me in person.. you'll know I am queen of chocolate. It was only a matter of time that I wrote this blog post for you all. A lot of the featured brands are small businesses. Whilst there are some bigger names here too, I try to shop small where I can. The connections I have made with some of these chocolate brands via my Instagram is lush. We have lots of meaningful conversations and I have become a regular with a few. Every time I see a new brand of dairy-free/vegan chocolate, I just have to try it out. There's even some places I eat a bar of a day (no word of a lie). Keep reading to find out who!
Please note that some of these chocolates are a 'may contain' for gluten and dairy. I have tried to specify where possible any risks. I am very sensitive to gluten (not fully coeliac diagnosed – check out my journey for more details on this) but not as overly sensitive to dairy. This means that I do eat 'may contain' gluten products with a lot of caution. I interrogate the business, if possible, before buying to ask about their production and the likelihood of any cross-contamination. If I feel comfortable then I often buy. I see it that a small business that can control the environment and understands allergies is no different to the risk I take dining out. With bigger brands, this is much harder and usually a bigger risk I take. If I am ill, I just simply don't buy again. However, the brands below are all ones I have found suitable for me. In regards to dairy, I am not as strict with this and usually am fine as long as it is 'vegan friendly'. Saying this, please make sure to look after your own allergies and check the labels/with the brands yourselves. Your health matters.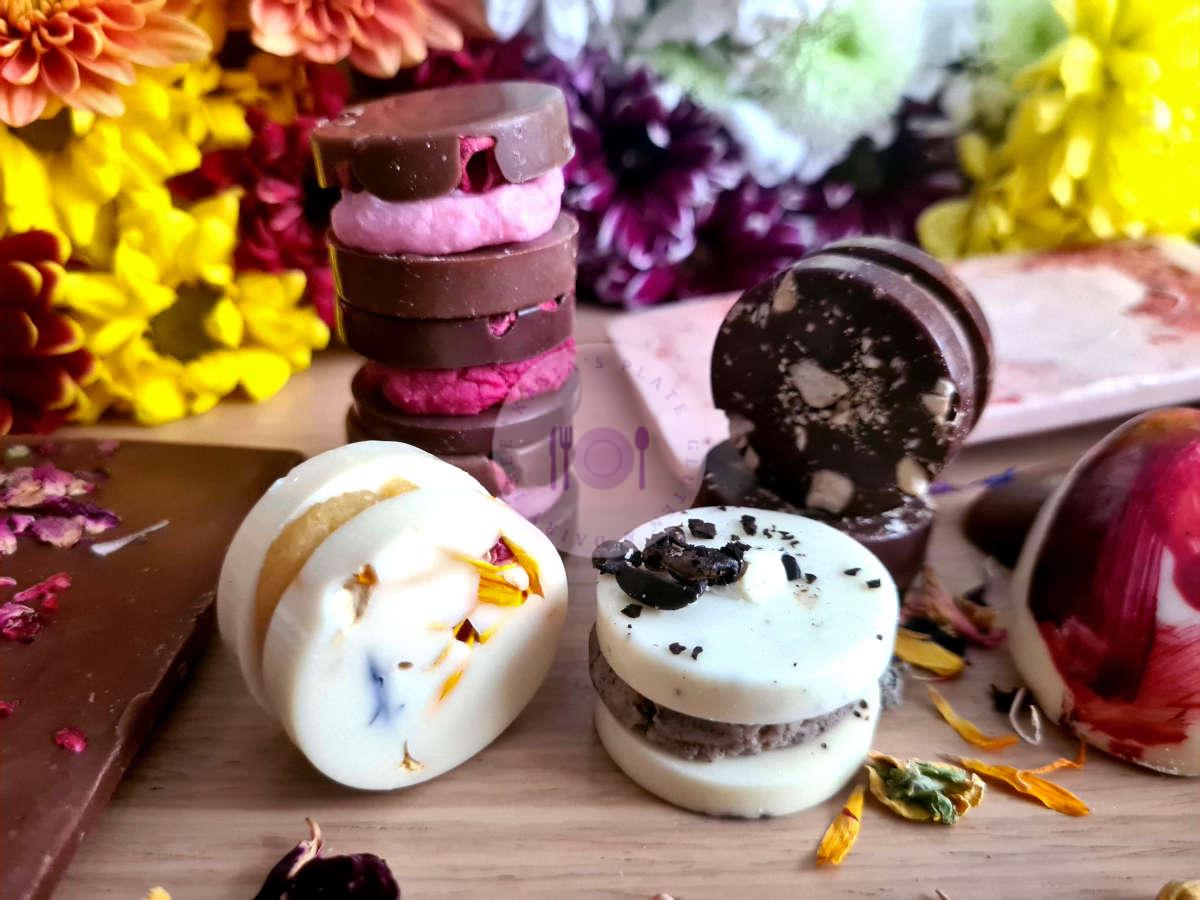 Difference between vegan and dairy-free chocolate
Dairy-free chocolate means that it is completely (or should be) free from any dairy. This includes 'may contain dairy'. On the other hand, whilst vegan chocolate doesn't contain dairy itself, it often comes with the may contain warning. For example, I find a lot of supermarket own brand dark chocolate is vegan but not 100% dairy-free. This is suitable for me but may not be for someone with an allergy rather than intolerance.
Why is chocolate often vegetarian but not vegan?
You'll find this with a lot of milk and white chocolates on the 'normal' shelves. They use either whole milk powder or whey in the chocolate products. Neither are suitable for vegan/dairy-free diets. If you want to buy 100% free from chocolate in bulk for things such as baking, I suggest using the ones in the free from aisle. Those I have featured are more for consumption alone/as toppings rather than to melt into bakes.
Carob as a chocolate substitute
If you're not fancying chocolate, carob is a great idea! It is naturally vegan/dairy-free and appeals to a wide range of people. It is also widely consumed by those who are more health conscious as it often contains less sugar than other chocolate brands as well as extra minerals. Whilst it isn't exactly chocolate – it sure tastes close enough! I've even featured a brand below who use carob.
Is vegan/dairy-free chocolate like that which contains milk?
Sorry guys but dairy-free chocolate does take some getting used to! It isn't quite like the chocolate I remember unfortunately. I say this, but the quality is increasing every day and there are becoming more and more options. Everyone has different tastes so I am hoping I have highlighted some brands which will suit you. There are some brands here that I feel are genuinely better than 'real' chocolate.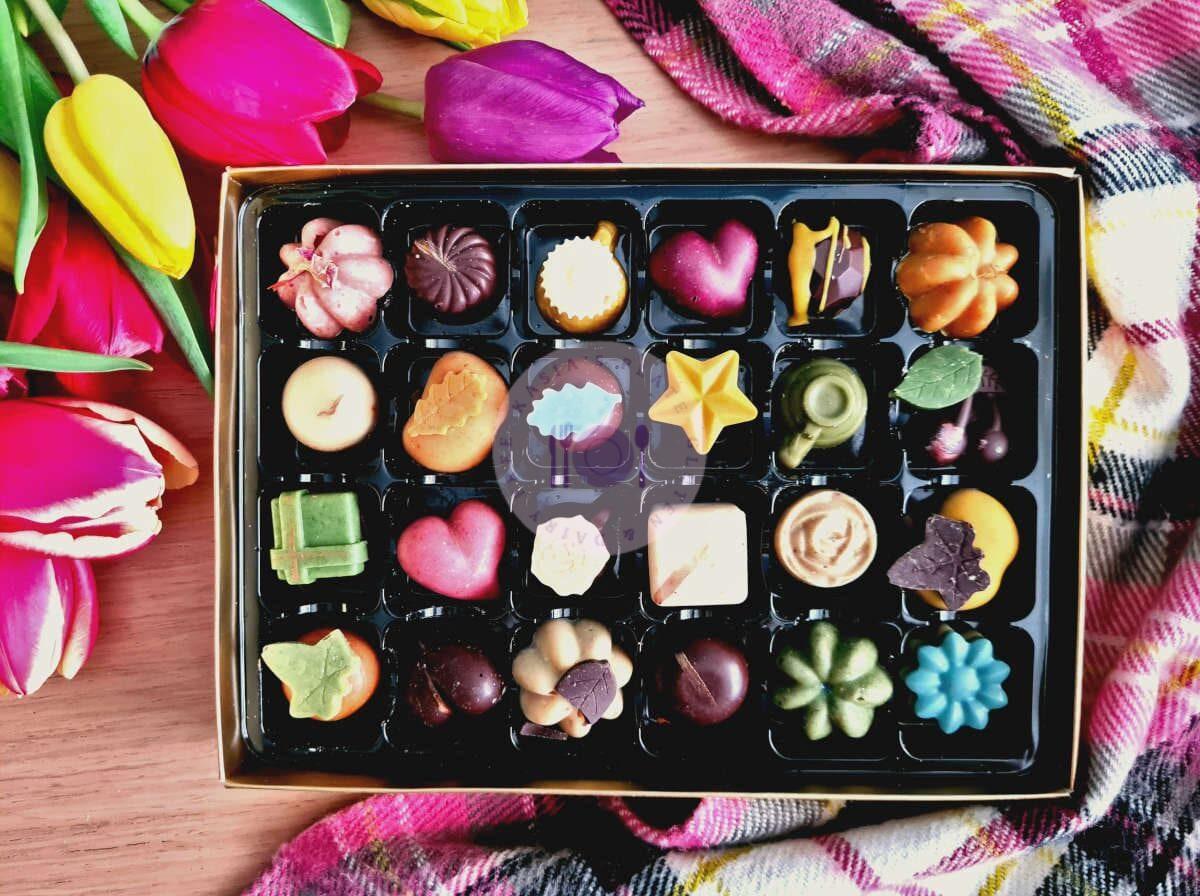 FAVOURITE SMALL BUSINESSES:
Chocolateeha: My oh my I could go on all day about this woman! Wajeeha is simply magical when it comes to chocolate creations. Never have I seen someone come up with so many unique ideas in such a short space of time. She is always outdoing herself. There are plenty of plain bars she has for sale all year round as well as special ranges throughout the year. Did I mention that her creations are all bean to bar also? Even fillings are handmade. She specialises in Ramadan and Eid chocolate gifts also. Everything is always beautifully packaged and almost too good to eat. Her chocolates are always 100% vegan, gluten-free and soy-free. She also has refined sugar-free and diabetic ranges. Most bars are also nut-free, but not suitable for those with severe allergies due to handling of nuts on the premises. Chocolateeha is probably the person I buy from the most due to the huge selection there is. She is also the one I mentioned at the start where I eat a bar a day. Personal favourites: toffee maple pecan (RSF), orange cardamom (RSF), black forest (RSF), raspberry ripple and blueberry white chocolate. Make sure to click here for £5 off a £15 spend.
Fetcha chocolates: I found Fetcha last year via Instagram and instantly fell in love. All of her chocolates are 100% gluten-free and vegan. Everything is so quaint and her bon bons are unbelievably shiny. The decoration is just stunning too. I can promise you these melt incredibly into porridge – if you resist eating them all at once that is. There also chocolates for kids (or big kid adults like me) which include chocolate lollipops and shapes such as unicorns and dinosaurs. These are perfect for decorations. Fiona is such a sweetheart too – she has a passion for everything Eco-friendly which is reflected in her brand. Everything is recyclable and sustainable which I absolutely love! It is something that really attracts me to her brand. I've purchased quite a lot from her now and can say the quality is impeccable. I even had a giant Easter egg filled with her bon bons and I cannot describe the luxury. It weighed a whopping 300g too! I find her prices really competitive and worth every penny. There is the classic collection which is well worth a buy – one I have had twice now. I've also loved her seasonal collections, particularly the Easter range, and hope some of these are to stay also.
Temper.TANTRUM: I have bought from Chris since basically day one of him launching! All of his chocolates are 100% vegan but a may contain for gluten. However, he is always on the ball with allergens and does prep these all separately to minimise cross-contamination. If you message him directly, he is always really helpful in explaining everything and tailoring to your needs. I found him one day on my Instagram explore page and was drawn in to the colours and unique flavours. I have never found anyone who comes up with so many 'out of the box' ideas. Hear me out on this.. white chocolate with truffle filling. Yep, you heard me right! He added truffle into a chocolate. It was the best I've ever had of his too. I love trying his weird and wacky flavours. Every single one surprises me more than the next. My favourite collection of his is the Wanderlust. I am a lover of white chocolate and raspberry which is featured here with a tarragon ganache. In the box is also tahini and coconut. This brand is for bringing more of a luxury vegan chocolate collection into your life. If you'd prefer something a little more budget, he also sells wonky chocolates and bars too.
Nono Cocoa uk: This is part of Functional Food Co. It is top 14 allergen free and you'd never know! They also don't use anything artificial so everything is made with natural colouring and flavours. Alessandra is the owner of Nono Cocoa and has really set up something special here. You NEED to read their website blog. The idea stemmed from looking after her autistic son, opening up a place for those with disabilities to work. I cannot tell you how selfless and amazing she is! We talk a lot online and she is always so supportive of her customers. If you are a regular, she often pops in extra goodies into the bag out of her own heart. I once even had a parcel go missing from them and she replaced it with next day delivery no questions asked. The customer service is impeccable. Regarding the chocolate, it is divine! I often buy her wonky chocolates – which are any that don't quite hit the mark to go into the boxes. I love using these as decorations for cakes and breakfasts. These are sold quite cheap and very wallet friendly for what you get. I also love her baking chips. Great to stock up on these! If you want something extra special for yourself or a gift, I highly recommend their chocolate boxes. Every one is hand-crafted and you can tell the love and effort that goes into every piece. Phenomenal to say the least. As well as chocolate, they also have other baking items such as GF oat flour, chia seeds and raspberry powder. Great for stocking up!
Caroboo: This business was set up in lockdown and has started with an insane bang! These are all gluten, dairy-free and vegan! If you're fancying something different than chocolate then this is for you. It is 'like choc but not' as they say. You'd not even be able to tell it is made with carob. There are currently three flavours: coconut, orange and mint. My personal favourite is the mint one as I ADORE mint chocolate. This was right up my street and a real winner. It is strong in flavour, like their others, which I personally like. A real kick! Surprisingly, I also love the chocolate orange one. It is quite strong, which usually isn't my taste. Except I say move over to Terry's.. you've got some serious competition here! I always struggle to savour Caroboo too. I buy it aiming to use it on my morning pancakes but am known to just inhale the box the day it comes through the door. Safe to say several orders have gone 'missing' into my belly within a few days. Charlotte and Darren have started something amazing here and I can't wait to see it bloom further. One I will be supporting for a long time! It is a great price so a 'stock cupboard item' for me. Plus, all of the bars are refined sugar free so keep the bloat away for me.
Mendip Chocolate Chef: This is artisan chocolate made in Somerset, UK by Louise. They make everything in small batches and span the chocolate shop all the way to wedding favours. Whilst there is a lot of non-DF items on the website, there are plenty of vegan options. There is pretty much something for everyone here. The vegan items I have tried are all in thick bars. You can tell top quality ingredients are used. The flavours range from those which are more common such as raspberry all the way to ginger and fennel. The vegan chocolate here is dark but the toppings are so delightful and give each bar a unique character. My personal favourite two were the mango and toasted sesame and the omega fruit nut and seed crunch bars. I enjoy these bars both on their own as a little indulgence as well as toppings for breakfast. Are you getting the gist here that I like chocolate for breakfast yet? Oh by the way.. everything is completely plastic free too! This includes the bags which the chocolates come in.
Sweet Tooth Ruth: So this is actually run by a friend of a friend, Ruth, who is based on the outskirts of Cardiff. This doesn't reflect my decision to post about her on here though – she deserves her spot as much as the rest. This business is 100% vegan and 90& gluten-free. The only chocolate currently that isn't GF is the biscoff truffle. However, Ruth is extremely careful when it comes to preparation and ensures she has a separate preparation and clean utensils for any GF batches. Ruth makes truffles which have a hard chocolate coating and a soft ganache centre. They are stunning! My top two picks are the raspberry and the nut. The former is always a winning combo for me but the latter strongly reminded me of a fererro rocher. These are the perfect gift as they come in a cute little box and bow, all with their own individual cases.
FAVOURITE LARGER BUSINESSES:
Booja Booja: The king of the dairy-free truffle world. I only recently started buying these and I don't know why it took me so long! My aunt is also dairy-free and loves this brand. It is quite pricey though, meaning I only have them for a treat. I bought myself three different flavours for my birthday and I was so surprised with how long they've lasted. I usually inhale chocolate at the speed of light. These truffles are so rich that even I can only manage two at a time! So whilst they are on the more 'luxury' side, they do last. I also feel they are worth the spend because I've not had anything quite like them. They're the closest to 'normal' chocolate truffles I've had. They also use top quality ingredients, including collaborating with my next pick.
Pacari: This is a brand I have collaborated with before on my social pages and how I came across them. Since then, I have purchased their brand myself as I am very fond of their chocolate for baking, in particular. The ingredients are very high quality, winning over 300 awards for their chocolate. Not only this but they are highly ethical too (which is all noted on their website). My personal favourites are their baking chips, raw blueberry chocolate and chocolate coated banana drops. They have a wide range of chocolate coated fruits as well as plenty of baking supplies. I don't tend to eat the bars from here alone as I find them quite rich, so prefer to melt and use them in creations instead.
Nomo: These are the bars I buy the most from supermarkets and Holland & Barrett. I usually keep a stock in my cupboard when I want a quick snack. The price is very reasonable (~90p a small bar). Whilst I love all of their products, my top two picks are the fruit and nut bar as well as the caramel filled. The latter reminds me so much of Cadbury caramel – but better!
Rhythm108: Who doesn't love Swiss chocolate? Especially when it is 100% GF, organic and vegan. This is the silkiest chocolate I have found in the supermarket free form aisles. It is beautiful in bakes and also to eat alone. I'd say it's slightly on the pricier side of things, at over £3 a bar so I only get these when on offer or for occasions. My personal favourite is the hazelnut praline chocolate bar. They have recently released other flavours though like the mint and orange – both of which are great too. I can't find these in store though so do buy from their website directly. Another personal favourite is their salted almond bar. The saltyness really enhances the chocolate flavour experience. I do like the bars for taking in my bag as a pick me up snack.
Pico: I recently stumbled across this brand in Sainsburys (March 2021). I'd never heard of them before, but saw they were on offer so gave them a try! The first bar I had was the hazelnut. So silky! I actually went back the next day to buy one of each whilst they were still on offer. Personally, I wasn't as keen on the coconut flavour to eat on its own, but it was good when combined with other flavours in a smoothie bowl. The hazelnut and salted caramel I could sit and scoff all day. This is probably some of the best commercial chocolate I have purchased! It is a Swiss premium masterpiece. Completely vegan, gluten-free, soy-free and organic too.
Moo Free: I personally like their chocolate most for baking purposes. Their chocolate baking drops, particularly the white ones, are awesome for popping into cookies. It is hard to find good dairy-free white chocolate buttons so this is my go to. These are also on the more budget end of the scale and easy to find in all major supermarkets as well as online.
Ohso: I actually snack on these mini bars daily! They are full with live bacterial cultures so are great for a probiotic boost. The majority of their range is vegan, but they have recently introduced a milk chocolate product too. They have four vegan flavours which include orange, raspberry and two different % dark chocolates. This brand is 100% gluten-free and has no added sugar to the bars. They are quite low calorie so ideal for a quick boost. The chocolate itself is super cute and comes in the shape of a mini bar. I buy mine online in the weekly box packs which are all individually wrapped – so you can take them when traveling too. Make sure to use OHSOK1 for 15% off your purchase.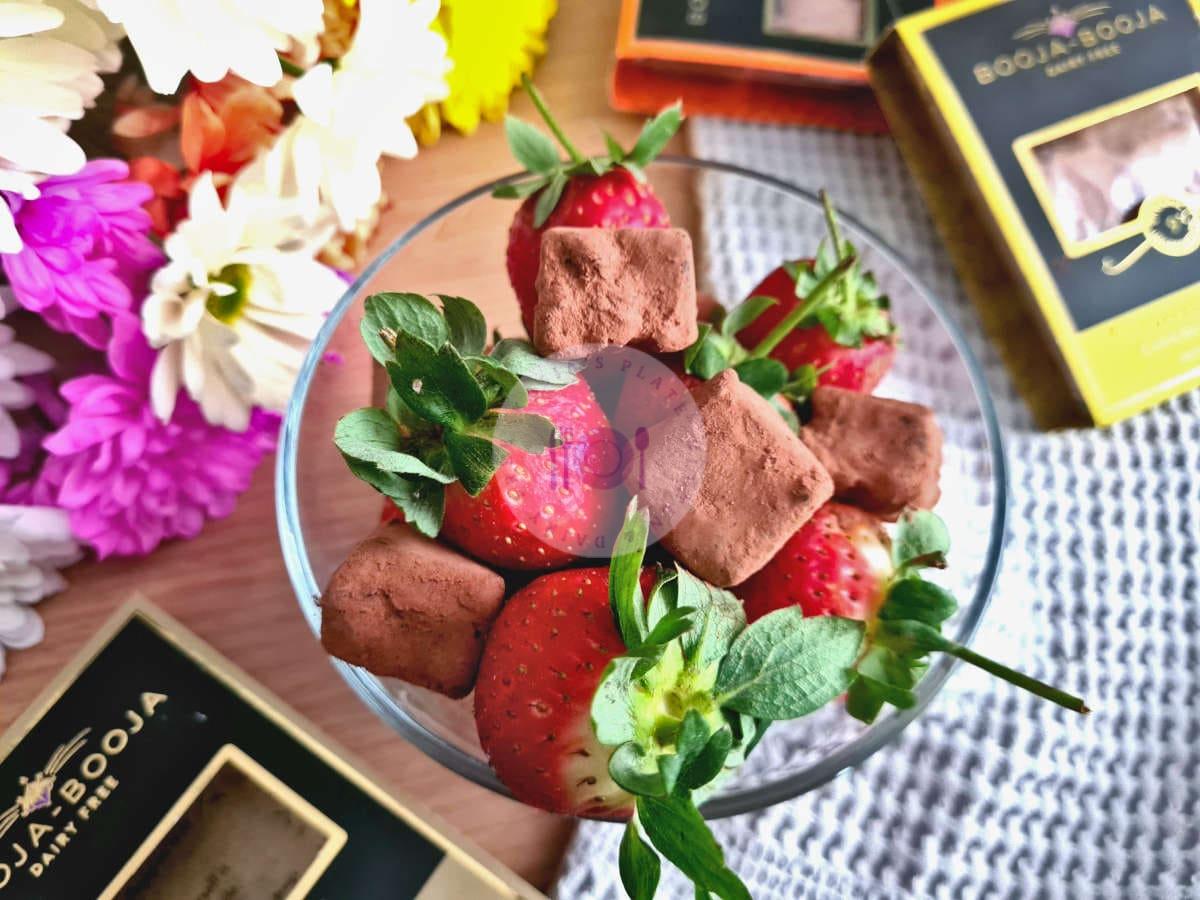 I hope you enjoyed this and have picked up some new chocolate brands to try yourself. I even use these in my baking, such as in one of my favourite vegan recipes: the ultimate fully loaded vegan fudge brownies. These are in no particular order – I like them all and have bought on multiple occasions from each business so I know the quality stays there. Make sure to keep this bookmarked for later – I am forever adding to my chocolate collection.