Who knew that one weekend in Newcastle could be packed with so much gluten free goodness? I've made this list after visiting the area for 4 days, meaning it is slightly shorter than some of my other gluten free guides. It includes plenty of restaurants and businesses that I personally visited over my time here, as well as those I had researched but hadn't had chance to get to. Saying this, I always research thoroughly before any of my journeys, both in the UK and abroad, to compile a large list of 'suitable' places based off other blogs and Trip Advisor reviews.
As with my gluten free guides to Cambridge and Cardiff, I have grouped the places into breakfast, lunch, dinner, and sweet treats. You'll also find a little section at the bottom for the Sunday Quayside market, which had a couple of brilliant gems!
Whether you are a permanent resident or just visiting the area, I hope you find this detailed Newcastle gluten free guide useful. After speaking to others who live here, it seems like a lot of these I've found are also new to them! Please do also let me know if you think I've missed any which should be included. Same goes for those which no longer cater for gluten free after the time of writing.
Happy safe dining xx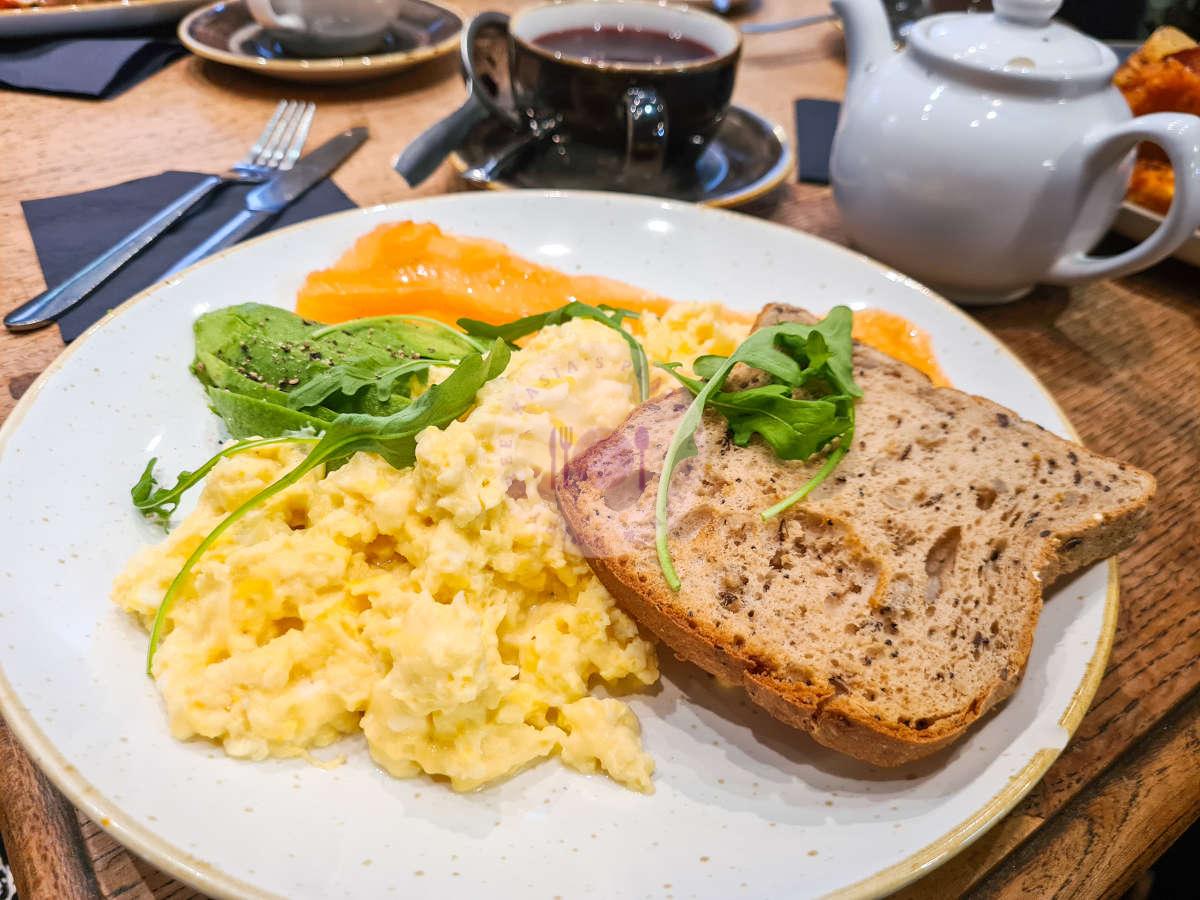 Little Green Social: A 100% vegan restaurant in Newcastle, with plenty of GF adaptions available. Breakfast consists of  full English or yoghurt and granola.
Monsieur crepe café: As it says in the name – all things crepe! The knowledge for gluten free and coeliac disease is highly evident at Monsieur. You can get a wide variety of sweet and savoury dishes which will suit all palettes. Just make sure to book on weekends as it can get very busy.
Olive & Bean: Another one with both a breakfast and main menu – but the former is the star in my opinion. They have plenty of toast options as well as cooked breakfasts. Just ask for GF substitutions or adjustments. Plenty of vegan options here.
Quay Ingredient: Whilst this place may not seem GF friendly at first, I promise they have plenty of options for you! They can swap any bread to be gluten free and offer alternative milks if you need dairy free too. There's plenty of 'on toast' options here. I felt very at ease here, with the waitress assuring me that the kitchen is aware of allergies and intolerances, alongside checking anything she was unsure of. These guys also serve lunch, but I'd say are more known for their breakfasts.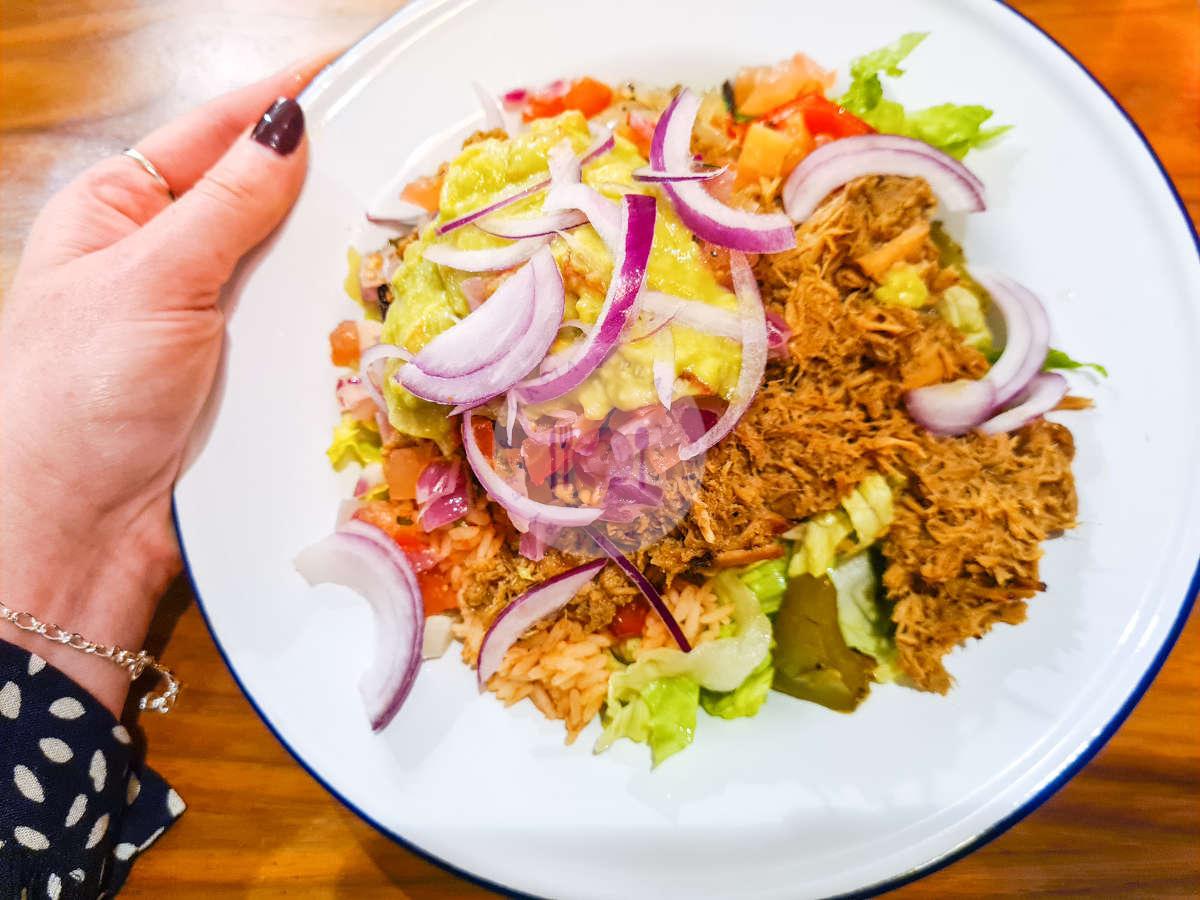 Monsieur crepe café: Plenty of crepe options (both sweet and savory) which includes gluten free options. I'd recommend these as coeliac safe as they have a brilliant understanding and knowledge of the requirements. Just make sure to book if visiting on a weekend to avoid disappointment.
Veganatomy: Located on the south bank of the quay, near Gateshead, you'll find this 100% vegan Asian fusion bar. They serve vegan sushi and bowls on a Friday-Sunday in the river brew containers. All the sushi is GF, including the sauces as they use tamari. The Bânh mi bread can be substituted for rice to adapt also.
Zapatista: A burrito bar which is great for a quick lunch or take away. They understood the word 'coeliac' and instantly offered to wipe down the surfaces and change their gloves. They have GF naked burritos and salad bowls. All gluten wraps are moved along on a paper sheet to limit contamination too. Only a few items on the menu contain gluten also – but make our own judgement here as they are sat next to each other in pots like all burrito bars. I personally didn't have an issue though.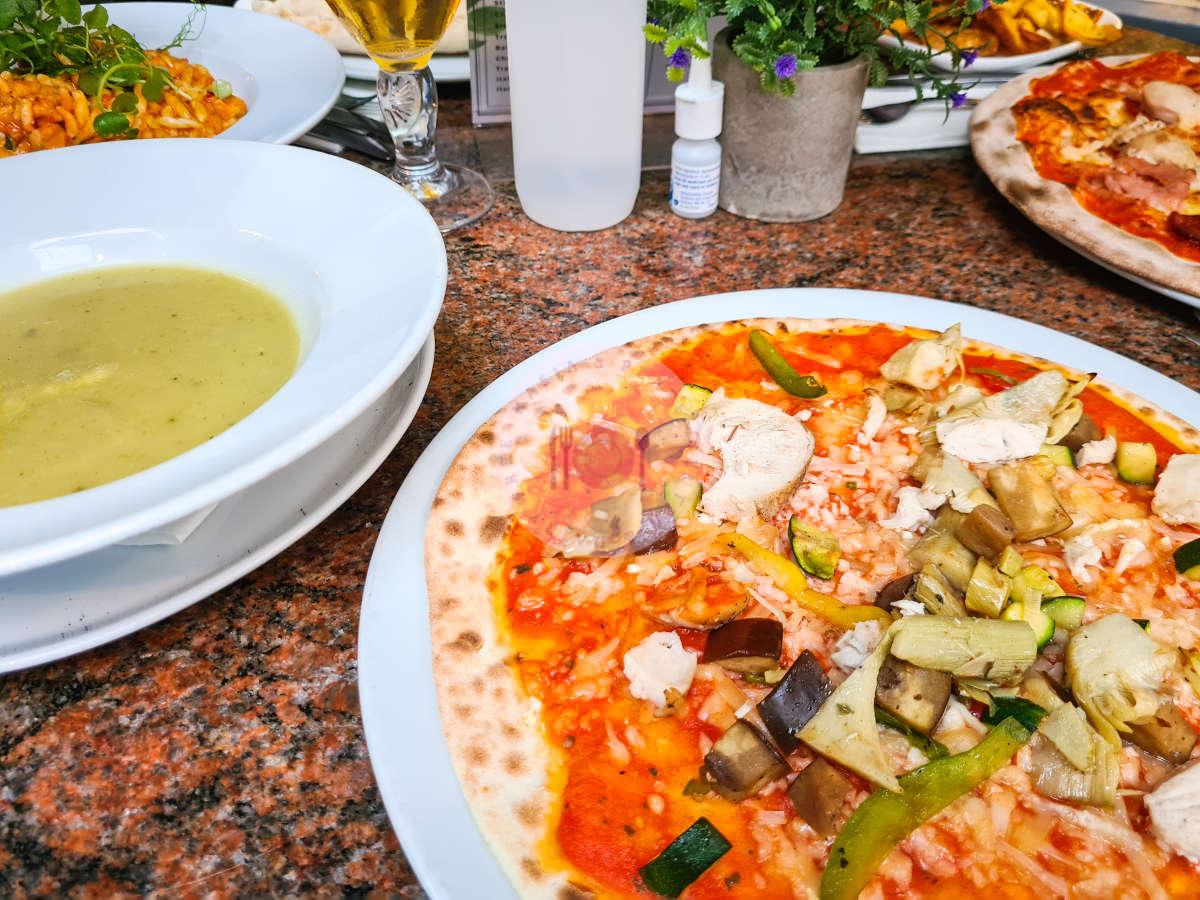 Fat Hippo: The burgers here are renowned for being great amongst the GF community. Whilst this is a chain, I felt it was well suited to be part of this guide. They have GF buns and dairy-free cheese for us who need both. They even have a dedicated GF fryer!
Lola Jeans: Probably the most popular burger joint in Newcastle! Boy, didn't we know it. After trying to book a table, as well as risk turning up as a walk-in, we quickly realized that this place is a real buzz! You must book in advance here. They serve an array of burger types, with all being GF-adaptable. Buns are at a slight price addition too – but worth the pennies! There are 'not burgers' and platters if you wish – but I personally recommend it for the patties. Did I mention they also have plenty of vegan options also?
Little Green Social: This 100% vegan restaurant has GF pizza bases available upon request. Just make sure to check their preparation and cooking for suitability. They also have a curry which is usually GF, if you're not fancying pizza.
Prima Restaurant: An Italian style cuisine serving all things pizza and pasta. The former has a small surcharge for gluten free bases, but they are very tasty and the same size as the normal bases! I bagged myself the vegan pizza here (with added chicken). If you go before 7pm, they sometimes have an 'early bird' deal where they knock off a couple of pounds for the mains. They also often have deals on cocktails which to accompany.
Pizza Punks Newcastle branch: This small chain is a flourishing one. They have plenty of gluten free options, with GF bases being a small extra. You can either use one of their suggested pizzas, or even create your own! Great for when you fancy a bit of everything or want to use your own flair. Just make sure to check with each branch for their cross-contamination procedures.
El Coto: Spanish tapas style restaurant which is for a classier occasion. Their allergens are clearly marked on the menu, with plenty of gluten and dairy free combined options. When I visited, we opted for the £18.50pp tapas for 4. The majority was suitable for myself, with the server highlighting any dishes that I couldn't have. This gave a selection of dishes so we could try a little of everything – and there was plenty to go around! There's a couple of GF desserts available, with one also being dairy free.
Mantra Thai: This Newcastle Thai restaurant has a full gluten free menu with plenty of choices. These include starters, curries, mains, and sides. This was on my 'to visit' list but I didn't quite get around to it on this visit so please check cross-contamination and frying procedures before eating. However, I have heard good reviews from others! Hopefully I will be able to get there on my next trip.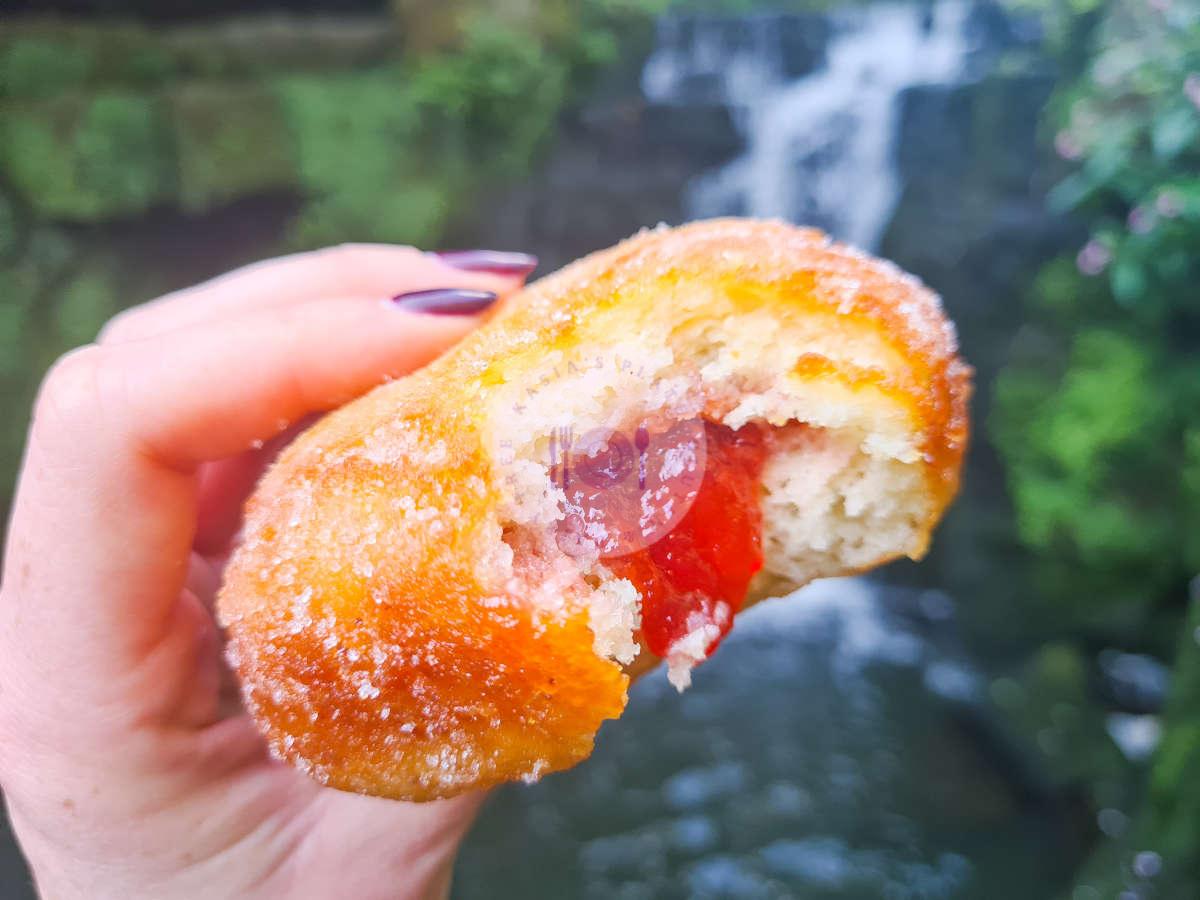 Camber Coffee: You can find a selection of vegan and gluten free cakes here. Just grab one and accompany it with a cuppa for some peaceful time to yourself or for a catch up with friends. They have plenty of alternative milks too if you require.
Lily Tree Bakery: This bakery on the outskirts of Newcastle (South Heaton area) has been on my tick list since writing my 100% gluten free guide. Yep, you heard that right – absolutely everything is gluten, soy, and nut free here. They have a selection of savoury pies and pastries as well as an array of cakes and other baked goods. There are vegan and dairy-free options galore too. Their jam filled doughnuts are a must! Just make sure to get there early as they were very popular and can sell out!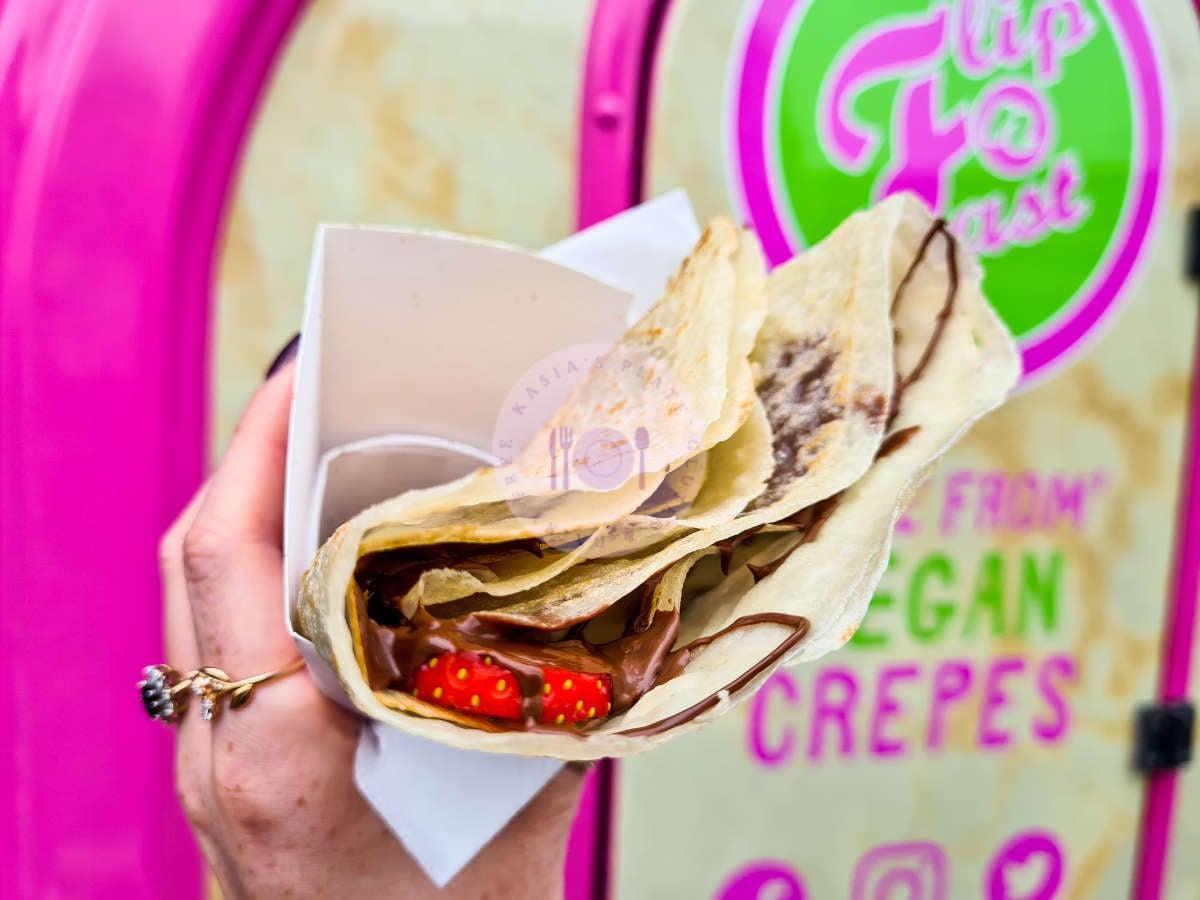 Newcastle Quayside Market (Sundays)
Flip n Fast Crepes: A 100% gluten free and vegan stall selling the most beautiful sweet and savoury crepes! When I visited the market, I knew I had to get myself one. There are no worries about cross-contamination at this place. The prices are reasonable, and there are plenty of fillings to choose from. The stall holder was also lovely enough to not charge me for swapping one of my fillings for an 'extra' instead. I just wish I had tried more than one.
Simply Cheesecake: This was such a surprise. When searching the market before going, I never knew these guys did gluten free vegan cheesecakes. I had a nosey at the stall and there were several flavours, to my surprise. All packaged and separate from the gluten-containing ones. The vegan ones are GF also, but it isn't obvious until you ask. That includes both the biscuit and brownie bases. A cute take away dessert pot to indulge on. They do also have a baker just outside Newcastle which sells an array of cheesecakes and vegan ice cream.