Peanut butter and chocolate really are a match made in heaven so making peanut butter doughnuts was an obvious choice. This is always a combo I go to for anything when I don't know what to have: breakfast, snacks.. you name it! A fun fact is I actually never liked peanut butter as a child. My dad would always have PB on toast and trying to convince me to have a slice too. I have no idea why I was so adverse to it for so long – I now can't stop myself spooning it out of the jar. I do have my favourites though, like we all do. Pip & nut has to be it in regards to baking but I also LOVE Pic's peanut butter – a recent discovery of mine. It drizzles so well onto everything.
This recipe is one I originally created for a competition to become a recipe creator for grindnuts. I am so pleased to say I won! I have moved on from this position now, but it doesn't mean we can't appreciate the elegance and ease of this tasty bake. I have re-vamped it slightly from my previous recipe – but I do believe this to be even better – if I do say so myself!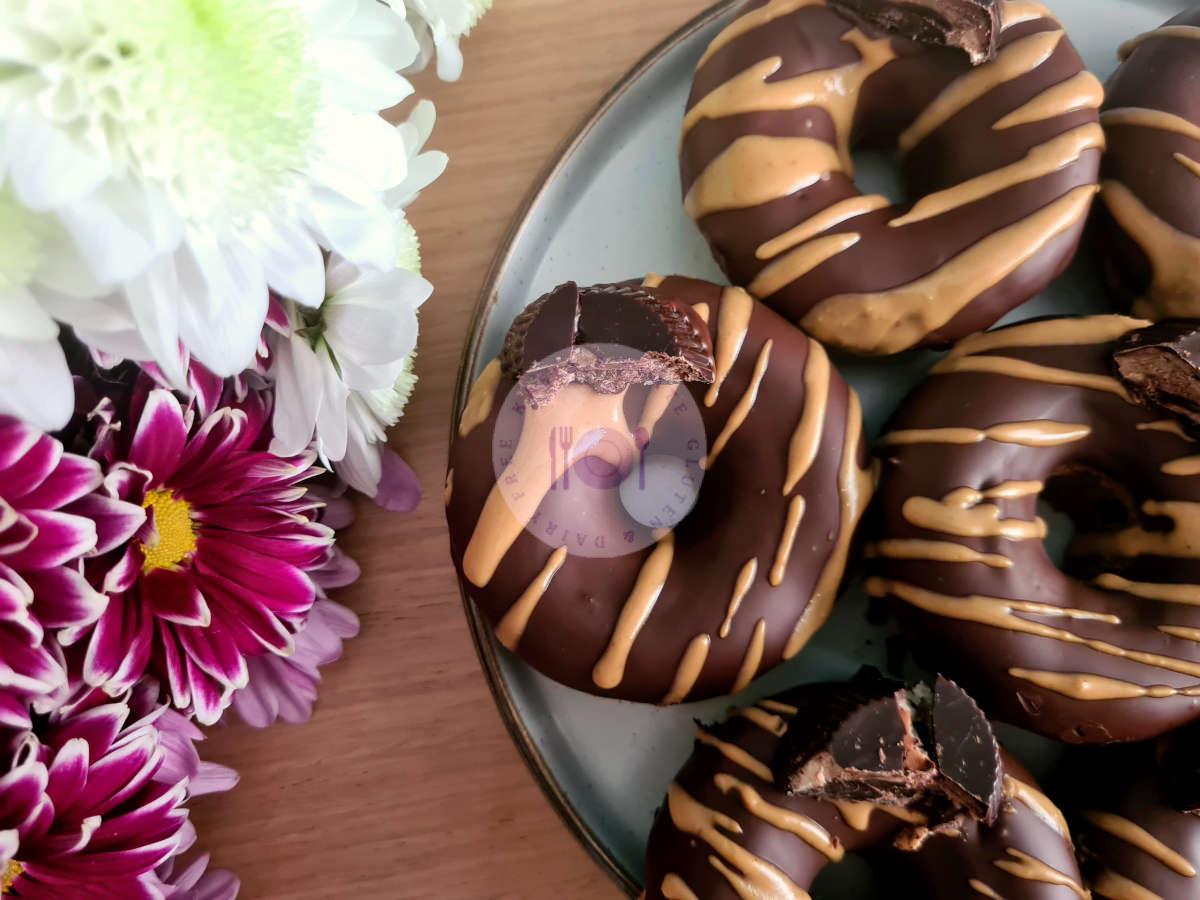 Doughnuts are one of those things that everyone enjoys, am I right? Controversial, but I adore the alternative ones over the typical jam filled. The custard or the apple ones are my old pre-GF favourites. I can vaguely remember how the co-op ones taste. I may have to pop this onto my 'to bake' list. I can imagine the apple could be a basis for a lush Halloween treat.
Don't get me wrong, these aren't your typical sugar cinnamon doughnut either. Not only are they a peanut and chocolate flavour basis, but they are also baked. This gives them a texture that is more dense than a fried doughnut and also more representative of a cake. However, these are a lot easier to make and slightly healthier than the fried alternative. This particular recipe is also completely vegan but you'd never know!
The hardest thing about these doughnuts is resisting the urge to eat the whole batch in one. The healthy fats from the nut butter makes these filling and very addictive! Plus – my theory is the fact that they are ring doughnuts means they are better for you as they don't have the middle. Makes sense, surely?
Peanut butter & chocolate chip doughnuts
Gluten-free, Vegan, Egg-free, Dairy-free, Soya-free, Vegetarian
Equipment
Doughnut tray (x2)

Oven

Mixing Bowl

Heat-proof bowl

Mixing spoon

Piping bag (optional)

Spatula

Microwave/Bain-Marie

Fork

Sieve
Ingredients
For the doughunut base
62

gram

Peanut butter

Substitute: almond butter

20

grams

Powdered peanut butter

Substitute: almond flour

20

grams

Golden syrup

Substitute: maple syrup

1

tsp

Vanilla extract

1/4

tsp

Xanthan gum

80

grams

Vegan chocolate chips

1

large

Banana

Over-ripened is best

68

grams

Plain gluten-free flour

1

tsp

Baking powder

1

tsp

Baking soda

100

ml

Plant-based milk

Recommendation: soya, GF oat, almond, rice or coconut

Butter

For greasing
For the chocolate and peanut butter topping
100

grams

Dark chocolate

1

tbsp

Butter

2

tbsp

(Optional - to decorate) Runny peanut butter

5

(Optional - to decorate) Peanut butter cups

Recommendation: Doisy and Dam nuttercups (vegan but 'may contain' for gluten)
Instructions
To make the doughnuts
Pre-heat the oven to 180°C (conventional) or 160°C (fan)

In a bowl, mash the banana using the back of a fork

Add in the peanut butter, powdered peanut butter, golden syrup and vanilla and mix together with the mashed banana

Using a sieve, add in the flour, baking powder, baking soda and xanthan gum then continue to mix well

Add the milk to the bowl and continue to mix until everything is combined

Using a spatula, fold in the chocolate chips so they are evenly spread throughout the batter

Grease the doughnut ring moulds with butter

Either using a piping bag or a spoon, add the mixture in even quantities to the doughnut mould (making sure to keep about 0.5-1 cm from the top in case of rise)

Remove from the oven and place the doughnut tray onto a heatproof surface to cool completely before removing the doughnuts from their moulds (~30 minutes)
Decorating the doughnuts
Using either a Bain-Marie or a microwave, gently heat the chocolate and butter until melted (if using a microwave, make sure to only use 30 second bursts and stir intermittently to prevent the chocolate from burning)

Remove the doughnuts from the moulds and dip the tops into the chocolate (tip: very slightly shake the doughnuts when upright to give a smooth and even chocolate finish)

Once the chocolate has dried, drizzle over runny peanut butter onto the tops of the doughnuts

Dip 1/2 a peanut butter cup into the leftover chocolate and then add to the tops of each doughnut (the chocolate will act as the 'glue'
Notes
Serving suggestion: microwave for 20 seconds before consumption for best taste
Storage: in an air-tight container for 3-4 days
Freezing not recommended
Calories do not include toppings