Vanilla protein waffles are one of my top tier breakfasts. There's something just so simple but scrumptious about them. It's taken me quite a few attempts to get them just right for the website. Whilst I'm usually more of a protein pancakes or protein crepes kind of girl, I've been eating waffles on more and more occasions lately. Are you team pancake or team waffle?
Plot twist: I don't actually have a waffle maker.. yet! Maybe I will treat myself at one point – but all my current waffle blog recipes are actually made in the oven using a silicone mould. I kind of prefer this though as I feel it is much more accessible. Saying that, these vanilla protein waffles take less than 5 minutes to make. Add that to a short baking time and voila. You have dessert for breakfast in under 20 minutes.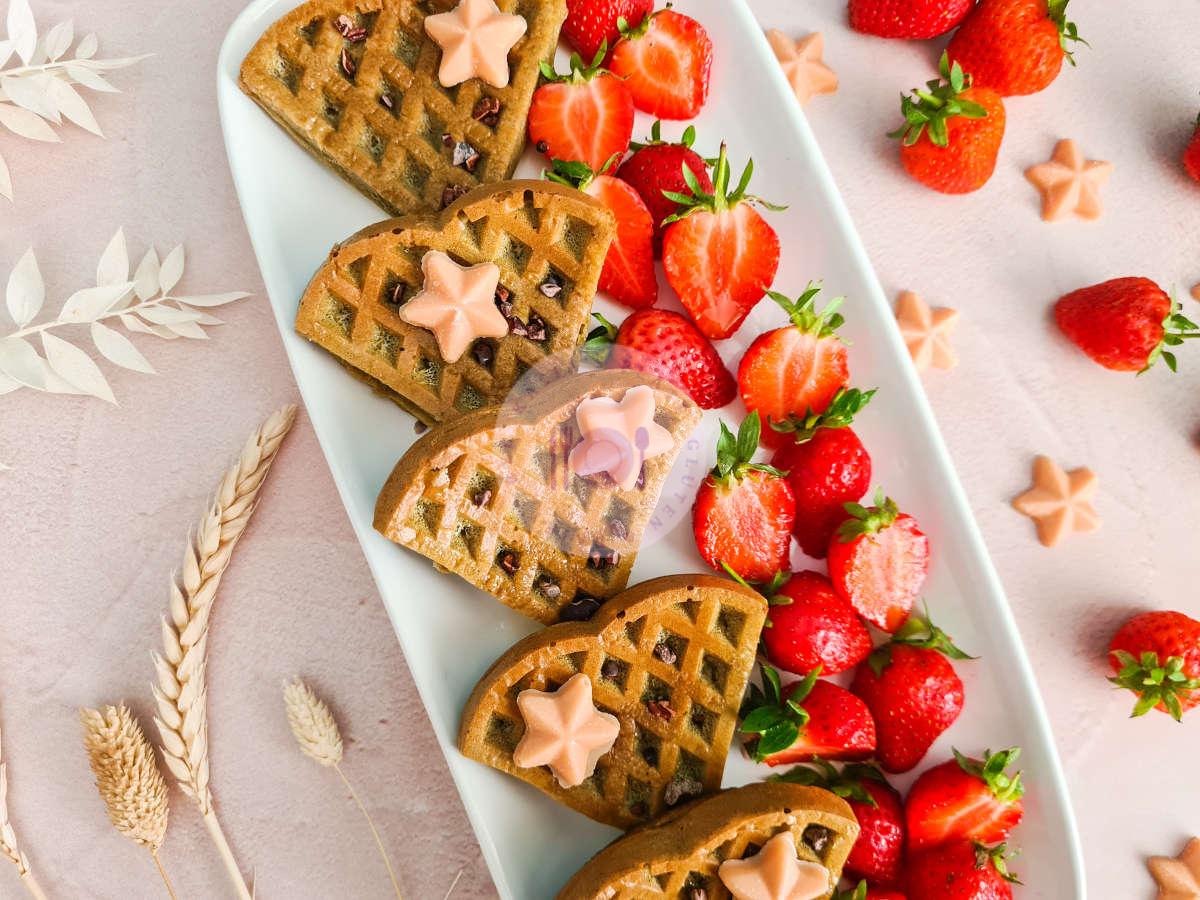 This recipe is one that will surprise you as you can't tell there is protein powder in the mix, as well as it being ultra fluffy and spongy. These are quite cake-like in texture. Who doesn't want cake for breakfast? This is down to the egg being nicely beaten in the blender. Did I mention that this vanilla protein waffle recipe not only requires minimal ingredients, but it is also a 'one bowl' method too? You'll likely already have most, if not all, of the ingredients to hand also!
Can I change the egg? Whilst my vanilla protein waffles calls for an egg, you can easily adapt these to be egg-free. Simply swap with a flax/chia egg, aquafaba or other replacement. It may not be as fluffy overall. However, it won't compromise the taste.
Do I need to make them vanilla flavoured? If vanilla protein waffles aren't your thing, why not try my chocolate version? It is based off this recipe but with a few tweaks. Plus, it really gives a good morning (or brunch, dessert or snack) boost for the chocoholics out there too. I'm one of you! That means I can vouch for this!
What do I use if I don't want to add protein powder? I have made this recipe specifically to be a high protein version. Unfortunately, the protein powder is not recommended to be substituted. However, I do have a healthier yoghurt pancakes recipe which has 'higher protein' with the use of plant-based Greek-style yoghurt but without the use of powder.
What protein powders do you recommend? Any vegan protein powders will work but I love Kin (use KASIA20 for 20% off) and Free Soul Sisters personally.
Can I use whey protein? Yes – but you will need to adjust the quantity of milk. Whey protein is less adsorbent than vegan protein (and brands also vary).
Can I make this in a waffle machine? I've not tried this myself but I can't see why not. Just have a play around with your appliance and see. You can always contact me and let me know if it worked too!
Vanilla Oat Protein Waffles
Gluten free, Dairy free, Vegetarian, Soy free, Nut free, Vegan optional
Equipment
Blender

Spatula

Silicone waffle mould

Oven
Ingredients
1

large

Egg

Substitute: 2 egg whites, flax/chia egg (vegan)

35

grams

Vegan protein powder

1

tbsp

Sweetner

Adjust to your taste

1/2

tsp

Vanilla extract

20

grams

Gluten-free oats

62

ml

Plant-based milk

Recommendations: coconut, almond, oat, soy

1/2

tsp

Baking soda
Instructions
Pre-heat the oven to 160°C (fan) or 180°C (conventional)

Place all of the ingredients into a blender and pulse until smooth

Pour the batter mixture into a silicone waffle mould, getting out any excess with a spatula

Bake for 10-12 minutes (until slightly risen and golden)

Top with your favourite fruit, spread/nut butter and enjoy!
Notes
Best eaten on day of baking
Storage: in an air-tight container for 1-3 days in the fridge
Suitable for home freezing for up to a month