What is the thing you miss the most being gluten-free and/or dairy-free? For me, it is a toss-up between Danish pastries and pizza. For years I claimed I 'didn't like pizza'. The reality was that I just couldn't quite find one that made me want to eat it again. Well, bases I mean. I have found a couple of nice places when eating out (which you can see on my other restaurant tabs). There were some that were OK, but never any 'bake at home' GF bases that I would run back for.. until now! This one is also vegan friendly. You'd never know it by trying it.
Once you make this, it will be hard to resist making it every week. We now have pizza more often than when I still ate gluten! This recipe makes a beautifully light and airy base which has the ability for several options: deep dish, Romana style and even stuffed crust. Which would you go for? I know I am a stuffed crust kind of girl!
I know there are simple ways to make dough bases which have come about – the infamous two ingredient pizza base, for example. Whilst these are great for a quick meal without the wait, there is nothing quite like ones containing yeast. You'll hear me say it now – and I am sure you will agree if you try it – but this is worth the wait. It really reminds me of a traditional non-GF pizza. I swear! To quote my partner.. "I would have this over Dominoes any day – and you know just how much I love Dominoes". So he may have just said this as an excuse for me to make him pizza every day, but I was ecstatic nonetheless.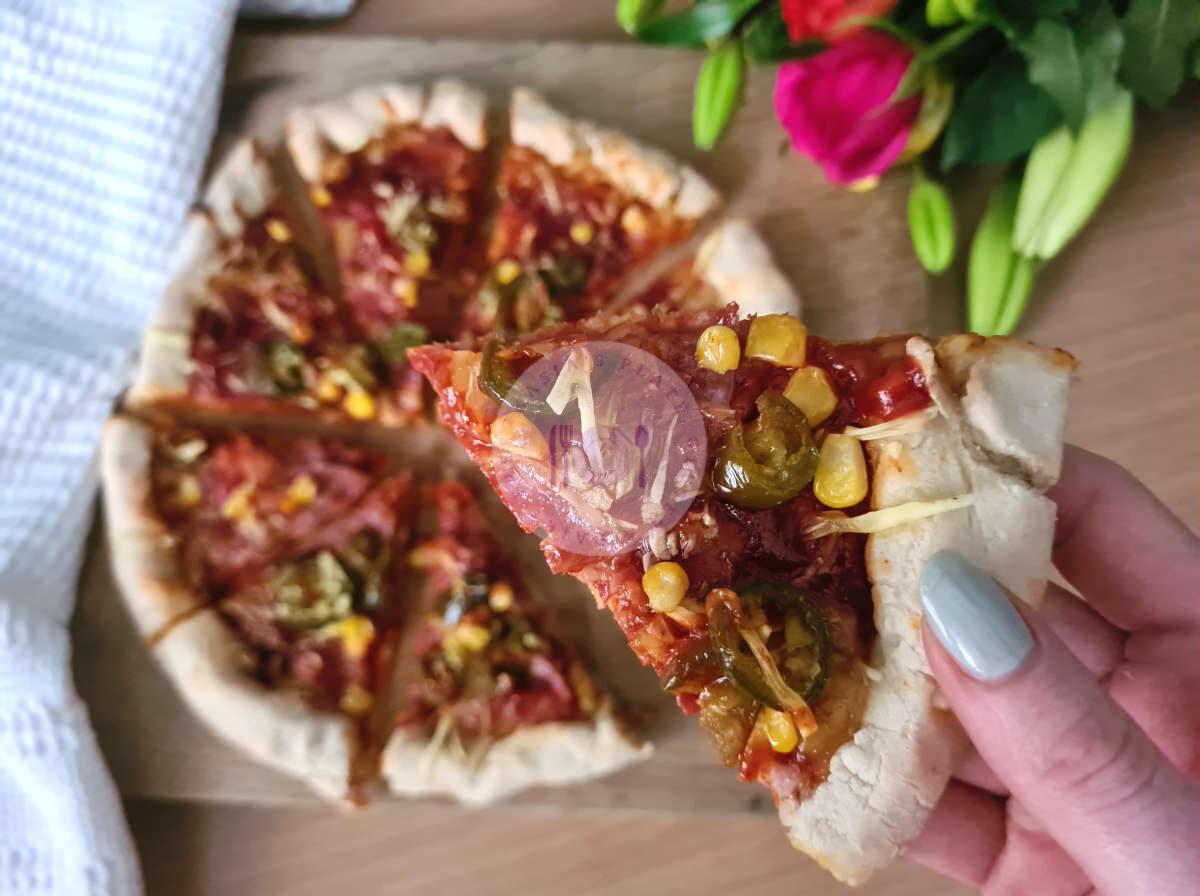 So go on and have a play around with this recipe. Why not try all the base versions? I do use a traditional tomato base here – but the possibilities are so vast. BBQ base all the way to a hummus one (if you haven't ever tried this – I recommend you do). This dough also makes a great base for garlic bread.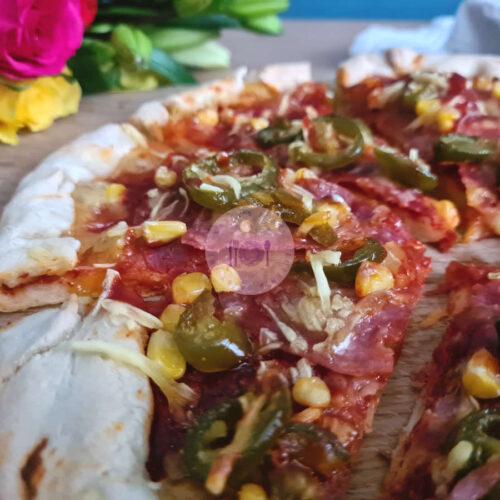 Yeasted Pizza Dough
Vegan, Gluten-free, Nut-free, Soy-free
Equipment
Oven

Bowl

Tea towel

Proving draw (optional)

Electric kneeder (optional)

Rolling pin

Pizza tray

Mixing spoon
Ingredients
450

grams

Plain flour

Plus extra for dusting

7

grams

Packet yeast

2

tsp

Cane sugar

1.5

tsp

Salt

2

tbsp

Olive oil

275

ml

Warm water

1.5

tsp

Xanthan gum
Instructions
Add all dry ingredients to a bowl and mix with a spoon

Add the wet ingredients to the bowl and start to mix together using your hands until a dough forms in the bowl (optional: use an electric kneading machine)

Continue to knead the dough in the bowl (or on a floured surface) for 10-15 minutes and form into a ball and pop into the bowl

Cover the dough with a tea towel and place in a warm room or in a proving draw

Leave the dough to double in size (takes 1.5-2 hours)

Pre-heat oven to 180°C fan or 200°C conventional

Separate the dough into two to create two bases

Heavily flour a work surface and place one portion of the dough onto it
Option 1: Deep dish pizza
Using a floured rolling pin, carefully roll out the dough until about 2-3cm thick and shape into a circle with your hands

Place the dough onto a pizza tray and add on your toppings (I find using a spatula to help me lift the pizza base onto the tray helps)

Bake for 22-25 minutes (until golden)
Option 2: Stuffed crust pizza
Using a floured rolling pin, carefully roll out the dough until about 2-3cm thick and shape into a circle with your hands

Place thick slices of cheese (or other filling) about 1cm from the edge of the base

Fold the edge of the base over the filling and press down slightly with your fingers so the dough attaches to the inner base

Carefully place the dough onto a pizza tray and add on the rest of your toppings (I find using a spatula to help me lift the pizza base onto the tray helps)

Bake for 22-25 minutes (until golden)
Option 3: Romana style pizza (recommended)
Using a floured rolling pin, carefully roll out the dough until about 0.5cm thick and shape into a circle with your hands (this will create quite a large, thin base)

Carefully place the dough onto a pizza tray and add on the rest of your toppings (I find using a spatula to help me lift the pizza base onto the tray helps)

Bake for 16-20 minutes (until golden)
Notes
Calories are for the base only
Dough can be stored raw in the fridge for up to 3 days after proving
Raw dough is freezer-friendly for up to 3 months
Cooked pizza can last up to 3 days in the fridge