Low and behold the best gluten free vegan peanut butter NYC cookies around. A crispy outer shell with a soft-baked gooey centre which also have a generous helping of chocolate chips throughout. What more could you want?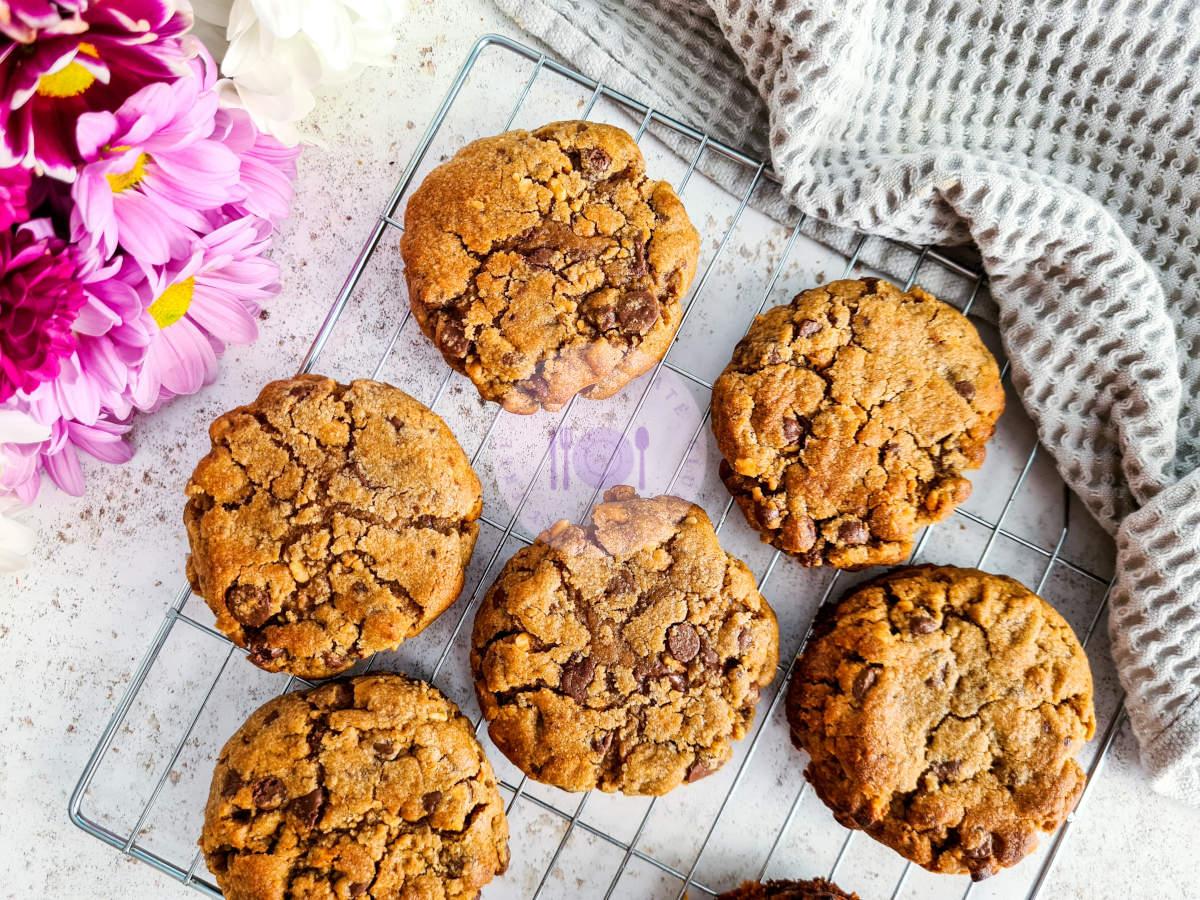 I have found that the super chunky cookie recipes are really hot right now. Everyone seems to be baking and loving them – can you see why? So many varieties and they're totally addictive. Being a huge fan of nut butter, I just had to make these peanut butter NYC cookies. Well, especially after how popular my other cookie recipes are. Are you as excited for these as I am?! Apart from the fact that it is totally acceptable to spoon peanut butter into your mouth whilst baking these too. Heaven!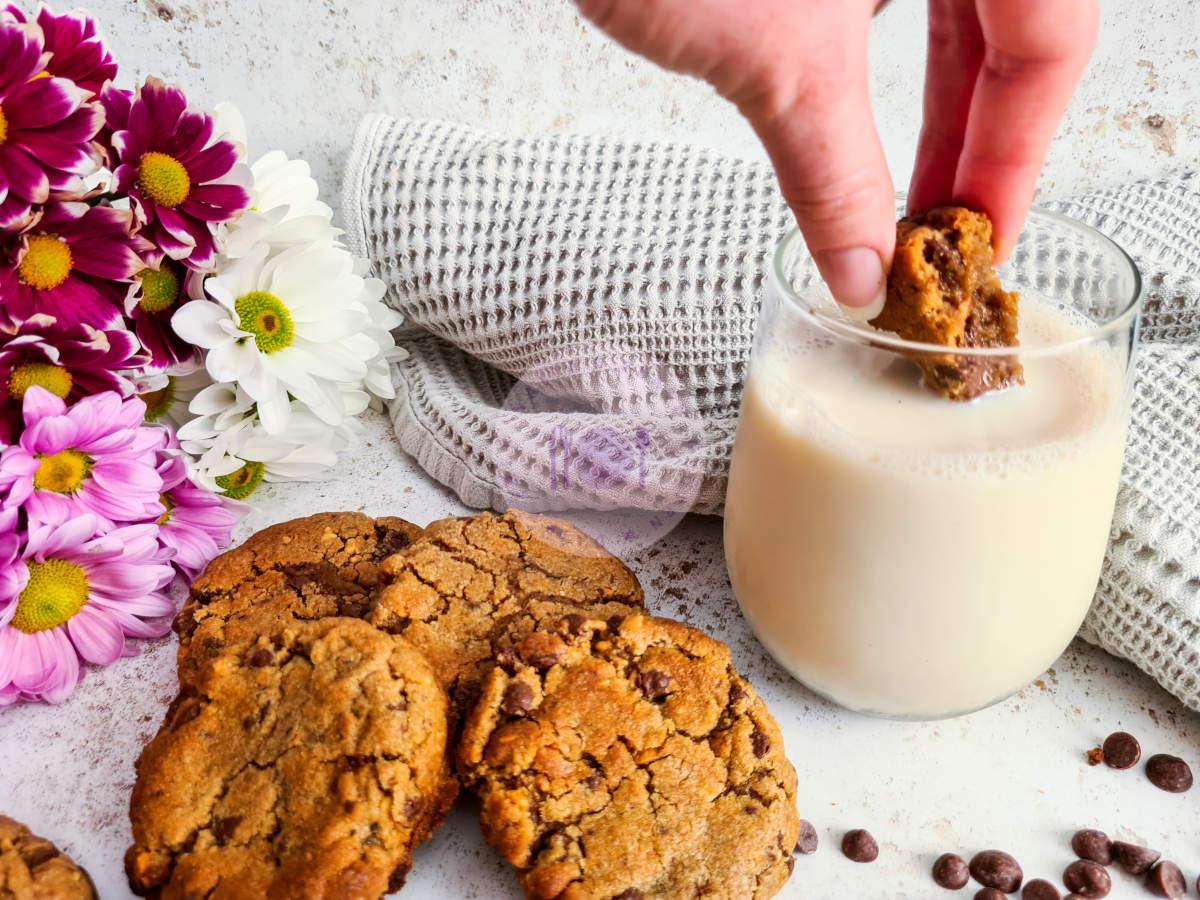 If you're a fan of peanut butter recipes, I would highly recommend my vegan peanut butter baked doughnuts too. Baking rather than frying makes them good for you, right?
I literally adore anything that's peanut butter as you can see. Plus, requests are always welcome. Feel free to drop me a message on my contact page or social media pages with any recipes you'd like me to create. More NYC cookie flavour ideas are also welcome.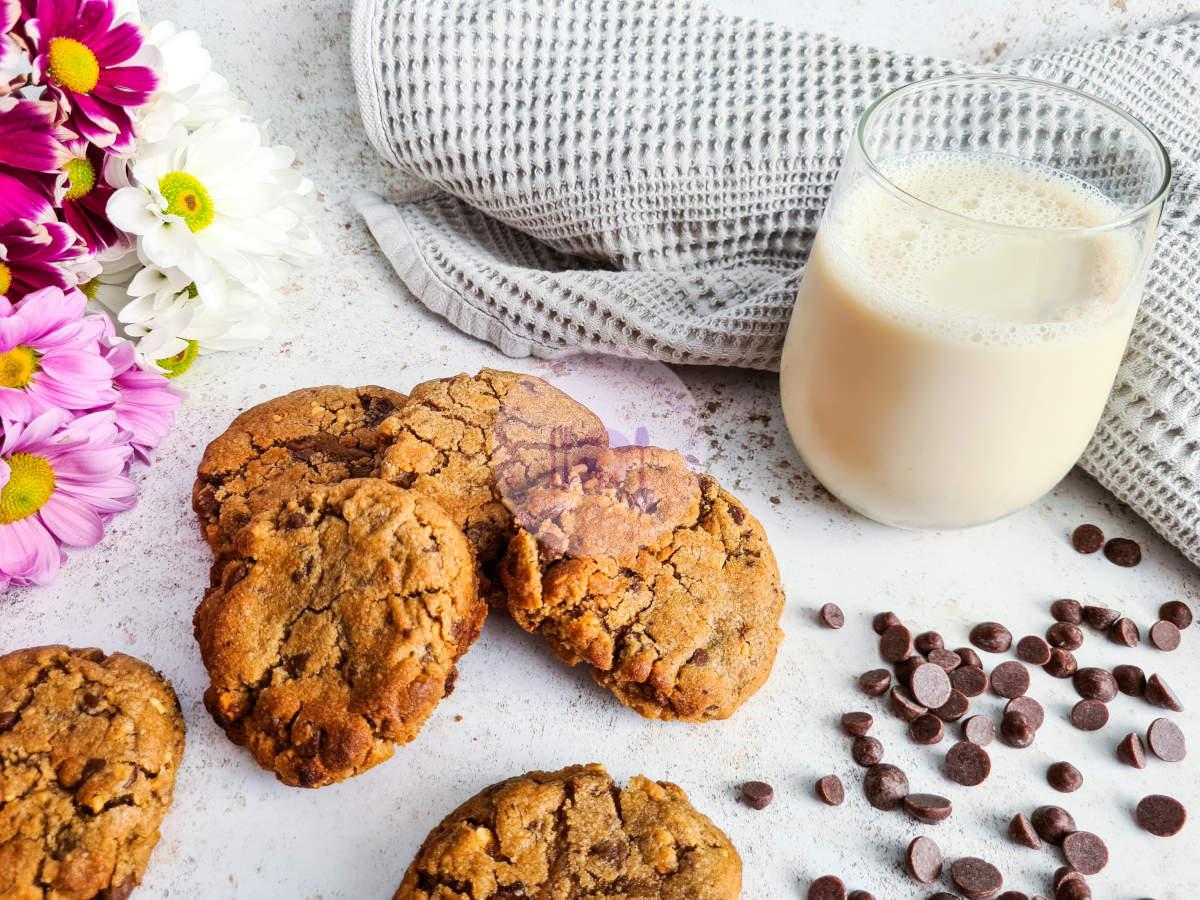 If you love these peanut butter NYC cookies, then make sure to check out my other chunky cookie recipes. My original NYC cookie recipe still has a solid place in my heart. The chunks of chocolate and pecans just give it a gorgeous crunch and texture. Another one that's easy to make vegan just by substituting the eggs as I've done here. Oh, and this peanut butter NYC cookie recipe is actually based off my original one – just with a few tweaks. The batter is slightly more crumbly but I found it gave a nicer end result.
Can these be made with eggs? Yes, simply change the flax eggs to normal eggs. Just note that it will change the texture slightly as they will be less dense and gooey.
Can you use another nut butter? Whilst I haven't tried this myself yet, I can't see why not. Almond butter could be a great substitution!
Do you have any nut butters you recommend? I absolutely love using Pic's peanut butter in baking, which is the one I use for this recipe. It is so smooth and drizzles so well. Just make sure to check the recipe below as different nut butters will give different dryness to the batter.
Do I need to use chocolate chips? No – but I love the added sweetness they give. Plus, who doesn't love chocolate chips in their cookies?
How long do the cookies last? 3-5 days in an air-tight container
Can I freeze them? Of course! You can do this prior to baking to have 'ready to go' cookies whenever you like or you can freeze them after baking for longer storage.
Peanut Butter NYC Cookies
Gluten Free, Vegan, Vegetarian, Dairy Free, Tree Nut Free
Equipment
Oven

Mixing Bowl

Mixing spoon

Wire Cooling Rack

Cookie/ice-cream scoop

Small bowl

Grease-proof paper

Baking tray
Ingredients
85

grams

Crunchy peanut butter*

80

grams

Dairy-free butter

100

grams

Brown sugar

60

grams

White caster sugar

2

Flax eggs*

2 tbsp flax meal with 6 tbsp water

150

grams

Chocolate chips

Milk or white chocolate

2

tsp

Vanilla extract

185

grams

Gluten-free plain flour

1

tsp

Baking powder

1/2

tsp

Baking soda

1-2

tbsp

Dairy-free milk

If required
Instructions
Line a baking tray with grease-proof paper and place to one side for later

Mix together the flax meal with the water in a small bowl and set aside for at least 5 minutes to thicken into 2 flax 'eggs'

In a mixing bowl, beat together the peanut butter, butter and sugars until a thick but relatively smooth creamy mixture forms (there will be peanut chunks)

Add in the vanilla extract and flax egg to the bowl and mix in

Add in the flour, baking soda and baking powder to the bowl and continue to beat the mixture together (do not panic if it becomes slightly crumbly - the more you mix, the more it will bind together)

If the mixture is too stiff/dry, add 1-2 tbsp of dairy-free milk to thin it slightly (different brands of flour and peanut butter may cause varying degrees of dryness in the batter)

Add in your choice of chocolate chips and then mix thoroughly until evenly distributed throughout the dough

Place the bowl of cookie dough into the fridge for at least 4 hours to make sure the fats are cooled (this prevents the cookies from spreading too much)

Before removing the dough from the fridge, pre-heat the oven to 200°C (conventional) or 180°C (fan)

Using a large ice cream scoop (or other similar utensil), take generous portions of cold cookie dough and place them onto your lined baking tray in balls (feel free to flatten them slightly if preferred as they do tend to keep quite thick when baking)

Bake the cookies in the oven for 12-14 minutes (until slightly golden in colour)

Once baked, leave them to cool on the tray for at least 30 minutes before moving (as they will be delicate as only half-baked at this point - they continue to bake on the tray)

Once cooled, you can move the cookies onto a wire cooling rack to make sure they are completely cooled and ready to eat

Break the cookies in two to reveal the gooey centre and enjoy!
Notes
* You can substitute the crunchy peanut butter for smooth - I just personally prefer the peanut chunks in the cookies after baking
*Flax eggs can be replaced with chicken eggs but the batter will be slightly different and the cookies may be more 'cake like' and less dense/gooey in the centre
Storage of baked cookies: in an air-tight container for 3-5 days
To serve warm: place in a microwave for 15-20 seconds or in a hot oven for 2 minutes
Cookie dough is suitable for home freezing for baking at a later date
This recipe makes 8 GIANT cookies - for smaller cookies, simply reduce the baking time to 8-10 minutes