Does anyone else just love Easter? It is one of my favourite times of the year. Spring is such a beautiful season – which also happens to tie in with my birthday. Double as special! However, let's be honest, it is the Easter chocolates which really seal the deal here. I love browsing the shops for all the new free from Easter treats. Everything from these vegan Doisy and dam good eggs to the Rhythm 108 truffle eggs (a must-try by the way – something I need to buy and test in a recipe soon too). Just because we are free from doesn't mean we have to miss out! There are always plenty of options for us.
Just a little disclaimer here, though: the Doisy and Dam good eggs are a 'may contain' for gluten. Whilst I have never had a reaction to these, please use them at your own discretion. Also feel free to let me know if you find any 'safe' alternatives.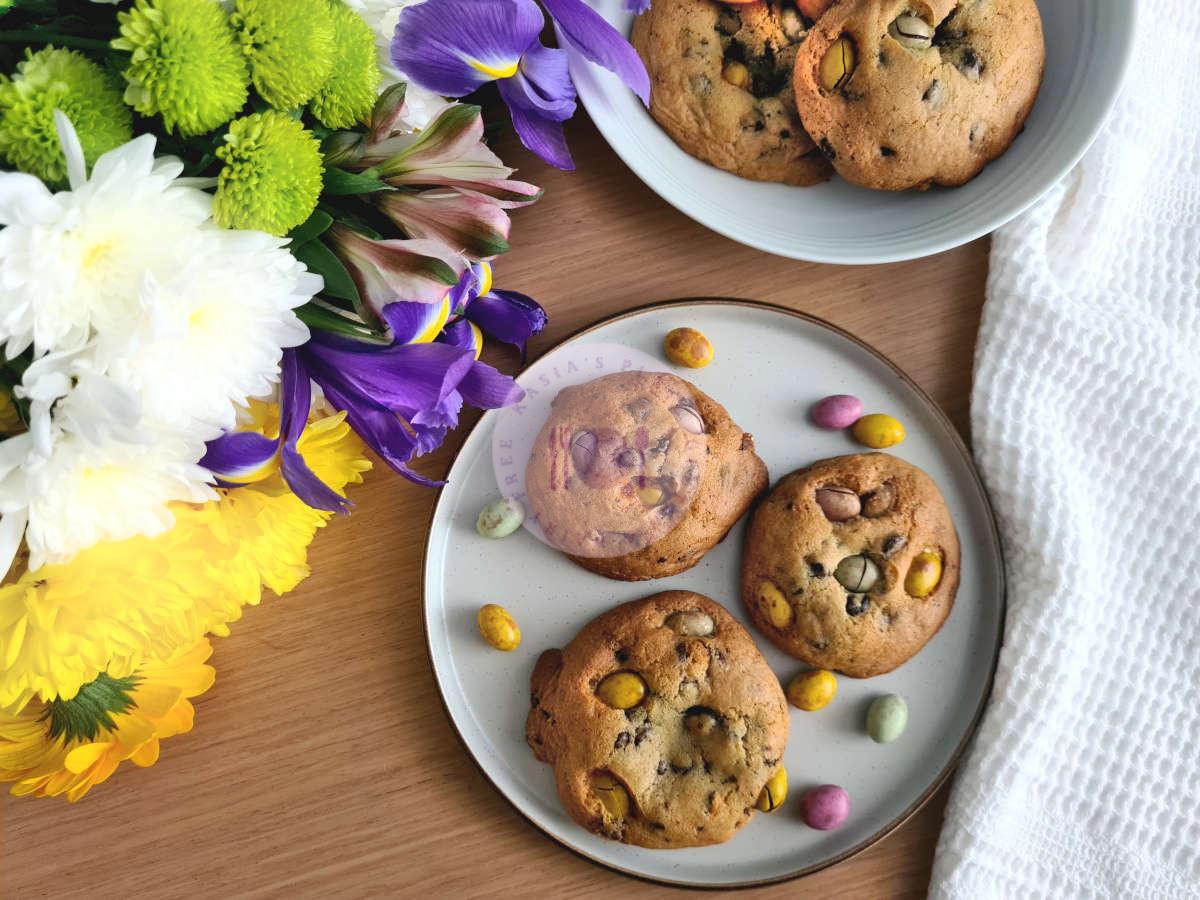 These have to be the softest cookies I have ever made. Just look at the inside of them! The chocolate is gooey and it is the perfect cross between a cookie and a cake. I could eat the whole batch – every single day! These specific cookies are based on my original NYC-style cookie recipe. I have lowered the sugar content in the base for this bake, though, as I feel the addition of the eggs perfectly balance it out.
A tip from me is to microwave these for 15-20 seconds before consumption. It makes them simply gorgeous and they melt-in-the-mouth! The addition of the chocolate chips just brings a new level to them. Do watch out though – these are easy to eat! You could have eaten 4 or 5 before you even know it. Worth making a double batch just in case, right?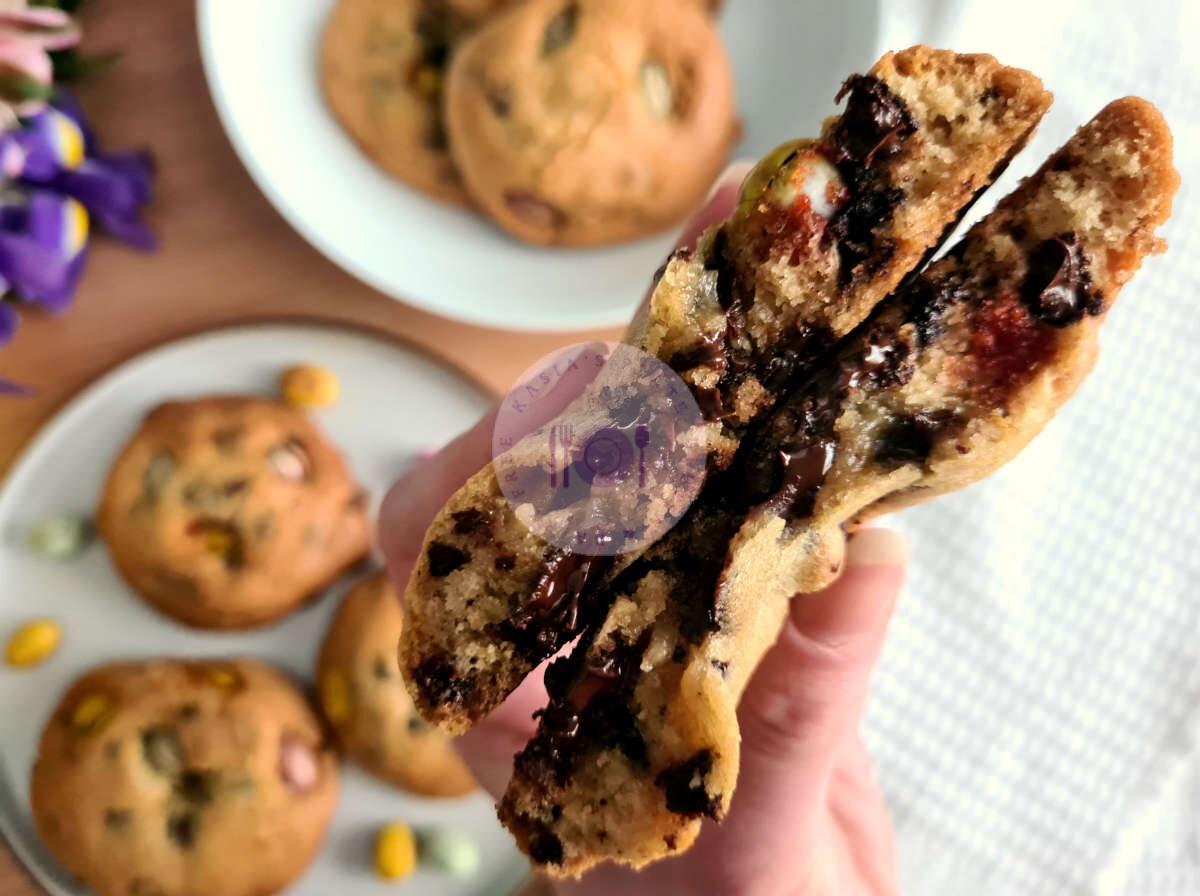 I love the combination of sugar in these also. The brown sugar gives a beautiful chewy element whereas the white gives the ultimate sweetness. It hits my sweet tooth in all the right places. What is not to love? Plus, I guarantee if you've tried my other cookie recipes – you will not be disappointed by this one. It is probably my favourite of them all so far! I am going to have to get my thinking cap on how to top this one.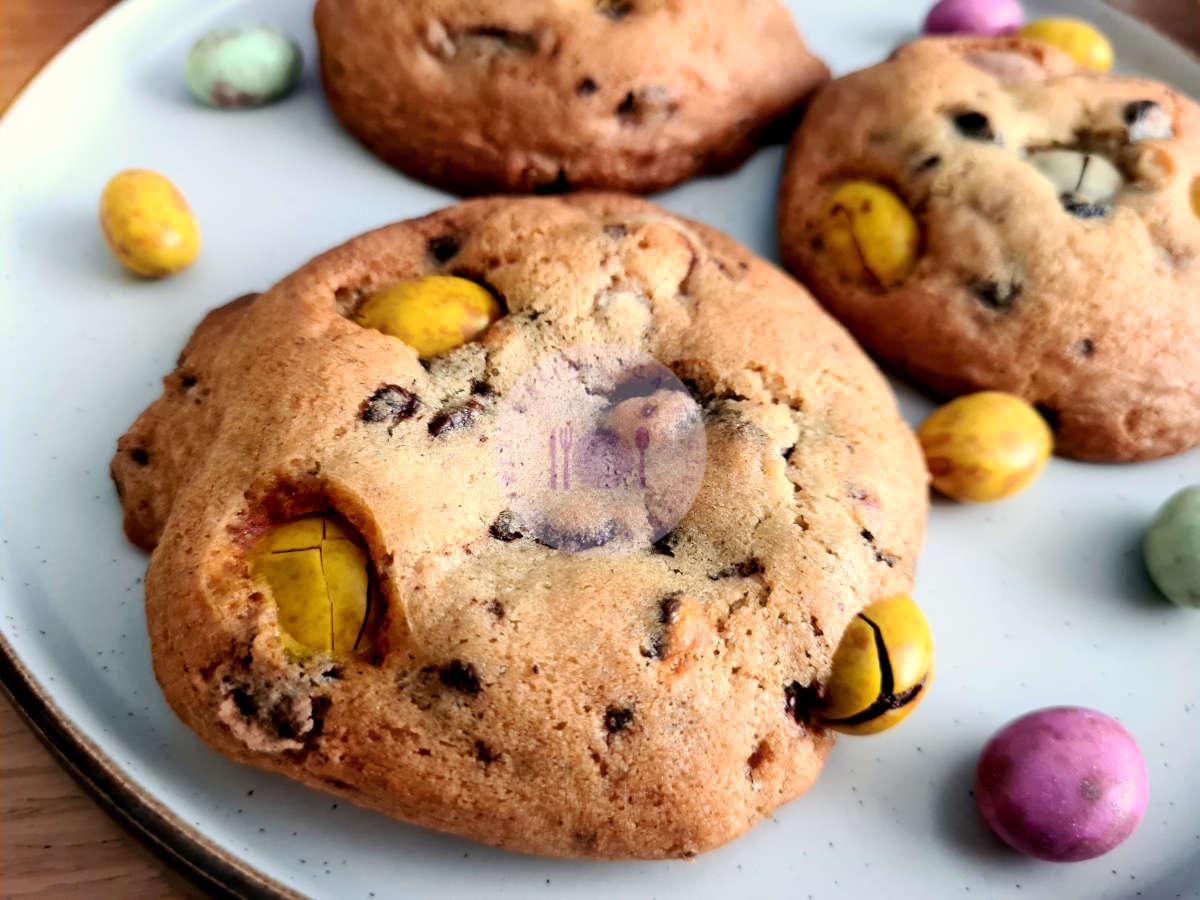 So why not grab yourselves some mini eggs (or 10) and make these? It is worth it just to snack of the chocolate whilst baking too. Worth mentioning here that you can use the normal mini eggs too as these are actually gluten-free (they contain dairy only).
Another idea if you're feeling adventurous but don't fancy waiting for the cookie chill time or the construction of the cookies.. it is worth giving my Easter cookie square recipe a go instead. Very similar to this with similar ingredients – just a simplified process! Or even better is to try both for comparison. You can't have too many sweet treats. Just share with friends and they will love you even more.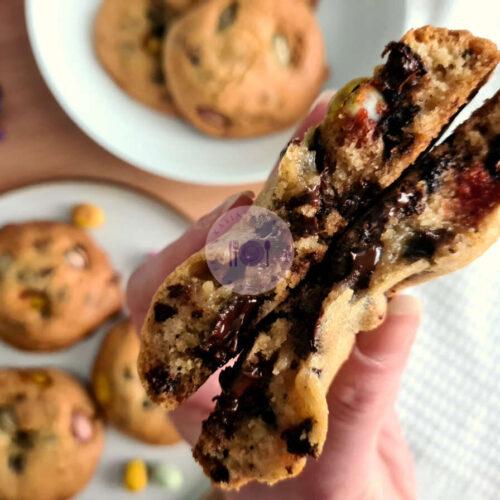 Easter Egg Cookies
Gluten-free, Dairy-free, Nut-free, Vegetarian
Equipment
Oven

Large mixing bowl

Mixing spoon

Refrigerator

Sieve

Rolling pin (or something to break up the mini eggs)

Zip lock bag

Cling film

Cookie/ice-cream scoop

Baking tray

Greaseproof Paper
Ingredients
120

grams

Dairy-free butter

Recommendation: Stork baking block

95

grams

Light brown sugar

55

grams

White caster sugar

2

large

Eggs

200

grams

Plain gluten-free flour

1

tsp

Baking soda

1.5

tsp

Baking powder

150

grams

Dairy-free chocolate chips

I use a mix of milk and dark

100

grams

Vegan/gluten-free mini eggs

Recommendation: Doisy and Dam good eggs (may contain for gluten)

1/2

tsp

Xanthan gum

1

tsp

Vanilla extract
Instructions
Beat together the sugar and butter until it forms a thick and creamy mixture

Add in the vanilla extract and the eggs and continue to mix until well combined

Using a sieve, add in the flour, baking soda, baking powder and xanthan gum and mix until it forms an even batter with no lumps

Take about 3/4 of the mini eggs and add to a zip lock bag before bashing with a rolling pin until large chunks form

Add the crushed mini eggs and chocolate chips to the batter and mix in, keeping the remaining 1/4 of the mini eggs to one side

Cover the bowl with cling film and chill in the fridge for at least 4 hours (overnight is recommended) before cooking to prevent the cookies from spreading

Pre-heat the oven to 180°C (fan) or 200°C (conventional)

Line the baking tray with greaseproof paper

Take equal portions of cookie dough, using a scoop, and place them onto the tray (roll into balls using your hands if you do not have the scoop)

Add the remaining in tact mini eggs to the top of the cookie dough balls

Immediately bake for 12-14 minutes (I recommend doing this in two batches of 6 in case of spreading - keep the remaining dough in the fridge until baking)

Remove the tray from the oven and place onto a heat-proof surface whilst letting the cookies cool completely before taking them off the tray

When they have completely cooled, remove from the tray and enjoy!
Notes
Cookies may appear under-baked when you remove them from the oven at 12 minutes, but do not panic, they will continue to bake gently on the warm tray when it is removed from the oven - this gives them the soft and gooey centre
Cookie dough is freezable for up to 3 months before baking
Baked cookie storage: in an air-tight container in the fridge for up to 2 weeks or in the freezer for 2-3 months