Pancakes, pancakes, pancakes.. I can never get enough of them! Honestly, I think I could live on pancakes. They used to be a Sunday breakfast ritual for me, but they are now becoming more and more frequent. I often make a double batch and store some in the fridge for the following day. Whilst I am a fan of hot breakfasts, I am also impartial to leftovers as the pancakes taste great cold too. Pretty surprised I haven't turned into a pancake with the amount of them I eat!
So these may not be 'traditional' style pancakes. However, they are still delicious and a healthier version. You also only need three ingredients to make them. I often try to have a high-protein breakfast to fill me up for the day (also because I often work out in the morning so it gives me the energy I need for that too). Due to this, I played around for several months to get ideal pancakes for my goals. I also wanted to keep these 'lower calorie' so I could have all the toppings and still fit my macros. This does mean they can be slightly fragile, but if you read the recipe and follow carefully, they should work. They have been foolproof for me every time. Patience and gentle turning is the key.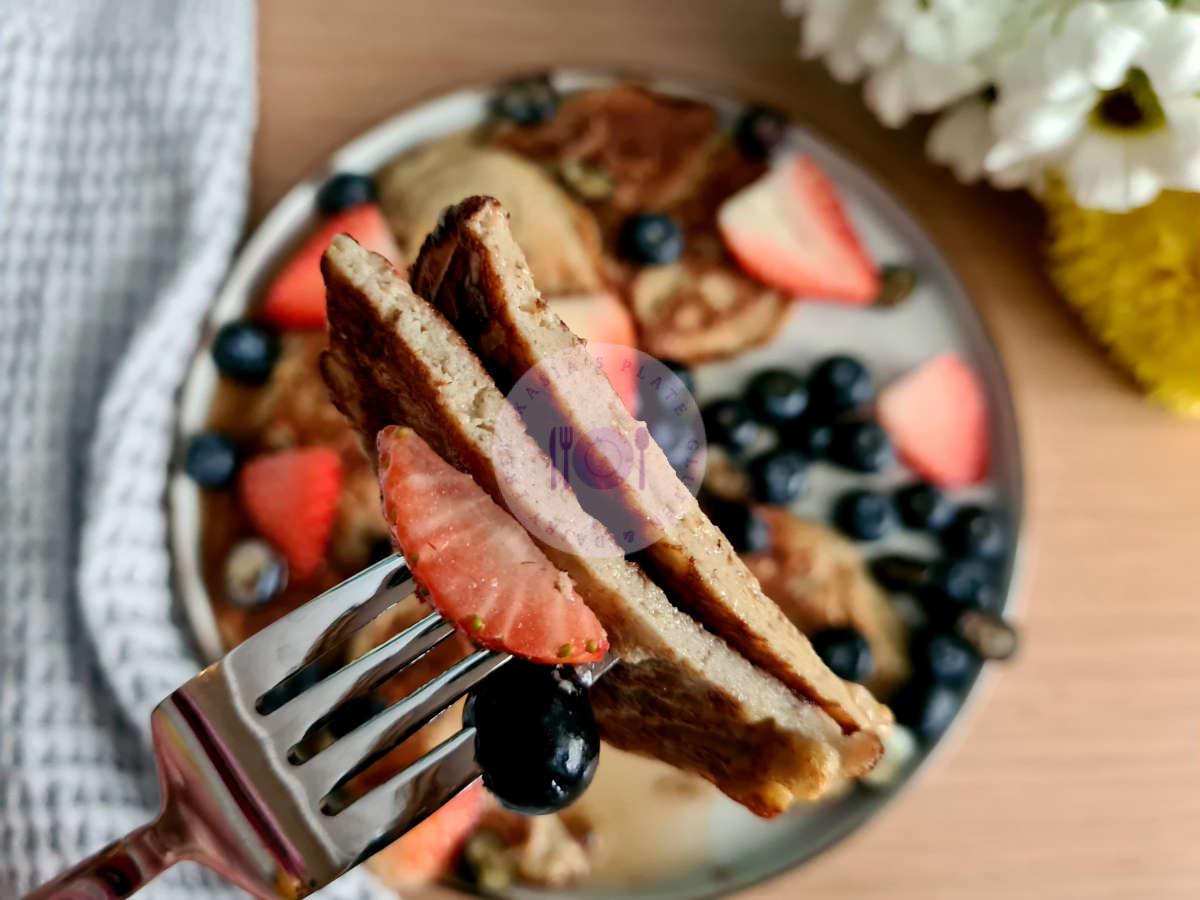 There are so many reasons to try this recipe: it is quick, simple and utterly delicious. It also uses ingredients you likely have in your cupboards/fridge already. The eggs help to bind the pancakes and give a nice fluffyness to the batter. I really like to whisk them well to add some air in. I don't always, but I sometimes also add in a little baking powder to add a little extra oompf. The batter works with and without.
Personally, I don't add vanilla extract or maple syrup to this batter as I find the protein powder is sweet and flavourful enough. If you do need an extra boost, I do recommend 1-2 tbsp of maple syrup/honey/sweetner and 1-1.5 tsp vanilla extract. However, there should be a beautiful natural sweetness from the banana.
If you enjoyed this recipe, why not check out my other pancake options? There's plenty of protein and protein-less versions. From healthy to indulgent. Any I've missed and you want to see from me? Just drop me a line and I will try and whip something up.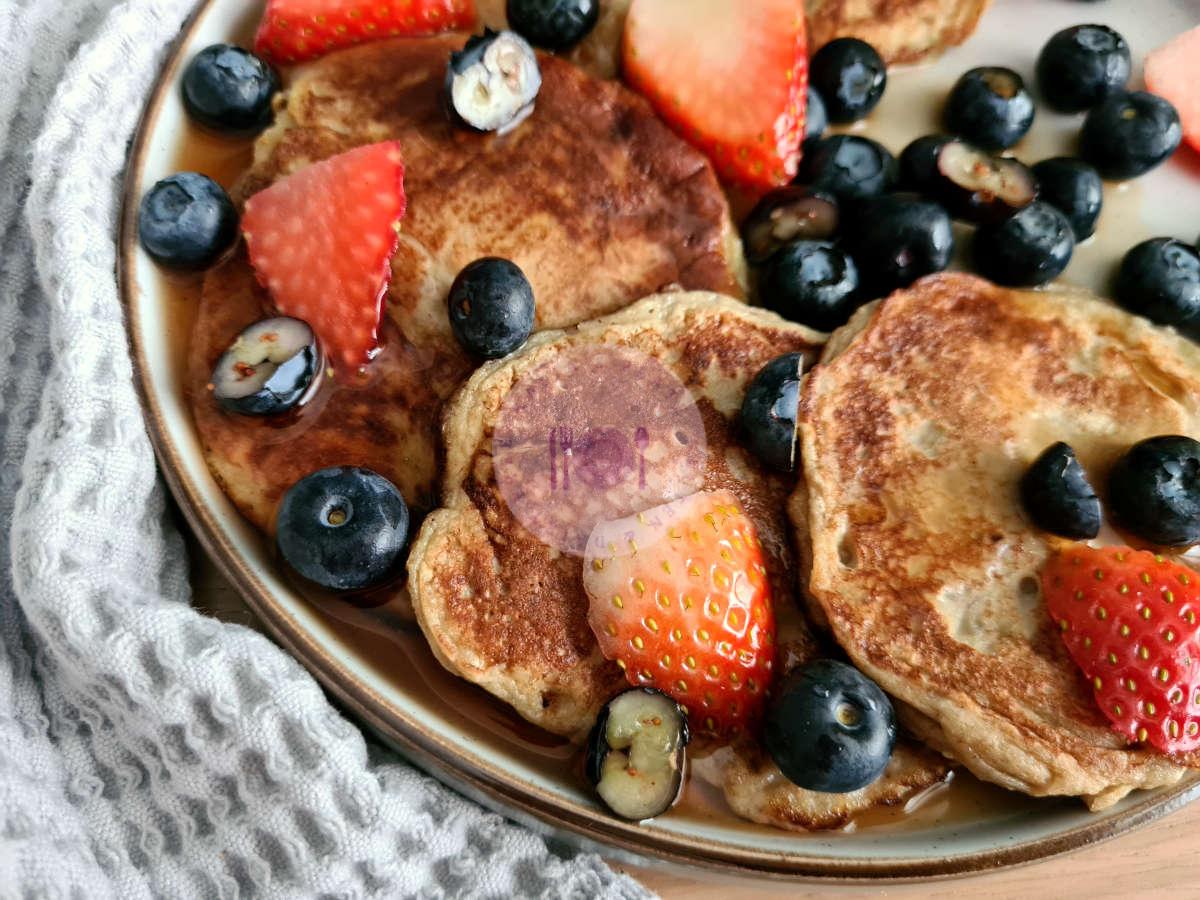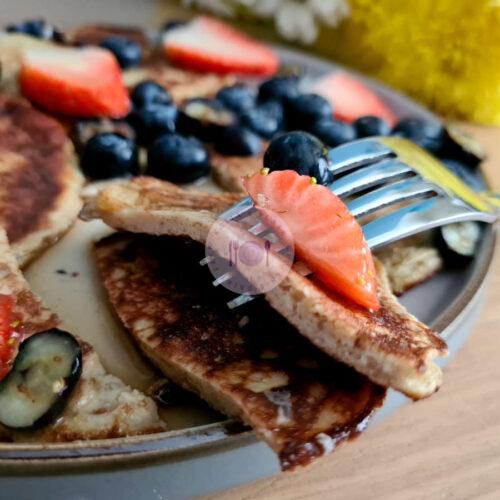 Vanilla Protein Pancakes
Gluten-free, Nut-free, No added sugar
Equipment
Frying pan

Spatula

Mixing Bowl

Whisk

Ladel
Ingredients
1

Large

Banana (mashed)

Approximately 100g

2

Large

Eggs

Room temperature

35

grams

Vanilla Protein Powder

1

Tsp

Baking soda

Makes fluffier pancakes

1

Tbsp

Olive oil

For frying (optional - omit if pan is non-stick)

Fruit and maple syrup

To garnish
Instructions
In a bowl, whisk the eggs until well beaten

Add in the mashed banana and vanilla protein powder (and baking soda) and mix until well-combined

Heat a frying pan on medium-high heat (add oil if required)

Once the pan is hot, take a ladel and pour the batter onto the pan (I tend to make 2-3 pancakes at a time - leaving a 2-inch gap between so they don't merge)

Lightly fry on one side for 2-3 minutes then gently push the spatula underneath (you will be able to feel whether the pancake is cooked on that side at this point as it will feel slightly firm when pushing the spatula under)

Making sure the spatula is completely under the pancake, gently flip it over onto the other side and cook for a further 2-3 minutes (it is important to be gentle here as the batter can splash)

Move the pancakes onto a plate and then add your toppings (I love to add berries and syrup here)
Notes
Calories do not include additional toppings
Storage: in an air-tight container for 2-3 days in the fridge