OK guys, I am going to make a big statement here.. I adore these buckwheat protein crepes more than my previous chocolate oat crepes! I feel like such a fiend for defying my trusty oats – but there is something just too irresistible about the texture of these. I do still love everything oat though – promise. These just slightly have the edge for me. Never thought I'd say that. They are smooth and filling. It even has subtle nutty undertones which are heavenly.
A few buckwheat recipes I have seen call for a blend of flours as buckwheat can be quite bitter and strong in flavour. Whilst it is very dense in comparison to all-purpose flour, in my opinion, I find that sifting it with the vanilla protein powder and adding in the vanilla extract makes it well-balanced.
Why did I choose to use buckwheat for a change? Well, I picked some up in my local health shop on a whim one day. No idea why really – I just knew it was naturally gluten-free and was intrigued. Since then, I've been playing around with using it in recipes. This is my first published one, but I am having fun using it. It acts slightly different to flour, but is high in fibre and good for your gut.
Not only is it 'better for you' than regular flour, it can be made into crepes just as easily. This is all made entirely from scratch and is absolutely beautiful. The addition of the protein powder makes it great for both pre- and post-workout. These hit the spot every time for me. I can't lie, these just make me feel so good after consumption. Especially when served with healthy fruit and yoghurt toppings. Plus chocolate as always – we gotta have balance!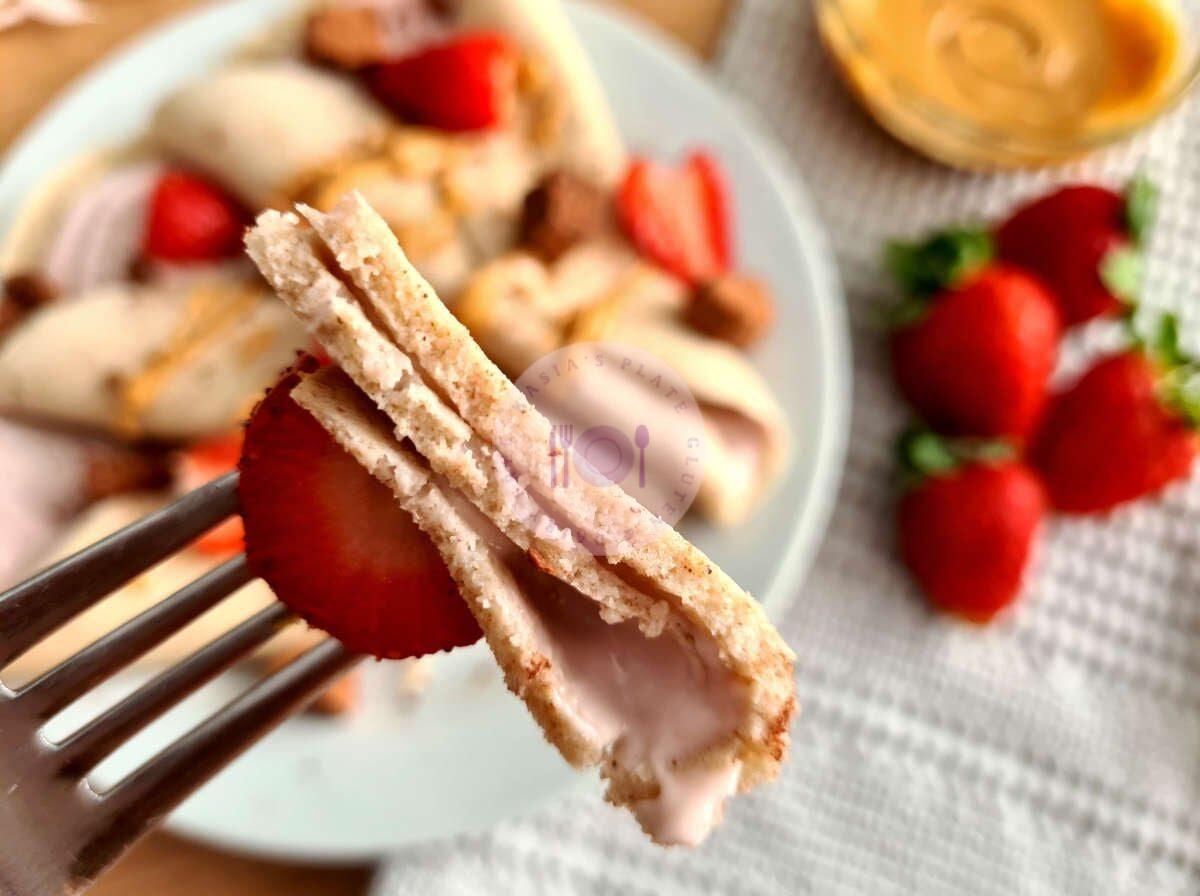 Whilst I made these buckwheat protein crepes into a sweet version, you could easily create a savoury breakfast/brunch dish using this recipe as a base. Simply omit the vanilla extract and change the vegan vanilla protein for flavourless. If you don't need these dairy-free like me, you may also need less milk. I find that vegan protein is much more absorbent than whey.
Need more convincing to make these? Not only are they easy and healthy they are: quick to make (ideal for weekdays as well as weekends), versatile as mentioned, filling and totally satisfying. Hope you enjoy x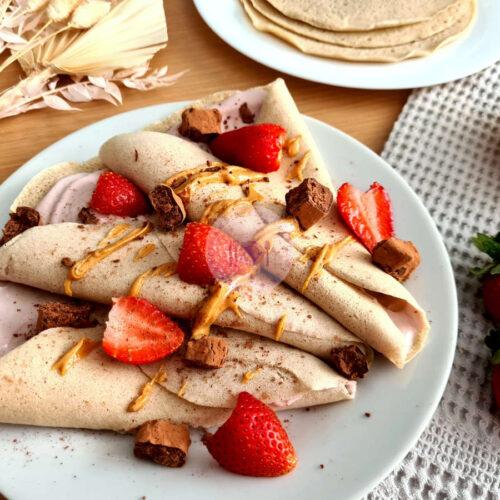 Buckwheat Protein Crepes
Gluten-free, Dairy-free, Vegetarian, Nut-free, Soy-free
Equipment
Frying pan

Whisk

Mixing Bowl

Spatula

Sieve
Ingredients
80

grams

Buckwheat flour

22

grams

Vegan vanilla protein powder

60

grams

Egg whites

Substitute: 1 whole egg

1

tsp

Cinnamon

1/8

tsp

Nutmeg

150

ml

Plant-based milk

Recommended: soya, almond, coconut or GF oat

1

tbsp

Olive oil

For frying
Instructions
Sieve the protein powder and buckwheat flour into a mixing bowl

Add in the egg (whites) and milk to the bowl and whisk until combined and no lumps

Heat the oil in a frying pan on a medium-high heat

Pour the batter into the pan, evenly and thinly coating the surface

Cook for 2-3 minutes (until the crepe begins to form holes)

Gently flip the crepe over with a spatula and cook for another 2-3 minutes on the other side

Repeat until you have used all the batter

Serve with your favourite toppings (I recommend berries, chocolate and a nut butter/spread)
Notes
Calories are for one buckwheat crepe (does not include toppings)
Best served warm
Storage: in an air-tight container in the fridge for 1-2 days