Is anyone else as addicted to pancakes as I am? I swear I couldn't live without both them and oats. I basically am a pancake now! That's why I tried to create something 'healthier' with these yoghurt pancakes.
These are so delightfully delicious. I can't explain just how fluffy these are. They are one of my go-to recipes these days as they are filling, soft and full of goodness from the buckwheat. If you've not tried this alternative flour yet – the one I use and love is from Amisa Organic (where you can buy lots of various GF flours). I've been trying to cut down using protein powder in all of my meals/snacks but wanted to try and keep up the protein content naturally. This is how this recipe came around. The egg whites give a low-calorie, protein boost which is accompanied with the Greek-style dairy-free yoghurt. If you do fancy a protein pancake recipe though, you can check out my banana protein pancakes, chocolate protein crepes or buckwheat crepes recipes.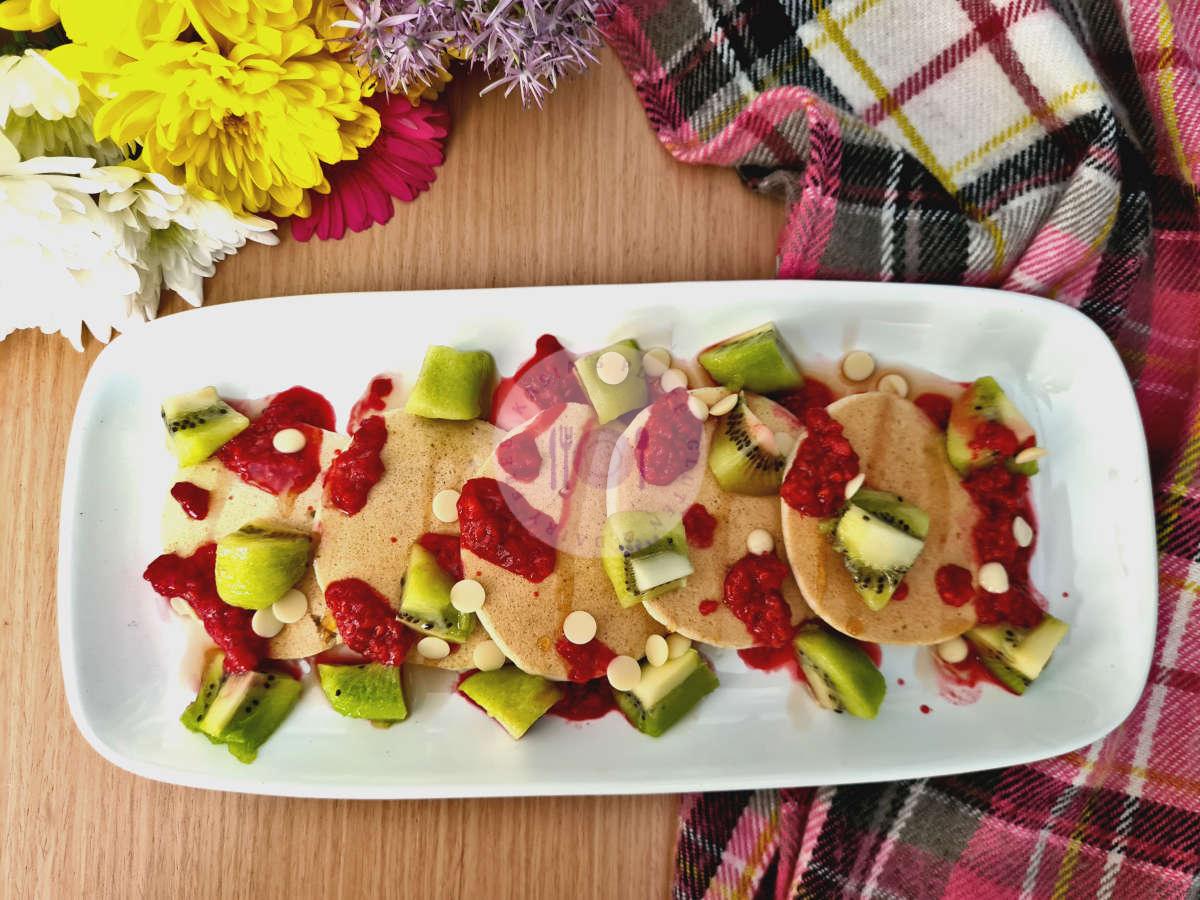 I've tried making these yoghurt pancakes on a low-medium heat as well as a higher temperature. Make sure to follow the instructions closely as the pancakes do burn if the pan is too hot. I find the low and slow is much better! Another tip is to whisk the mixture then leave to stand slightly to give the beautiful texture.
These yoghurt pancakes get you up and ready for the day. Unlike other pancakes which can make you feel sluggish and overly full, these are perfect – in my opinion anyway – but I'm sure you'd agree if you tried them. They even have a lush base flavour to them with the vanilla notes meaning you can eat them with any toppings you'd like. I highly recommend syrup and berries though.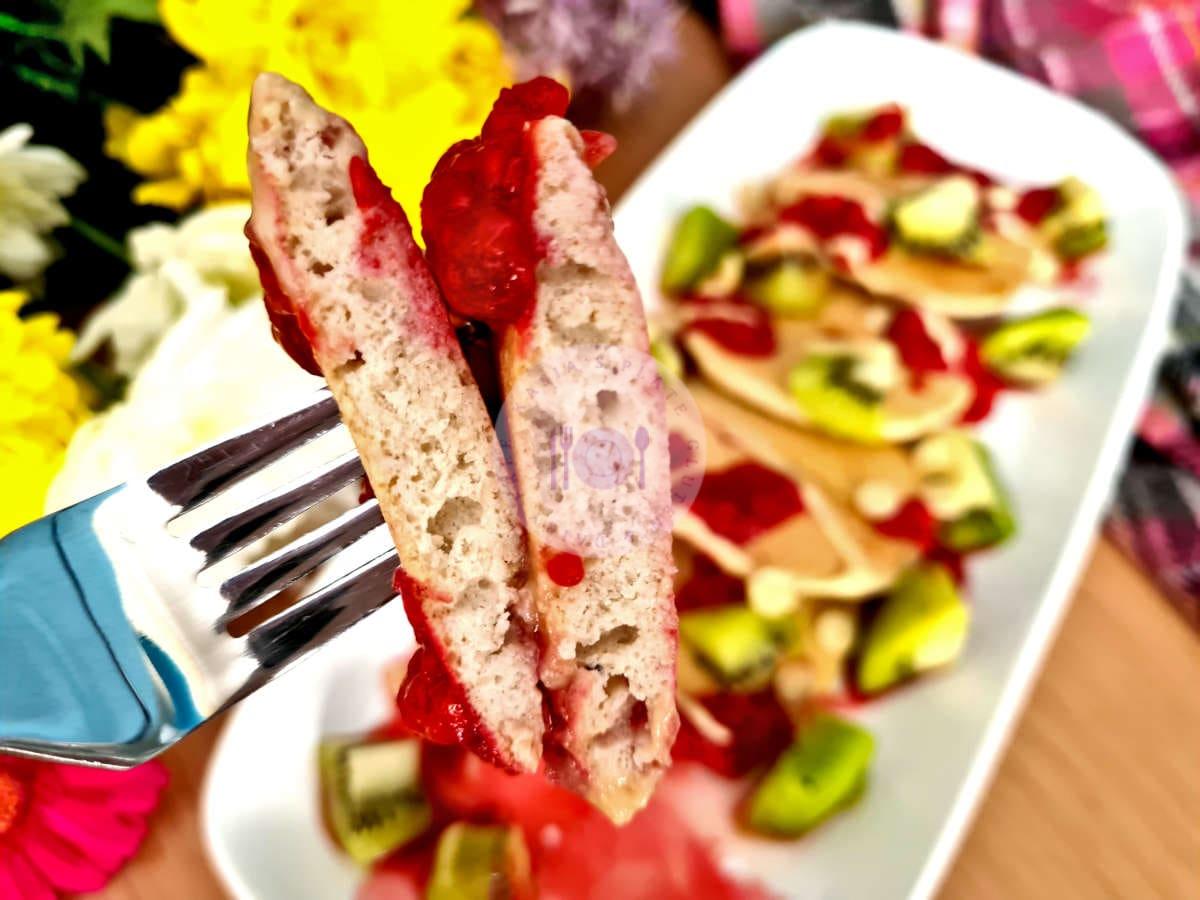 One of my favourite things about making this batch of pancakes is they are amazing meal prep. I often make these on a Sunday night ready for the working week. They are suitable for freezing as well as storage in the fridge. You can even pop them in the toaster to heat them up quickly if needed.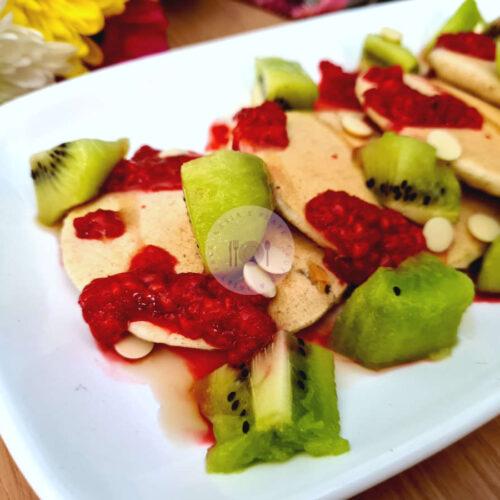 Healthier Yoghurt Pancakes
Gluten-free, Dairy-free, Nut-free, Vegetarian, Soy-free
Equipment
Frying pan

Spatula

Mixing Bowl

Whisk

Ladel
Ingredients
130

grams

Vegan yoghurt

Recommended: soya Greek-style or coconut

85

grams

Buckwheat flour

Substitute: all-purpose

90

grams

Egg whites

~3 egg whites

1.5

tsp

Vanilla extract

1

tsp

Cinnamon

1/4

tsp

Nutmeg

2

tbsp

Syrup/Sugar

1

tbsp

Oil

For frying

1/2

tsp

Baking powder
Instructions
Add all of the ingredients, except the oil, into a mixing bowl and whisk until completely combined

Heat a frying pan on low-medium heat (add oil if required)

Once the pan is hot, take a ladel and pour the batter onto the pan (I tend to make 2-3 pancakes at a time - leaving a gap between so they don't merge)

Lightly fry on one side for 2-3 minutes then gently push the spatula underneath (you will be able to feel whether the pancake is cooked on that side at this point as it will feel slightly firm when pushing the spatula under)

Making sure the spatula is completely under the pancake, gently flip it over onto the other side and cook for a further 2-3 minutes (it is important to be gentle here as the batter can splash)

Move the pancakes onto a plate and then add your toppings (I love to add berries and syrup here)
Notes
Calories are for one pancake (excluding toppings)
Store in an air-tight container, refrigerated, for 2-3 days
Re-heat in the microwave or oven