Don't lemon cheesecake doughnuts just give you all the summer feels? It is so refreshing and I just adore the zing. Lemon cheesecake has to be one of my favourite classical flavours. That and doughnuts are a staple in my diet. So why not mash them together and make lemon cheesecake flavour doughnuts?! As much as the classical ones are a huge hit, I love experimenting with different and unique palette combinations.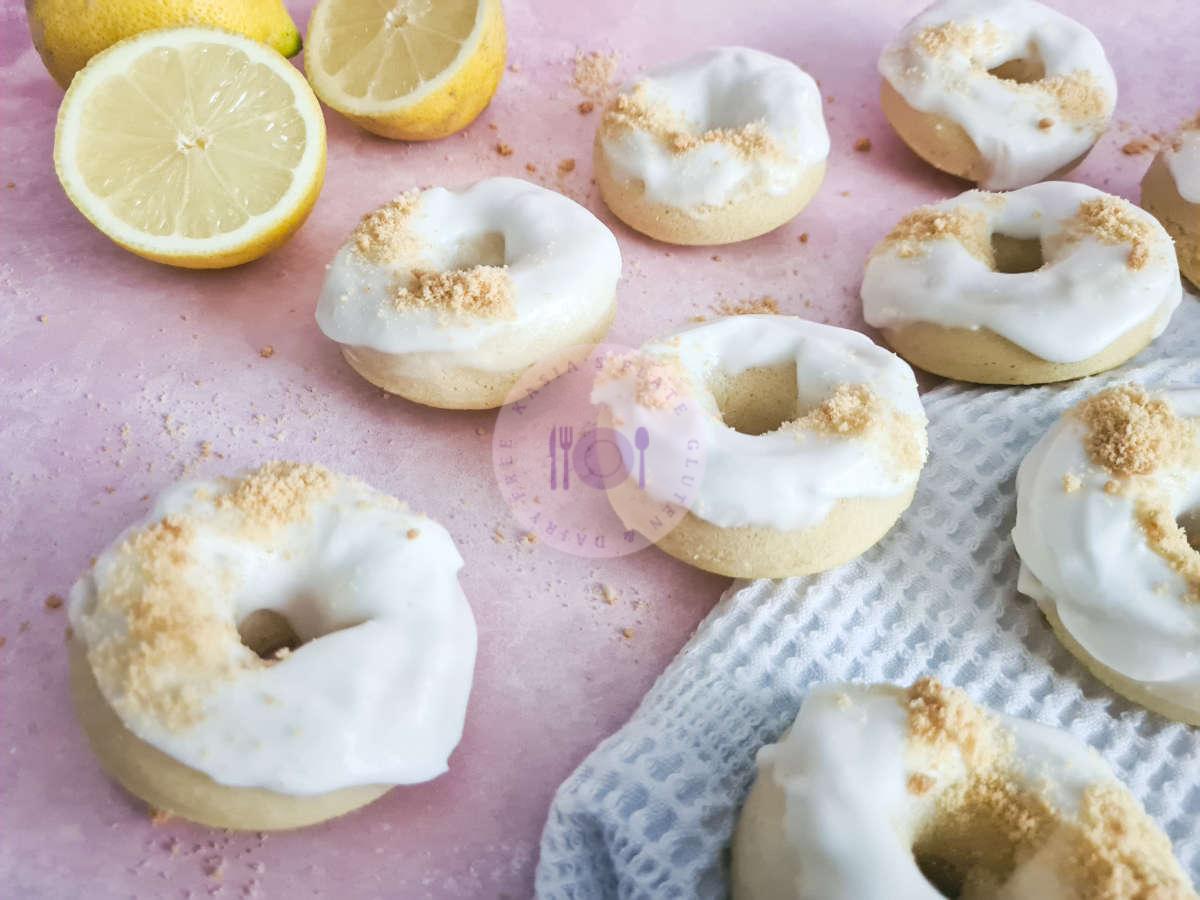 I decided to make these particular doughnuts a vegan bake. I've been trying to explore more eggless recipes as I have a couple of vegan friends as well as one who is anaphylactic to eggs. I also have lots of requests for my recipes to be veganised. So why not start experimenting? I genuinely thought it wouldn't be too hard – but it has definitely had lots of trial and error. Every bake is a step in the right direction though. Plus, the exploration has made my baking more exciting and accessible for even more people. This is one of the major aims of my blog. Whilst I can tolerate eggs, I'd love to provide more egg-free options for those who can't.
So why bake my lemon doughnuts? Well, because they're gorgeous – if I do say so myself. They are light and so fluffy. You'd never know they are vegan and gluten-free. The biggest compliment I had for these is that my savoury-loving partner actually chose to eat not one, but two of these instead of a savoury pastry! Now that says a lot. I just hope you guys love them as much as we do.
Are there any adjustments I can make to the recipe?
So you could use self-raising flour if you fancy your doughnuts being even fluffier. Baked doughnuts are much denser and cakier than fried, so I sometimes use more leavening for this effect.
Can I use lemon juice instead of extract? Unfortunately not! Essence is much stronger than juice so the latter is too light for the batter to retain flavour when baking.
What if I don't need my doughnuts vegan? You can use my original sugar doughnut recipe base (adding in some lemon extract to the batter) and then using the topping from this recipe below.
Happy baking xx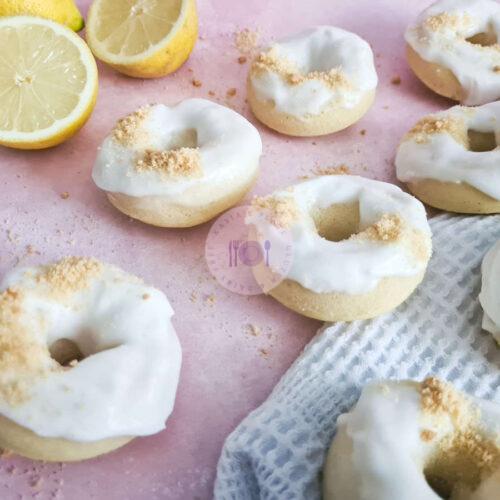 Baked Vegan Lemon Cheesecake Doughnuts
Gluten-free, Vegan, Dairy-free, Soy-free, Vegetarian, Egg free, Nut free
Equipment
Mixing Bowl x2

Microwaveable/heat-proof bowl

Whisk

Oven

Silicone doughnut tray

Mixing spoon

Sieve
Ingredients
For the doughnut batter
1.5

Tbsp

Lemon extract

~10ml

220

grams

Gluten-free plain flour

1/2

Tsp

Xanthan gum

Omit if your flour blend already contains this

1.5

Tsp

Baking powder

1

Tsp

Baking soda

40

grams

Vegan butter

Recommendation: Stork baking block

220

ml

Plant-based milk

95

grams

Caster sugar
For the topping
20

ml

Lemon juice

100

grams

Vegan cream cheese

18

ml

Plant-based milk

2

Lemon (or plain) flavoured biscuits

Recommendation: Freee foods lemon biscuits

25

grams

Caster sugar
Instructions
Preparing and cooking the doughnut batter
Pre-heat the oven to 190°C (conventional) or 170°C (fan)

Mix the dry ingredients together in a bowl

Melt the butter in an microwavable bowl

Add the butter and lemon extract to the bowl containing the dry ingredients and mix together thoroughly until combined

Add the rest of the batter ingredients to the bowl and whisk together until fully combined

Grease a doughnut tray with olive oil (or melted butter if preferred)

Carefully spoon the batter evenly into the doughnut tray

Bake for 10-12 minutes (until golden)

Once cooked, remove the doughnuts from the oven and leave in the doughnut tray to cool (this should take about 10 minutes)
Coating the doughnuts
Whisk together the topping ingredients until a smooth mixture forms

Spoon the cream cheese coating onto the top of the doughnuts and smooth out, covering the entire surface

Crumble some biscuit over the top of the cream cheese topping
Notes
Store in an air-tight container for 1-3 days at room temperature
Base (without cream cheese topping) suitable for home freezing for up to 2 months