What do you do with an abundance of chocolate in the house? Well, apart from just stuffing it into your face, you could make a batch of fully loaded vegan brownies of course! This is a great way to experiment and use all your favourite toppings. The more wild and wonderful – the better. I only recently started with vegan baking due to having a couple of vegan friends and some with egg allergies. I started with these vegan chocolate cupcakes and decided to veganise my original fudge brownie recipe. Not only this, but the base alone in this recipe is top 14 allergen free. That means no nuts, dairy, soy, eggs, gluten and more! You can then adjust the toppings to continue this throughout the whole bake.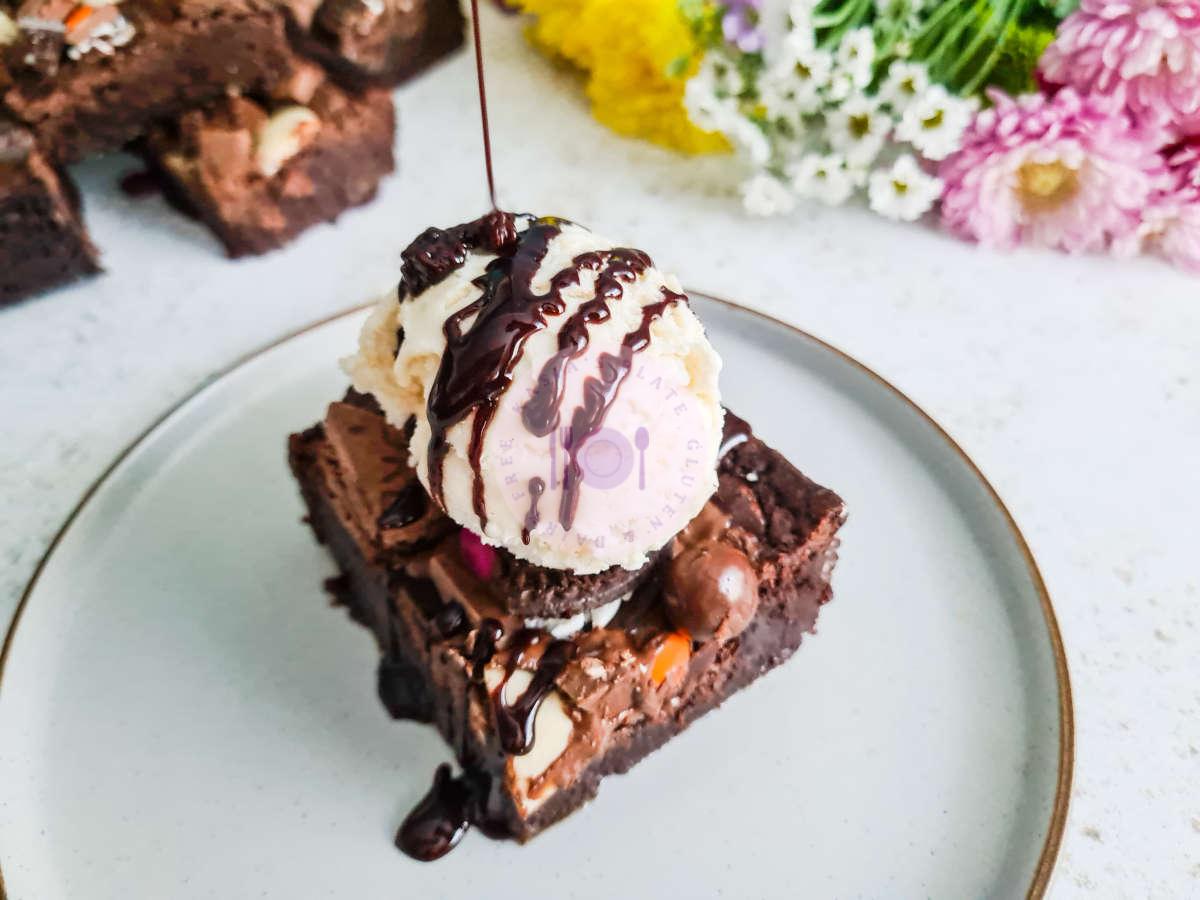 For my brownie slab, I love adding a pop of colour to the top. I used some Doisy and Dam "smarties" for this. These are vegan and have no gluten containing ingredients – but do have may contains. Just omit this and add some free from sprinkles if required. My favourite things to add are chocolate biscuits like bourbons and/or free from oreos (I usually get Prewetts biscuits or those in the free from aisles), chocolate buttons, various vegan chocolates (think ombar, joy of enjoy, galaxy to name a few), buttermilk salted caramel cups and creative nature gnawbles (where you can get 10% off using my affiliate code KASIASPLATE10).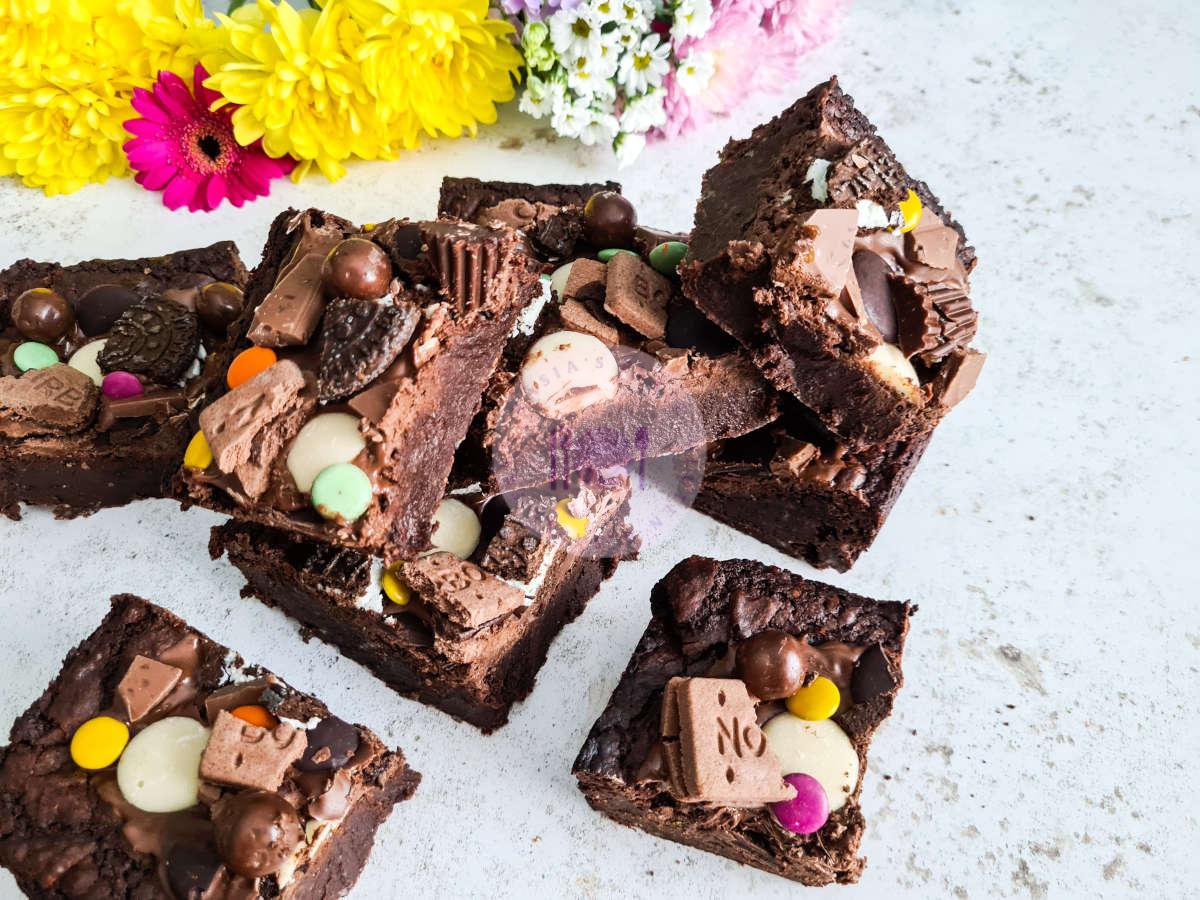 Don't need a vegan recipe? Try my gluten and dairy-free fudge brownie recipe instead. That one isn't fully loaded like this – but it doesn't mean you can't add that on at the end too. Make sure to tag me in any of your creations on social media also. I love seeing what you make from the blog. Hope you love this one as much as I do. It has taken quite a few attempts to get just right and I finally think I've nailed it. It is definitely a popular recipe with friends and family – including those without allergies. Who said fully loaded vegan brownies can't be a show stopper?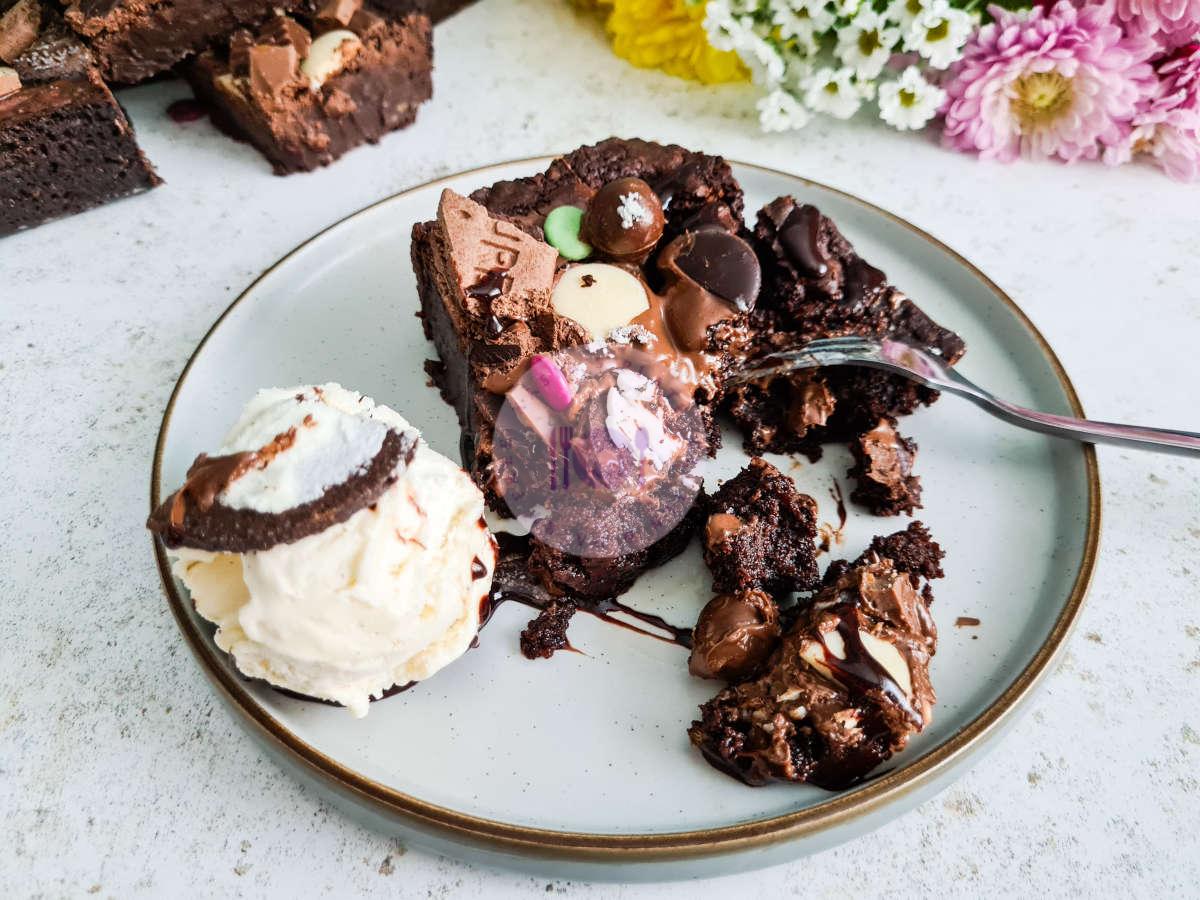 Why bake these fully loaded vegan brownies?
Popular amongst both vegans and non-vegans

Easily customisable
So fun to make
Perfect for parties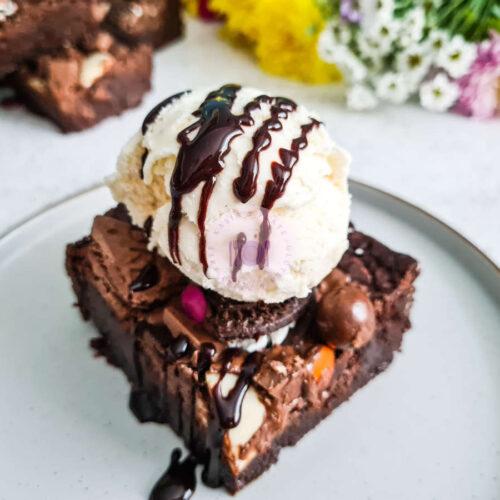 Fully Loaded Vegan Brownies
Gluten-free, Vegan, Nut-Free, Soy-Free, (Base: top 14 allergen free)
Equipment
Oven

Greaseproof Paper

9" x 9" baking tin

Mixing Bowl

Mixing spoon

Whisk

Microwave or Bain-Marie

Heat-proof bowl

Sieve
Ingredients
For the Brownie Base
400

grams

Dairy-free chocolate

Dark is preferable, but could also use a mix of milk and dark

160

grams

Dairy-free butter

Recommendation: stork baking block or flora plant block

120

ml

Boiling water

1

tsp

Instant coffee granuals

Optional

200

grams

Brown sugar

100

grams

White sugar

90

grams

Cocoa powder

1.5

tsp

Vanilla extract

200

grams

Gluten-free plain flour

1/2

tsp

Salt

1/2

tsp

Baking soda

1

tsp

Baking powder

1

tsp

Xanthan gum
For the Brownie Topping (Optional/Create your own)
100

grams

Dairy-free milk chocolate

Substitute: dark chocolate

10

Vegan white chocolate buttons

10

Vegan dark chocolate buttons

2

Free From oreos

2

Free From bourbon biscuits

Handful

Vegan smarties

Recommendation: Doisy and Dam (may contain warning)

10

Creative Nature Gnawbles

*Use KASIASPLATE10 for 10% off the website
Instructions
For the Brownie Base
Pre-heat oven to 190°C (conventional) or 170°C (fan)

Gently melt the chocolate and butter either using a Bain-Marie method or in the microwave using short bursts and stirring each time

Place the chocolate and butter mix to one side to cool slightly

Add the sugars and vanilla extract into a bowl and mix together

Sieve the flour, cocoa powder, baking powder, baking soda, xanthan gum and sea salt (optional) into the bowl then continue to mix in until well combined

Add the melted chocolate and butter to the rest of the brownie mix and gently fold in with a spatula

Add the boiling water (and optional coffee powder) to the mix and stir until fully combined

Line a baking tray with grease proof paper and pour in the brownie batter

Even out the mixture in the tray using a spatula

Bake for 40-45 minutes (the less time the bake, the more fudgy the brownies will be - make sure not to go too low though or they will still be raw)

Remove the brownies from the oven and leave in the tray at room temperature to cool for an hour

Move the brownies to the fridge for 4 hours to overnight to fully cool and set (this will create the fudgy texture)
Decorating the Brownie Base
Melt 100g of chocolate in the same way as before then pour over the cooled brownies (make sure they are completely cool before doing this otherwise they could go soggy)

Whilst the chocolate topping is molten, add on all of your toppings of choice (the messier the placement - the better)

Leave the chocolate topping to harden and set fully

Cut the brownies into 9 (or more) equal squares
Notes
Calories are for the brownie base only
Toppings are only my suggestions - add whatever takes your fancy
Storage: in an air tight container for 5-7 days
Suitable for home freezing (up to 3 months)