Here's to my first vegan cupcake recipe – hooray! I am so pleased with how this turned out. After quite a few failed attempts, I think I finally nailed eggless, vegan chocolate cupcakes. I already have similar recipes that are already GF/DF but didn't realise how hard it would be to take out the egg and make it still as good. Perseverance took me there in the end. I hope you think it was worth it! You'll have to bake these yourself and see.
I wanted to keep the beautifully light spongy texture I managed with my 'egg-containing' recipe. After experimenting with both plain and self-raising flour, I actually found the latter to be really useful for this part. That and the sieving of ingredients to add in extra air. Make sure not to skip any of these steps – I promise the extra few minutes will help immensely.
Not only are these unbelievably soft, but they are so moreish. You'd never know they were GF and vegan. It is so easy to indulge in more than one as they are really light. Plus, the addition of the buttercream adds a beautiful depth to the cake too. I find having the melted chocolate in there brings out its decadence.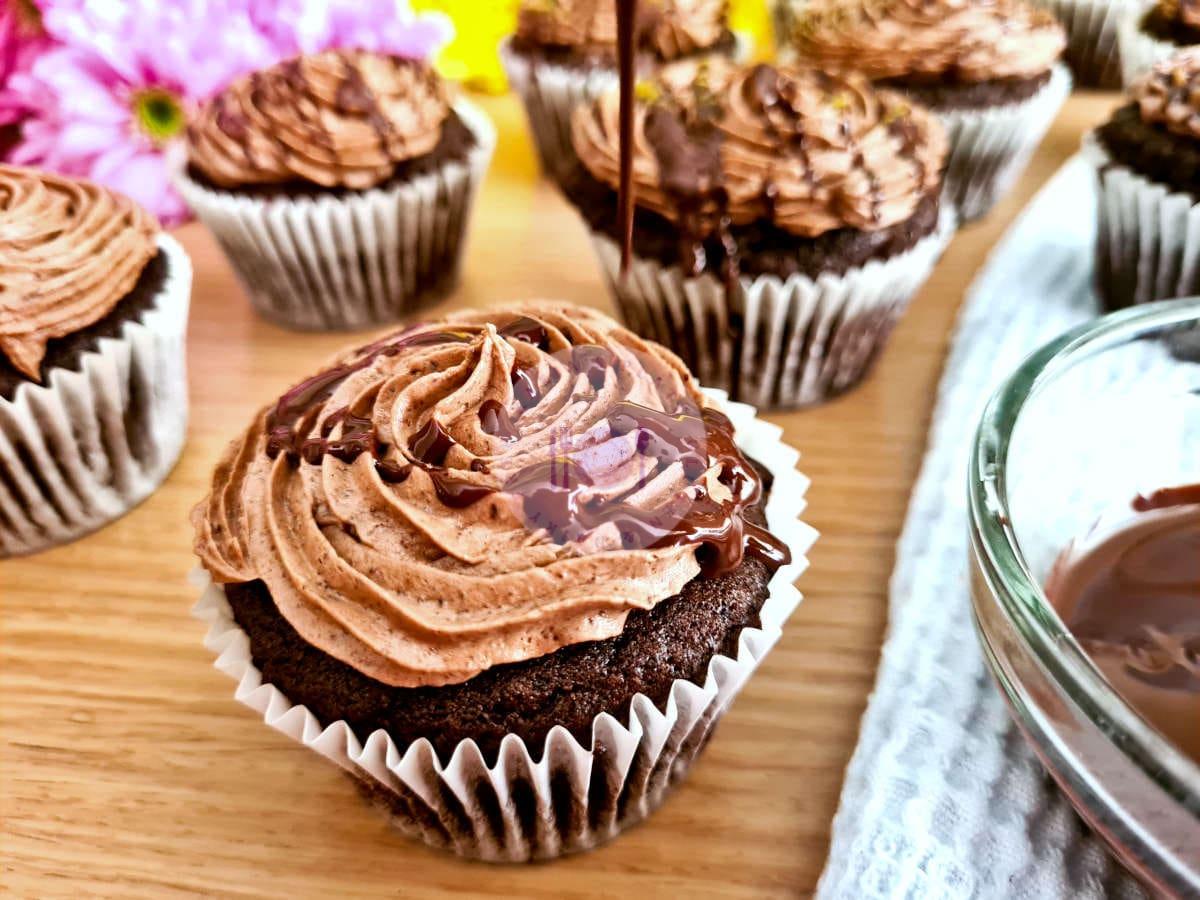 I was actually tasked with making these by a few people. I have had quite a few messages for more 'veganised' recipes as well as some vegan friends asking to try my bakes. I thought it was time to try it out! I can't wait to try and make vegan versions of other recipes too. I have also been asked to do this for my sugar cinnamon doughnuts.
One thing I did differently to my usual cupcakes is I decided to brown my butter first. This gave the cakes so much flavour! In a way, it was subtly nutty and gave a 'nutella' feel. Without the nuts, of course. I only recently started using browned butter in my recipes but have noticed a huge difference in taste. It really enhances the tones of the bake and brings it alive. Will definitely be using this more. On this note though, make sure to be careful when browning your butter. There is a fine line between browned and burnt. I find a good tip is to move the butter into a bowl after heating to prevent further cooking in the saucepan.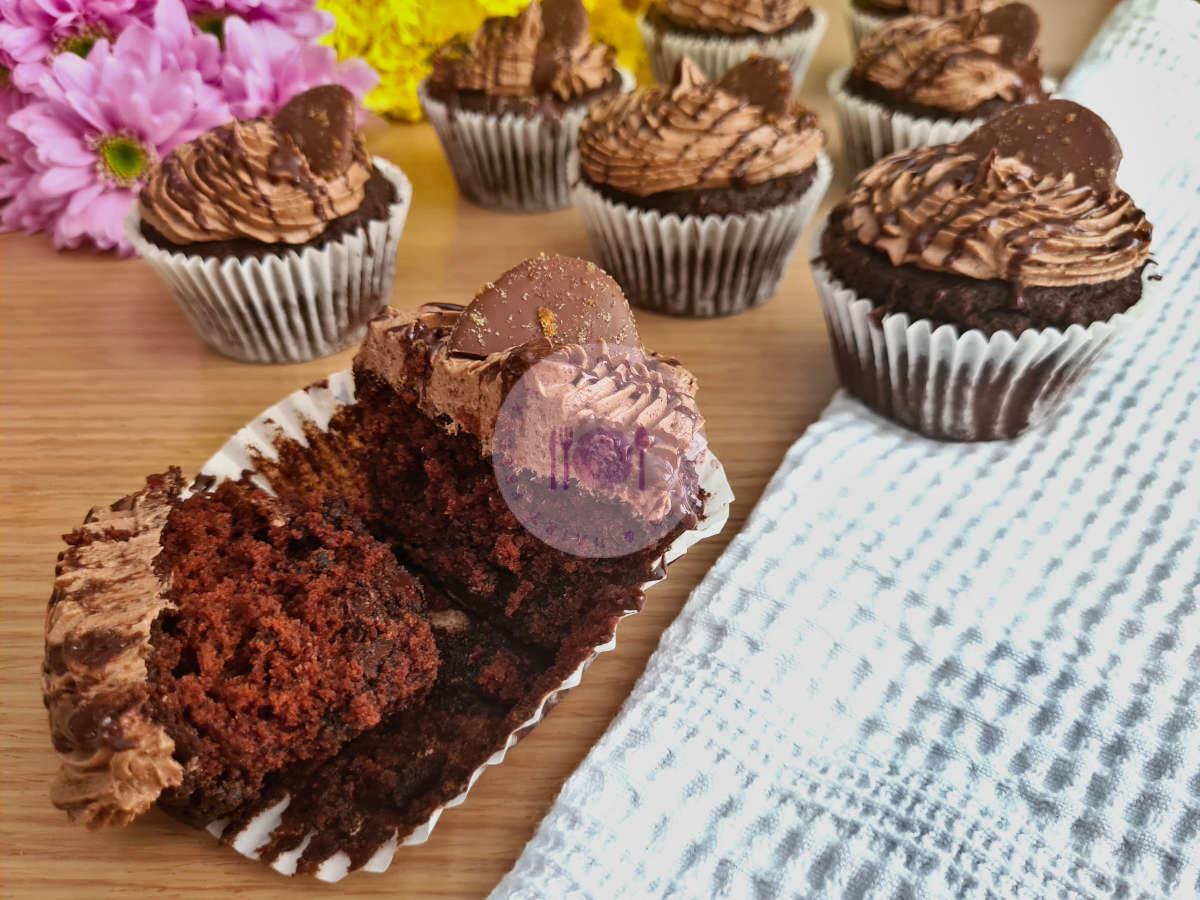 You'll honestly be so surprised these are vegan – my partner and friends didn't know until I told them. They have been going down a treat at work with colleagues too. You could always whip up a batch of these and accompany them with my boozy Black Forest style cupcakes too. Just make those vegan, if you wish, by using the base recipe from here.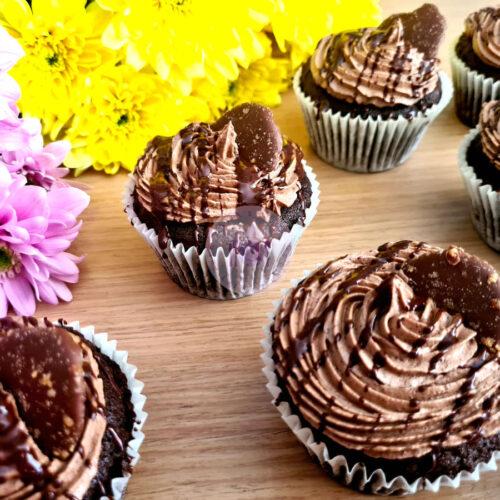 Vegan Chocolate Cupcakes
Gluten-free, vegan, egg-free, dairy-free, nut-free, soy-free
Equipment
Oven

Mixing spoon

Mixing Bowl x2

Whisk

Sieve

Bain-Marie/Microwave

Small bowl

Saucepan

Wooden Spoon

Spatula

15 cupcake cases

Cupcake baking tray

Scoop/spoon

Piping bag

Piping nozzle
Ingredients
For the chocolate cupcake sponge
240

grams

Gluten-free Self-raising Flour

25

grams

Cacao Powder

160

grams

Caster sugar

75

grams

Brown Sugar

1

tsp

Baking Powder

1

tsp

Lemon Juice

Substitute: apple cider vinegar

1.5

tsp

Baking Soda

100

grams

Dairy-free Butter

1/4

tsp

Salt

220

ml

Plant-based Milk

Recommendation: coconut or GF oat

1.5

tsp

Vanilla Extract

150

grams

Vegan Chocolate Chips

3/4

tsp

Xanthan Gum
For the chocolate buttercream icing
160

grams

Dairy-free Butter

165

grams

Icing Sugar

15

grams

Cacao Powder

100

grams

Vegan Chocolate

Suggestion: mix of milk and dark chocolate
Instructions
To make the chocolate cupcake sponges
Pre-heat the oven to 200 °C (conventional) or 180 °C (fan)

Line a cupcake tray with cupcake baking cases and set aside

Sieve the flour, cacao powder, baking soda, baking powder and xanthan gum into a mixing bowl

Add the salt, brown and white sugar to the bowl and mix together then set aside

Add the butter to a saucepan and gently heat on a medium setting until it reaches just past boiling point (about 5 minutes) which will cause the butter to become browned, giving a beautifully nutty taste

Move the butter to a small bowl to prevent it from burning

Make a well in the centre of the bowl containing the flour and sugar and add in the butter, vanilla extract, milk and lemon juice then mix in until combined

Whisk the mixture to give extra fluffiness and body

Finally add in the chocolate chips and gently fold in, making sure to keep as much air in as possible

Using a scoop (or spoon), place the batter evenly into the baking cases and then pop into the oven

Bake for 17-20 minutes (I do this in two batches)

Once baked, remove from the cake tin and place on a wire rack to cool completely
To make the buttercream frosting
Beat together the butter, milk, vanilla extract and icing sugar until a stiff but malleable buttercream forms (you can use a whisk to help remove any lumps)
Constructing the cupcakes
Open a piping bag and place the nozzle down to the bottom of the bag (do not cut it yet)

Add the buttercream into the piping bag and then clip the end of the bag when ready

Carefully pipe the buttercream over the top of the cupcake, starting on the outer edge and spiraling inwards

Decorate with any extras you like (I added some melted chocolate and chocolate buttons)
Notes
Calories include the cupcake sponge and buttercream but no additional toppings
Storage: in an air-tight container at room temperature for 3-5 days