Here it is – my accidental brownie skillet. Why accidental? Well, this was originally intended to be a cookie! I had never made a skillet bake before and wanted to give it a go. I had looked at my previous cookie recipes to try and put something together. I had planned it for days – like with most of my other bakes. We all know plans never stay that way though – you always adjust ingredients as you go. This one was a big change from what I planned, though. Half way through making, I just decided to chuck in cacao powder and milk to change the texture completely. Whilst it looked like it could potentially make a lovely cookie, I had a spur of the moment thought to just go for it. It worked! Hooray!
I was tasked with making this one as an advertisement for Northern Bloc vegan ice cream. The recipe was completely up to me and I had free reign. All I had to do was make something vegan. Oh this was so much fun. The thoughts and ideas were endless. I even loved the ice cream and idea so much that I went to buy extra to make a second bake. This is still in the pipeline, but hopefully I can share it with you soon. Maybe it will be the cookie skillet after all. Who knows?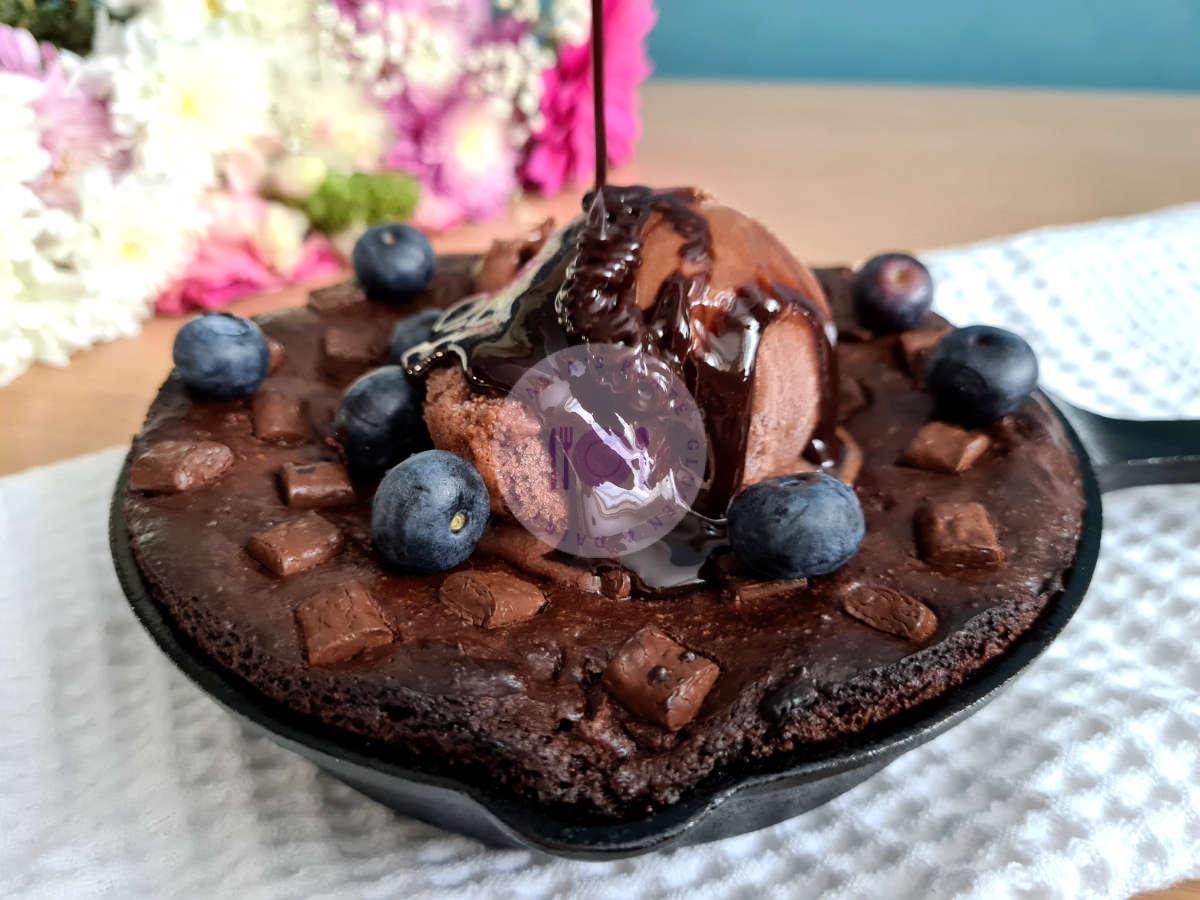 Not only did I make this vegan, but I tested my skills and also made it flour-less. That doesn't just mean no 'gluten flour' – it has no flour at all. Instead, I used ground almonds. This gave it so much moisture and helped to retain the fudgy texture. I am loving experimenting with alternative flours. Whilst it is a challenge and it doesn't always work – cue splodgy messes here – when it does work, it always turns out fabulous! If I do say so myself anyway.
The almond flour in this gives it lots of healthy fats meaning it also keeps you fuller for longer. It is also a bake that can easily be made refined sugar free with a couple of simple swaps. I wanted to try and make this as easy and versatile as possible. I will have to make a nut-free version next.
Overall, I would say this serves 2-3 people. I did use a single-serve skillet and very much intended it for one person.. but it is indulgent. Even my sweet tooth struggled to finish this whole dish – and I only share when I really can't finish it. Chocolate and I have a very special bond. It is rich, but boy is it moreish! You just can't help but dig in. It is thick with chocolate notes too – but not overpowering.
I do recommend serving it with chocolate or vanilla ice cream too. I found this helped to balance the deep chocolate flavours in the bake with a more gentle and soothing lightness. So maybe not an ice cream that is too heavy! Oh.. and to drizzle with chocolate sauce to complete it. You can never have too much chocolate after all.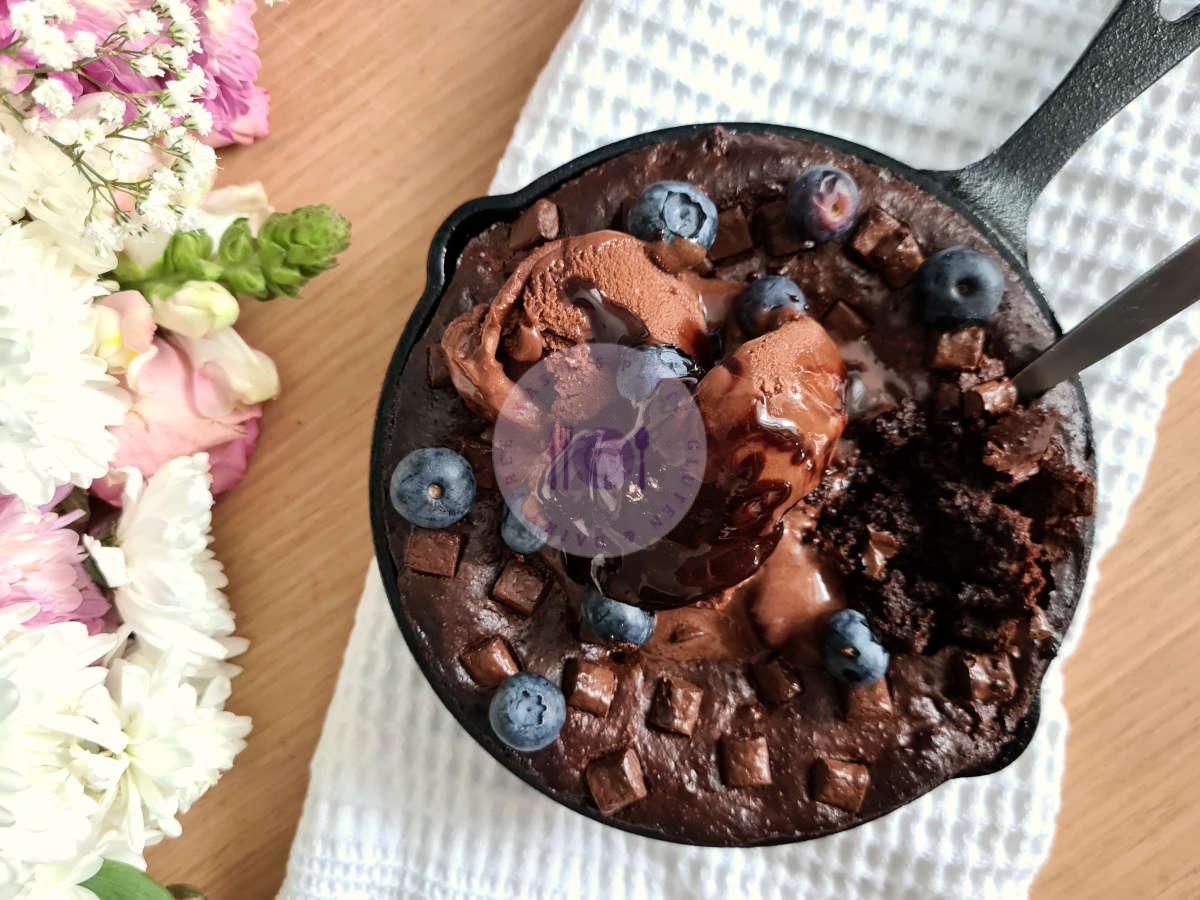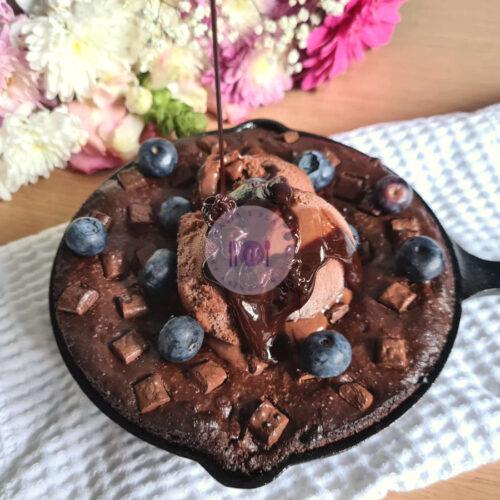 Vegan Brownie Skillet
Vegan, Gluten-free, Dairy-free, Egg-free, Refined sugar-free option
Equipment
Oven

Mixing Bowl

Mixing spoon

Whisk

Small bowl

Skillet

Spatula
Ingredients
For the brownie base
50

grams

Almond Flour

25

grams

Raw Cacao Powder

85

grams

Nut Butter

Recommended: peanut or almond

50

grams

Brown Sugar

Substitute: coconut sugar

1

Tsp

Vanilla Extract

1

Tbsp

Flax Meal

Plus 2 Tbsp water

1

Tsp

Baking Powder

1/2

Tsp

Baking Soda

60

ml

Plant-based milk

I used coconut

1/4

Tsp

Xanthan gum

Optional, but helps binding

75

grams

Chocolate chips/chunks

1

Tbsp

Vegan butter

For greasing
Optional: to serve
2

Scoops

Vegan ice cream
Chocolate sauce
Instructions
Pre-heat oven to 170°C fan or 190°C conventional

Mix the flax meal and water in a small bowl and leave for at least 5 minutes to thicken

In a mixing bowl, mix the dry ingredients together (except the chocolate chips/chunks)

Add in the vanilla extract and flax egg and mix until combined

Add the plant-based milk and mix in until the mixture becomes smooth but thick

Whisk the mixture to add in some air bubbles for a fluffier texture

Take 3/4 of the chocolate chips and add into the bowl and fold in

Grease a skillet with the butter, ensuring you coat the base and sides

Pour the mixture into the skillet and even out with a spatula

With the remaining chocolate chips, scatter evenly over the top of the brownie batter

Pop into the oven and bake for 22-25 minutes (use a knife to check that it is baked enough that it isn't still raw inside - just fudgy)

Remove from the oven and leave to cool for 5-10 minutes before adding your toppings
Notes
Calories do not include optional toppings
Recommended to eat on day of making