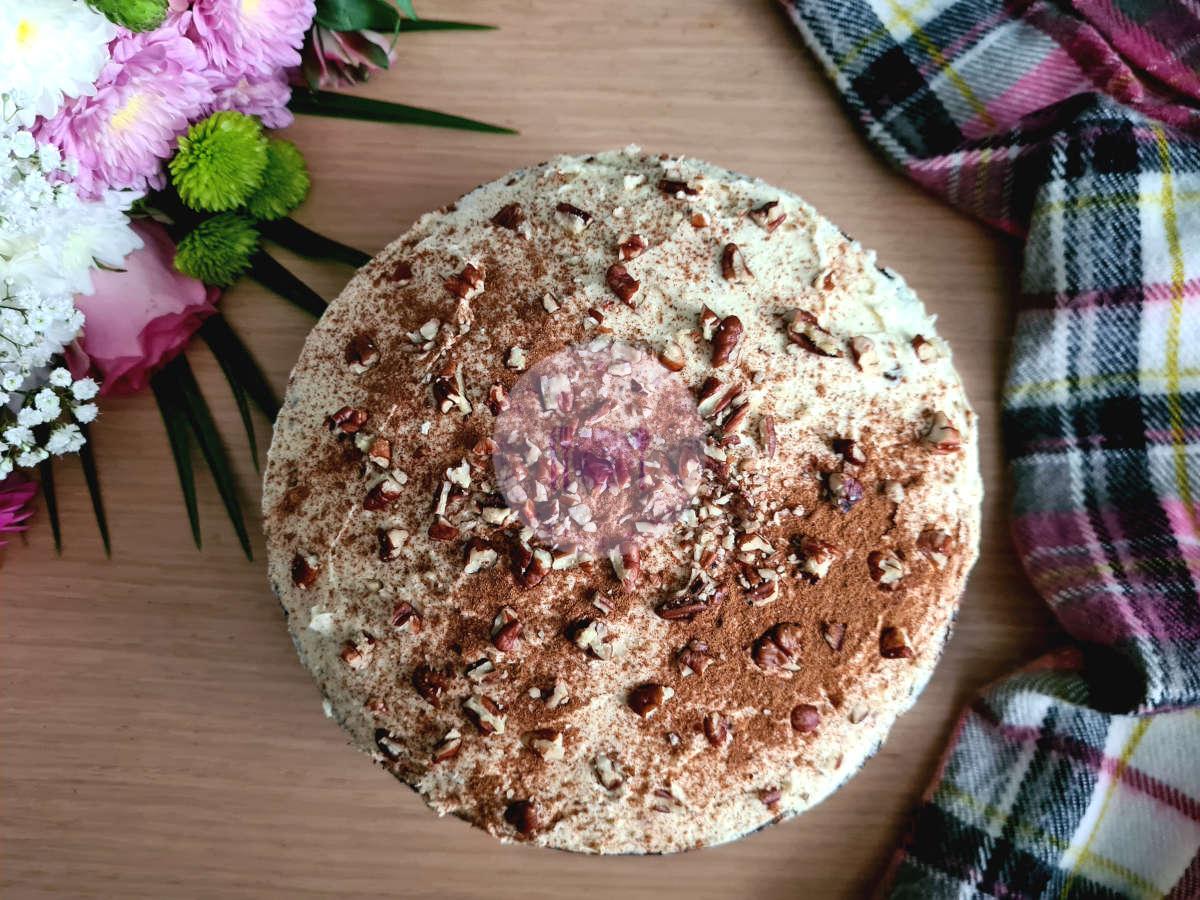 I feel like I have really started to push the boat out with my celebration cakes since the start of COVID lockdown in March 2020. Being one of those who had a lockdown birthday last year, I wanted to make it special and create my very own cake. You may have already seen it – but you should check it out if not. Since then, I have really found a love for making birthday cakes for friends and family. This one was no different – I created it for my partner Vašek. Carrot cake was going to always be the choice of cake for this birthday celebration. It is Vašek's favourite.
So this isn't your typical carrot cake – not by any means. It has an indulgent white chocolate buttercream to finish it off. Well, I say finish, it both runs through the centre of the two cake slices as well as on the top. His favourite chocolate type is white – so I wanted to try and do something different by incorporating it into the bake. You'd be surprised how well it works!
Please note that the white chocolate buttercream is quite sugary and sweet. Don't let it put you off. Alone, it may be overpowering – but it compliments the cake base with true elegance. A real treat! So why not try making this yourself? I promise you won't be disappointed. Not only can it be used as a birthday/celebration cake, but it pairs well with a cuppa for a lovely weekend nibble.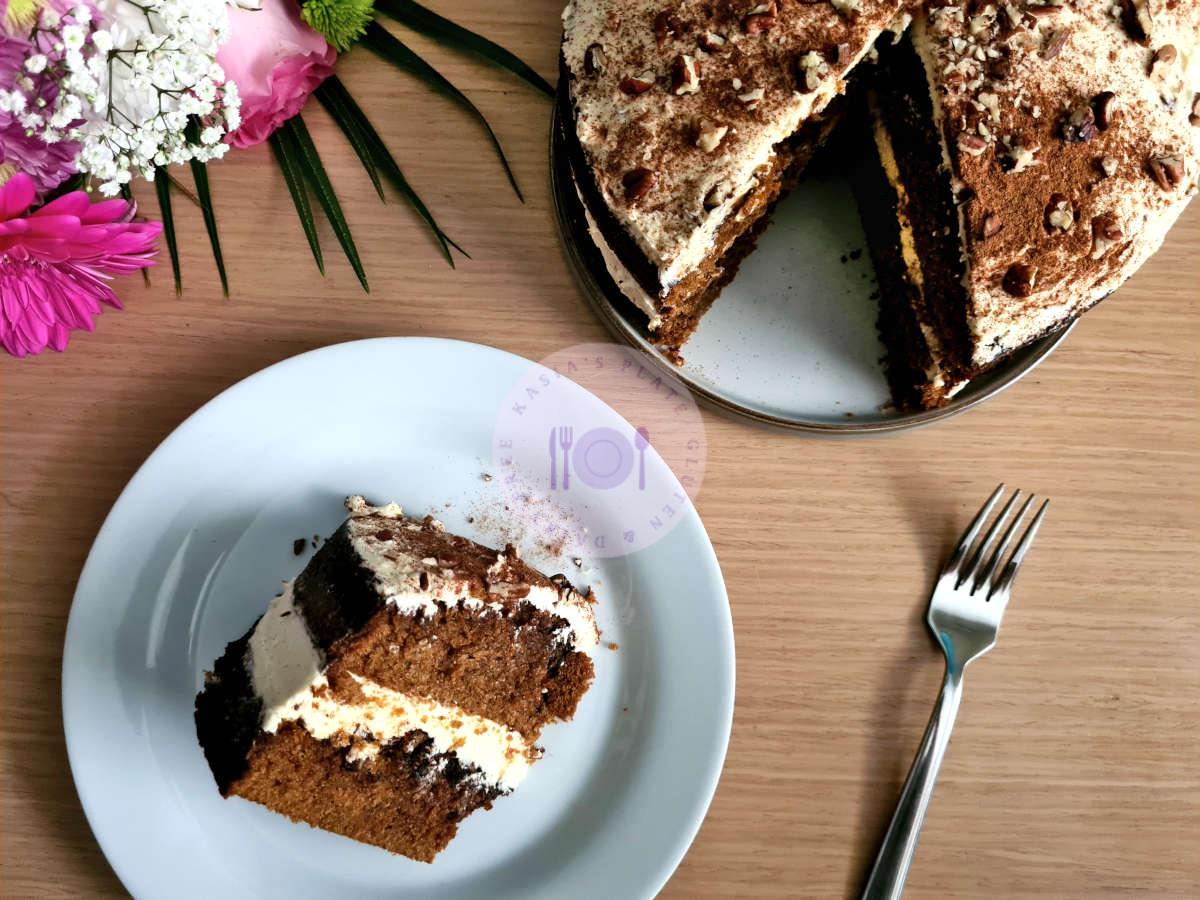 1. The reason to use applesauce in the mix: it simply gives the cake moisture (but reducing the "oilyness" whilst adding a beautifully subtle sweetness. It pairs perfectly with the brown sugar. On that note.. apples and brown sugar/cinnamon are one of my favourite treats!
2. Grating your carrots at home is best. Whilst you can buy grated carrot, I would recommend doing this at home. It is more labour-intensive and will take a tad extra time, but I find that the cake retains a little more moisture and freshness with carrots that have been prepared when baking.
3. Addition of nuts is optional. Whilst I personally love the addition of pecans to this recipe, you can make a nut-free version which will taste just as good. Just remember I added the nuts for the texture so it won't have as much of a 'crunch'.
4. If you don't want to use pecans, I suggest walnuts. Not everyone has the same tastes. I love pecans – everything about them. I would honestly use them in everything! However, the same quantity of walnuts can be used.
5. Adding the pecans into the dry ingredients and mixing is key. This prevents the pecans from sinking in the batter during baking. I tend to do this with any dry ingredient I use in baking.
6. Do not panic if the batter is slightly runny. This recipe does have a slightly runnier cake batter than I have used before. However, it does work! It just has a little extra baking than I would usually do and is a lot softer. Just keep going!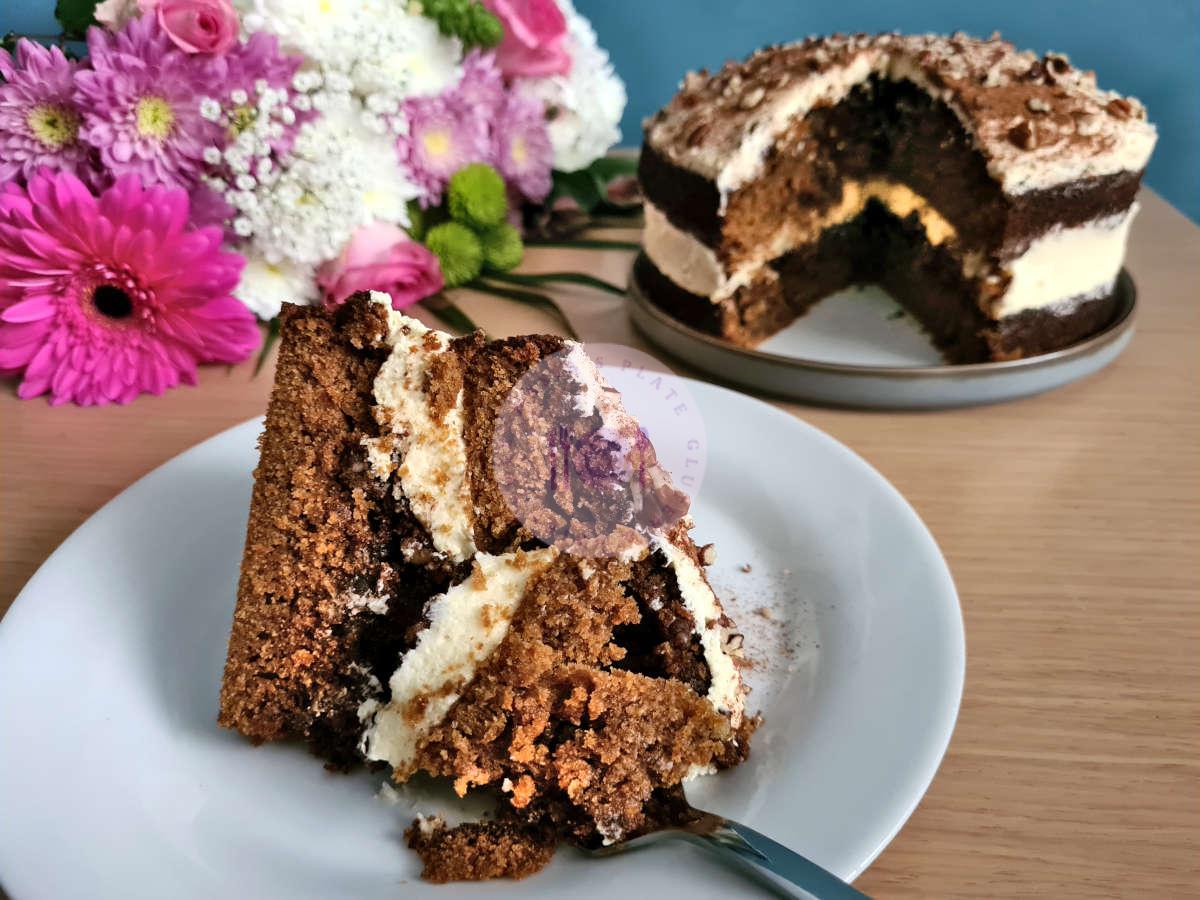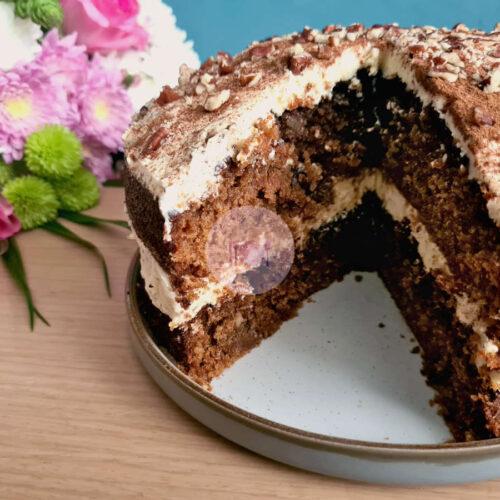 Carrot Cake with White Chocolate Buttercream
Gluten-Free, Dairy-Free, Soy-Free, Vegetarian, Nut-Free Optional
Equipment
Oven

Fridge

Mixing Bowl x3

20cm Cake Tin x2

Mixing Spoon x3

Whisk

Weighing Scales

Greaseproof Paper

Saucepan

Heat-proof bowl

Palette knife
Ingredients
For the carrot cake sponge
290

grams

Brown sugar

110

grams

White caster sugar

75

grams

Apple sauce (puree)

70

grams

Butter

I use stork block

200

ml

Olive oil

Extra virgin

4

Large

Eggs

Beaten

2

Tsp

Vanilla extract

250

grams

Gluten-free plain flour

1/4

Tsp

Xanthan Gum

2.5

Tsp

Cinnamon

1/2

Tsp

Ginger

1/4

Tsp

Nutmeg

1

Tsp

Salt

250

grams

Carrots

Grated

90

grams

Pecans

Chopped

2

Tsp

Baking powder

1.5

Tsp

Baking soda
To make the white chocolate buttercream
200

grams

White chocolate

50

grams

Cream cheese

200

grams

Butter

Plus 1 tbsp for melting the chocolate

280

grams

Icing sugar

1

Tsp

Vanilla extract

2

Handfuls

Pecans

Chopped

1

Tsp

Cinnamon
Instructions
To make the carrot cake sponge
Pre-heat the oven to 175 degrees (fan)

Beat together the sugar and butter, in a bowl, until smooth and creamy

Add in the eggs and mix in until combined

Add in the remainder of the wet ingredients to the bowl and mix well (including the carrots)

In a second bowl, measure out the dry ingredients and mix together (this includes the pecans)

Little by little, add the dry ingredients into the bowl containing the wet ingredients and gently fold

Continue to do this until all of the ingredients are combined

When the batter is ready, line two 20cm cake tins with greaseproof baking paper (to prevent any leaks/sticking of the batter)

Bake the cakes for 35 minutes (or until golden)

Once the cakes are finished baking, keep them in the tins to cool completely before removing as they will be fragile (about 1 hour cooling time)
To make the white chocolate buttercream
Whilst the cakes are cooling, beat together the butter and icing together until a smooth but slightly stiff cream forms

Using the Bain-Marie method, melt the 1 Tbsp butter with the white chocolate until it becomes molten

Gently fold in the cream cheese, vanilla extract and melted white chocolate into the buttercream until it is fully combined

You may need to leave the cream to set in the fridge for 10-15 minutes before use if too soft
Cake assembly
Carefully remove the sponges from the tins

Place one of the cake sponges on a flat surface

Spread about 1/2 of the buttercream mixture onto the top of the first sponge layer using a palette knife

Place the 2nd sponge on top of the buttercream (do not panic if there are any gaps in the cream - this will be filled in next)

Add extra buttercream between the layers where required so it is an even spread with no gaps

Spread the remaining buttercream over the top of the cake and smooth with the palette knife

Evenly coat the top buttercream layer with some cinnamon

Evenly distribute the pecans on the top layer of the cake
Notes
To make your own apple sauce: bake some skinless apples and blend until a thick liquid consistency
Storage: air-tight container in the fridge for up to a week or on the counter for 3-5 days