There is truly something spectacular about Oreo flavoured desserts. For instance, I'd take cookies 'n' cream everything, please. This cake is a delicious two layer sponge coated in a cream cheese buttercream. The cake itself is moreish and decadent, with the amount of Oreo inside, you'd never expect it to be as light as it is. You will be wanting to come back for more!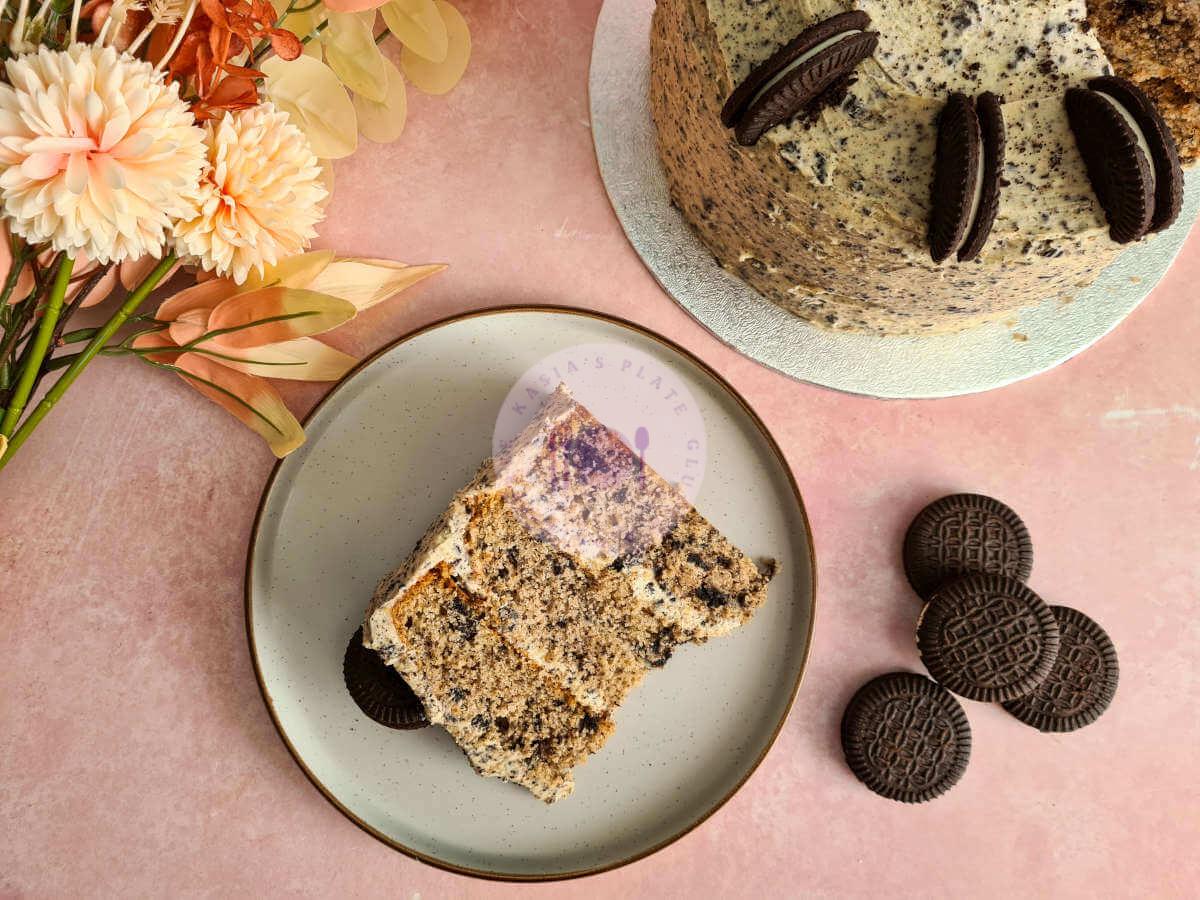 Each cake layer is Oreo filled, with a buttercream coating laced with Oreo goodness. What more could you want? I decided on a vanilla sponge base for this recipe as I really wanted to emphasise the cookies and cream contrast. Plus, I much prefer a vanilla sponge over chocolate – who is with me? Lots of other recipes call for a chocolate-based Oreo cake, so I just wanted to try something different. Maybe I will make a chocolate version next.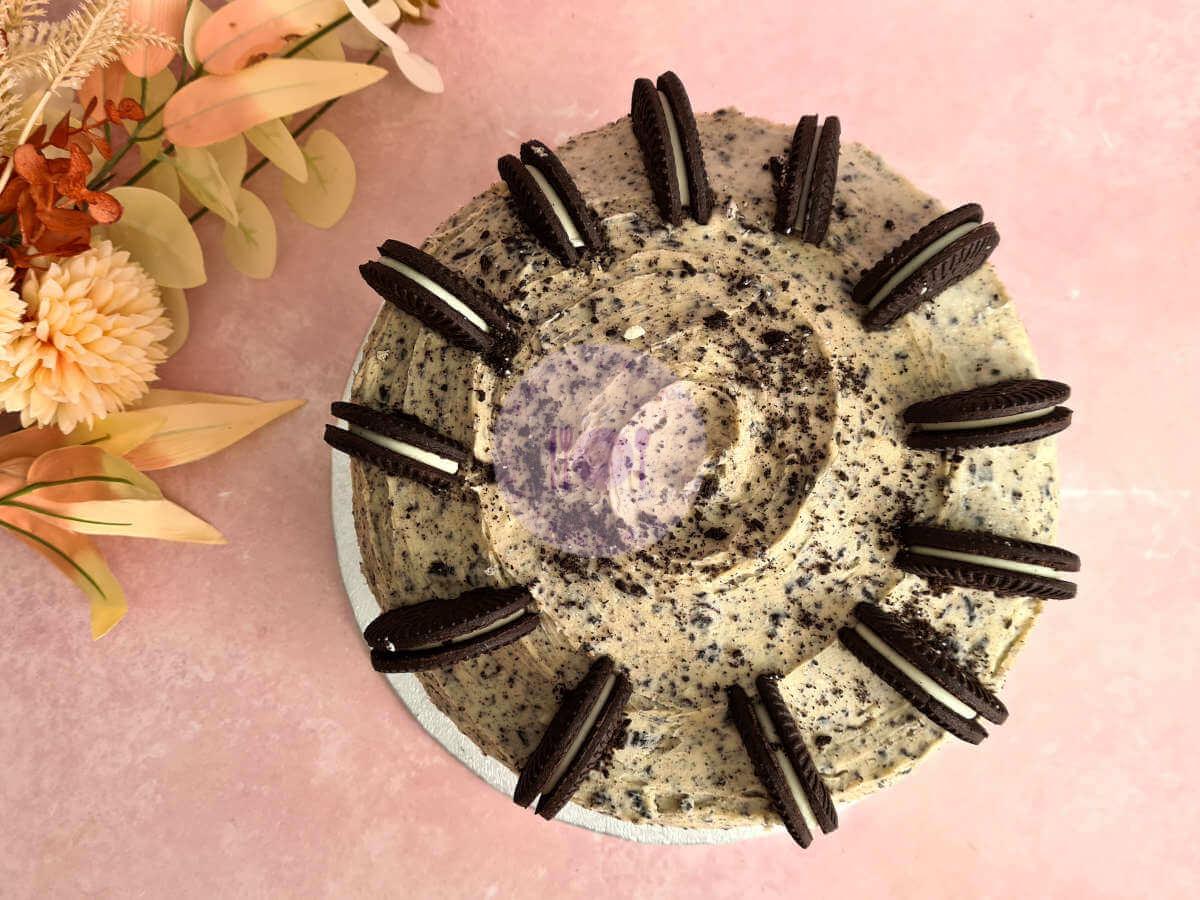 One trick to my light and fluffy sponge texture is the use of whipped egg whites. I've started using this trick a lot, since the triumph of my white chocolate cake recipe. These are gently folded in, keeping the stiff peaks and a meringue-like airiness. For the Oreo add-ins, make sure not to over-mix to ensure you keep the air pockets. On this note, I adore using the Tesco Free From cookies and cream biscuits or Vegan Bakery Oreos as a more budget-friendly replacement for gluten free Oreo cookies.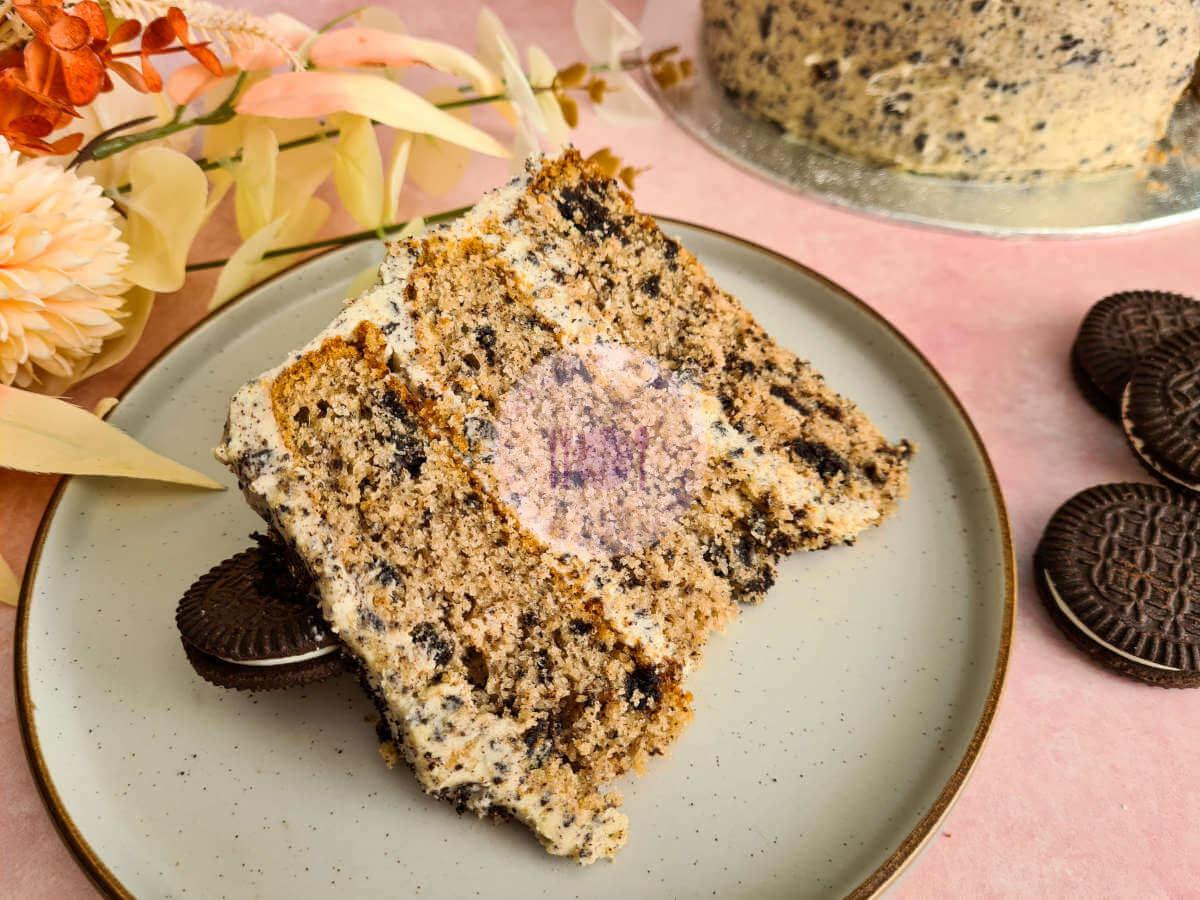 This cake is perfect for an Oreo lover, or anyone really. I find this one to be a favourite amongst party guests at mine. You'd never know it is so simple to make. Make sure to tag me on social media in any of your re-creations. I love to see them and get feedback.
Enjoy baking xx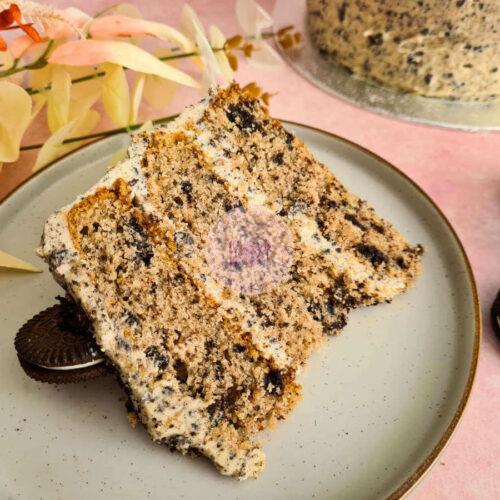 Oreo Cake
Gluten free, Dairy free, Soy free, Nut free
Equipment
Oven

3x Loose-bottom cake tins 20cm diameter

Greaseproof Paper

3x Mixing Bowls

Mixing spoon

Piping bag and nozzle Optional

Serrated Knife For leveling the cake Optional

Icing Smoother

Icing spreader

Whisk

Sieve

Spatula

Wire Cooling Rack
Ingredients
For the Oreo sponge cake
400

grams

Gluten-free self raising flour

150

grams

Oreos

Crushed

1

tsp

Xanthan gum

215

ml

Dairy-free milk

300

grams

White caster sugar

350

grams

Vegan butter

Room temperature

3

medium

Eggs

Room temperature

2

Egg whites

2

tsp

Vanilla extract

1.5

tsp

Baking powder

1

tsp

Bicarbonate of soda

1

tbsp

Apple cider vinegar

Optional, see note 1
Cream cheese buttercream
200

grams

Vegan cream cheese

See note 2

100

grams

Vegan butter block

300

grams

Powdered sugar

100

grams

Oreos

Crushed, plus extra for decorating
Instructions
To make the cake sponge
Pre-heat the oven to 180°C conventional (160°C fan)

Line the two cake tins with greaseproof paper and set aside

In a mixing bowl, beat together the sugar and butter until smooth and creamy

Using a second bowl, split the egg whites into the new bowl (setting it aside for later) and the egg yolks into the bowl containing the sugar and butter mixture

Beat in the egg yolks into the sugar and butter mixture

Using a sieve, sift in the flour, xanthan gum, bicarbonate of soda, baking powder to the bowl containing the eggs, butter and sugar and mix together

Optional: mix in the apple cider vinegar to the plant-based milk to create a vegan 'buttermilk'

Little by little, add in the plant-based milk/buttermilk and then whisk until everything is combined well

Add the crushed Oreos into the cake batter bowl and mix in until combined

Get the bowl containing the egg whites and whisk until stiff peaks form (~8-10 minutes)

Gently fold the egg whites into the rest of the cake mixture using a spatula, ensuring not to mix too much which will cause the whisked in air to escape

Evenly pour the cake batter between the three tins and level out with the spatula if needed

Bake for 32-35 minutes until golden and slightly risen

Remove from the oven after baking and leave in the tins to cool (~30 minutes)

Remove from the tins and place on a wire rack for a further 30 minutes to cool completely

Use a serrated knife to level out the top of the cakes, cutting off any 'dome shaped top' that may have formed during baking
To decorate
When you are ready to decorate, beat together the butter, cream cheese and icing sugar in another bowl (this will take about 10 minutes to get a smooth and silky finish - using a machine if you wish)

Fold in the crushed Oreos into the cream cheese buttercream, ensuring relatively even distribution

Place the bottom sponge onto an even surface (or cake board) to decorate

Using a piping bag and nozzle, spoon a small amount of buttercream into the bag and evenly pipe buttercream onto the top of the first cake layer in a spiral motion, starting from the outside and going in

Use an icing spatula to even out the layer of icing so it is fully covered

Place the 2nd cake tier onto the base and create a 'sandwich' with the icing

Take the icing spatula and coat the cake in 1/3 of the icing to create a crumb coat

Place the cake in the fridge for ~15 minutes for the coat to harden

Use the remaining icing to coat the rest of the cake evenly, using the icing smoother to create an even finish

Slice, tuck in and enjoy! xx
Notes
Add the apple cider vinegar to the dairy-free milk for 5-10 minutes before use to create a 'buttermilk'
This recipe calls for a thick vegan cream cheese to hold the shape of the buttercream - it must have a high fat percentage (i.e. coconut base)
Suitable for home freezing for up to 3 months
Store in an air-tight container in the fridge for up to 3 days