What a classic! Who doesn't love a chocolate fudge brownie? It may have taken me a while to get a brownie recipe onto the website – but I wanted to make sure it was perfect. I have had lots of good attempts at these, yet none hit the spot just quite like this recipe. It is simple, easy to follow and great for some blissful baking either alone or with kids. Yep – it is a child-friendly recipe too!
Brownies have such a bad rep in the gluten-free community. I do understand this. They are often so dry and the only option we ever get. I used to avoid them like the plague too. However, I started buying brownies from small businesses and realised how excellent they really can be when made well. I took on the mission to make the BEST basic brownie recipe I could. These are with half the sugar of most recipes I have seen and are unbelievably addictive. You could easily gobble the whole tray. I always lick the spoon when baking these!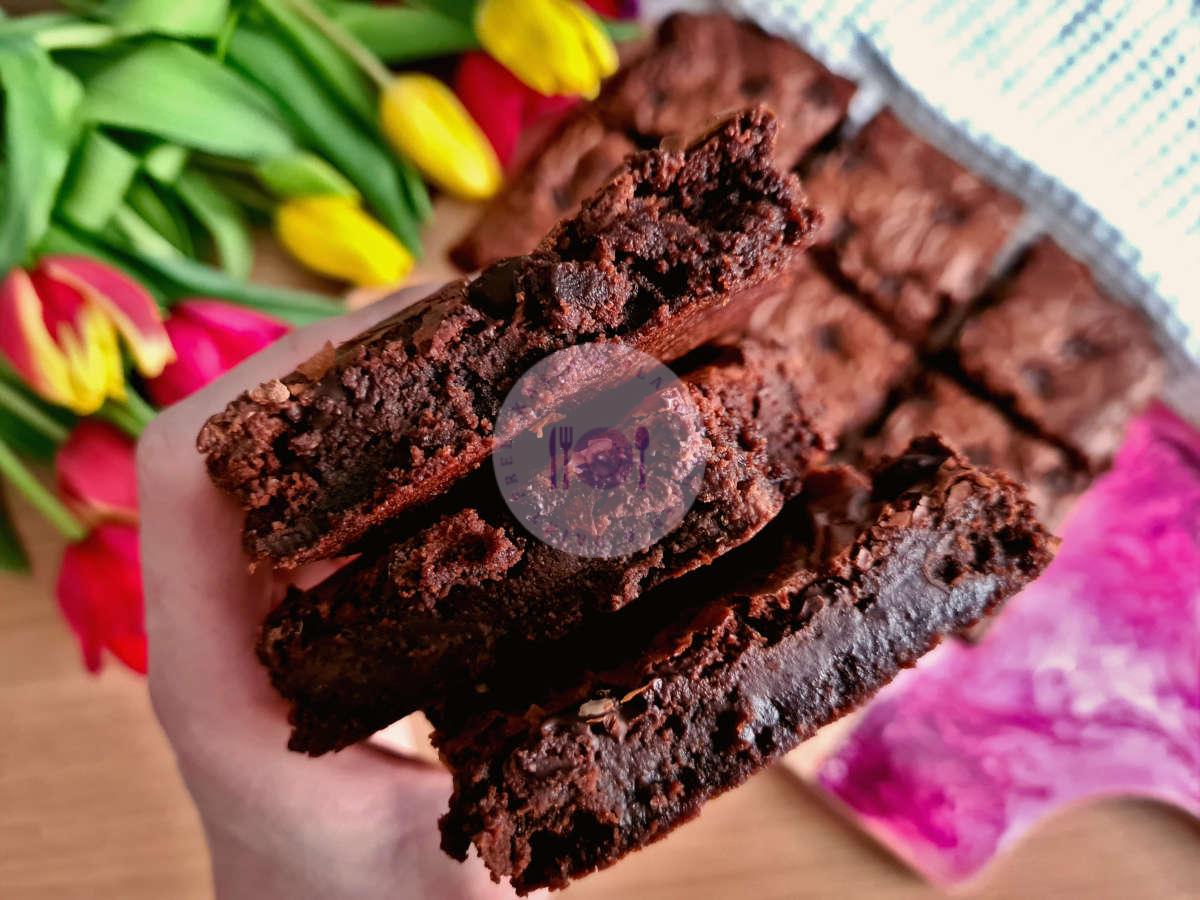 My key taste tester for all my bakes is my boyfriend. He doesn't have the sweet tooth that I do – so I knew these were a real game-changer when he tried them. Usually, he will leave sweet treats in the fridge for me to have. Not this time! I left 3 of my most recent batch in the fridge and he had nabbed the lot before I got a look in! Half of me was gutted I didn't have any – but over the moon as this was the biggest compliment that didn't even require words. I had similar feedback from friends I sent these to as well. They all said it was hard to just have one'. A couple even said family members sneaked extras too. This just makes me so happy and my heart burst! I really hope you love these as much as all of us.
I made this as a base recipe for more brownies to come. Therefore, it is plain with some choccie drops on top. Whilst it tastes amazing on its own – if I do say so myself – do feel free to go wild with the toppings. Peanut butter, fruit, caramel and more – have a play! Let me know what you think if you do.
The biggest question though: are you team fudgy or team gooey? I love brownies from the fridge as well as warmed up. With these a little tip is to blast them for 20 seconds in the microwave and serve with ice cream for an indulgent treat.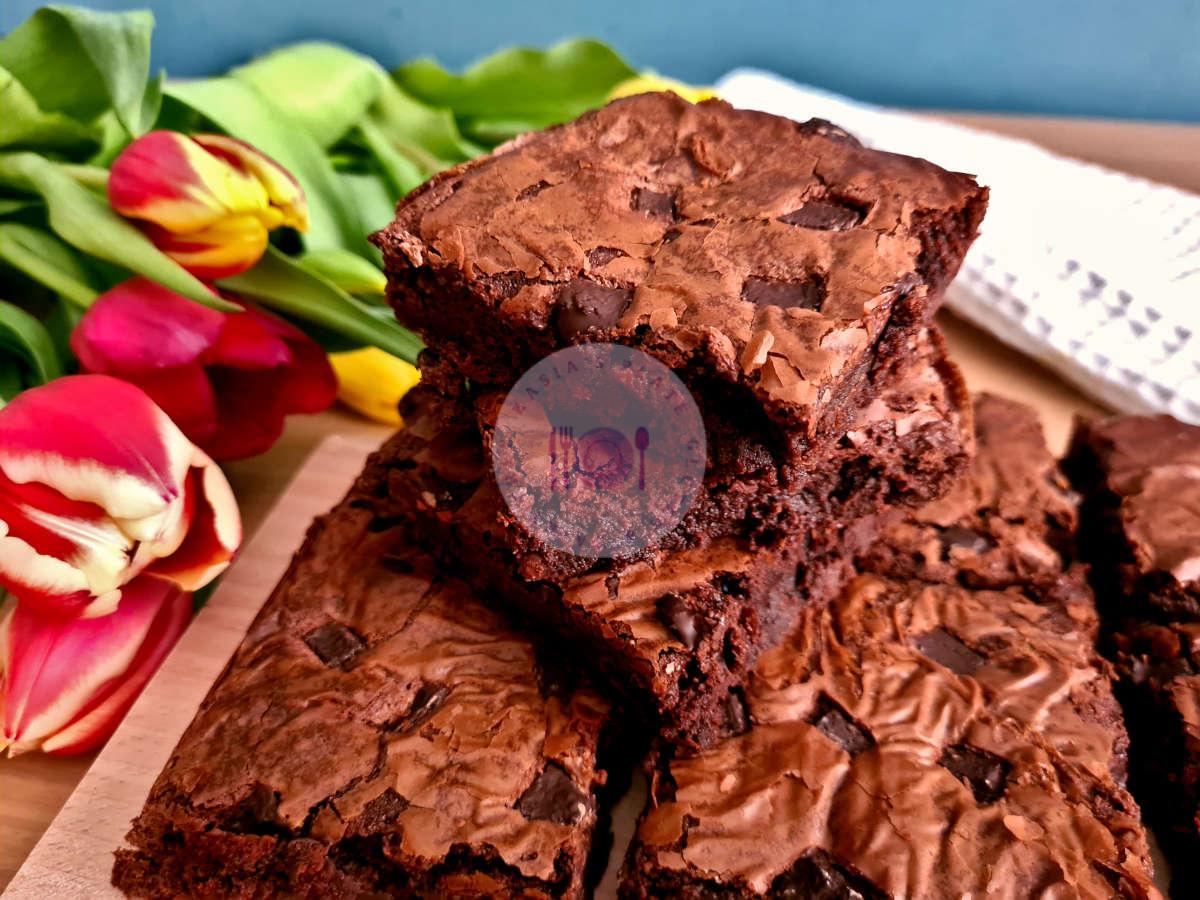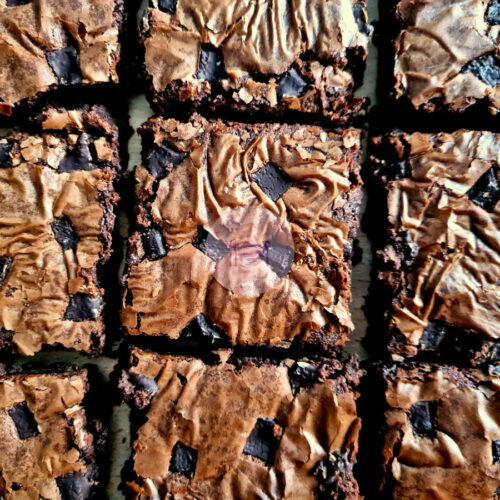 Chocolate Fudge Brownies
Gluten-free, Dairy-free, Nut-free, Soya-free
Equipment
Oven

Greaseproof Paper

9" x 9" baking tin

Mixing Bowl

Mixing spoon

Whisk

Microwave

Heat-proof bowl

Sieve
Ingredients
200

grams

Chocolate (dairy-free milk)

Optional: mix of milk and dark

100

gram

Butter

I use stork vegan blocks

25

grams

Yoghurt

150

grams

Brown sugar

65

grams

Caster sugar

2

large

Eggs

Room temperature

2

tsp

Vanilla extract

100

grams

Plain flour

35

grams

Cacao/cocoa powder

Pinch

Salt

1

tsp

Baking powder

1/2

tsp

Baking soda
Instructions
Pre-heat oven to 175°C (conventional)

Add the flour, cocoa powder, baking powder, baking soda and sea salt (optional) into a bowl then mix and set aside

Place the butter in a heat-proof bowl and microwave for 20-second bursts, stirring in-between heating, until fully melted

Add the vanilla extract, white and brown sugar to the butter and whisk until a thick mixture forms

Add the eggs to the bowl containing the sugar and butter mixture and beat until combined

Slowly add the flour mixture to the bowl containing the sugar and butter by using a sieve and folding the dry ingredients in until well-combined into a thick batter

Gently melt the chocolate either using a Bain-Marie method or in the microwave using short bursts and stirring each time

Add the melted chocolate to the brownie mix and gently fold in with a spatula

Line a baking tray with grease proof paper and pour in the brownie batter

Even out the mixture in the tray using a spatula

Bake for 22-25 minutes (the less time the bake, the more fudgy the brownies will be - make sure not to go too low though or they will still be raw)

Remove the brownies from the oven and leave to cool completely, in the tray, before cutting into 9 equal squares
Notes
Suitable for home-freezing for up to 3 months
Store in an air-tight container for 7-10 days in the fridge or up to 5 days at room temperature
Tip: microwave for 20 seconds before consumption for a gooey consistency