Are there things you buy and just simply forget about? For me, it often ends up being fruit – especially things like bananas and plantains. I always find them lurking at the back of my bowl going a nice brown and spotty colour. No waste here though – ripe plantains make for excellent pizza! Have you ever tried making a plantain pizza crust before? This one was pretty new to me too.
I've seen a lot of plantain pizza base recipes using green plantains. I personally haven't tried this. However, I can imagine that it will give a slightly different taste to this base. As I've used over ripened plantains, the pizza crust is quite sweet – but I do like it a lot. I find that it really compliments salty/savoury toppings more than you'd think. If this isn't for you, you could try this with green plantains instead, but will need to cook them slightly to soften before use.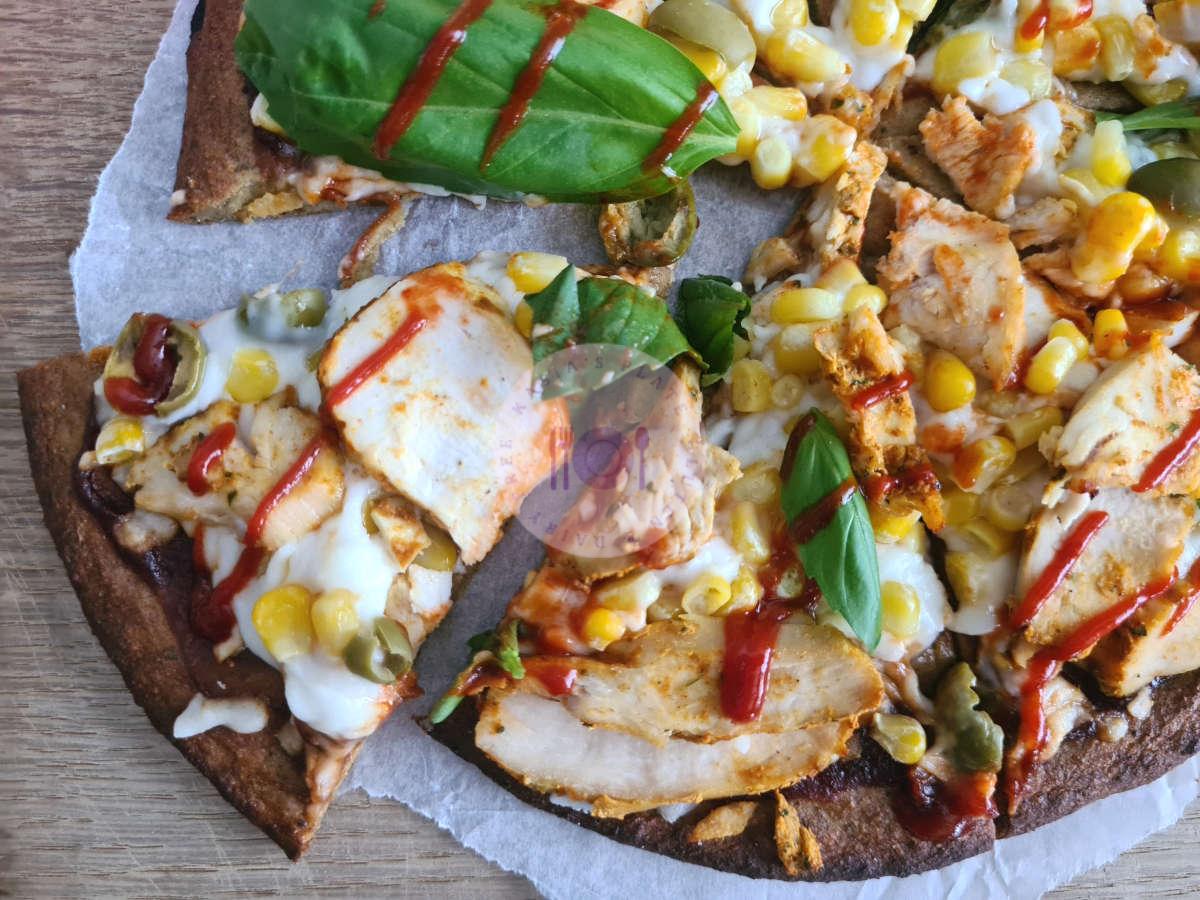 I actually bought plantains, for the first time, on a whim from my local eco shop. I've never seen them in the shops around here before – but this particular shop stocked them for a couple of weeks after some requests. I picked them up but originally had zero idea what to do with them. My mind was whizzing with ideas spanning arepas to curry to pizza. Well, it is pretty obvious what I settled on this time. Safe to say I actually really enjoyed experimenting with plantains for the first time. I can't wait to get my hands on more and try out other alternative recipes.
This plantain base gives me real summer vibes which is perfect for taking to a picnic – not quite sure why – maybe it is the Caribbean feel overall. Not only this, but this base is on the healthier side. It is completely flourless and also suitable for vegans. The base only has 6 key ingredients with a couple of optional extras. For example, I love adding in nutritional yeast for a cheesy undertone. I just find the herbs in this so well-balanced and give it a great foundation for a multitude of toppings. I gave this particular one a chicken and sweetcorn twist, but anything goes!
Plantain Pizza Crust
Vegan, Gluten-free, Dairy-free, Egg-free, Soy-free, Vegetarian
Equipment
Oven

Pizza/baking tray

Greaseproof Paper

Spatula

Mixing Bowl

Mixing spoon

Blender/Food Processor
Ingredients
For the plantain pizza base
2

Plantains (ripe)

~225g raw

1

tsp

Salt

1

pinch

Pepper

2

tbsp

Nutritional yeast

Optional

1

tsp

Dried oregano

1/2

tsp

Dried basil

2

cloves

Garlic

2

tbsp

Olive oil

3

tbsp

Coconut flour
For the toppings (optional)
110

grams

Pre-cooked chicken breast

Substitute: vegetarian alternative

45

grams

Sweetcorn

3

tbsp

Tomato puree

75

grams

Dairy-free grated cheese
Fresh basil leaves

To garnish
Instructions
Pre-heat the oven to 175°C

Use a blender to blitz the plantains into a puree

Move the plantain puree into a bowl and add in the other base ingredients then mix until well-combined

Re-blend the ingredients if there are lots of lumps in the mixture

Line a baking/pizza tray with greaseproof paper

Pour the plantain batter onto the centre of the baking tray and create a round pizza shape with the spatula (~1-1.5cm thick)

Half-bake the base for 12-15 minutes

Add the toppings to the plantain base and bake for a further 6-8 minutes

Leave to cool for 2-3 minutes before serving
Notes
Calories do not include toppings
Best eaten on day of making
Toppings I have noted are optional ones which I used - feel free to play around with this for your own taste