Air fryer chicken nuggets are one of the quickest, delicious and simplest dinner recipes you can make. This recipe is family friendly and I am sure will be a hit with the kids too. It only requires a few ingredients to make which you likely already have at home too. Just cook up a batch and serve with a side of chips or macaroni cheese and peas. Or if you're feeling more adventurous, how about making it into a salad featuring the chicken nuggets?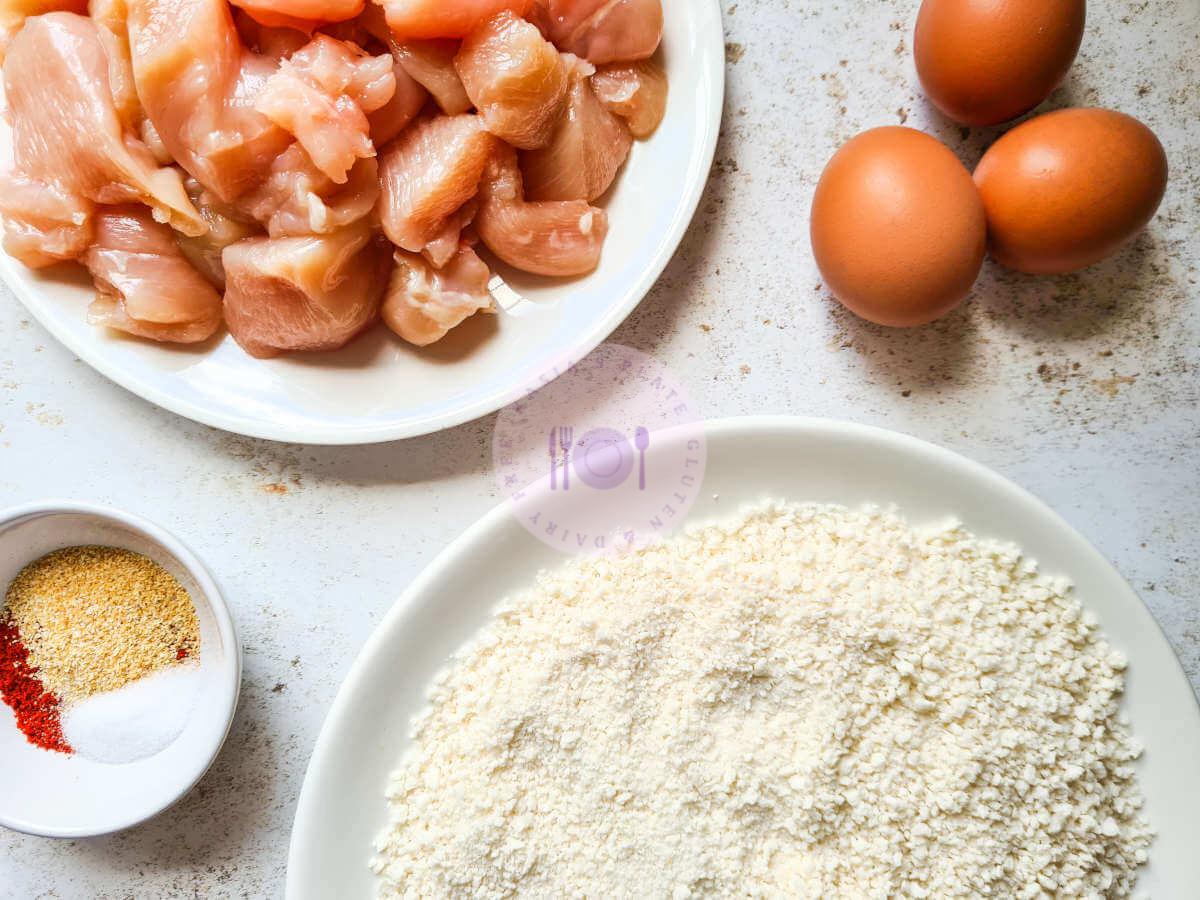 This whole recipe takes less than 30 minutes to make from start to finish, with only 8 minutes of cooking time. I find the chicken nuggets come out crispy on the outside and gorgeously tender on the inside every single time. Not only this, but they are much better for you than store bought chicken nuggets. Safe to say I make this recipe a lot!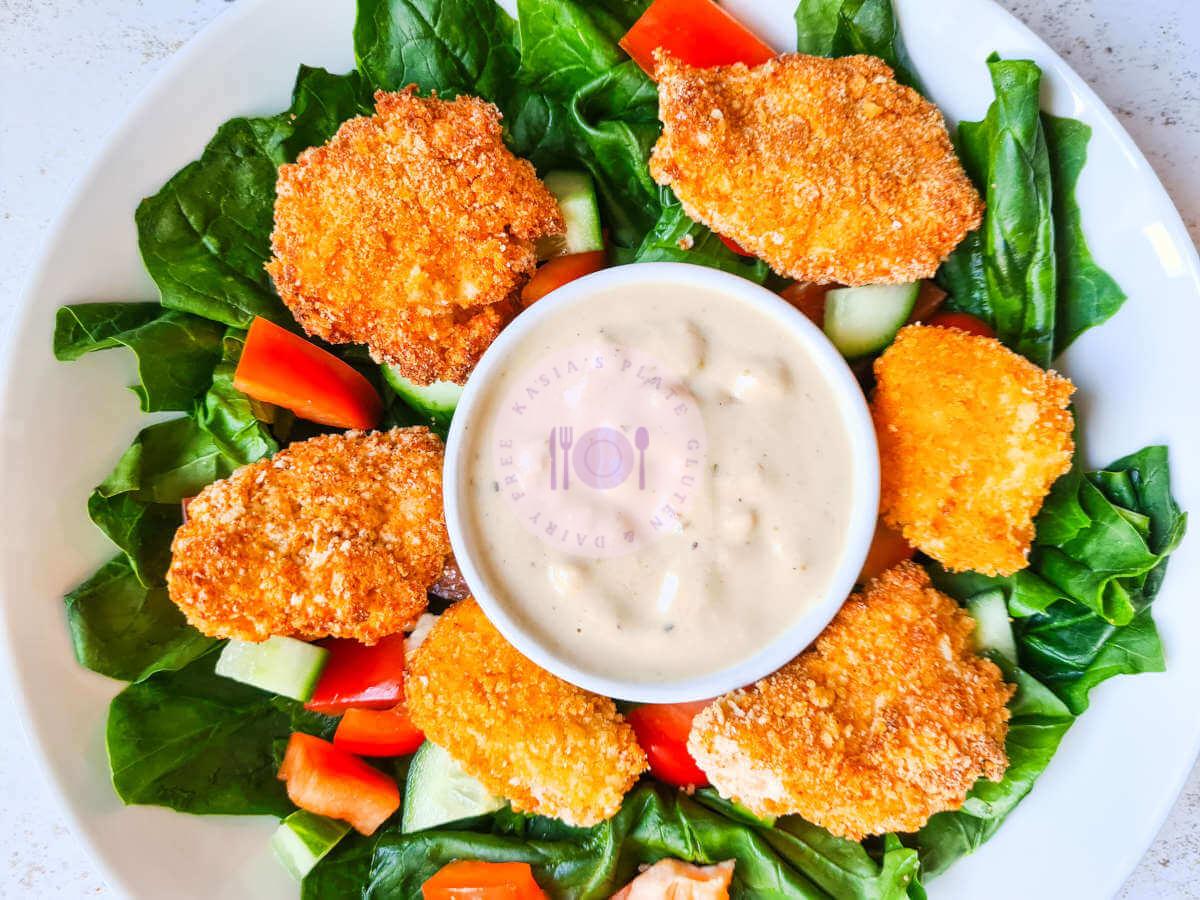 As well as eating these for dinner, you can safely cook and eat these chicken nuggets cold the next day. I often take them on picnics – similar to how I remember as a child. Great for the summer months! You could also whip up a batch quickly for a picky party platter too. Who remembers those? These will certainly be a hit with all the picky eaters.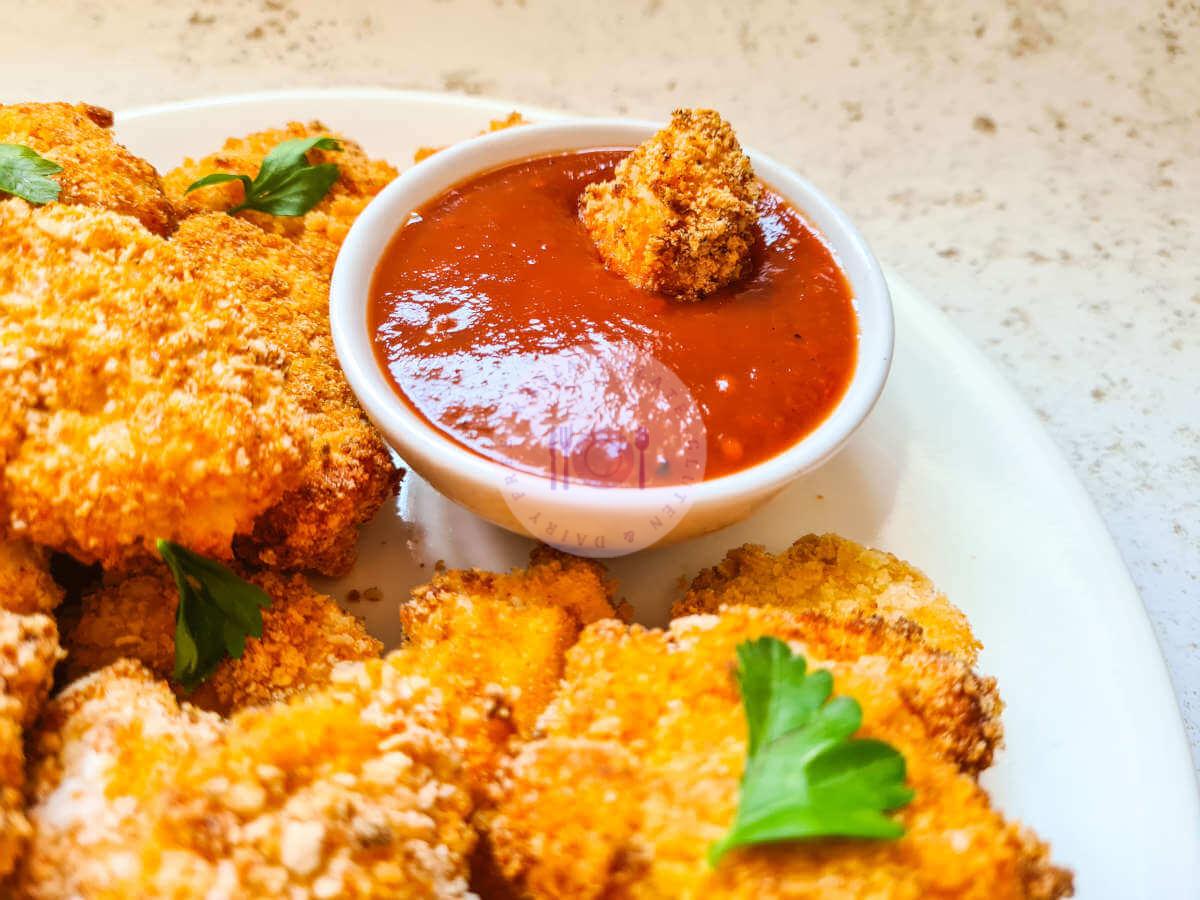 For my specific chicken nugget recipe, I used Paxo branded gluten free breadcrumbs. You can find these in most major supermarkets in the free from aisle. Whilst my recipe uses eggs to bind, you can also check this recipe for an egg-free version.
Do not overload the air fryer – make sure to only layer the chicken nuggets in a single layer to prevent them from being under cooked
Do use oil – whilst the recipe will work without, the oil gives them a nice crispy coating like they have been deep fried
Trim any excess fat from the chicken – this will help prevent any chewyness
Do turn the chicken nuggets half way – this helps to ensure an even cook as well as a lush texture overall
Make sure the pieces are in suitable chunks – If they are too small you will run out of breadcrumbs and if they are too big they may not cook through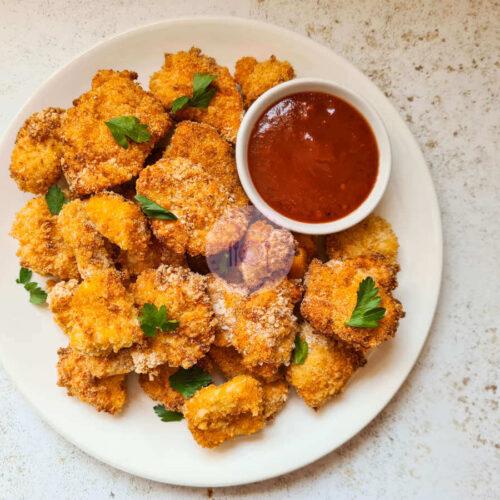 Air Fryer Chicken Nuggets
Gluten Free, Dairy Free, Nut Free, Soy Free
Equipment
Air Fryer

Mixing Bowl

Whisk

Shallow Dish

Tongs
Ingredients
3

Medium

Eggs

2

tsp

Smoked Paprika

150

grams

Gluten Free Breadcrumbs

4

Medium

Chicken Breasts

1/2

tsp

Salt

3/4

tsp

Garlic Powder

1/8

tsp

Ground Pepper

4

tbsp

Olive Oil
Instructions
Cut the chicken into chunks (around 1-1.5" pieces), removing any excess fat and set aside

Add the smoked paprika, breadcrumbs, salt, garlic powder and pepper into a shallow dish and mix together so the spices are evenly distributed throughout the breadcrumbs then set aside

Whisk together the eggs in a mixing bowl

Take one piece of chicken at a time, dip into the egg binder then immediately place into the breadcrumb mix and coat fully

Repeat this until all chicken pieces are fully coated in breadcrumbs

Place the chicken nuggets in the air fryer drawer on a single layer, making sure there are no overlapping pieces (you may need to do several batches)

Brush or spray the olive oil over the nuggets so they are evenly coated

Cook in the air fryer for 4 minutes at 200°C

Remove the air fryer drawer and use tongs to flip the chicken nuggets over

Spray or brush more oil on the nuggets if required

Cook for a further 4 minutes at 200°C until golden and crispy

Once baked, remove from the air fryer, serve and enjoy!
Notes
Calories do not include dipping sauces or any extras
Store in an air-tight container in the fridge for 1-3 days after cooking. Make sure to fully re-heat before consumption.