Pancake day has to be my favourite day of the year. Who agrees? Close call with my birthday anyway! I didn't want COVID to take away my fun this year, so I have decided to create a new pancake recipe every day this week. Yes – you heard me right – that's 7 new recipes! I hope I can keep this up.. had a couple of very flat Dutch baby pancakes this morning. Doesn't mean they didn't taste great, though.
I cannot believe it has taken me this long to make a traditional pancake recipe. I make pancakes most weekends – but am usually addicted to making my protein pancakes. However, shrove Tuesday calls for copious amounts of crepes with lemon and sugar – in my house anyway. Does anyone else just love lemon and sugar? I feel as though this is the ultimate pancake topping. Whilst I love slathering my pancakes in nut butter, chocolate and more.. there is something so comforting about a thick layer of sugar and sprinkling of fresh lemon juice.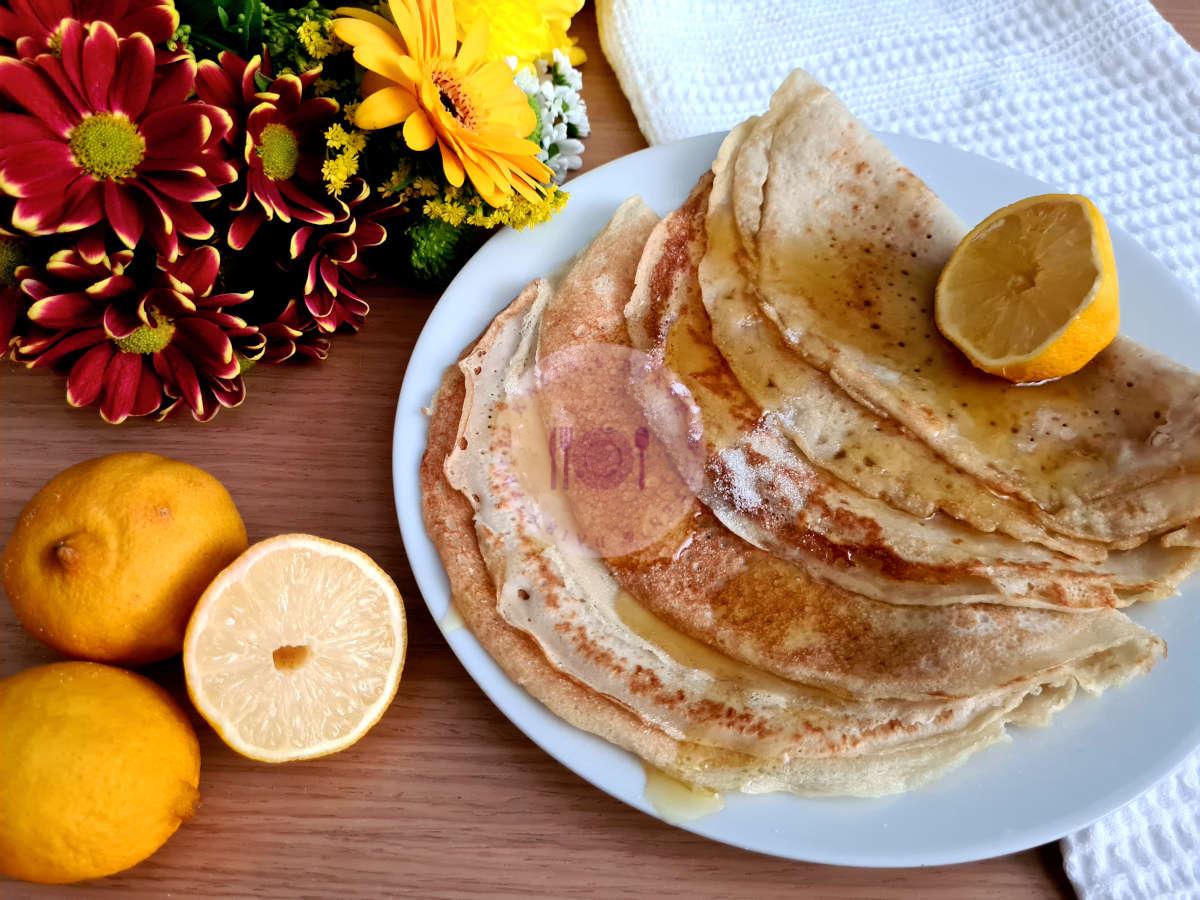 These are the pancakes that really remind me of childhood. Every year, my parents (well, mostly dad) would slave away over the stove making these until we couldn't consume any more. I would shovel them down, one by one, and then run back asking for another. Bless my parents – I never think there was more than 1 left for each of them. My brother and I are like bottomless pits when it comes to our stomachs and food. We never really had pre-mixes either. It was usually a batter made by hand.
Question is, do you also add syrup? I personally don't – but my partner dowses his in golden syrup. Oh and are you a roller or folder? Flipper or spatula user? I am one who rolls my pancakes up and then digs in with my cutlery. Over the years, I have always tried to flip the pancakes in the pan. I mostly have success, but there have been a few laughs where I became a little too confident, said "watch this" and happily sprung the pancake onto the floor. Oh dear! I also always remember mini pancake flipping competitions when I was part of the Brownies girl guiding community. We would use old, pre-made pancakes and take turns to flip them as many times as we could. Safe to say they became tatters after a few times onto the ground. Still great fun, though.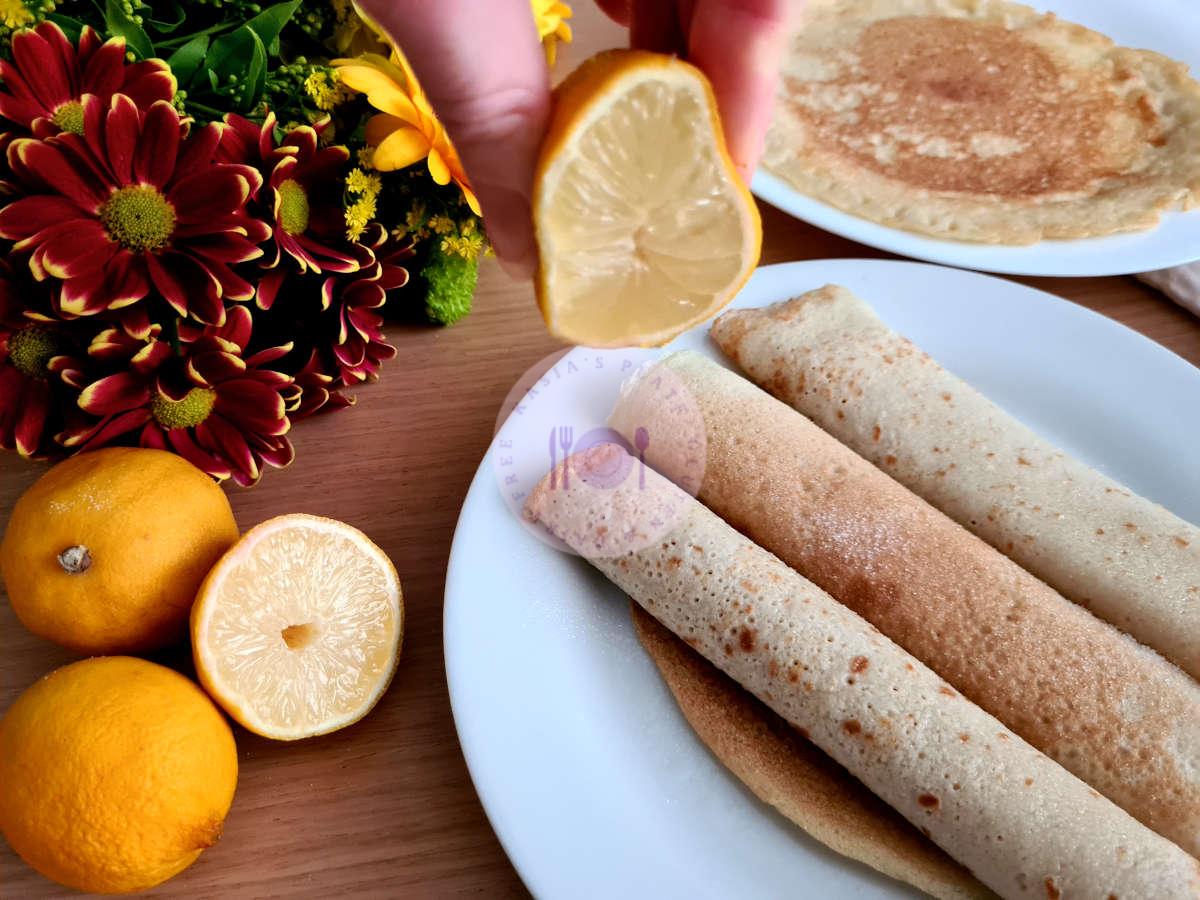 I must say, there is a specific way to have the best pancake eating experience. Layer the plate with sugar, pop a freshly-made pancake on top then flip it over and roll it up so the sugar is inside. Add more sugar to the outer layer, followed by a squeeze of fresh lemon, and then gobble it up. This is the best tip.. trust me!
Do remember – pancakes are not just for pancake day. I'd make excuses to eat them daily. They don't take long to make and are really worth it. What about you though – would you top these like me? You could easily use the base and then add your own additions instead. How about chocolate and strawberries, for example? Yum!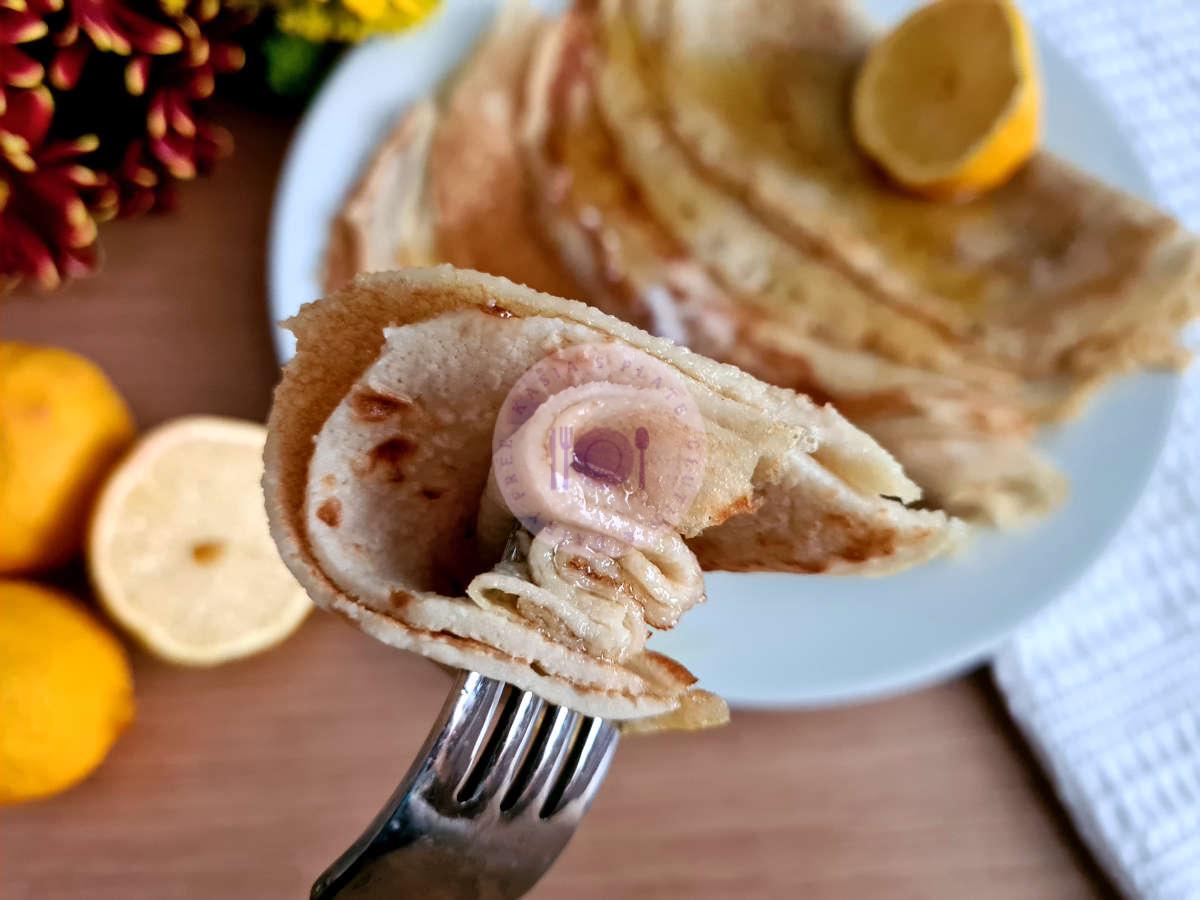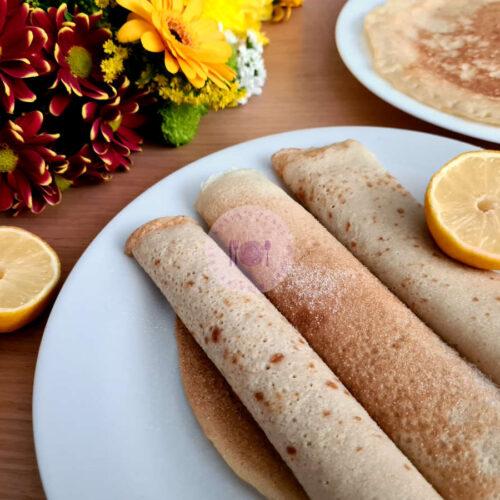 Traditional Crepes
Gluten-free, Dairy-free, Vegetarian, Soy-free
Equipment
Frying pan

Hob

Spatula

Mixing Bowl

Whisk

Mixing spoon

Kitchen towels
Ingredients
50

grams

Gluten-free plain flour

1/4

tsp

Xanthan gum

Omit if flour blend contains this

1

tsp

Vanilla extract

1

tbsp

Sugar

Optional if not adding extra sugar to topping

155

ml

Milk

Suggested: soya

1

medium

Egg

1

tbsp

Olive oil

Substitute: coconut oil or butter
Instructions
Beat the egg in a bowl with a spoon

Add the milk, vanilla extract and sugar (optional) to the egg and continue mixing

On a medium speed, start whisking the mixture whilst adding the xanthan gum and flour in parts (this reduces the risk of lumps)

Keep adding the flour whilst mixing until all has been added together

Beat the mixture for a few more minutes on high speed until it froths

Leave to set for 5 minutes whilst you heat the pan

Add oil/butter to the saucepan and place on a medium heat setting

Once the oil/butter has heated, pour a thin layer of batter onto the pan and swirl until the batter coats the surface evenly

Cook for about 2 minutes and then carefully flip the pancake over using a spatula

Cook for a further 2 minutes on the other side then pop onto a plate (use kitchen towels on the plate to soak up any excess oil on the pancake - I place one sheet between each one)

Continue to repeat this until all the batter has been used

Add your toppings (sugar and lemon for me) and enjoy whilst warm!
Notes
Calories noted are for one pancake without additional toppings
Store in an air-tight container for 3-5 days in the fridge
Freezing not recommended