Oh my these raw mint slices are gorgeous! They are quick and simple to make, and are actually somewhat of a 'zero waste' recipe. They were born out of my desire to use up some leftover avocados I had in the fridge which were the perfect level of ripe. Instead of leaving them and throwing them out at a later date, I had the idea to utilise the green and make myself a St. Patrick's day treat. Did you know that you can actually freeze whole avocados (yes, shell and stone too) when fully ripe to help prevent waste? Only do this when they are ready to eat, though. Just shove them in the freezer and save for a later date.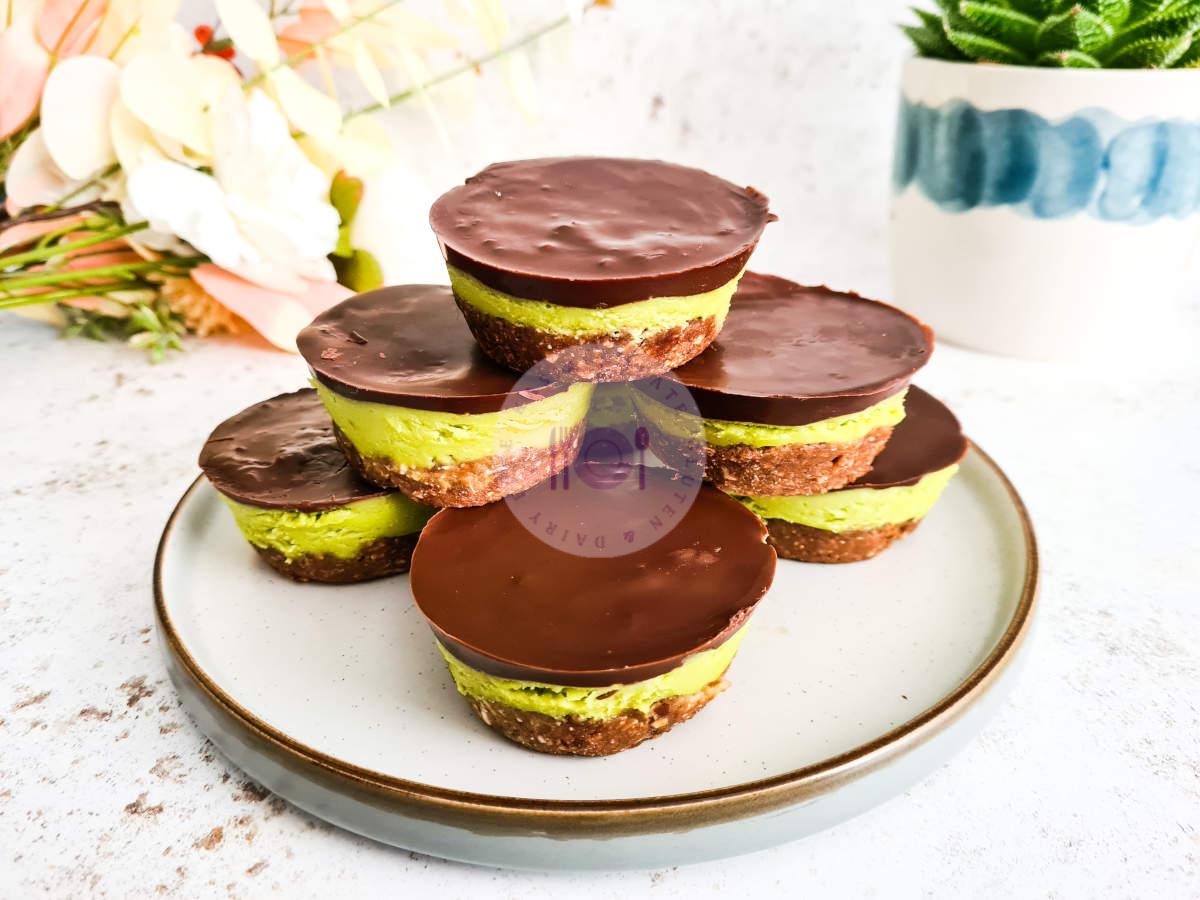 I fell in love with raw slices when I visited Liverpool (check out my complete gluten free guide to the area here). There was a little 100% gluten free, vegan and refined sugar-free shop called The Nakery. It served an array of these slices. I adored them so much that I went home and started experimenting with recipes. I see a lot which use a soaked cashew and coconut cream filling with berries or chocolate, so wanted to try something different this time too. What better to pair with avocado than some mint extract? The green already gives it a 'mint' feel before you even bite in – so the eyes and stomach are both satisfied in one.
Chocolate mint is always a bit of a debate, don't you think? For me, I am definitely on the love side of things. No idea why people say it is like eating toothpaste. I could have it all the time! A bit like chocolate orange which often people take one side or the other.
You won't regret trying these out anyway. A beautifully soft almond and oat layer with a creamy mint avocado filling and topped with indulgent chocolate. What's not to love? Especially for a healthier weekly dessert prep.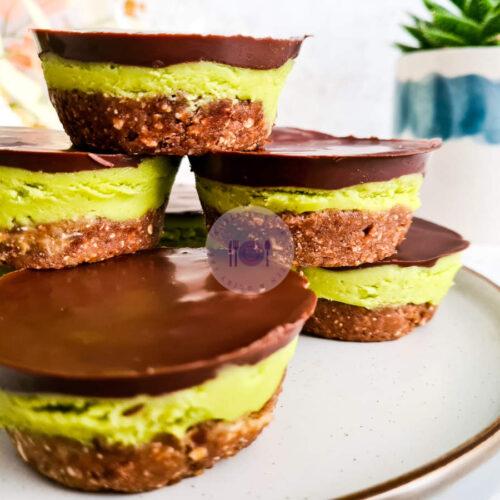 Raw Mint Slice
Vegan, Gluten Free, Soy Free, Vegetarian, Dairy Free, No Bake
Equipment
Blender

Heat-proof bowl

Microwave

Mixing Bowl

Spoon

Fridge
Ingredients
For the base
200

grams

Pitted dates

100

grams

Almond flour

100

grams

Gluten-free oats

1

tsp

Vanilla extract

5

grams

Cacao powder
For the mint avocado filling
2

Medium

Avocados

~190 grams (flesh only)

100

grams

Coconut oil

Room temperature

100

ml

Maple syrup

1

tsp

Peppermint essence

1/2

tsp

Vanilla essence

1

tbsp

Lemon juice
For the chocolate topping
1

tbsp

Cooconut oil

Room temperature

150

grams

Vegan chocolate

Mint flavoured preferable
Instructions
Prepare a cupcake tin with cases if required and set aside (see notes)*

Place the dates into a mixing bowl and cover with boiling water, leaving to soak for ~10 minutes to soften for use

Drain the water then place the soaked dates, vanilla extract, almond flour, oats and cacao powder into a blender and pulse until combined and to your texture preference (the longer you blend, the smoother the texture)

Place equal amounts of mixture into the bottom of 10 cupcake holes and gently press down to form an even surface then pop in the fridge whilst you make the filling

Melt the coconut oil in a heat-proof bowl in the microwave

Place the avocado flesh, vanilla and mint extracts, melted coconut oil, lemon juice and maple syrup into a blender and pule until completely smooth

Remove the bases from the fridge and spoon equal amounts of avocado filling onto the oat and nut bases, smoothing over the top if needed

Place the tray back into the fridge to set for a further 20 minutes to set

To create the chocolate topping, melt the chocolate and coconut oil together in the microwave (using short bursts of ~10 seconds and stirring in-between to prevent the chocolate burning)

Remove the tray from the fridge and evenly spoon chocolate over the top of each avocado filling, ensuring the whole top is covered

Place the tray back into the fridge for a final 10 minutes to cool the chocolate for consumption

Pop them out of the moulds, tuck in and enjoy!
Notes
*Silicone cupcake tray is preferable as you can pop the treats out after setting without the need for cupcake cases
**You can use a small tray for this no bake treat instead of a cupcake mould if preferred, just pop into the freezer before slicing
Store in the freezer and thaw before eating
Can store in the fridge for 1-2 days
Calories may vary depending on the product brands used
If you're a fan of no bake treats, why not try out my vegan chocolate almond clusters? They use quinoa puffs, chia seeds, whole almonds and chocolate for a moreish snack. Either that or some fudgy vegan nicecream bites for the warmer weather.