It is safe to say I really have a soft-spot for these crumble bars. They are buttery, beautiful and utterly moreish. I can never have just one. As soon as I take that first bite, I already feel myself longing for more. Imagine a flapjack combined with a pot of your favourite fresh berry jam. This is exactly that! I adore my soft bars. These are a perfect fit for my taste. They just melt in the mouth – especially the rich brown sugar and butter elements. It is why I used the sugar combination I have.
The bonus of this recipe is it is very child-friendly. I highly recommend making this one with the kids – they will have lots of fun. Just make sure they (or even yourselves) don't eat the whole lot of crumble before it is in the pan – once you start, I am sure there will be a struggle to stop. I know I have to use a lot of self restraint on this. I just want to spoon it into my mouth when I bake this!
I have made this recipe many different ways, with lots of fruit types. My personal favourite has to be this blueberry combination. The sweetness of the oat crumble really compliments the flavour of the blueberries. Whilst I have loved it with fruit such as raspberries, the tartness often didn't work quite the same as this. However, it is all down to personal taste.
One of the best things about these bars are they are essentially a '2 in 1' recipe. By this, I mean they double up as a snack on-the-go as well as a dessert. You could pop them into a container in your bag for a quick snack, or heat it up with some custard for an indulgent treat. Why not try both and see which you prefer?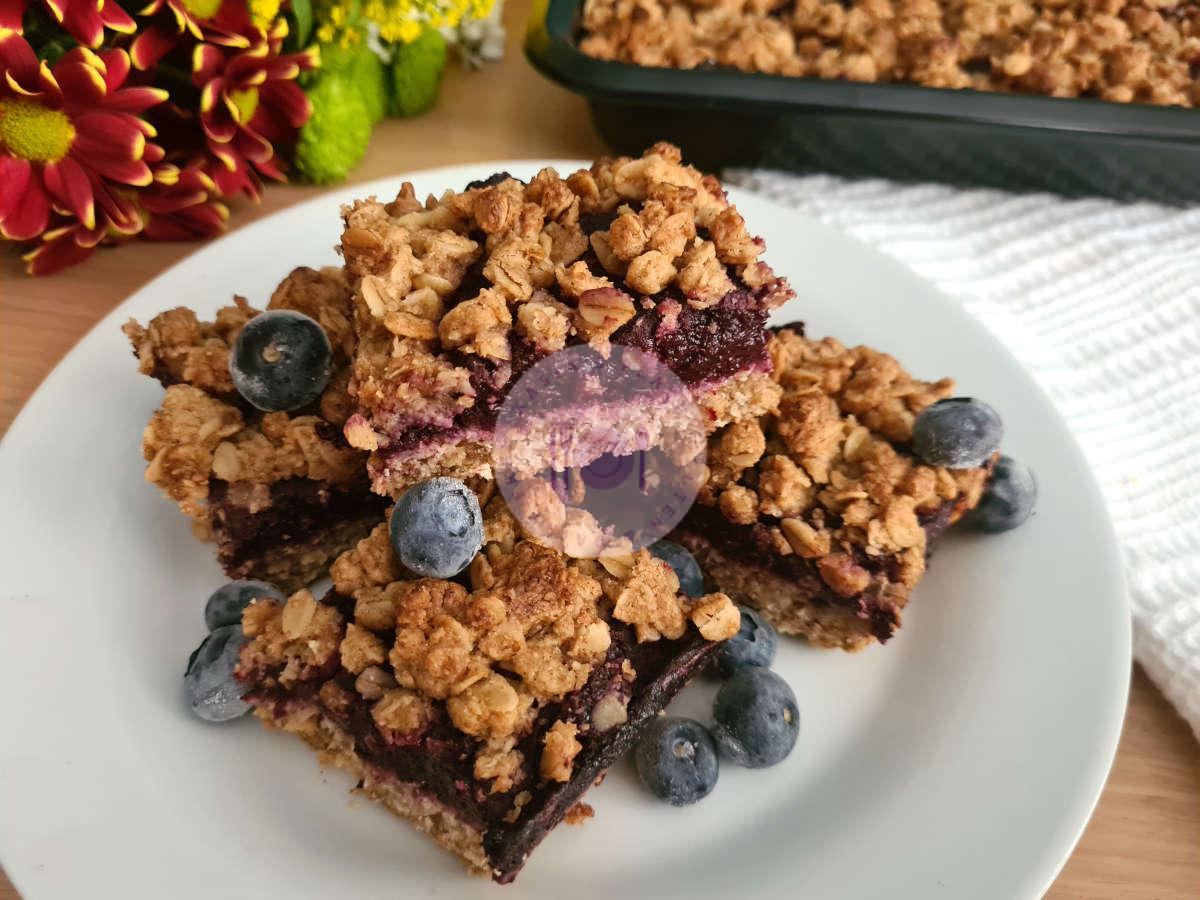 After trialling this recipe several times, I think I have hit the nail on the head with the flavour composition. I do have a super sweet tooth, but I have had times where these were a little too much even for me. I now feel I have cracked the fine line with this bake. It is on the optimum level for someone who has a sweet tooth, but also for people who lean more for savoury. It just has a nice subtle hint.
The original recipe below uses refined sugars. However, I have also popped in refined sugar-free alternatives. I love my coconut sugar and sweetner so thought others would find these subs useful too. No way does this detract from the sheer awesomeness of this bake though. It is simple and elegant – one to share with friends. I am always taking this tray bake around to share with friends and colleagues, with it never failing me.. yet anyway! So why not get baking and then have this with a sit down and cuppa afterwards? It goes hand-in-hand.
Berry Crumble Bars
Gluten-free, Nut-free, Soy-free, Vegan, Refined-sugar free option
Equipment
Oven

Grease-proof paper

Mixing Bowl

Saucepan

Wooden Spoon

Oven-proof dish

Mixing spoon

Spatula

Blender
Ingredients
For the jam layer
650

grams

Blueberries

Fresh

30

grams

Plain GF flour
For the crumble
550

grams

Gluten-free oats

100

Grams

White caster sugar

Substitute: erythritol or other sweetner

85

Grams

Brown sugar

Substitute: 100g coconut sugar

1

tsp

Baking powder

240

Grams

Melted butter

1

tsp

Cinnamon

2

tsp

Vanilla essence
Instructions
Preheat the oven to 180 degrees (160 degrees fan)
To make the jam
Place the blueberies in a saucepan and gently cook on a medium heat, stirring intermittently, until they start to turn soft (about 10 minutes)

Add the flour to the pan and continue to stir through for a further 10 minutes

Pour the mixture into a blender and blitz until smooth then place to one side
To make the crumble
Seperate 250g of oats and use a blender to create oat flour

In a large bowl, place the oat flour and rest of the dry ingredients and mix together with a spoon

Add the melted butter and vanilla essence to the bowl containing the dry ingredients and mix well until combined into a thick crumble-like consistency
Making the bars
Line an oven-proof dish with grease-proof paper (or use extra butter to line the tray if preferred)

Spoon 2/3 of the crumble into the base of the dish and press down with the back of a spoon or by using your hands

On top of the pressed crumble layer, pour over the thickened blueberry jam layer and even out with a spatula

Crumble the remaining 1/3 of crumble mix over the top of the jam layer

Bake for 30-35 minutes until golden

Remove from the oven and leave to cool completely in the dish before slicing

Cut into 12 large squares and enjoy either warm with custard or on-the-go
Notes
Best stored in an air-tight container for up to  week in the fridge or 3 months in the freezer