Do you ever just crave a really simple and effective sweet snack/dessert? If so, then biscuit truffles are definitely your answer. They only take a few ingredients to make, are easily adaptable, and absolutely delicious. These biscuit truffles are bound using vegan cream cheese for a beautifully decadent filling, then coated in chocolate for that extra indulgence. I honestly could see these selling in a cafe as a snack with coffee.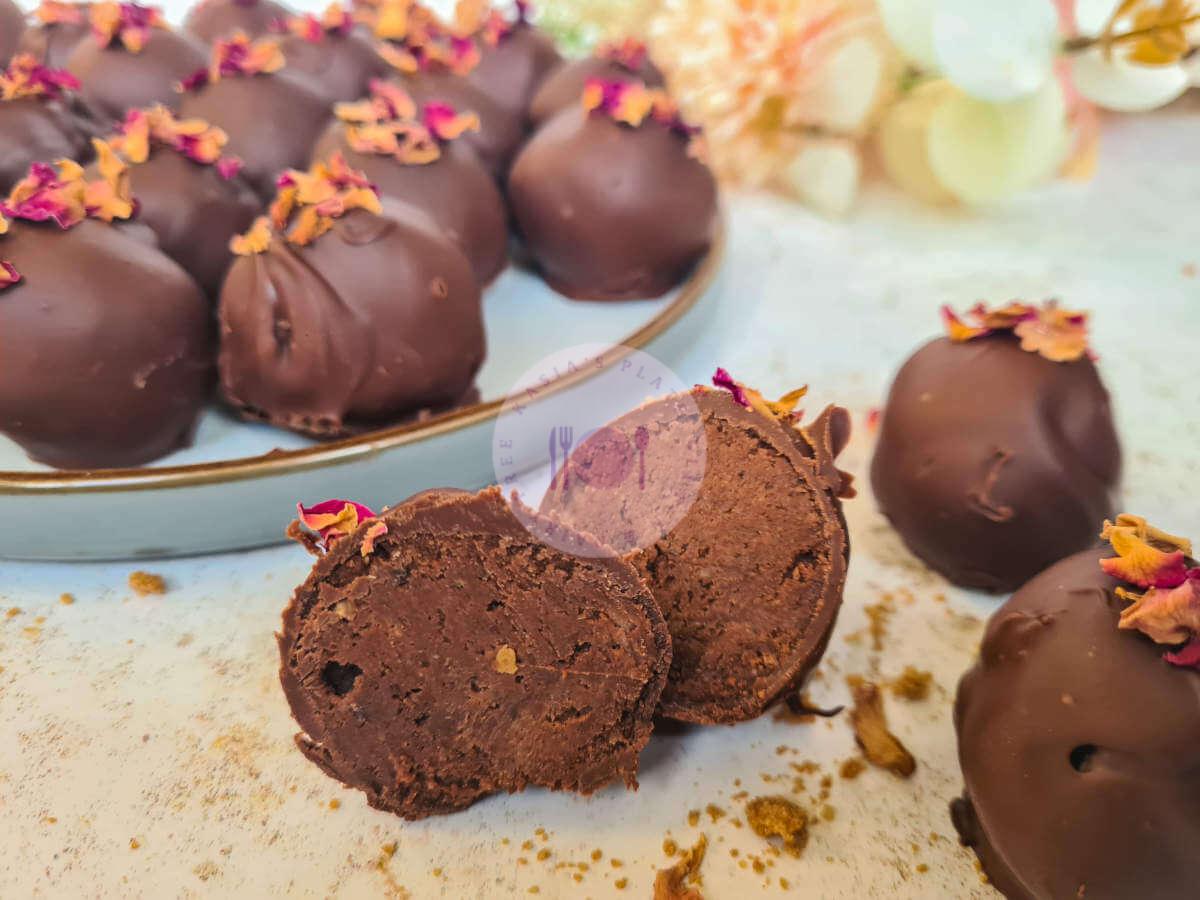 So what is so special about these? Well, not only are the biscuit truffles gluten free, but they are also completely vegan too. You can actually make them top 14 allergen friendly using the right brands of ingredients too. They only take a short time to make, with easy peasy instructions. For instance, they are perfect to make at home on the weekend with the kids (or without them too). The latter means you wouldn't have to share!
For my biscuit truffles, I love using Rhythm108 sharing bags. They have a range of flavours and are just so moreish. I've featured their lemon and chia biscuits and their chocolate hazelnut here. I know these aren't nut free friendly, but just swap to suitable biscuits if needed.
I adore making these biscuit truffles for friends and family. They pack up well into a box for a hand-crafted gift. Why not treat someone and make them feel extra special? Just make sure to keep them in the fridge so they don't spoil due to the filling.
You could also make some of my other truffles too. For example, how about some vegan Fererro Rocher or these three-ingredient chocolate bites.
Undeniably, the only hard part about these biscuit truffles is waiting for them to set. I struggle not to just eat the filling straight from the bowl. Why not whip up a batch and impress your friends? Overall, I think these are the best party treat!
I've included two flavour options in the recipe below, so which one are you making?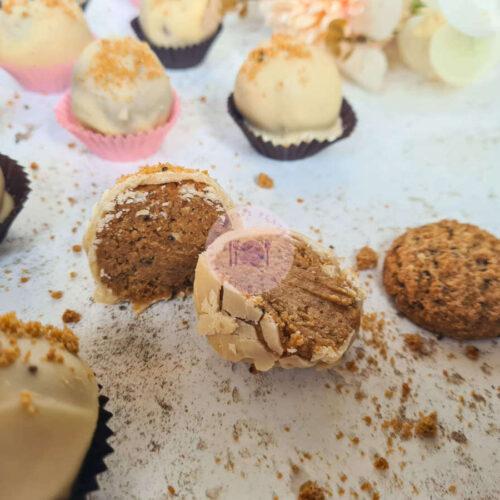 Biscuit Truffles
These are minimal ingredient no-bake truffles which are easily adaptable and absolutely scrumptious. The question is, are you choosing lemon, vanilla or chocolate?
Equipment
Blender

Mixing Bowl

Heat-proof bowl For melting chocolate

Mixing spoon

Small scoop Alternative: tea spoon, for measuring out truffle filling

Plate/tray covered in cling film For setting the truffles on whilst they chill/are decorated

Freezer

2x Forks To help with coating the truffles

Fridge
Ingredients
White chocolate lemon
170

grams

Vegan cream cheese

340

grams

Gluten free digestive biscuits

Alternative: lemon flavour biscuits

300

grams

Vegan white chocolate

1-1.5

tsp

Lemon extract

Optional
Double chocolate
200

grams

Vegan cream cheese

350

grams

Vegan milk/dark chocolate

400

grams

Gluten free chocolate biscuits
Instructions
Place the biscuits in a blender and pulse until crumbs

In a mixing bowl, mix together the biscuit crumbs and cream cheese until well combined and malleable

Using a scoop/spoon, take small portions of the batter (~1 heaped teaspoon) and mould into balls using your hands

Place on a plate or tray covered in cling film and place into the freezer to set for 30-minutes

In 10-second intervals, melt the chocolate in a heat-proof bowl using an oven (mixing between heating to prevent burning)

One by one, remove the cake truffles from the plate/tray and place into the bowl containing the melted chocolate

Coat the truffle fully in chocolate, moving around using the forks, draining any excess chocolate by holding the coated truffle above the bowl

Place back onto the tray for setting

Add any toppings to the wet chocolate coating (I use an extra 2 tbsp of biscuit crumbs or dried rose petals)

Chill in the fridge for 30 minutes then tuck in and enjoy!