Have you ever tried making your own baked beans? They are really simple and almost effortless. You can whip up a small batch in less than 30 minutes. Perfect for breakfasts, lunches and even side-dishes. I must admit, I jumped on the bandwagon with this one. I recently saw quite a few people in lockdown making their own saucy beans. I was intrigued and thought I'd have a play around with making my own. I tasked myself with only using items I already had at home – kind of like a 'zero waste' recipe too. This means you are likely to already own most, if not all, of the ingredients already. Perfect!
You must know by now that I love my quick and easy recipes. It doesn't have to be complicated to taste awesome! For my take on this, I decided to give a subtle smokey flavour to the sauce. I am quite a fan of BBQ tones and paprika so wanted to suit my palette. Luckily, this is one that I think will suit a lot of others too. Not only is this recipe divine, but it is also much healthier than the canned baked beans you get in the shops. OK, so necessarily this isn't baked.. but it is close enough!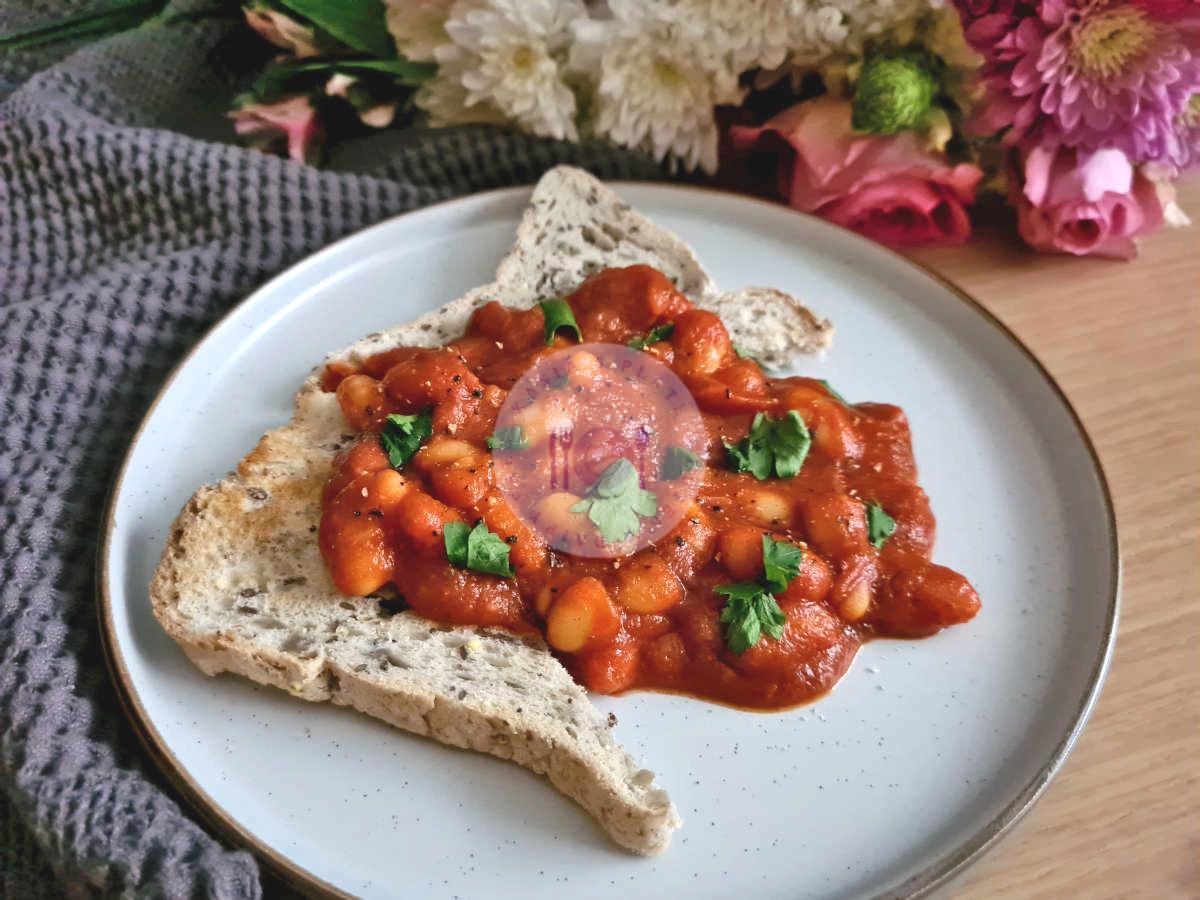 My partner is constantly buying tins of baked beans – our cupboards are usually full of them! However, since I started making these for him, he insisted we just stock up on cannelloni beans instead. If that isn't a compliment then I don't know what is. I am just so happy that I have been able to convert him – it is always an absolute pleasure when someone enjoys my recipes as much as I do.
It is safe to say that this recipe is now a staple in our house. Whilst you can simply have it as beans on toast, there are so many things you can eat this with. Plus, they taste just as good cold as they do warm (in my opinion anyway). It is also a great base-recipe too. Don't fancy the smokey element? Just change it to normal paprika. Don't fancy the kick? Omit the Tabasco – no problem! Oh and by the way, I highly recommend green Tabasco especially for this recipe. Don't ask me why, but it just pairs so perfectly with the sauce!
I hope you love this one as much as we do.
Smokey Vegan Beans
Vegan, Gluten-free, Soy-free, Nut-free
Equipment
Hob

Saucepan

Mixing spoon

Garlic press
Ingredients
2

cloves

garlic

1

tbsp

Olive oil

1

tbsp

Smoked paprika

400

grams

Passata

Substitute: blended tin of chopped tomatoes

1.5

tbsp

Tomato paste

400

grams

Cannelloni beans

drained and rinsed

1.5

tsp

Mixed herbs
Salt

To taste

Pepper

To taste

100

ml

Vegetable stock

1-2

tsp

Hot sauce (green Tabasco)

Optional
Instructions
Heat olive oil saucepan on medium-high heat until the pan is warm

Add in the minced garlic and begin to brown (about 2 minutes)

Reduce the heat to medium and then add the passata, canneloni beans and seasoning to the pan containing the garlic and gently warm through (about 10 minutes), making sure to stir intermittently

Whilst cooking, add boiling water to the vegetable stock to create the 100ml measurement

Add the diluted vegetable stock and tomato paste to the pan, turn up the heat to high, and stir continuously for a further 5-10 minutes (it will begin to reduce thicken)

Remove the saucy bean mixture from the heat and add in the hot sauce (optional)

Serving suggestion: over two slices of toasted bread
Notes
Best served warm (but cold is fine)
Storage: up to 3-5 days in the fridge
Suitable for home freezing up to 3-4 months