Does anyone else just love everything chocolate? Especially the chocolate and cherry combo – it just goes so perfectly together. Whoever decided to create the black forest selections is a genius! The gateaux is one of my favourite things to eat! Well.. pre-intolerance defined life anyway. Anyone know of a good black forest gateaux they can recommend? I honestly could eat one to myself thinking about it!
There is just something unique about anything black forest. That beautifully silky and sweet chocolate sponge complimented by the tart and deep refreshing black cherries. The use of fresh cherries in bakes just really lifts it. I tried so hard not to pick all of them off and scoff them down immediately after decorating these. Well, even before taking them out of the tub too.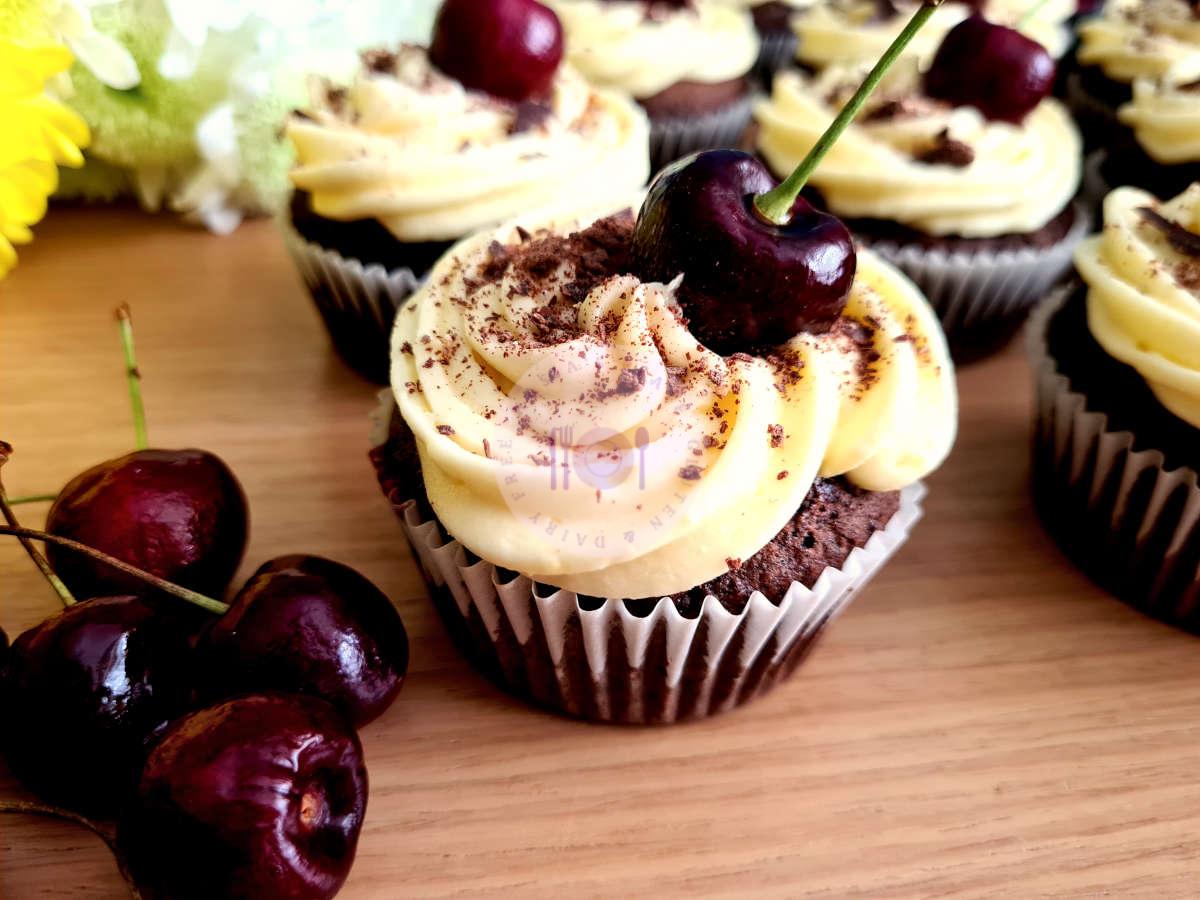 I created this recipe as an impromptu bake for red nose day 2021. I took a slightly longer lunch break at work – perks of working from home – so I could whip this up. The batter was just so good. I had to stop myself licking the spoon until the end. It just stared at me – mimicking the look of chocolate mousse. It was airy and inviting. I made sure to sieve all of the dry ingredients in this and I feel it made such a difference to the overall texture.
So this isn't your usual bake when you think of red nose day, no, but I liked the idea. I had two punnets of cherries that needed using up and thought they could work as the 'noses' on the cakes. I am very much for wasting less and using more you see. I think that is how the best ideas arise though – just using up all the things you already have at home. Had I not raided the yellow sticker aisle, I wouldn't have had the cherries to use. Fate!
I warn you now, these cupcakes are super addictive! You can't just have one. I must have eaten three of this batch before even topping with the buttercream. So glad I made 21 of them – more than enough to go around! The chocolate sponge is soft and light. It has a 'secret' homemade sweet cherry jam centre which contrasts the chocolate crumb. Whilst they taste great alone, who can't resist a little buttercream? Traditional black forest has a whipped cream topping, but I opted for my 'go to' vanilla buttercream recipe.
I've only recently started to add piping to my cakes – no idea why it took so long. I thoroughly enjoyed swirling the soft icing onto the top of each cake. However, they wouldn't be complete without a whole cherry and some chocolate dust. The only thing missing is some chocolate sauce. Maybe next time!
I cannot explain how quick and easy this recipe is to bake. I highly recommend it for a simple weekend bake. It is even child-friendly so they can bake along with you. So why not whip up a batch of these moreish chocolatey cakes and share with friends/family over a cuppa?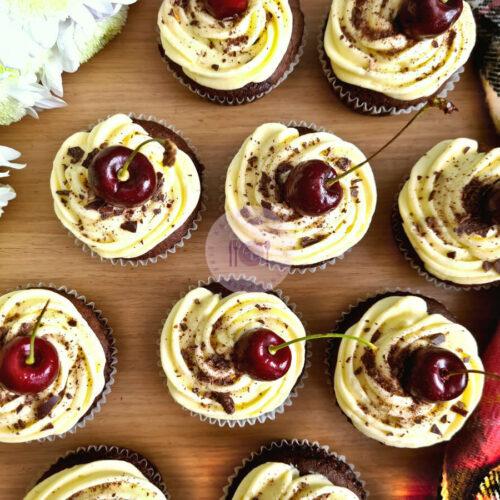 Black Forest Cupcakes
Gluten-free, Dairy-free, Nut-free, Vegetarian
Equipment
Mixing Bowl

Heat-proof bowl

Mixing spoon

Piping bag

Piping nozzle

Cupcake cases (x21)

Oven

Wire rack/cooling rack

Cupcake tray

Whisk

Sieve

Scoop

Saucepan

Blender

Scissors (to cut the piping bag)
Ingredients
For the chocolate cupcake base
225

grams

Self raising GF flour

22

grams

Cacao powder

100

grams

Chocolate

Dark or milk

120

grams

White sugar

80

grams

Brown sugar

110

grams

Butter

Recommendation: vegan stork block

35

grams

Apple sauce (puree)

2

Large

Eggs

1/2

tsp

Baking soda

1

tsp

Baking powder

1/4

tsp

Xanthan gum

1

tsp

Vanilla extract

115

ml

Soya milk

Substitutes: almond, rice, GF oat or coconut
For the cherry jam filling
250

grams

Cherries

Fresh, pitted

55

grams

White caster sugar

3-4

tbsp

Cornflour

For thickening

1

tbsp

Lemon juice

45

ml

Water
For the buttercream icing
150

grams

Vegan butter

3-4

tbsp

Dairy-free milk

Recommended: soya

330

grams

Icing sugar

1

tsp

Vanilla extract
To decorate
2

handfuls

Chocolate 'dust'

21

Whole

Cherries
Instructions
To make the chocolate cupcake base
Pre-heat the oven to 190°C (conventional) or 170°C (fan)

Line a cupcake tray with cupcake baking cases and set aside

Sieve the flour, cacao powder, baking soda, baking powder and xanthan gum into a mixing bowl

Add the brown and white sugar to the bowl and mix together

Make a well in the centre of the mixture and add in the eggs, applesauce and vanilla extract then mix in

In a second bowl, melt the butter and chocolate either using a Bain-Marie or by gently heating in the microwave and stirring every 30 seconds until completely melted

Fold in the melted butter and chocolate until completely combined

Finally, add in the dairy-free milk and whisk until combined

Using a scoop (or spoon), place the batter evenly into the baking cases and then pop into the oven

Bake for 17-20 minutes (I do this in two batches)

Once baked, remove from the cake tin and place on a wire rack to cool completely
To make the cherry jam
Whilst the cupcakes are baking, gently warm the cornstarch and water in a saucepan

Add in the sugar and pitted cherries and continue to heat until the cherries begin to break down (about 8-10 minutes)

Remove from the heat and then use a blender to create a smooth jam (add more cornflour, mixed with a little water, if the jam is too runny)
To make the buttercream frosting
Beat together the butter, milk, vanilla extract and icing sugar until a stiff but malleable buttercream forms (you can use a whisk to help remove any lumps)
Constructing the cupcakes
Once the cupcakes have fully cooled, take a knife and carefully cut the centre out of the cupcakes, keeping the top of the cutting in tact

Remove some of the centre of the cupcake and cut the bored out piece down so it is just the very top of the cutting that remains

Spoon some of the jam into the hole you have created in the cupcake then place the top of the sponge back on (do not worry if this is not neat - you will cover it up with the icing)

Open a piping bag and place the nozzle down to the bottom of the bag (do not cut it yet)

Add the buttercream into the piping bag and then clip the end of the bag when ready

Carefully pipe the buttercream over the top of the cupcake, starting on the outer edge and spiraling inwards

Sprinkle some chocolate dust on top of the buttercream then finish with a cherry
Notes
Calories do not account for the buttercream and toppings (the base and jam only)
Storage: in an air-tight container at room temperature for 3-5 days