These vegan Fererro Rocher treats are much like the real deal. I'm not even kidding. If there's one chocolate treat I've missed since being gluten and dairy free, it is these. I've been making these vegan Fererro Rochers different ways since starting my blog, but never released a recipe until now. I think I have finally cracked it. Saying this, they're super simple to make and just divine. I also really recommend using nomo chocolate for the coating. They have a hazelnot bar which is great for giving a praline feel.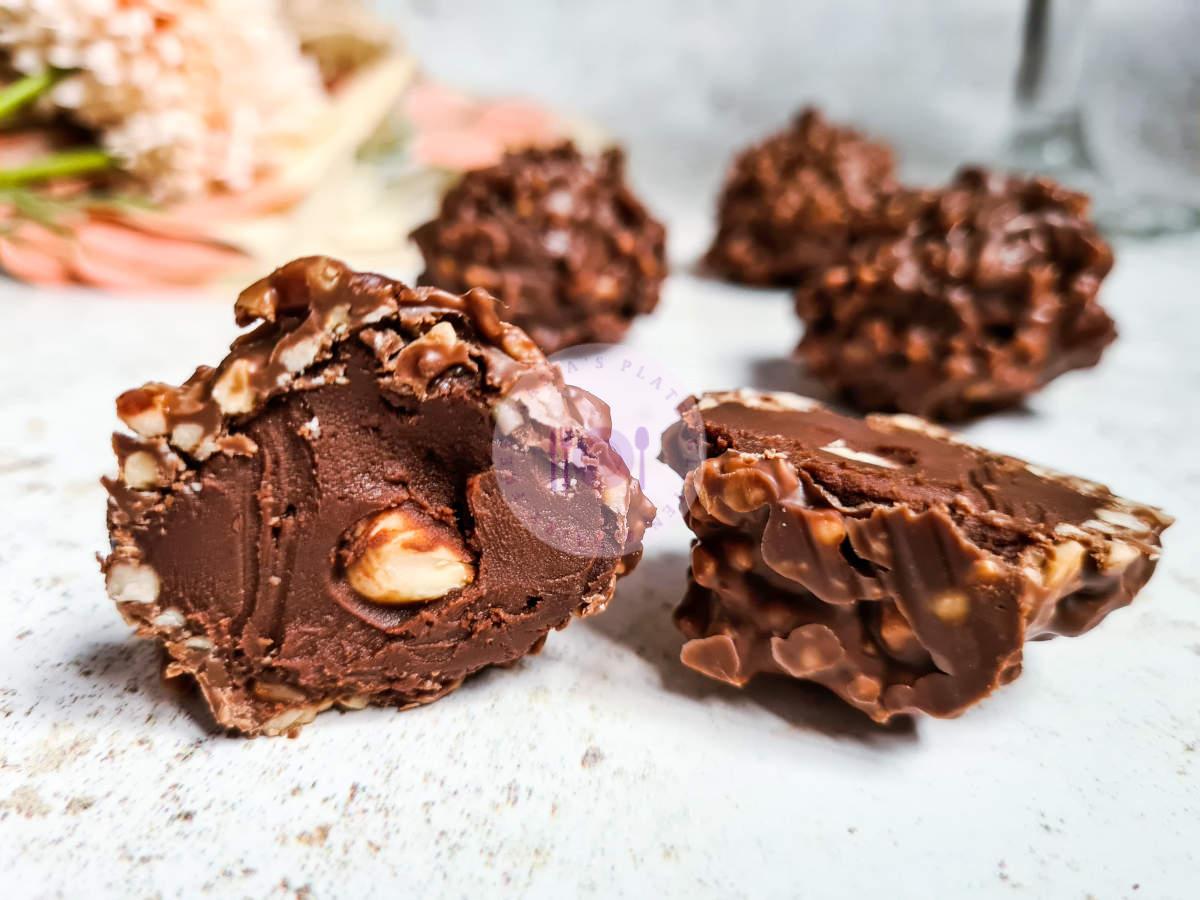 Since having a dairy intolerance, I've been leaning more onto making things vegan. I've noticed that a lot of restaurant options for me sway this way and it has really broadened my ideas on how good vegan food can be. On top of this, I have a couple of close friends who are also egg intolerant or require a plant-based diet, meaning I want to be able to share my recipes with them too.
After my vegan chocolate truffles went down a hit, I decided to use the base of that recipe to develop this Fererro Rocher-style treat. It uses the same vegan plant cream and chocolate base for the ganache-style centre. This is encased by a stunning hazelnut chocolate coating, for extra crunch. Oh and let's not forget the important hazelnut centre. I use a whole roasted hazelnut in each of my bites for real flavour and texture.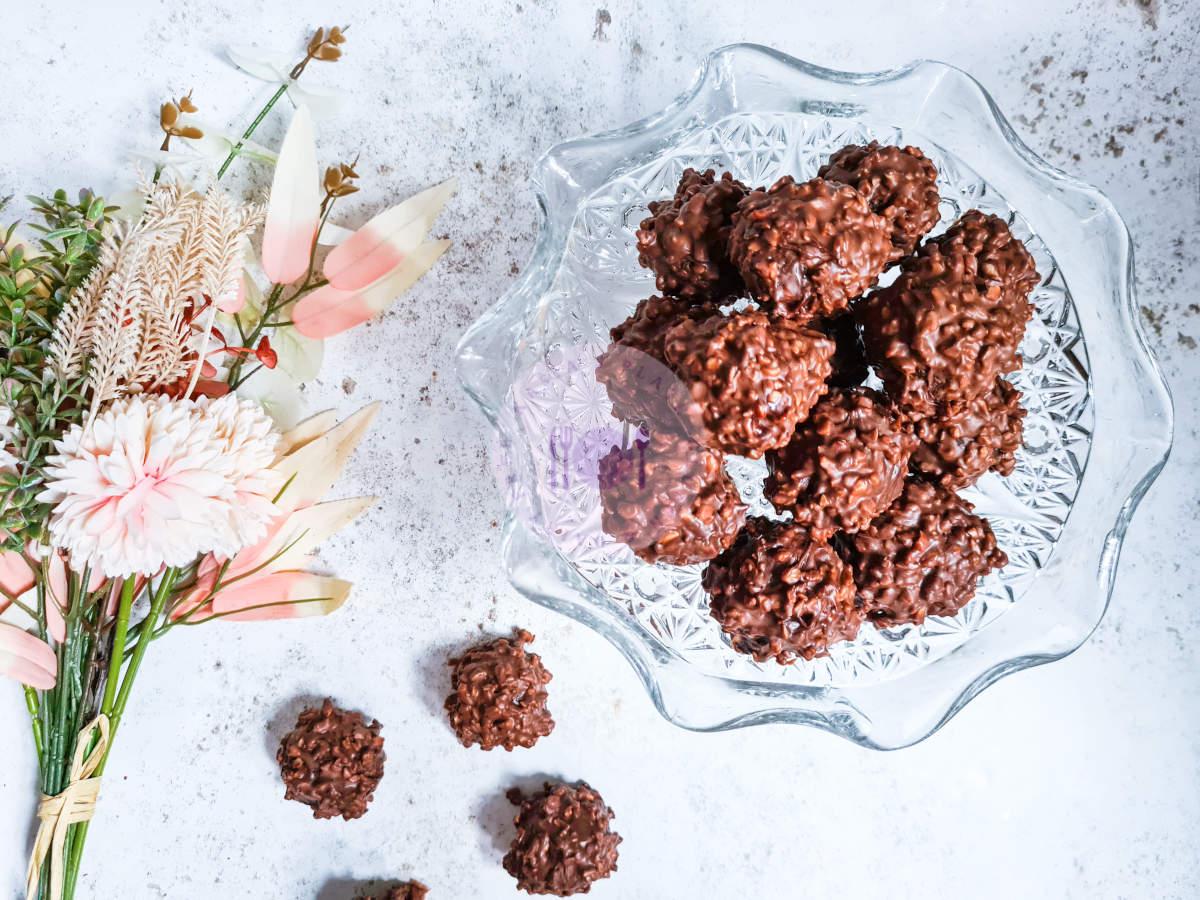 Why not make a batch of these vegan Forerro Rocher bites for a party? They'd go down so well on a snack plate on a buffet layout. No one would ever know they're 'free from'. Plus, they're no bake and don't take long to make at all.
If you're a chocaholic like me, you might also love these vegan chocolate cupcakes. They're super delicate and easy for everyone to make. That's another thing with my recipes, I want them to be accessible for everyone. I use mostly simple ingredients and recipes which anyone can re-create at home.
I hope you enjoy these vegan balls of goodness x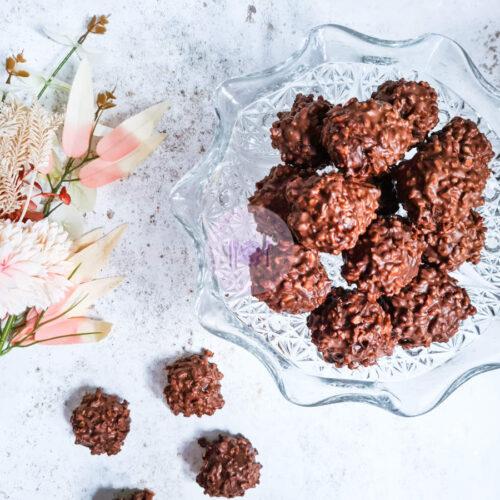 Vegan Fererro Rocher
Gluten free, Vegan, Dairy free, Vegetarian, Soy free
Equipment
2 Bain-Marie

For melting the chocolate

Mixing spoon

Spatula

Greaseproof Paper

Baking tray

Table Spoon

Fridge

Small scoop

For portioning
Ingredients
For the truffles
25

Whole

Hazelnuts

Pre-roasted and shelled

300

grams

Semi-sweet vegan dark chocolate

See notes*

250

ml

Plant-based double cream

See notes**
For the coating
300

grams

Vegan milk chocolate

See notes*

150

grams

Chopped hazelnuts
Instructions
To create the truffle centre
Using a Bain-Marie, break up the chocolate and melt over a medium heat until in liquid form

Remove the bowl containing the chocolate from the heat and add in the plant-based double cream

Mix together the chocolate and cream, using a spatula, until completely combined

Cover the bowl containing the chocolate and cream mixture and place in the fridge for 1-2 hours until set
Constructing the truffles
Line a baking tray with greaseproof paper and place to one side

Once set, remove the mixture from the fridge and place at room temperature (start working with it immediately)

Use a small scoop to take an equal part of the chocolate and cream mixture into your hand

Add one whole hazelnut into the centre of the scooped mixture then roll in your hands to create a ball shape, with the hazelnut being encased in the chocolate truffle ganache mix

Place each formed ball onto the lined baking tray, repeating until all the mixture has been used up

Place these into the fridge to firm slightly whilst creating the outer shell
To create the hazelnut shell coating
Create a second Bain-Marie, melting the vegan milk chocolate in a bowl over a medium heat

Once fully melted, add in the chopped hazelnuts to the bowl and mix thoroughly

Remove the chocolate truffles from the fridge and the chocolate coating mix from the heat

One by one, take each truffle on a table spoon and coat it in a layer of chopped hazelnuts and chocolate, rolling it around in the mix to ensure it is evenly covered

You may need to remove any excess coating with a second spoon if the mixture becomes too cold and picks up thick amounts (or just re-heat slightly before use)

Use the spoon to remove the coated truffle from the mix and place back onto the lined tray

Once all of the truffles are coated, move the tray into the fridge once again to set fully (about 20-30 minutes)

Remove from the fridge, tuck in and enjoy!
Notes
Store in an air-tight container in the fridge for 5-7 days
Suitable for home freezing for 1-2 months (defrost fully in the fridge before consumption)
*For the semi-sweet dark chocolate I use Lindt 85% dark chocolate (vegan, gluten free and soy free) and for the milk chocolate I use Nomo hazelnot (vegan, gluten free, soy free)
**For the vegan double cream I recommend Elmlea plant brand (can buy in major supermarkets)