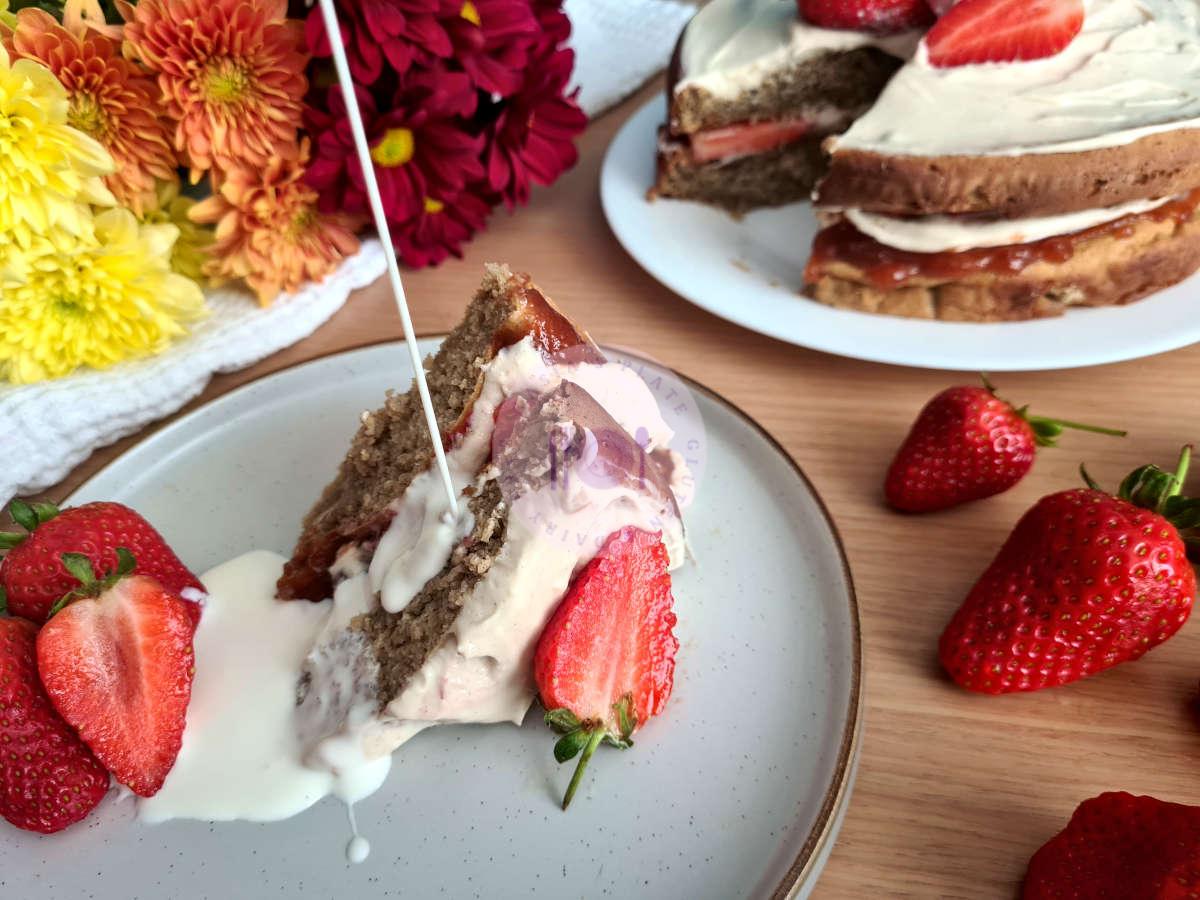 Strawberry and cream cheese – a match made in heaven! Who agrees? Such fresh and vibrant fruit complimented by a gorgeously smooth spread. I love everything strawberry – especially now the peak UK season is just around the corner (May to September if you're interested). You can definitely tell they are so much fresher when buying them at the market or in store. Nothing beats locally grown strawberries in their peak. I am obsessed. So much so that I will be using them on almost everything for a few months at least! You have been warned – but I promise they will be worth the recipe spam.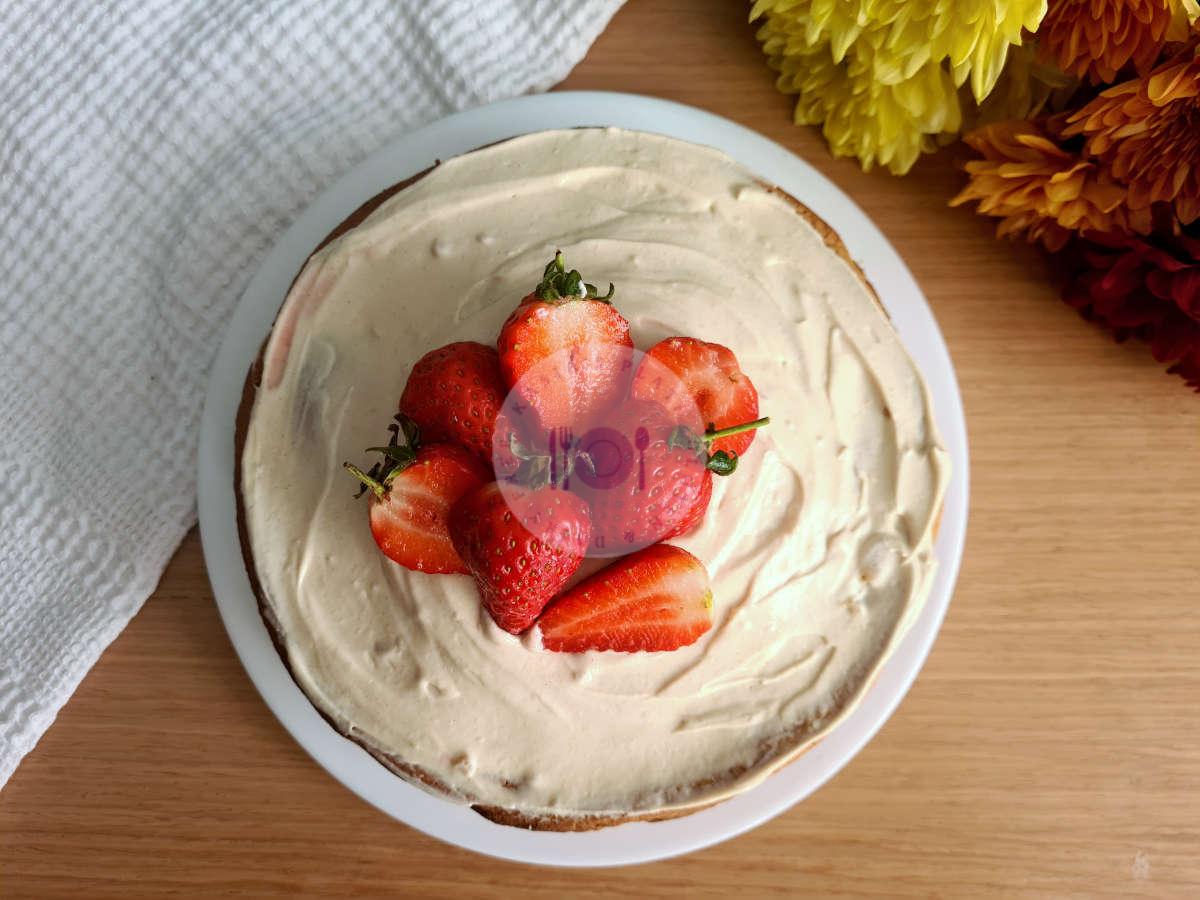 So this recipe has been a long time coming if I am honest. You all know I love a healthy protein bake – predominantly breakfasts at the moment though – so I wanted to make something a little different. This idea came about as I was craving vanilla sponge cake. However, it had just been my birthday (oh by the way you should check out the retro tray bake I made for this) so I fancied something more nutritious but still with that indulgent feeling. This was a kind of 'throw it together recipe' which really worked. In basic: blended oats, eggs, protein powder and milk. That is the base of it anyway. Whilst I do love experimenting, I am also a lover of keeping things simple at times too. This way anyone can make, enjoy and even add their own flare to my creations.
Every weekend I make a healthier snack to take with me to work – sometimes two for a pre-workout nibble too. I find myself to always be hungry when working long days in the lab so long for something that is a quick 'grab and go' refuel snack. To fit my current lifestyle, I consume a lot of high protein foods. So how does one make something high protein and indulgent? Make a two tier vanilla protein sponge of course! Bake, decorate and portion it up. Perfect.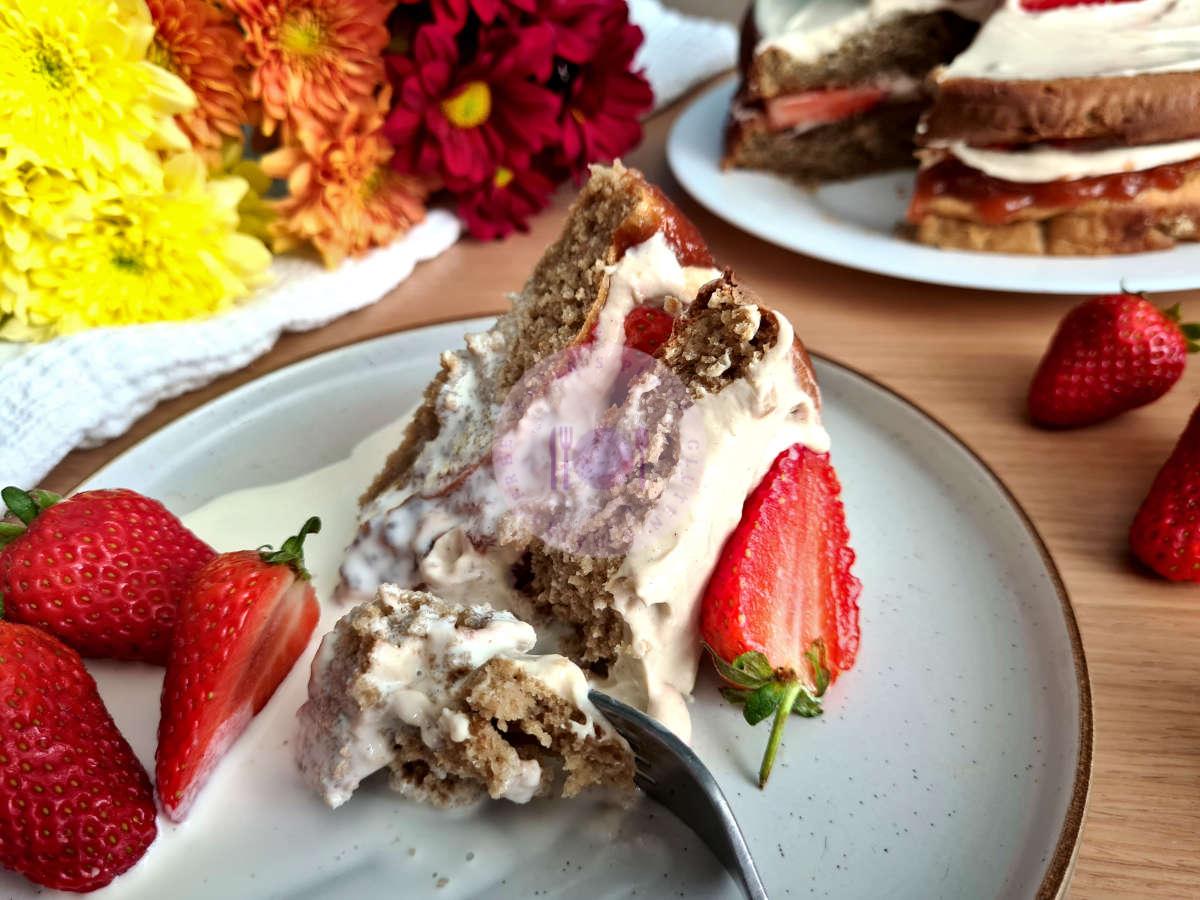 As this cake is made with oats and protein, it is quite heavy on the stomach. It is deceivingly rich for the size of the slice. I'm not complaining though – it suits my taste to a T. I love eating this with a cuppa on my morning/afternoon breaks. It does keep you full and energised. The macros aren't bad per slice either – so impressed. First time was the charm but hasn't been the last time I made it. I think a chocolate or lemon one is in order next. Will get my thinking cap on!
I know this won't be for everyone, but I do love my healthier recipes too. This is my take on a 'macro friendly' Victoria sponge cake – also one I have been meaning to make for a while. I will definitely pop this onto my 'to do' list. Who doesn't love a classic vanilla sponge?
Strawberry Cream Cheese Protein Cake
Gluten-free, Dairy-free, Nut-free
Equipment
Oven

2x mixing bowl

Whisk

Mixing spoon

Spatula

2x loose-bottom cake tins (18 cm)

Blender

Greaseproof Paper

Wire Cooling Rack

Chopping board

Knife
Ingredients
For the vanilla cake sponges
170

grams

Sugar substitute

Recommendation: erythritol

150

grams

Dairy-free yoghurt

Recommendation: soya or coconut

4

large

Eggs

120

grams

Gluten-free oats

Blended into flour

90

grams

Vegan vanilla protein

Substitute: neutral protein flavour plus extra tsp vanilla extract

2

tsp

Baking soda

2

tsp

Baking powder

100

ml

Dairy-free milk

Recommendation; soya or coconut

1

tsp

Vanilla extract

2

tbsp

Dairy-free butter

For greasing
For the filling/topping
100

grams

Dairy-free cream cheese

Recommendation: Nush or Violife

160

grams

Dairy-free yoghurt

Recommendation: soya or coconut

40

grams

Vegan vanilla protein powder

20

ml

Dairy-free milk

Recommendation: soya or coconut

130

grams

Strawberry jam

4

large

Strawberries

Plus extra for topping
Instructions
To make the vanilla cake sponges
Pre-heat oven to 180 °C (conventional) or 160 °C (fan)

Line two 10 cm loose-bottom cake tins and set aside

If not already done, use a blender to blitz the oats into a flour consistency

Mix all of the dry ingredients in a bowl

Add the yoghurt, vanilla extract and milk to the bowl and continue to mix (it will become slightly clumpy but do not panic)

Add the eggs one at a time whilst thoroughly whisking the batter to gain some air into the mixture

Pour the batter evenly into the two lined cake tins and gently tap to even (use a spatula to get any excess batter out of the bowl and into the tin)

Bake for 20-25 minutes until the cakes rise slightly and gain colour

Remove from the oven and leave the cakes to cool for about 30 minutes in the tins before moving to a wire rack to cool completely (~a further 15 minutes)
To decorate the cakes
Spread the strawberry jam evenly across the top of the first cake sponge layer

In a bowl, mix together the cream cheese, milk, yoghurt and protein powder until combined (you may wish to use a whisk to omit any lumps)

Spread ~1/3 of the cream cheese mixture evenly over the jam layer

Thinly slice the strawberries and place them over the cream cheese layer until it is completely covered

Gently place the second sponge tier onto the top of the strawberry layer to create a sandwich

Spread the remainder of the cream cheese over the top of the cake

Add any extra strawberries or other decorations to finish

Slice into 8 portions and enjoy!
Notes
Calories include toppings
Normal milk and cream cheese can be used as a 1:1 replacement for the dairy-free alternatives
Note that vegan protein is more absorbent than whey so you may need less milk
Store in an air-tight container in the fridge for up t0 5 days
Not suitable for home freezing