Cookie squares are one of my favourite things to make. They are so quick and simple – and the best part is they curb cookie cravings without the need for chilling times. This is essentially the 'lazy man's' cookie. It only requires a tray to bake and then cutting into squares. Exactly what it says on the tin.
This is a recipe I have worked on for a while now – making it without the mini eggs. However, this is my first officially published one. I have had lots of fun playing around with sugar quantities and different methods of making. I found the key to making these is actually to use melted butter when creaming with the sugar. I tried once without doing this and the texture was not the same. Trust me – something so simple can change a whole bake!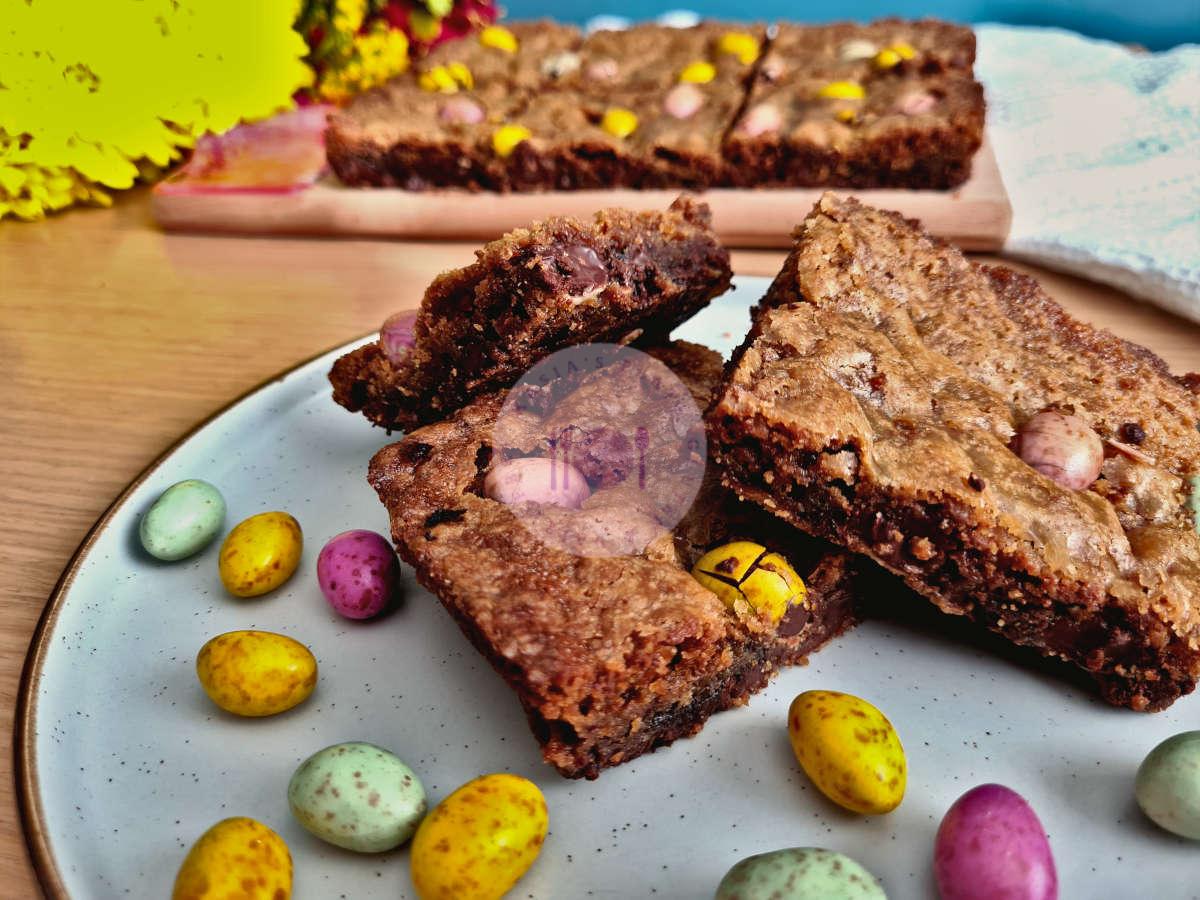 These bars are like cookies – but better in my opinion. They are so gooey in the centre, but have the crisp and sweet texture of a brownie on the top and around the edges. Just warm them up and serve with a scoop of ice cream for the ultimate combo. Ice cream + cookies = perfection.
I made these on a whim as I had extra Doisy and Dam good eggs left from making my NYC-style Easter cookies. Who else adores Easter baking? I cannot get enough of it! I always talk about how amazing all the free from Easter chocolates are. They just slot into bakes like the final puzzle piece. My 'go to' is to use these vegan 'mini eggs'. However, I am really excited to branch out and try some new recipes too. Make sure to keep an eye out for these on my recipes page.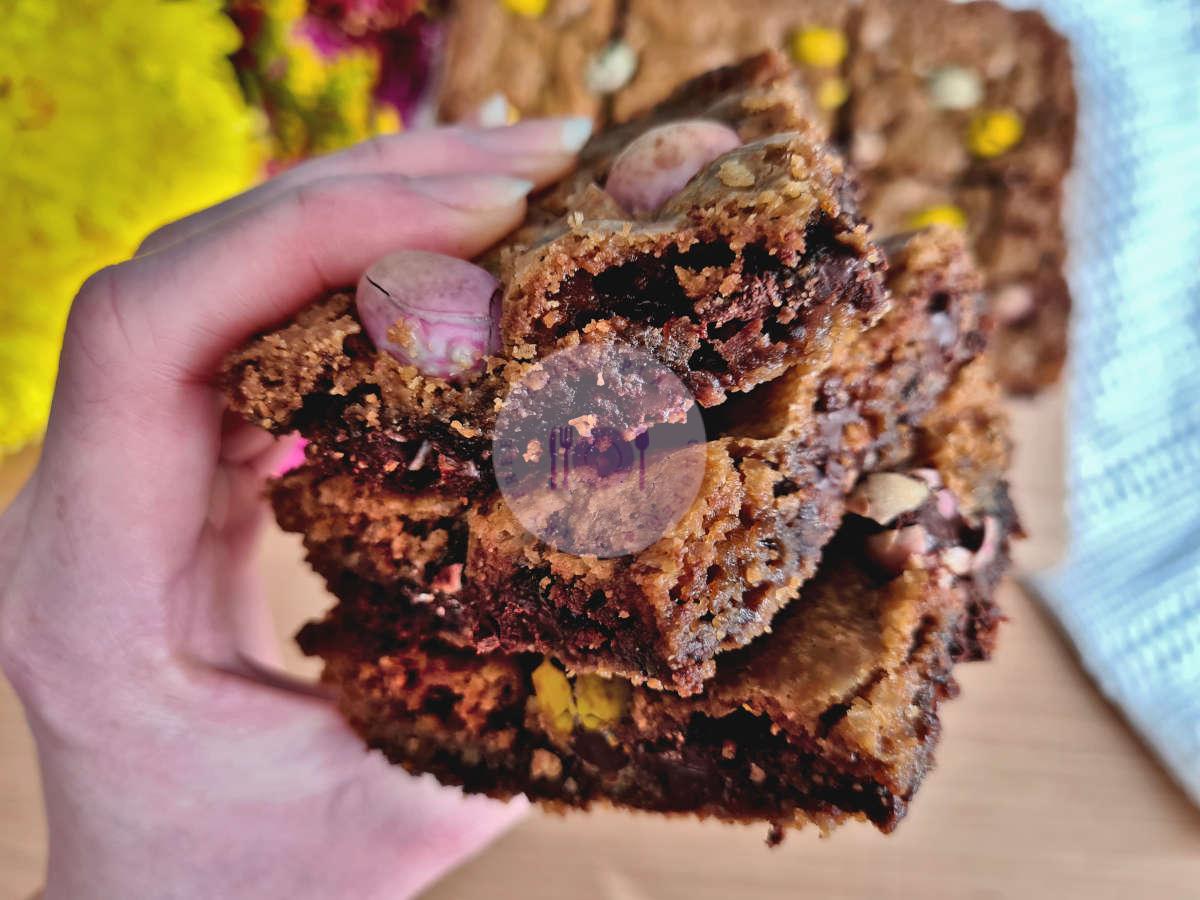 The first time I ever made these, I posted them to one of my best friends for a lock down pick me up. They fit so well in a postal box as a brilliant treat. She explained to me how gorgeous these were, even after the travel via Royal Mail. They lasted for a week and I was told they were as good from the first bite to the last. Seeing the photos made me so happy! Maybe a nice homemade present idea for your loved ones too?
The best part about making these, though? The smell! Oh my. They give off the most incredible scent when baking. I remember leaving home to pop to the shop after making a batch once. As soon as I stepped back through the door, the aroma just hit me. So fresh – I just wanted to grab a spoon and dig in. It took lots of self restraint not to demolish the whole tray.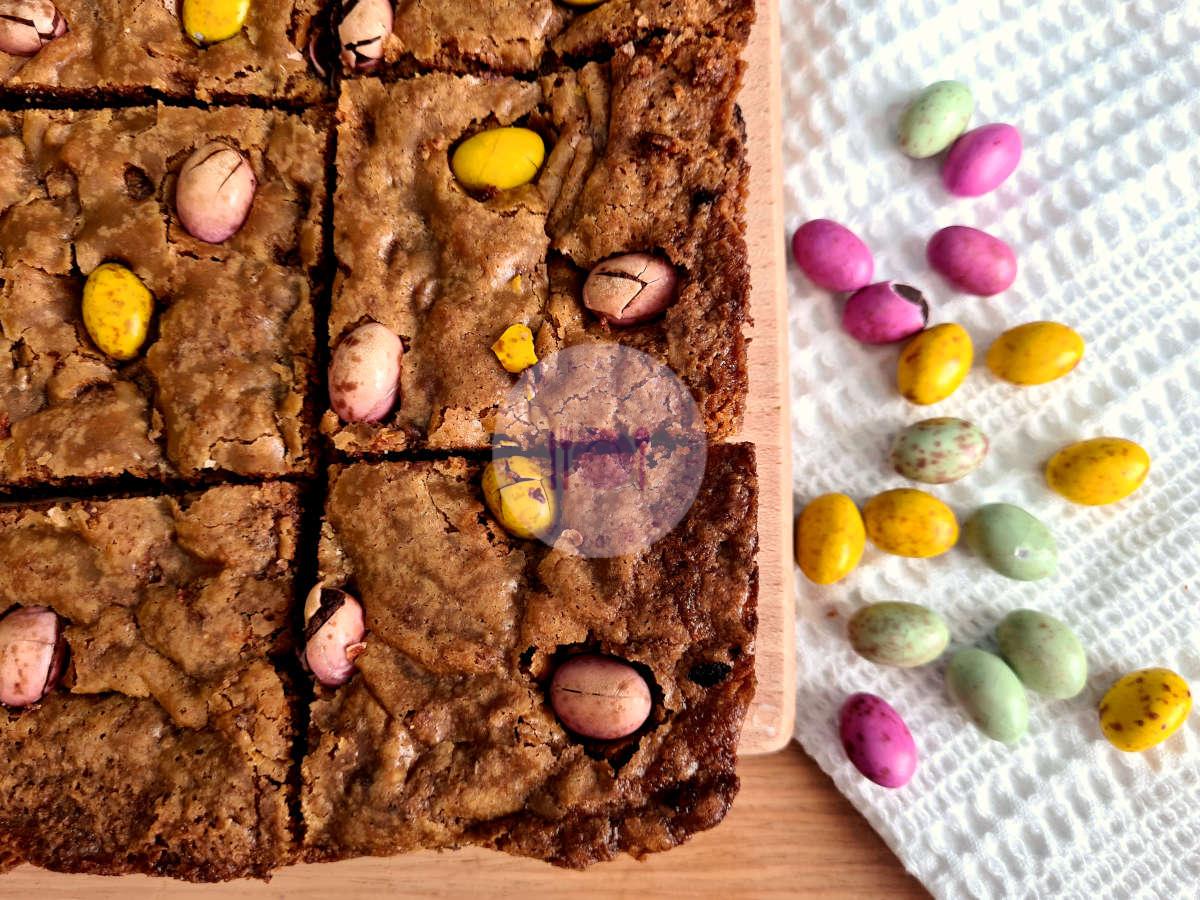 Easter Cookie Squares
Gluten-free, Dairy-free, Nut-free, Vegetarian
Equipment
Oven

Large mixing bowl

Mixing spoon

Brownie baking tray (9" x 9")

Greaseproof Paper

Heatproof bowl

Microwave

Sieve

Spatula

Knife (to portion)
Ingredients
110

grams

Butter

100

grams

Light brown sugar

80

grams

White caster sugar

1

Large

Egg

1

tsp

Vanilla extract

1

tsp

Baking powder

1/2

tsp

Baking soda

1/4

tsp

Xanthan gum

2.5

tbsp

Olive oil

Extra virgin

127

grams

Plain gluten-free flour

Pinch

Salt

110

grams

Milk chocolate chips

Dairy-free

100

grams

Vegan mini eggs

Recommendation: Doisy and Dam good eggs ('may contain' warning for gluten)
Instructions
Pre-heat the oven to 175°C (fan)

Sieve the flour, xanthan gum, baking powder, baking soda into a large mixing bowl

Add in the chocolate chips and 3/4 of the mini eggs to the bowl containing the flour mixture and place to one side

In a heatproof bowl, melt the butter in the microwave using short bursts of heating

Add the sugar to the bowl with the melted butter and mix until combined

Add the egg, oil, salt and vanilla extract to the butter and sugar mix and whisk in until combined

Little by little, fold in the flour mixture into the bowl with the eggs, butter and sugar

Line a baking tray with greaseproof paper and pour in the batter, evening out with a spatula

Bake for approximately 20 minutes

Quickly add the remaining 1/4 of the mini eggs to the top of the part-baked squares and press down gently

Bake for a further 8-12 minutes (28-32 minutes total) until the top is soft but baked

Remove from the oven and leave to completely cool in the brownie tray (~ 30 minutes) before cutting

Cut into 9 equal squares and enjoy!
Notes
Baked squares storage: suitable for home freezing for up to 3 months or in an air-tight container for up to 10 days in the fridge
Raw dough will keep in the fridge for 3-5 days or in the freezer for 3 month