Is it even Christmas time without mince pies? Baking these and having the smells run through my house just makes everything feel that little bit more festive. A buttery shortcrust pastry case filled with sweet homemade mince meat and topped with icing sugar. What's not to love?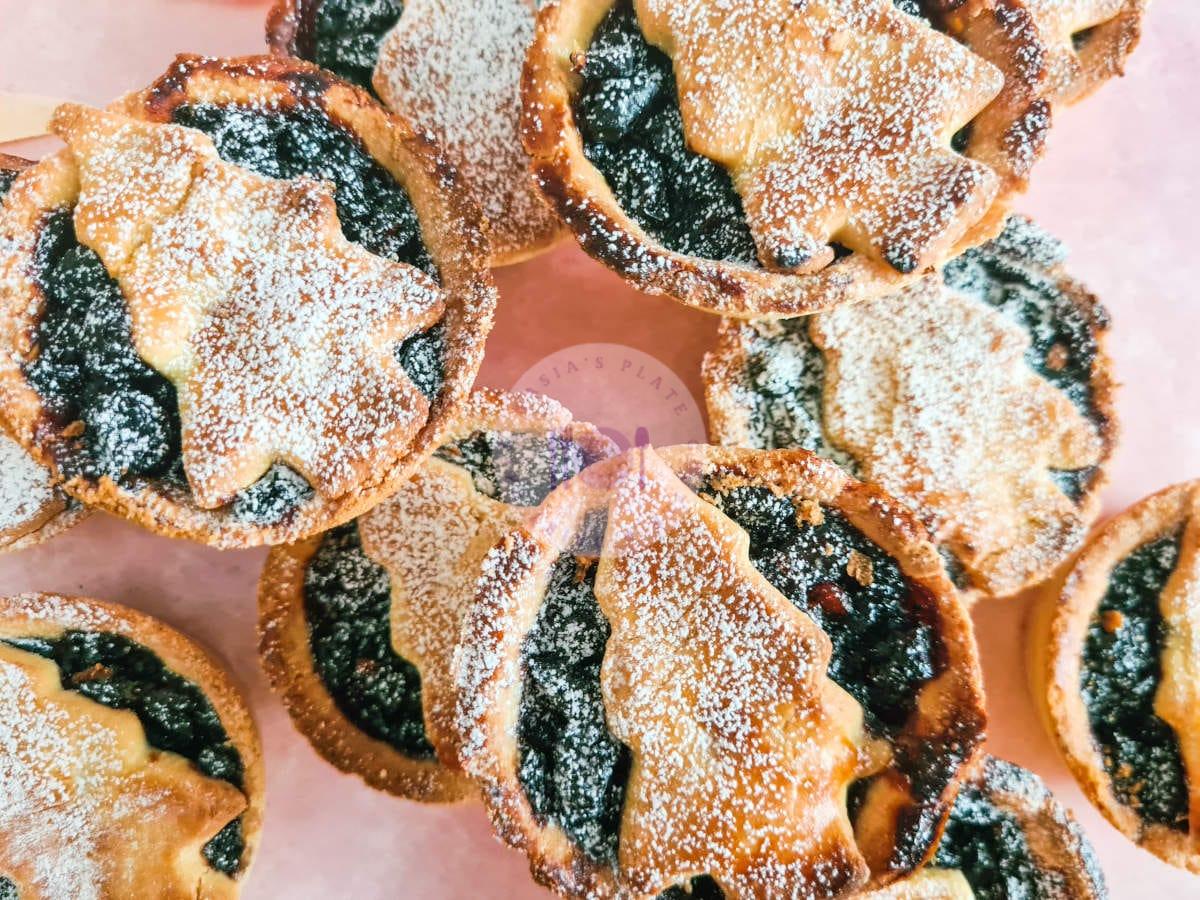 The funny thing is, I never used to really like mince pies. I was so indifferent to them – until I started making my own. Whilst shop bought ones can be nice, I find there's a real love behind ones you make yourself. Plus, you can always add an extra swig of brandy if you fancy. For those of you who don't drink alcohol, or for child friendly mince pies, I've added a substitute in the notes. You'd never know the difference too. The mince is still so sweet and sticky.
The real debate here is whether you make your own mince or buy from the shops. It's always been 50/50 for me. Whilst I do enjoy making my own, it is a labour of love. It's so easy to just pick up a jar from the local supermarket. There's also plenty of vegan options available now to buy ready-made, making it even more simple. Which team are you on? I've popped a recipe down for both here.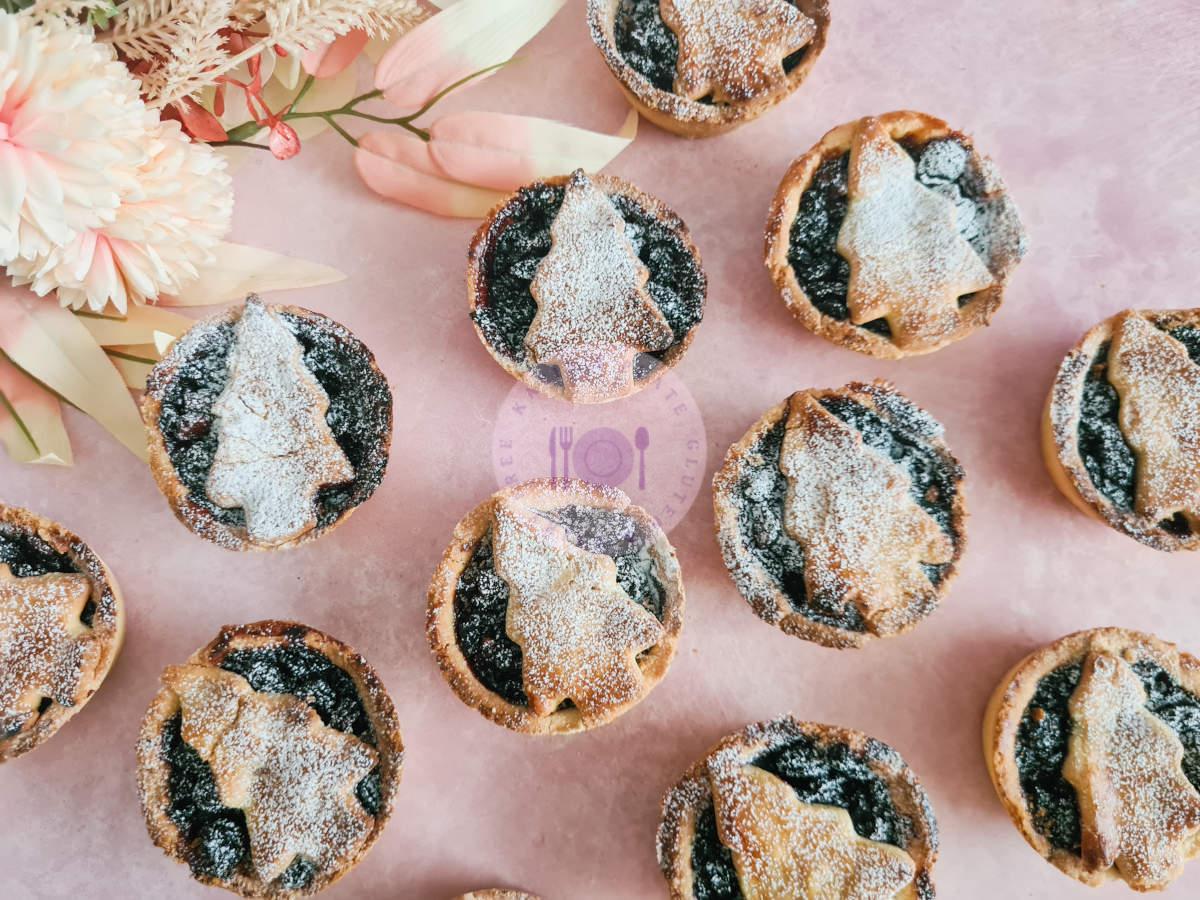 If you find yourself with an abundance of leftover filling, why not try out this delicious mince meat ice cream by Gluten Free Alchemist? Or for a healthier festive treat, make sure to take a peek at my protein cinnamon roll loaf.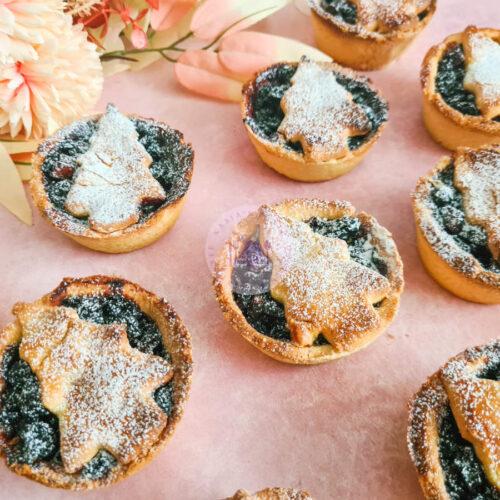 Vegetarian Mince Pies
Gluten Free, Vegetarian, Soy Free, Dairy Free, Nut free
Equipment
Saucepan

Mixing spoon x2

Mixing Bowl

Foil Cases x16

Cupcake Tin

Oven

Fridge

Cling film

Sieve

3.5 inch biscuit cutter

Minature star or Christmas tree cutter

Small bowl

Fork (for beating the egg)

Pastry brush (for egg wash)
Ingredients
For the pastry
300

grams

Gluten free plain flour

See notes*

200

grams

Dairy free butter

See notes**

100

grams

White sugar

2

Large

Eggs

One for the pastry, one for glazing

2

tbsp

Icing sugar

For decorating
For the mincemeat (See notes for store-bought***)
130

grams

Brown sugar

200

grams

Bramley apples

Grated

150

grams

Raisins

300

grams

Sultanas

1

Large

Lemon zest

4

tbsp

Lemon juice

1

Large

Orange zest and juice

80

grams

Mixed peel or candied orange

1

tsp

Cinnamon

1/4

tsp

Nutmeg

1

tsp

Vanilla extract

200

ml

Brandy

Substitute: apple juice
Instructions
To make the pastry
Use a sieve to sift the plain flour into a mixing bowl

Cut the butter into cubes and add to the bowl containing the flour then rub together until a crumb forms

Add in one egg and the sugar to the bowl and mix together using a spoon or your hands until a bound pastry forms

Press the pastry into a ball and wrap in cling film

Place the wrapped pastry in the fridge and chill for at least 30 minutes to ensure the fats in the dough are cold
To make the mince meat (ignore if using store-bought)
In a saucepan, dissolve the sugar in the orange and lemon juices on a medium heat

Add in the grated apple, citrus zests, dried fruits and mixed peel to the pan and stir together

Add in the spices and vanilla extract to the saucepan and stir together until everything is evenly distributed

Leave the mix to simmer for about 10 minutes until the mix is slightly reduced

Add in the brandy or apple juice and simmer for a further 10 minutes to gently reduce further, but not completely, leaving about 1/4 of the liquid at the end
To construct the mince pies
Pre-heat the oven to 200°C (fan) or 220°C (conventional)

Line a cupcake tray with foil tins and place to one side

Remove the pastry from the fridge and place on a generously floured surface

Roll the dough to about 1/4 inch thick (I do this in two batches)

Use the round cookie cutter to create 16 equal round pastry circles

Using the remainder of the pastry dough, cut out 16 equal Christmas shapes using the minature cutter

Place the circles gently in the foil tins, one at a time, making sure that you gently press the pastry down to the bottom and sides of the tin

Place ~1.5 tbsp of mince meat into each pastry cup

Gently place the miniature Christmas shape on top of the mince meat and gently press down to seal

Take the 2nd egg and beat in a small bowl

Use a pastry brush to apply a thin layer of egg wash onto the exposed surfaces of the pastry

Place in the oven and bake for 15-20 minutes (until golden on top)

Remove from the oven and allow to cool completely before removing from the tray

Take the sieve and dust the tops of the mince pies with icing sugar once cooled
Notes
*I use Doves Farm Freee flour for best results
**Stork baking block is naturally vegan or I also recommend the Naturli block
***If you'd prefer to use store-bought mince meat then I recommend about 410g worth
Store in an air-tight container for up to 5 days