Chickpea cookies are something I've been making for a while now. They're brilliant for when you're craving a treat but fancy something a little healthier. These really hit the spot with both aspects, incorporating some chocolate chips to give an indulgent feel.
They're not like your sugary regular cookies either. The maple syrup gives them a nice subtle sweetness, combined with the chickpeas and peanut butter for the soft and moreish texture. These may not be for everyone, but I sure love them. I think they are a brilliant alternative for a healthy lunch box dessert. Why not trial them on your kids and sneak some extra nutrients into their diet from the chickpeas and nut butter?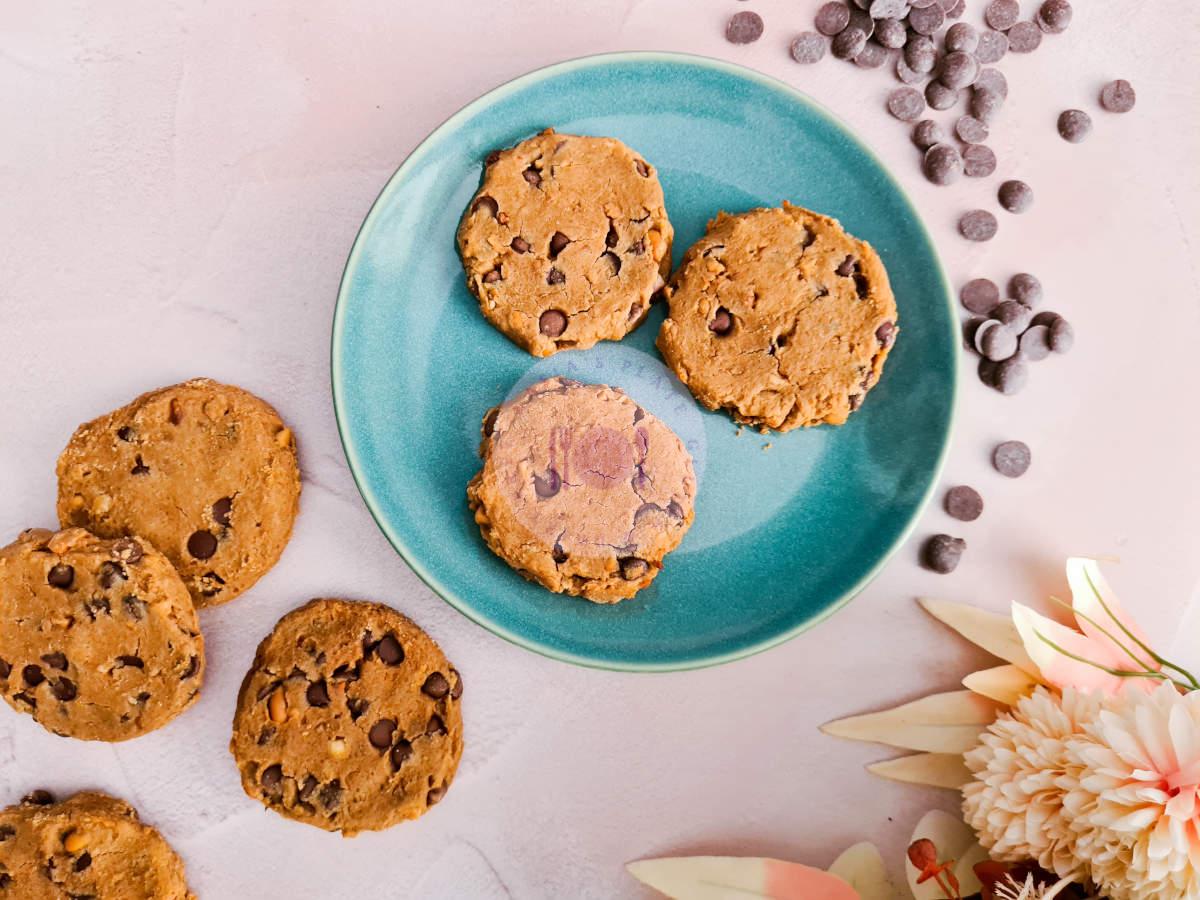 Not sure on whether to try these? I promise you cannot taste the chickpea flavour at all. The peanut butter masks this a lot, in my opinion. Oh and on this note I highly recommend using crunchy peanut butter. Whilst both will work in this recipe, I just adore the nutty texture added to them. You could even throw in some extra chopped nuts if using smooth. These chickpea cookies are even better when using deep roast varieties.
If you can't have peanut butter – I've got your back here! Substitute the peanut for either another nut like almond, or even sun butter for a nut-free cookie. The latter would then make these top 14 allergen free too.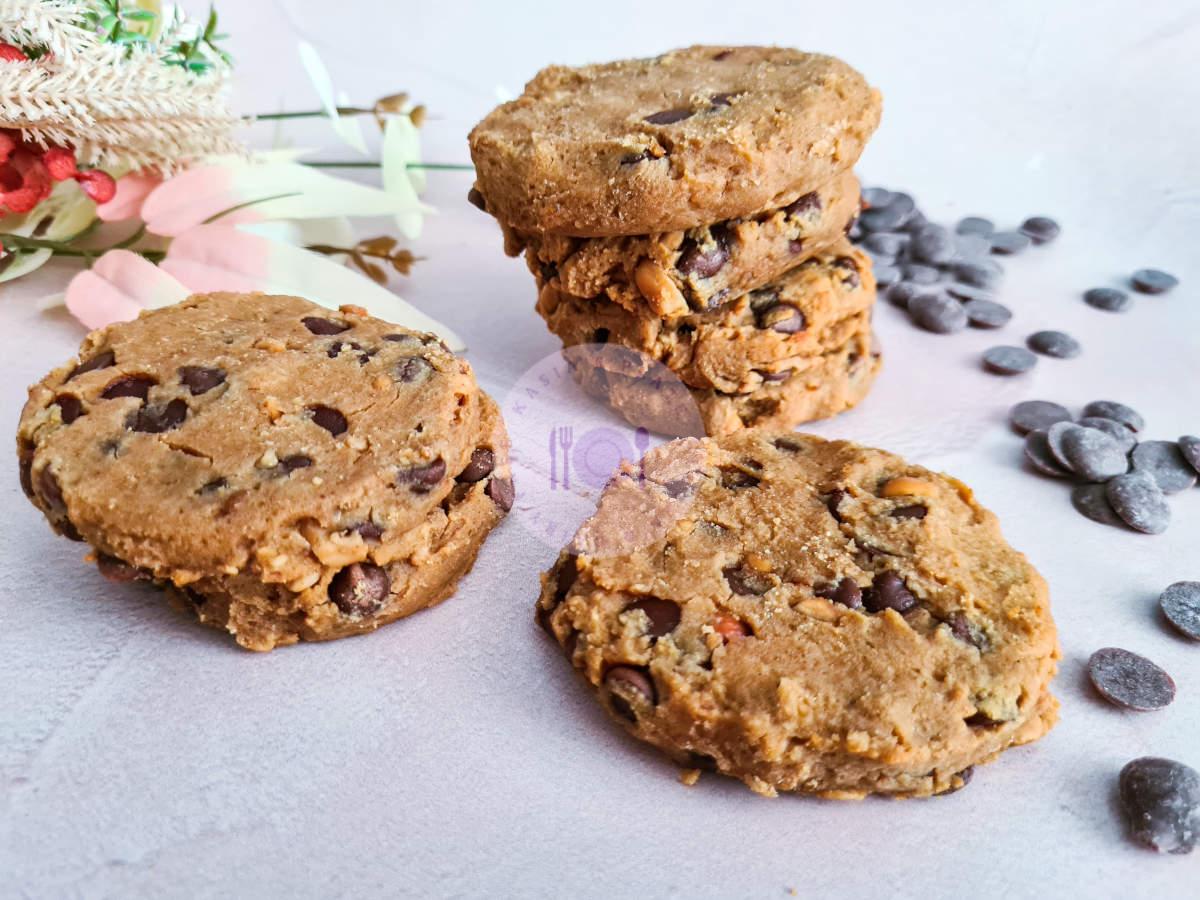 For my vegan protein powder, I recommend using a pea-based protein isolate, or soy if you prefer. I've trialled both in this recipe and found they're interchangeable. If you don't need a vegan protein powder, I'd recommend trying casein instead as it works the most-like the plant alternative. However, I've not personally tried this due to dietary restrictions.
Whilst I make these as a high protein snack, with the incorporation of protein powder, you can also make these with oat flour instead. Simply substitute the ingredient 1:1 for the same results.
I've recently loved incorporating more chickpea recipes into my diet. They're such a versatile legume, making both sweet and savoury dishes. Have you seen my chickpea protein bites, for example? They're hard to resist!
Oh and before you chuck away the chickpea water, why not whip up the aquafaba into a simple and indulgent vegan chocolate mousse for a zero waste recipe?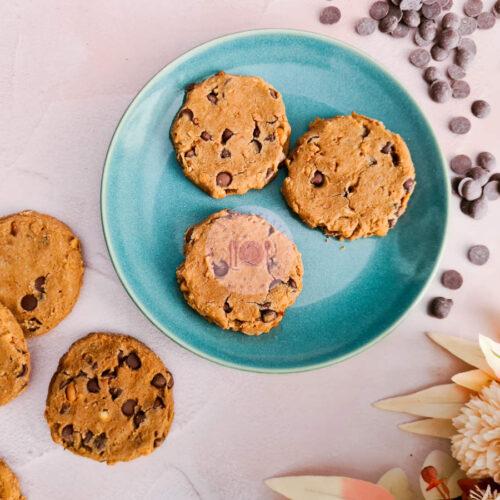 Peanut & Chickpea Cookies
Gluten free, Vegan, Dairy free, Soy free, Vegetarian
Equipment
Blender

Mixing Bowl

Mixing spoon

Oven

Baking tray

Greaseproof Paper

Wire Cooling Rack
Ingredients
1

can

Chickpeas

400g before draining

180

grams

Peanut butter

Chunky or smooth

80

ml

Maple syrup

1.5

tsp

Vanilla essence

1

pinch

Salt

Optional

1.5

tsp

Baking powder

35

grams

Vegan vanilla protein powder

Substitute: oat flour*

100

grams

Vegan chocolate chips
Instructions
Pre-heat the oven to 180°C (conventional) or 160°C (fan)

Line a baking tray with greaseproof paper and set aside

Drain the can of chickpeas (~240g net weight) and rinse thoroughly before use

Place the chickpeas into a blender and blitz for about 5 minutes until smooth

Place the blended chickpeas into a mixing bowl and add the remaining ingredients to the bowl, mixing together until fully combined into a batter

Take a measuring scoop, or table spoon, and equally portion the batter into 9 equal balls, placing them onto the baking tray about 1-2cm apart

Press down each ball of chickpea dough and shape into a circle as they will not flatten during baking like normal cookies

Remove from the oven and leave to cool on the baking tray for a further 15-20 minutes, before removing to a wire cooling rack for another 30 minutes
Notes
*You can substitute the protein powder for oat flour in a 1:1 ratio if desired, just blend gluten free oats into a fine powder
Storage: in an air-tight container for 3-5 days
Not suitable for home freezing as the texture of the cookies may change