I can't believe how easy arepas are to make as I always thought they would be so difficult. The hardest part is actually sourcing the pre-cooked corn flour itself. The one I use is certified gluten free P.A.N. You can order this (UK) on several online sites or from Tesco. Once you've managed to get your hands on the correct flour, you only need two more ingredients to make your arepas! Yep, literally 3 ingredients. As simple as that.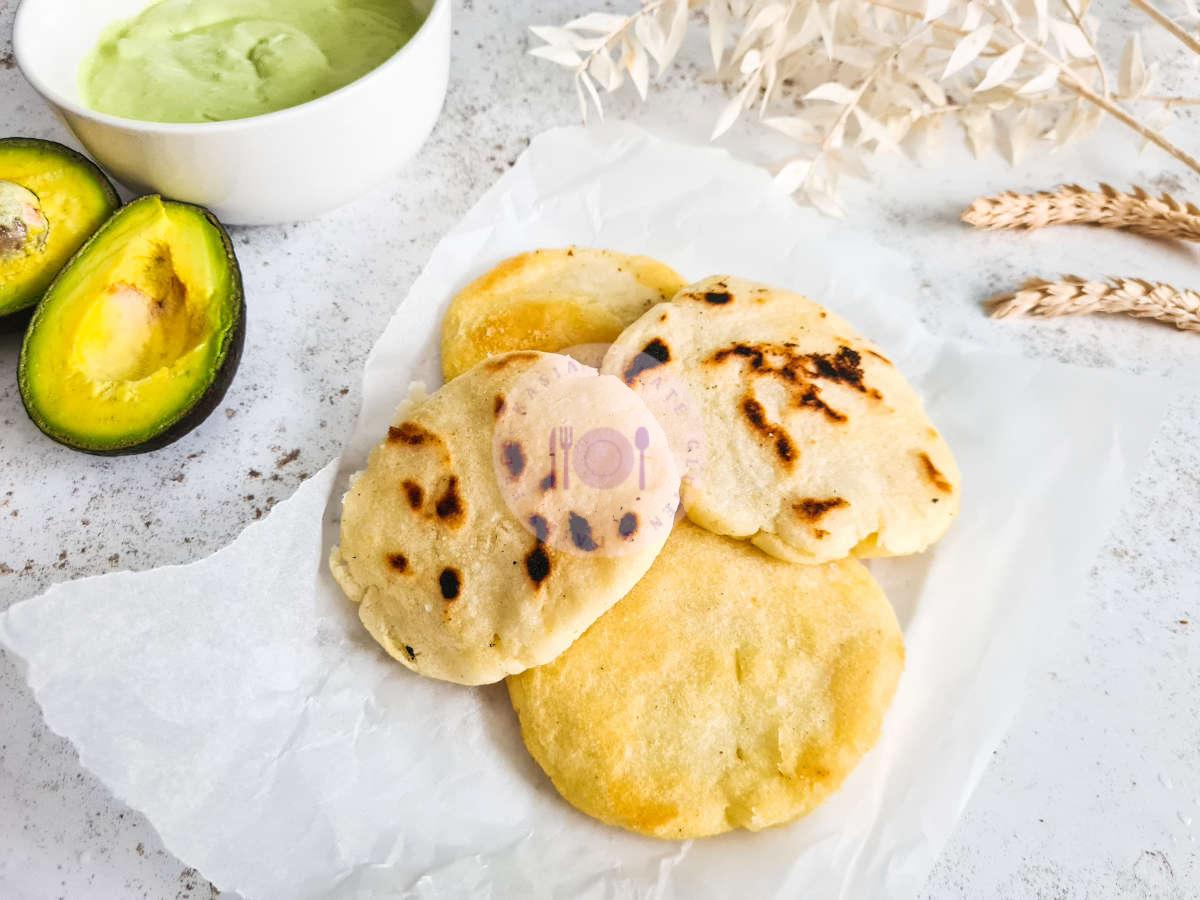 Did you know that arepas are naturally gluten free too? I first discovered them at a London food festival and have been in love with them ever since. Every time I see them on a food stall I have to run to grab one. I actually had a loyalty card for one at Ely markets who sold Venezuelan arepas every Saturday. There's nothing better than indulging on the foods you love, especially when they're so comforting.
One of the best things about arepas is the fact you can customise the fillings to anything you'd like. I love adding in some of my 'batch cook' BBQ shredded chicken (or jackfruit for a vegan version), fried plantains, black beans and guacamole. Oh don't forget the dairy-free cheese too!
If you don't fancy stuffing your arepas then you can also use them as a 'bread substitute' when eating chilli and curry. They work so well to dip into the dish and scoop up. How would you eat yours?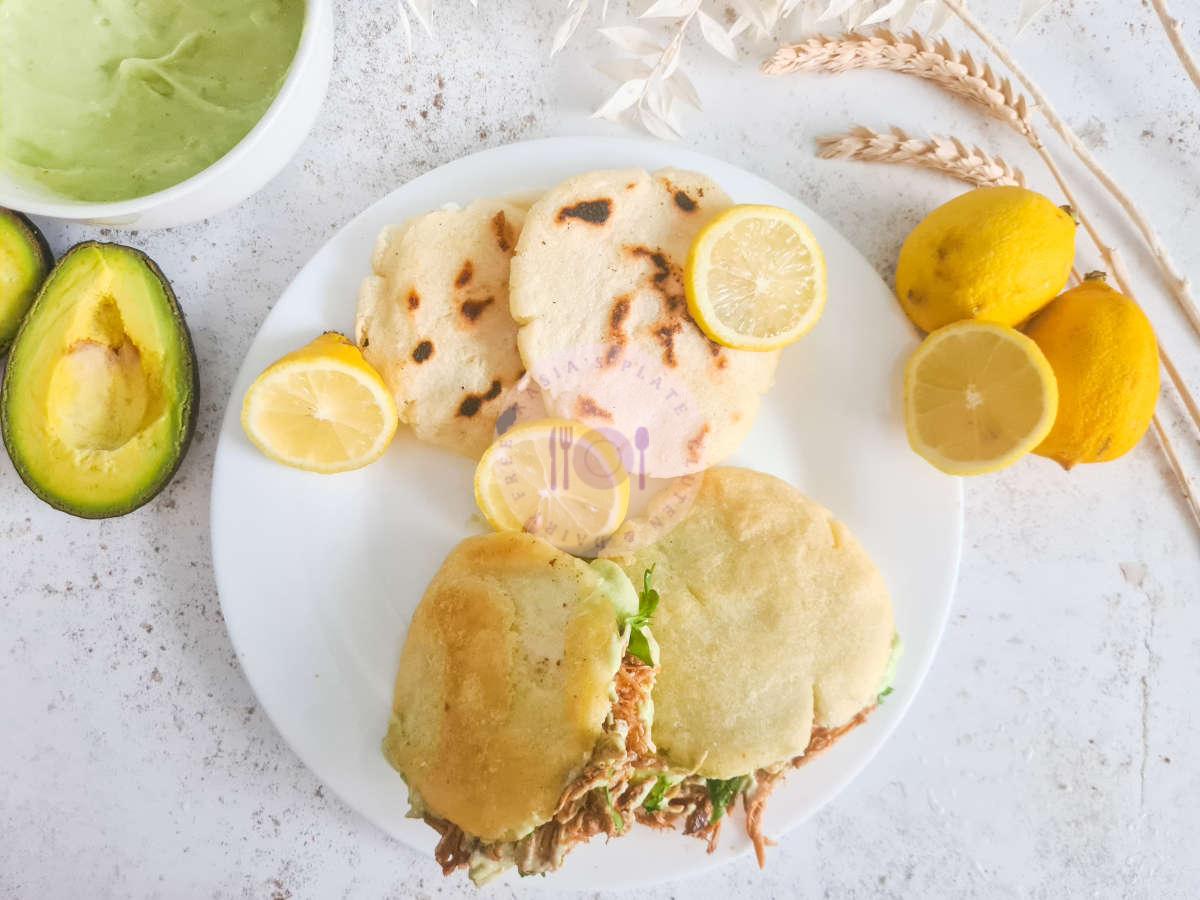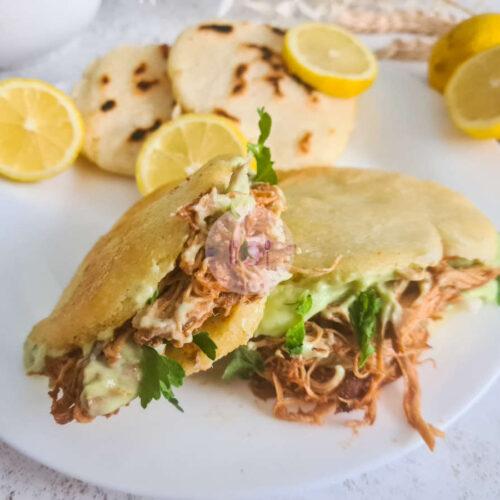 Homemade Arepas
Gluten free, Dairy free, Vegan, Nut free, Soy free
Equipment
Oven

Frying pan

Mixing Bowl

Mixing spoon

Grease-proof paper

Baking tray

Spatula

Plate (for resting)

Kitchen towels

Knife (for cutting the arepa open)
Ingredients
140

grams

Gluten free pre-cooked corn meal (arepa flour)

Recommendation: P.A.N

1

pinch

Salt

To taste

230

ml

Water

1

tbsp

Coconut or Olive oil

Optional: Omit if frying pan is non-stick
Instructions
Pre-heat frying pan with oil (omit if non-stick) on a medium-high heat

Pre-heat oven to 160°C (fan) or 180°C (conventional)

Place the corn meal, salt and wateter into a mixing bowl

Mix the ingredients together thoroughly until a grainy but thick texture forms, with the arepa flour adsorbing all of the water

Leave to rest for 5 minutes before use

Whilst the dough rests, set out kitchen towels on a plate and set aside for later

Divide the arepa dough into 4 equal sections

Take one section at a time and form a 1/2-inch thick round patties using the palms of your hands (the dough should be soft but not sticky)

Place the patties onto the frying pan and cook for about 5 minutes to seal

Use a spatula to flip the arepas and cook for ~5 minutes on the other side

Place the sealed arepas onto the plate covered in kitchen towels to soak up the excess oil

Transfer the arepas onto a baking tray lined with grease proof paper and bake for 15-18 minutes (the arepas should puff up slightly)

Once baked, leave on the tray to cool for about 10 minutes

Slice the the arepa open, about 3/4 of the way through, starting on the thin side

Fill with your favourite things and enjoy!
Notes
Suitable for home freezing: store in a plastic wrap for 2-4 months
Calories do not include fillings
Storage: either in an air-tight container at room temperature for 2-3 days or in a plastic wrap in the fridge for 5 days