These fudgy nicecream bites are a summer must have. Have you tried nice cream before? I personally had never had it before I started my blog – particularly the Instagram part. I see smoothie bowls made all the time with a banana (nice cream) base. Yep, that's the not-so-secret ingredient – bananas! They act as a binding agent as well as a natural sweeetner. It also keeps this recipe vegan and suitable for a wider audience.
Since starting my blog, I have loved making my own nice cream to store in the freezer during the warmer months. Not only is it super easy to make, but it is better for you than 'traditional' ice cream – as well as an extra fibre boost. You'd never know these are made with bananas though. I find that freezing them really changes the taste profile. That combined with the chocolate makes them more of an indulgent feel.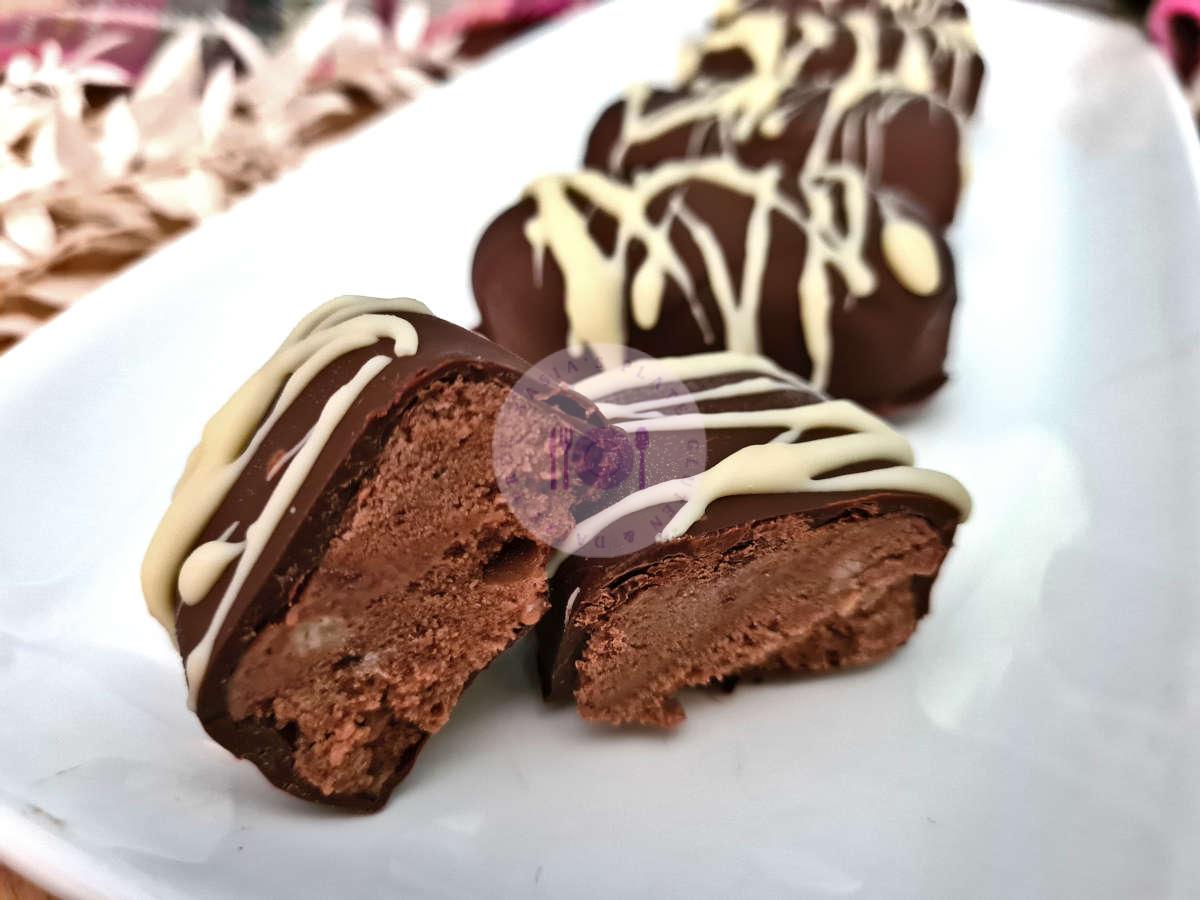 So what is the key to this beautifully balanced fudgy treat? Using bananas that are ripe or over-ripened. Not only is this good for you, as mentioned above, but this recipe also reduces food waste. Instead of making a typical banana bread, try this instead! When my bananas are beginning to go off (or are a little past that still), I chop them up and bag them in the freezer. Sometimes I will bake with them immediately, but I promise it is very handy to have a stock too. You'll be surprised how many recipes out there call for frozen bananas. Don't worry if you don't have any ready frozen, though – they only take about 4 hours in the freezer to become solid enough for use.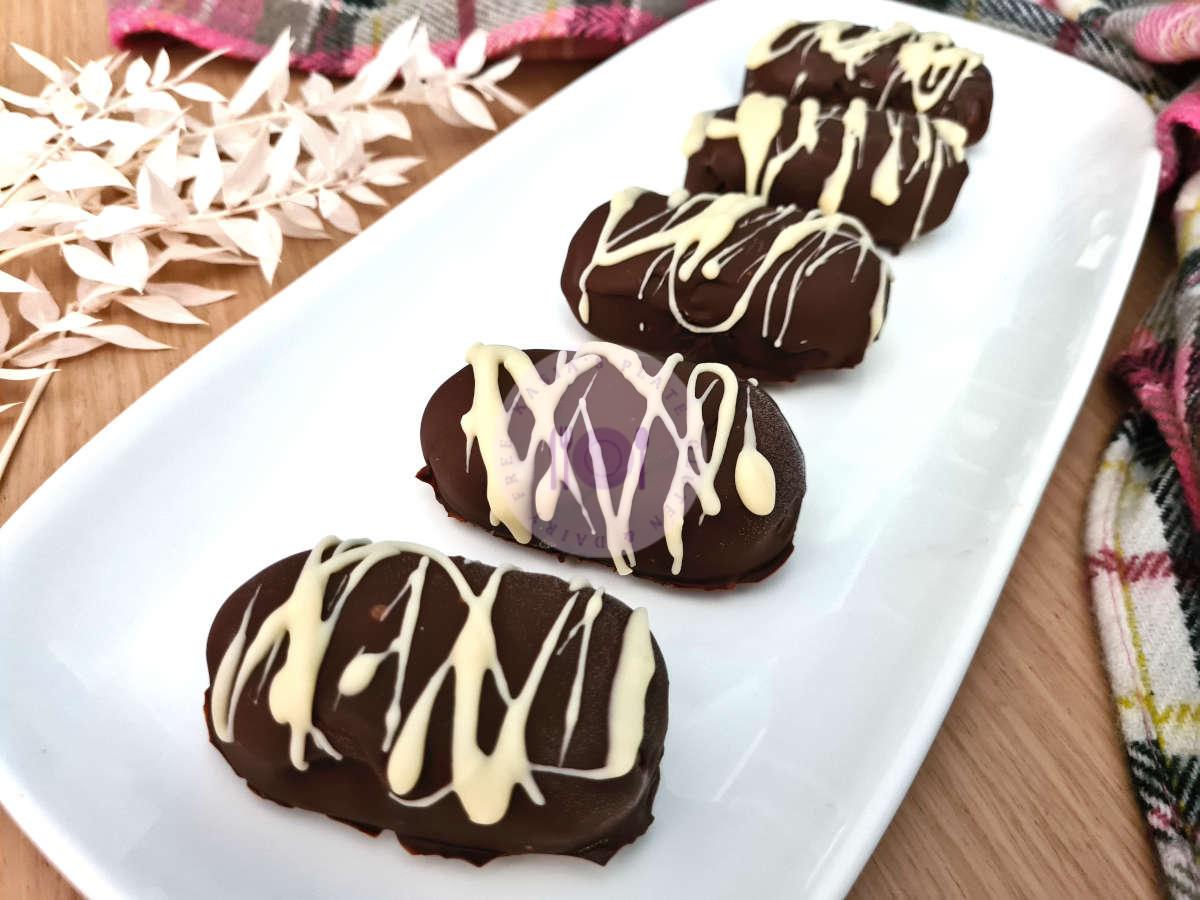 I decided to keep this recipe chocolatey to satisfy my sweet tooth cravings. However, feel free to play around with different flavours. You could keep the centre vanilla by omitting the cacao powder and adding in 1-2 tsp vanilla extract instead, for example. Or even try coating in white chocolate. If you're feeling extra adventurous.. you could even blend in some frozen berries! That is one thing I love about nicecream – it is extremely versatile and there is a recipe or combination out there for everyone.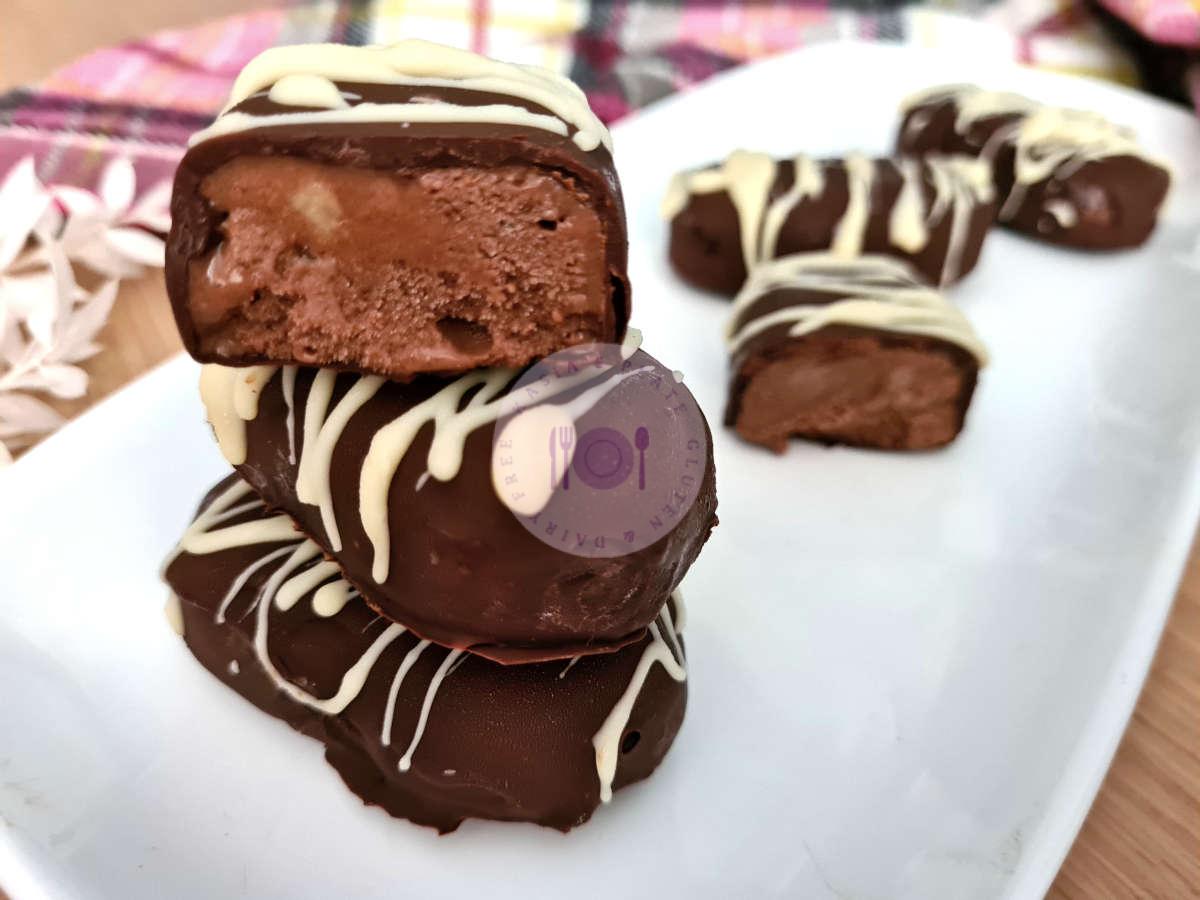 Fudgy Nicecream Bites
Gluten-free, Dairy-free, Vegan, Nut-free, Soy-free
Equipment
Freezer

Bain-Marie

Mixing spoon

Ice Cream Moulds (Silicone)

Greaseproof Paper/Non-stick Sheet

Baking tray

Blender

SpoonSpoo
Ingredients
200

grams

Bananas

Frozen, Skinless

15

grams

Cacao Powder

75

grams

Dairy-free Yoghurt

Recommendation: coconut

2-3

tbsp

Maple Syrup

150

grams

Vegan Milk or Dark Chocolate

For coating

50

grams

Vegan White Chocolate

For decoration
Instructions
Place the frozen bananas, cacao powder, yoghurt and maple syrup in a blender and pulse until smooth

Spoon the nicecream batter from the blender into the ice cream moulds and pop into the freezer for ~3 hours (or until frozen)

Before removing the nice cream from the freezer, melt the milk/dark chocolate using the Bain-Marie method (alternative: gently heat the chocolate in a microwave, stirring every 10 seconds to prevent burning)

Line a baking tray with greaseproof paper/non-stick liner and set aside

Take the nice cream out of the freezer

One at a time, carefully remove the nice cream from the mould and coat fully in the melted chocolate

Immediately place the chocolate-coated nicecream bite onto the lined baking tray

Place the tray holding the bites into the freezer for 10-15 minutes once all are coated

Melt white chocolate in the same way as before then drizzle over the top of the bites for extra optional sweetness
Notes
Calories include all toppings
Keep frozen once made (stores up to 3 months)
White chocolate topping is completely optional - I find it works best with the dark chocolate coating for a sweet and bitter balance