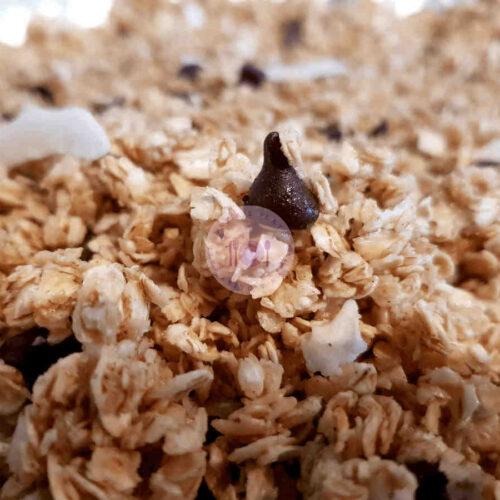 Peanut and Chocolate Coconut Granola
Granola is such great food - so versatile and truly scrumptious. So why not play around with the flavours and try something new? Perfect for breakfast or as a topper for smoothie bowls and yoghurt.
This sweet, crisp treat is definitely worth the make. The subtle crunch of the peanut really compliments the sweet dark chocolate drops. All topped with some toasted coconut flakes.
This was my first time ever making a granola - I am so happy with how it turned out! Cannot wait to experiment with more flavours.
Equipment
Oven

Mixing Bowl

Wooden Spoon

Storage Tub

Microwave
Ingredients
12.5

grams

Coconut Flakes

You can add more or leave this out - it depends on your preferences

50

grams

Dairy-free Dark Chocolate Chips

250

grams

Gluten-free Oats

30

grams

Peanut Butter

I used crunchy nut butter, but smooth would also work. You could also substitute this for almond butter if you wish. This is mainly used for flavour - if you want to keep it nut-free, you can substitute this for extra maple syrup/oil.

20

grams

Coconut Oil

You can also use olive oil (or any other neutral oil)

95

grams

Maple Syrup

1

tsp

Salt

To taste
Instructions
Preheat the oven to 150 degrees (Celsius)

Gently melt the coconut oil in the microwave until liquified. This will make it easier for the next step.

Whisk the coconut oil, salt and maple syrup in a bowl.

Add the nut butter and stir further until mixed. The consistency will become a little thicker here. Skip this step if you have substituted the butter.

Add the oats to the mixture and combine until all of the liquid has soaked into the oats. The mixture will start to become sticky and may form small clusters. You want to ensure that all of the liquid has been mixed in (a lot ends up residing at the bottom of the bowl). This part will take the longest and most effort.

Add in the coconut flakes (if desired) and chocolate chips and mix until evenly spread throughout the granola.

Line a baking tray with greaseproof paper and spoon the mixture onto the tray, ensuring an even spread.

Bake for 30 minutes, mixing the granola half way through.
Notes
If you do subsitute any of the ingredients mentioned, you could add some taste through spices such as cinnamon. Granola does not usually include a nut butter, I just decided to experiment with this (and really liked it)!