Fish and chips is a top British classic – alongside the Sunday roast and traditional breakfast. This guide will take you through all of the gluten and dairy-free chip shops I have found in South Wales. I've split them into each county for ease of identification. I've been lucky enough to try quite a few of these myself and am yet to be disappointed. You can't really go wrong with a fish Friday though, can you?
Tracking down coeliac safe chippies can seem like a mission – however, this will pinpoint you to all of the relevant locations. I have only listed the establishments that I deem to be suitable (using separate fryers and utensils etc). A few of these are also listed in my Cardiff eating out guide. I have also tried to note if they only cater for gluten free on certain days also. Make sure to read each description for details and check the map at the bottom of the page for all the locations.
Do make sure to check with each branch about separate fryers and preparation just in case. I have a guide here that may help you with questions to ask when dining out. Whilst I have done my own thorough research, things may have changed since writing this blog post. Please feel free to contact me if so.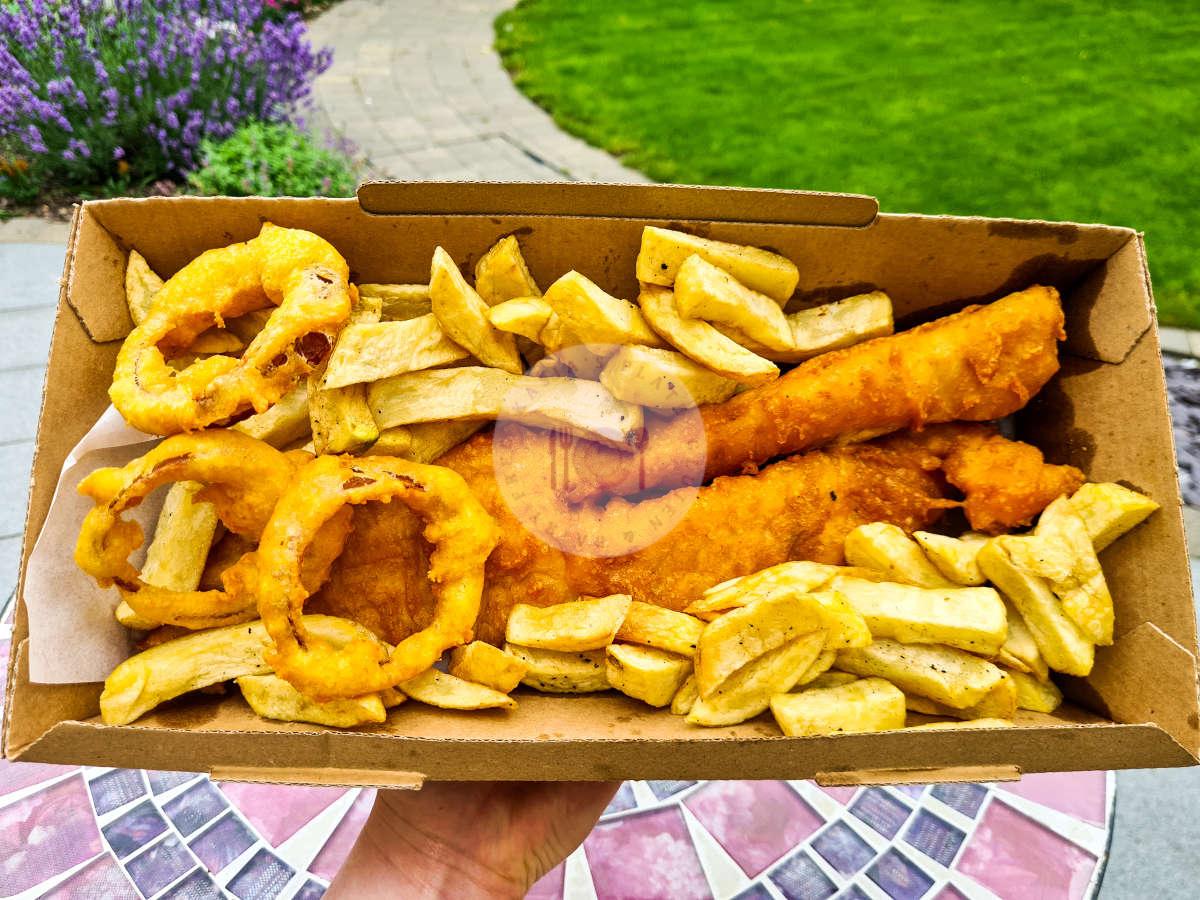 Copperfish – Mumbles, Swansea – all day, every day – gluten free and vegetarian upon request (ask for details)
Franco's – Aberavon, Port Talbot – all day, every day – chips, fish, halloumi, chicken strips, beans, curry sauce, gravy, mushy peas, kids meals (vegan options)
Finnegans – Swansea only  – ask for details as everything is made fresh
The Oyster Fish Bar – Lanelli – Tuesday to Saturday – chicken breast, sausages, nuggets, scampi, curry sauce, gravy
Rossi's Orignal – Swansea – fish, curries, corn beef hash, chips, BBQ chicken
Sim's Fish & Chip Shop – Monday to Saturday – sausage, fish, chips
Village Fish Bar – Garden Village, Swansea – Tuesday to Saturday – fish, sausage, nuggets, curry sauce,
Beachcliff – Penarth – all day, every day – chips, fish, chicken balls, fritters, vegan halloumi (plus other vegan options)
Boofy's – Barry Island – all day, every day – all chips are gluten-free with curry sauce, fish and mushy peas made to order
Castle Fish Bar – Caerphilly – all day, every day (allow at least 30 minutes from ordering before collecting) – fish and chips
Fairwater Fish & Chip Bar – Cwmbran – Monday to Saturday – call to check options (made to order)
Farnham's – Boverton – Sundays – fritters, chips, sausage, mushy peas, curry sauce, fish
Fintans – Pentwyn – every Monday to Friday (gluten free options are exclusive to this branch only)
Fish Kitchen 1854 –

Maesycwmmer

– check their social media for gluten free events
New Ystrad Fish Bar – Ystrad mynach – Monday to Saturdays – fish, chicken, curry, chips, chicken strips, sausage, onion rings, gravy, curry sauce (made to order (minimum wait 45 minutes and minimum £15 spend)
Plassey Fish Bar – Penarth – all day, every day – fish, chips, chicken, curry, beans, peas, fritters, curry sauce
Posh Fish & Chip Company – Llandaff and Penarth – every Friday and Saturday – fish, chips, mushy peas
The Fish Factory Trecenydd –

Caerphilly –

Sundays only – fish, chips. sausage, curry, gravy

Younger's – Birchgrove – every 1st and 3rd Monday of the month
245 Lewis Diner – Newport – Tuesdays to Saturdays – dine in as well as take-away (completely gluten-free except for serving normal bread upon request)
Page's – Cwnbran  – all day, every day – fish, chips, chicken breast, sausage, fish pie, veggie/chicken tikka masala, pizza, syrup pudding
Pie Corner Fish Bar – Newport – all day, every day – chips are always gluten-free with nuggets, fish, sausages, halloumi, pea fritters and curry sauce made to order (allow 30 minutes notice) – vegan options avaliable
Penalunas – Hirwaun, Aberdare – Tuesdays to Sundays (make sure to allow at least 30 minutes from ordering before collection) – fish, chips, chicken strips, sausage, curry, gravy (vegan options)
Taylor's Alaw – Trealaw – Mondays to Saturdays – fish & chips (double-check for other options)
The Chip Stop – Ystrad – Mondays to Saturdays – fish, chips, corned beef pie, fritters, nuggets, goujons, sausages, gravy, curry sauce